Loes Adegeest (FDJ-Suez) claimed the honours in Saturday's Deakin University Eiite Women's Road Race in a two-rider sprint to the finish against Australia's Amanda Spratt (Trek-Segafredo).
In Adegeest's first year with the team, the 26-year-old arrives to FDJ-Suez with a bang, winning her first WorldTour title.
Adegeest and Spratt broke away on the final Challambra Crescent climb, just nine kilometres from the finish, with Spratt doing most of the work in the run in to ensure they stayed away from the chase group.
In the end, Spratt didn't have the legs to contest for the win and Adegeest capitalised, sprinting away from her opponent in the last 200m to take the victory.
Four seconds behind the pair crossed Nina Buijsman (Human Powered Health), who led the peloton to round out the podium.
The first attack of the day was made by Gina Ricardo (Team Bridgelane) during the first Visit Victoria Queen of the Mountain climb at Wandana Heights with the early breaks being headlined by Team Coop-Hitech Products and Team Bridgelane.
Spratt was awarded the pink jersey, becoming the WorldTour leader at the concluding race of the summer of cycling in Australia.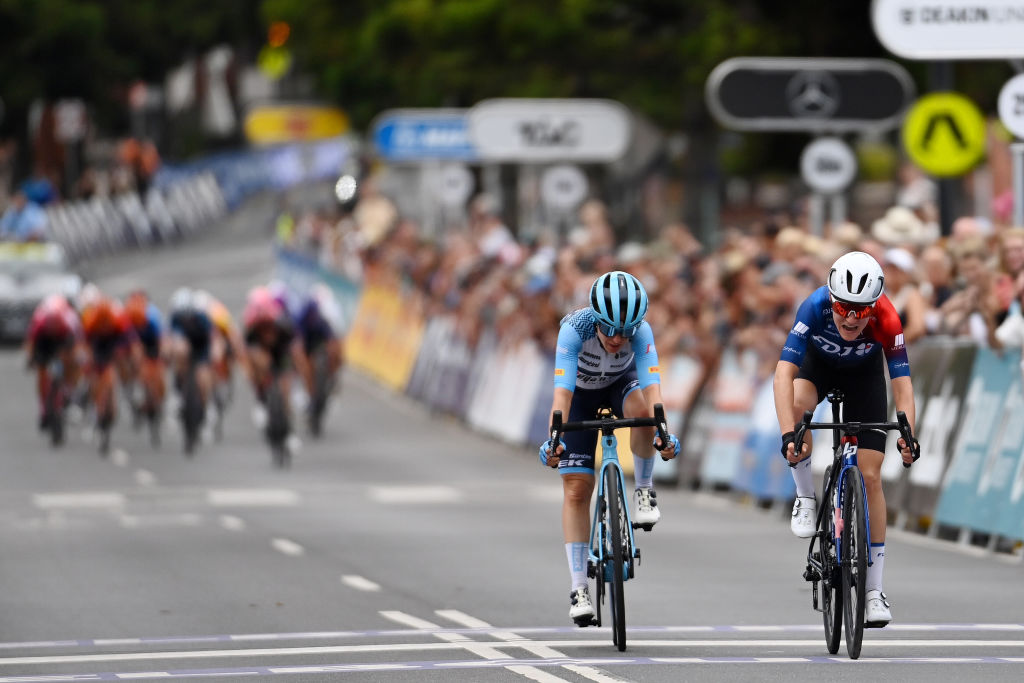 Race Results:
Loes Adegeest (FDJ-Suez)
Amanda Spratt (Trek-Segafredo)
Nina Buijsman (Human Powered Health)
Josie Nelson (Team Coop-Hitech Products)
Danielle De Francesco (ZAAF Cycling Team)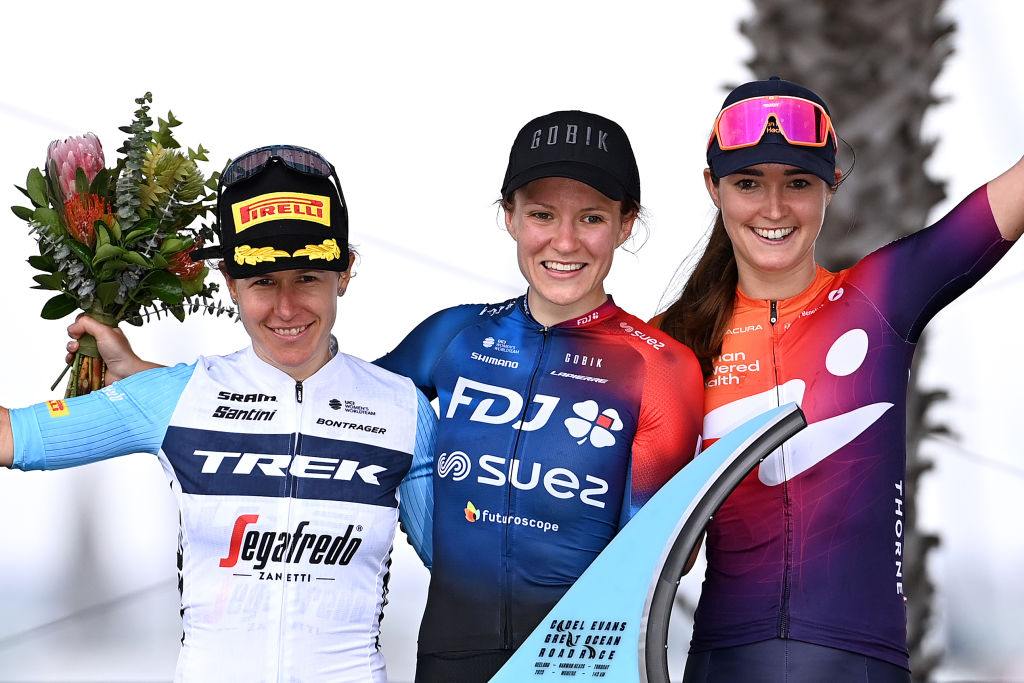 Q & A With Loes Adegeest After Her Maiden WorldTour Victory
There was a change of tactics throughout the race for your team – how did it play out?
"Plan A was obviously to go for Grace (Brown). After the first climb it worked well for me because I didn't have to ride in that group because Grace was still the plan. But we switched before the second climb and I felt good on the climbs today so I felt in the race that today could be my day. It worked out well."

Talk us through the last kilometre, because it really looked like you knew what you were doing.
"Yeah I had thought the sprint through and I knew there were head winds so I had to start late but I wanted to start on the downhill parts. Late, but not too late! I knew I had to come from the wheel so I forced (Amanda) Spratt to the front and the gap for big enough to play poker a little bit. I tried that and it worked out. I could sprint like I wanted it."
You come to the WorldTour. You race in Australia against the top Australian and you get the win. How special! Your first WorldTour win.
"It has to sink in still a bit. It's really good to start a season like this. To finish like this – it's amazing."

Did you have to readjust when Grace comes up to you after the first climb and says we now race for you? How much did you have to change your mindset?
"I actually knew it could happen. I felt I could follow Spratt and I was actually the only one that could really follow Spratt so i knew it could be that way. I wasn't sure if Grace would make it back, so I knew after the first climb it could be my day."

Can you talk a little bit about your preparation for the Australian summer?
"I used to do some Zwift racing in the winter and I think that helped a lot. Both with the heat and density. This is a real good course for Zwift racers I think. Effort, rest and then go again. It's how Zwift races are so I'm used to this. A lot of riders have to race a bit more on the road to really get into that shape and I really didn't struggle with the heat. I had some confidence coming here. I expected to race for Grace of course so i didn't expect this! But I knew this course suited me and that there was a chance."

What this your goal for the year, to get a WorldTour win?
"I didn't really set goals in terms of results – I just want to race all the big races, gain experience and ride the finals. Of course if you ride the finals, then there's always a chance to get the win. To already get the win – that's great."

Q&A from Amanda Spratt (Trek-Segafredo)
How did you find the end of the race?
"It's a bit bittersweet. I was definitely chasing that win and the team road amazingly well. I'm disappointed that I didn't nail that sprint but Loes has a strong ride as did FDJ. Last year I was getting dropped when we went uphill so it's nice to be here today."

What was going through your mind in the last kilometre and a half?
"I knew I needed to be second wheel and I knew there was a group coming from behind. We knew we didn't want them to catch us. I got stuck on the front and tried to play it slow and then get a kick but she (Loes) just played it really well and got me in the end."

How much did you know about her (Loes Adegeest) before today?
"I knew she was a Zwift world champion and someone we were naming in the team meetings to look out for. She's been there for Grace (Brown) for most of the races so far and you often see that with some riders throughout the Australian racing block that they just get stronger and stronger. We knew she'd be someone to watch and it was quite clear the first climb up Challambra that she was the one they were going to race for. We could see they had switched those roles. I just couldn't shake her on those last climbs."

Do you look back and go "I should have done this", "I should have done that"? It looked like you couldn't do anything differently.
"I don't think I could have done too much differently. We had the plan to race the climbs harder and try and shake her on the climbs. She the told me she wasn't going to work with me anymore. I knew we had Brodie in the group behind and it was really hard with communication to know exactly what was happening from behind.
I did mess up the sprint a little bit. I knew I wanted to come from behind but she played it really well and just got the better of me."

When it was her (Adegeest) at the front – what was going through your head?
"For me, I thought it was a good situation because I was hoping she would work. I could see Grace had been working for her and I thought 'Ok, this is FDJ and one of the strongest teams in the summer so far'. So I thought it was a good situation."

Are you getting sick of bringing someone to the line? Are you looking forward to an uphill finish?
"I would definitely love the uphill finish! It's funny. A couple of years ago I would have been happy with second in these WorldTour races but now I feel a little disappointed as I'm so hungry to get that win. There's a lot of fire in the belly but it's sort of nice to feel this way as I'm really chasing that win now.

I fly to Europe tomorrow and then we start building towards European goals so that's giving me a lot of excitement and confidence."