Marius Mayrhofer (Team DSM) won the 2023 Cadel Evans Great Ocean Road Race, claiming his first WorldTour victory in a stunning sprint finish.
Mayhofer outlasted Hugo Page (Intermarché Circus Wanty) and Simon Clarke (Israel-Premier Tech) in the bunch sprint.
Australia's Lucas Plapp (Ineos Grenadiers) was the first to lead out the bunch sprint to the finish line which was marred by a three-man crash.
Australian sprinting superstars Michael Matthews (Jayco AlUla) and Caleb Ewan (Australian National Team) were right in the mix but were unable to make ground on Mayrhofer and finished fourth and sixth respectively.
Race Results
Marius Mayrhofer (Team DSM)
Hugo Page (Intermarché Circus Wanty)
Simon Clarke (Israel-Premier Tech)
Michael Matthews (Jayco AlUla)
Corbin Strong (Israel-Premier Tech)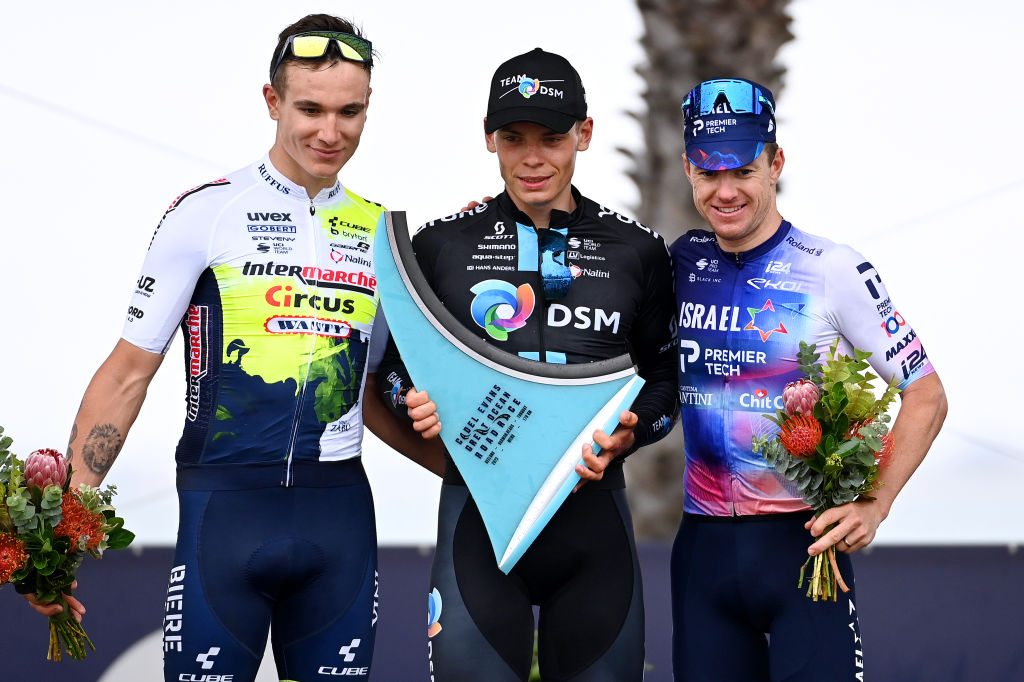 Q&A with Marius Mayrhofer (Team DSM)
Talk us through the last 10 seconds as it looked pretty crazy out there.
"I went with I think 400m to go and I was always a bit blocked and couldn't really focus on my sprint. Today, there was this little downhill 300m to go so I thought I'd just build up as much momentum as I can. I just started to sprint and being as small as possible and use as much power as I could. I just went full gas to the line and I was hoping no one could overtake me."

Big day for the team sprinters! How inspired were you of your team's win in Argentina?
"I saw it live this morning and it was really nice to see my teammate win. It's great to see the team win in Argentina and also here. It's a great day for our team and for me."

Your first WorldTour win – how does it feel?
"It feels great. Straight after the finish, I was completely done emotionally and I couldn't believe it. Now I'm fine again and happy to take the win."

How do you feel physically?
"I'm still full of adrenaline and happiness – at the moment I feel great. This evening, I'll feel my legs a bit. The climb is pretty tough, especially for a sprinter. I had to dig deep a few times but I felt good today."

You beat two sprinters at the line (Michael Matthews and Caleb Ewan) – that must be a feather in your cap.
"It's a great result. It's a WorldTour race – of course there's the strongest riders of the world here. If you want to win, you need to be up there. It feels great."

What's the plan for you this year?
"It's hard to say. We take as much motivation as we can into the next races. I'll see with the team what races we'll do and what my role will be. I'm still 22 and it's a great win but we want to keep the pressure low to perform as good as we can."

Do you have any major objectives for this year?
"I really wanted to take my first win which I did now but I will not rest. I'll keep training and pushing. And take every opportunity that I can."

You had some family here today?
"Yeah my parents combined this race with their holiday. Since COVID, they've been limited with their travel. When I got the news that I would do the Tour Down Under and Cadel Evans, I told them and they thought it could be a nice holiday. I'm happy that they're here and they are also really happy that they're here with me to celebrate my first professional winner."

You went surfing earlier this week – perhaps a good luck charm next time you come down under?
"It probably was good preparation – some salt water so I'm hydrated!"