There's nothing quite like the isolation of a solo ride. Just you, your bike and your thoughts. But what happens if you're being hunted by a charging pro peloton at the time? Peter Maniaty spoke with some of cycling's most famous solo "escapees" to find out.
We don't need the Chief Medical Officer to tell us riding solo is a great way to ensure social distancing. Whether it's out on the road, in the spare bedroom at home or hiding away in the garage or shed, the COVID-19 crisis has reminded us what it feels like to ride alone.
Of course, a solitary sojourn during lockdown is a very different beast to spending all day in the purgatory of a solo breakaway, rolling imaginary turns with yourself as a heaving professional peloton nips menacingly at your heels. In such instances, the isolation of the road and its associated suffering brings many challenges
– both physical and mental – all of which typically play out on our television screens in
a cycling-themed voyeurism not dissimilar to The Truman Show. Simultaneously entertaining, compelling and brutal. Will he or she make it?
Death or glory
Professional cycling has witnessed some remarkable long-range solo attacks during the decades. Sometimes it's entirely planned, such as Chris Froome's audaciously pre-meditated 80km attack on the Colle delle Finestre that turned the 2018 Giro d'Italia on its head. But much of the time it's more like a two-wheeled game of musical chairs. After a mad scurry, the music stops and you're literally the only rider left with hundreds
of long, lonely kilometres ahead of you.
History shows the vast majority of solo attacks end in cruel defeat for the protagonist. It's more a matter of when the catch happens, not if. This isn't to say they always fail. In 2012, Tom Boonen famously soloed across the cobblestones of northern France for more than 50km to claim a record-equalling fourth Paris-Roubaix title. In September 2019, in Yorkshire,
Dutchwoman Annemiek van Vleuten attacked the world's best riders with 104km still to go – more than two-thirds of the race distance – ultimately claiming her maiden UCI Road Race World Championship. "I really enjoyed doing a crazy thing today," Van Vleuten told media candidly after the race.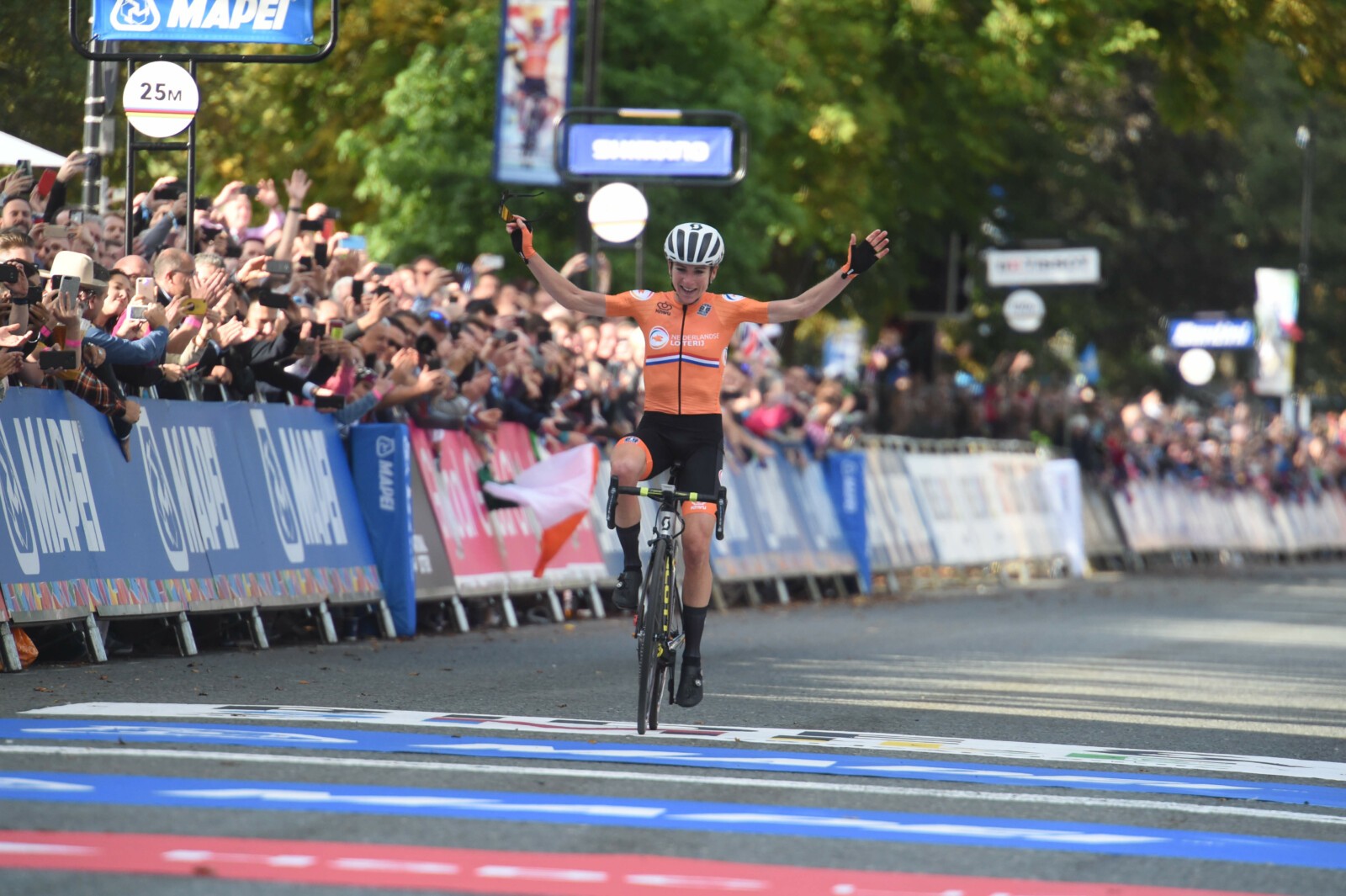 "The attack was planned, but I didn't plan [to be] solo. Once you start, you just have to continue."
Arguably the finest example of "continuing" came way back in 1947 when France's Albert Bourlon pulled off the longest successful solo breakaway in Tour de France history. Bourlon prevailed by a staggering 16'20" on stage 14 after a leg-shredding 253km effort between Carcassonne and Luchon. Not far behind Bourlon in the history books is an equally heroic ride by another Frenchman, prologue specialist Thierry Marie.
On stage 6 of the 1991 Tour de France, Marie was alone with his thoughts for more than six hours and 234km through Normandy and he eventually won the stage by 1'54", moving briefly into the yellow jersey. "It was horrible," Marie explained afterwards. Which begs the question: if it feels horrible when you win, how must it feel when you don't? Two riders well placed to comment are Belgium's Guillaume Van Keirsbulck and Germany's Tony Martin.
Guillaume Van Keirsbulck
(Wanty-Groupe Gobert)
2017 Tour de France, Stage 4
Stage distance: 207.5km
Breakaway distance: 190km
Final placing on stage: 183rd
Guillaume Van Keirsbulck may ride for Team CCC nowadays, but at the 2017 Tour de France he was part of the Pro-Continental upstarts from Belgium, Wanty-Groupe Gobert. Heading into the mostly flat stage 4 from Mondorf-les-Bains to Vittel, he was determined to make his mark. A former winner of Paris-Roubaix Juniors (2009) whose grandfather, Benoni Beheyt, was the 1963 Road World Champion, Van Keirsbulck attacked as soon as Christian Prudhomme dropped the flag and he ended up staying at the front, solo, for the next 190km.
The Belgian built up a huge gap of more than 13 minutes after just 60km, progressively cleaning up all the intermediate sprint and KOM points until finally, after 190km in self-isolation, he was swept up. Ultimately, Van Keirsbulck crossed the line in a somewhat anonymous 183rd place, 3'57" behind winner Arnaud Démare on a stage best remembered for the controversial crash involving Peter Sagan and Mark Cavendish that saw Sagan thrown out of the race. At least Van Keirsbulck was rewarded with the Combativity Award. As if it could have gone to anyone else.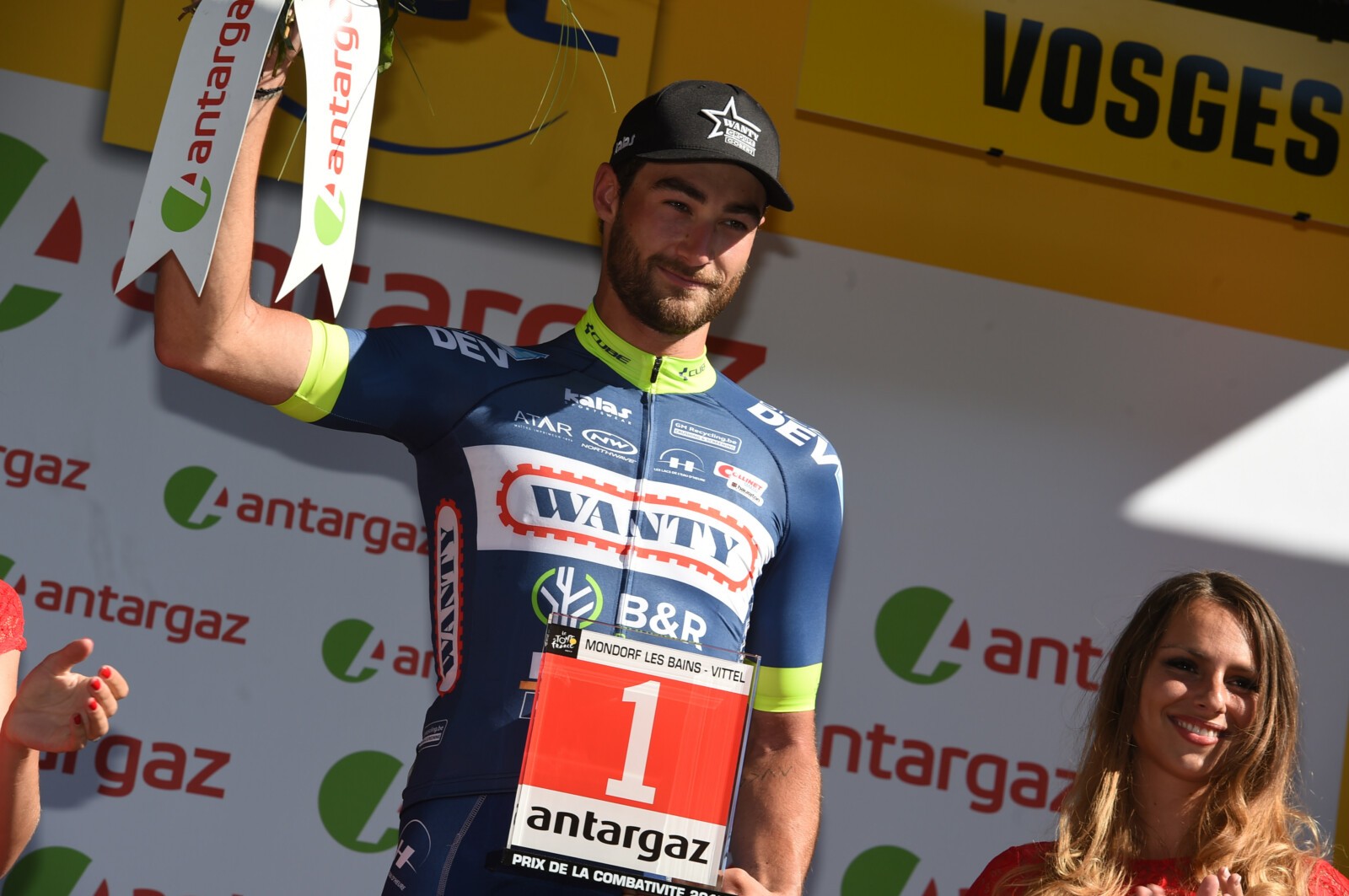 "Sometimes it's a big fight to make the breakaway, as usually you have at least a few riders who want to go clear," Van Keirsbulck recounts of his most epic solo day in the saddle. "But after 10km, I realised I would have to race alone for the whole time on that stage. At first, I thought about returning to the peloton, but I found the motivation to keep going. I knew it would be a positive thing for me and the team, so it was a good opportunity to have the exposure on TV around the world. As well, it would look stupid if I decided to go back."
Getting publicity for your team is one thing. But going so deep in the first week of a Grand Tour, as opposed to a one-day race, can lead to significant downsides – not so much during the stage itself, but in what happens afterwards. "On the day I wasn't thinking about the rest of the race. I was just focused on getting through the stage and staying away as long as possible," says Van Keirsbulck.
"But it was a very big effort – a long distance alone with strong winds, too. The day after, I didn't have the best feelings, it certainly took me a while to recover."
Given Van Keirsbulck's chances of staying away seemed remote from the very outset, what kept him going for 190km? "When you're in the breakaway, you always hope for a chance to make it to the finish," he says.
"I remember hoping the bunch would maybe miscalculate the chase and I'd be able to stay away. I just tried not to think too much and kept pushing; if you're always thinking about how many kilometres you have left, it's hard. The big crowds on the side of the road also kept me motivated. Of course, I would have preferred to have stayed away until the finish so, yes, I was disappointed. But I also felt very proud of what I'd achieved."
Putting Van Keirsbulck's heroics into even sharper perspective that day is it remains the longest solo ride he's ever completed in his life – racing or training. "I don't really ride much by myself. I always train with a couple of friends, especially on long training rides as I prefer to have the company. My longest ever training ride was about 200km in Belgium."
Tony Martin (Omega Pharma-QuickStep)
2013 Vuelta a España, Stage 6
Stage distance: 175km
Breakaway distance: 174.9km
Final placing on stage: 7th
As a four-time UCI Time Trial World Champion, Tony Martin is well versed in riding alone. Yet despite many victories during a glittering career, one of his greatest performances ironically ended in a narrow, agonising defeat. On the 175km stage 6 at the 2013 Vuelta a España, Martin attacked immediately on leaving the neutral zone in Guijuelo.
Riding for Omega Pharma-QuickStep at the time, he then spent the next 174.9km at the head of the race and still had a gap on six seconds inside the final kilometre. But just as the fairytale seemed possible, he was caught with less than 100m to go in Caceres. It was so close, Martin still managed to finish seventh on the stage behind the winner, Saxo-Tinkoff's Michael Mørkøv.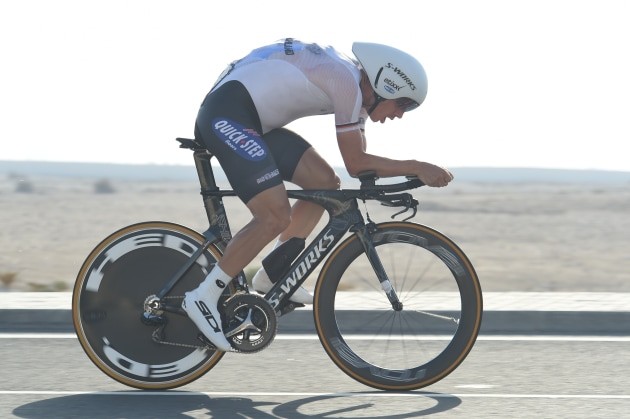 The fans were devastated for Martin. The commentators were devastated. Even riders from other teams were devastated. Yet to this day the man himself remains remarkably philosophical.
"I was really satisfied with my performance," he reflects from his home in Switzerland.
"I was never really mad that I got caught. For sure, I wanted to win, but I also felt I did something special and created a really nice piece of history staying away for so long. Honestly, I got so much positive feedback directly after the stage from riders and sport directors from other teams, from fans, I think I got more PR than after some of my victories."
"I never had a real plan of what would happen on the day. I just saw a small chance to go on the break and gamble a bit with the peloton," Martin continues as a cheeky tone creeps into his voice.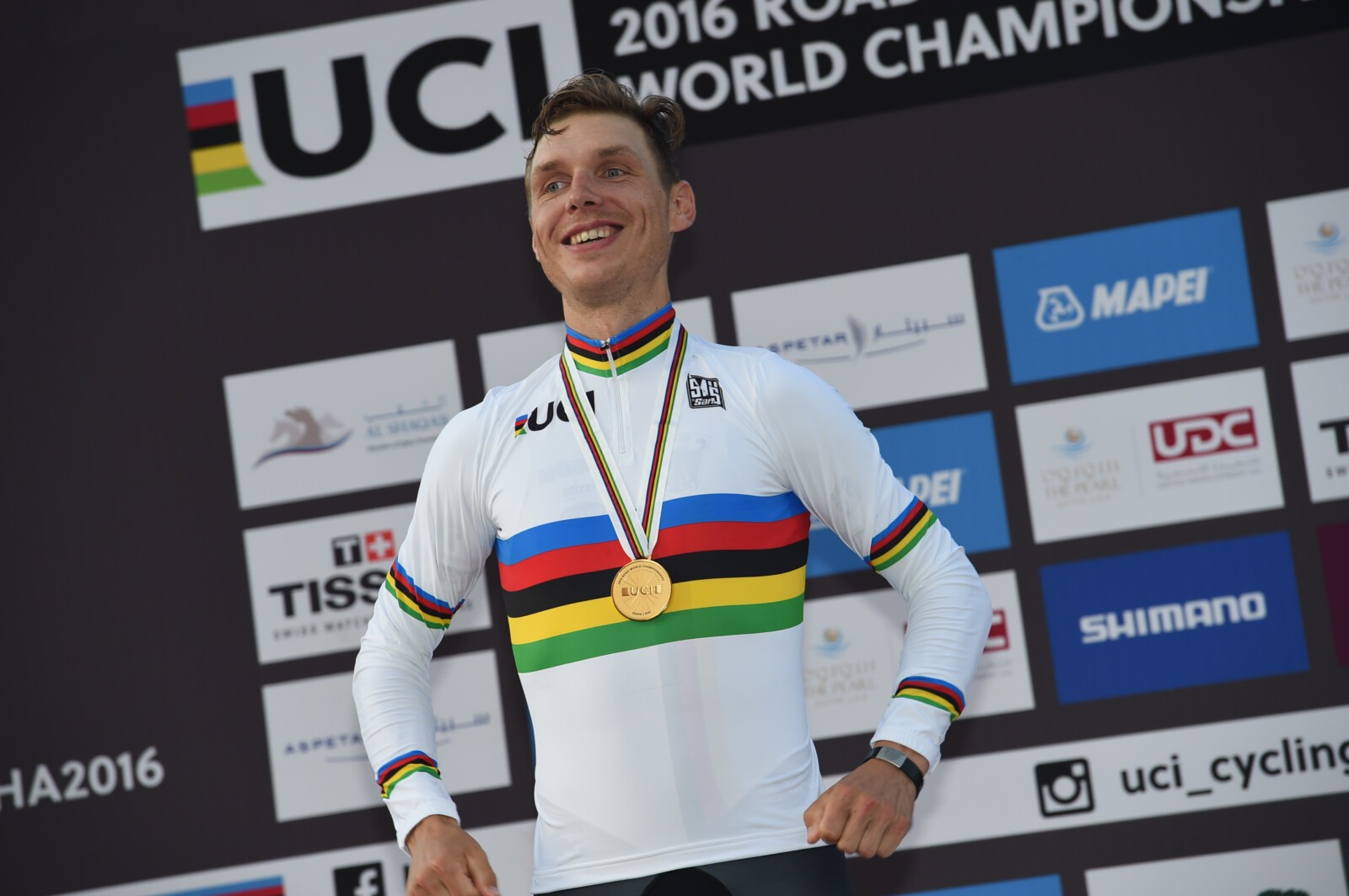 "As it happened, I was the only one who had such a crazy idea and I ended up alone. But I actually love to ride alone in a break. I'm not the best sprinter so [being alone] my chances are always higher to win. When I saw immediately no-one wanted to join me, that was OK. Yes, it was a long day, but I didn't have to share any media time.
"For me, I've never had trouble staying focused, even on long breakaways or when I'm working for the team on the front of the peloton," adds the seven-time Grand Tour stage winner. "I'm used to training alone for long amounts of time. In fact, I'd always choose solo training over group training, or with just one mate. I don't like big groups in training and it's the same in races. I really like to be on the front alone, or with just a small break."
Tapping into the fearsome mental strength that's served him so well since his debut season with Team High Road in 2008, Martin explains he actually saw his impromptu stage 6 solo in Spain as the perfect opportunity to test himself. "One of the main reasons I went to the Vuelta in 2013 was to prepare for the World Championships in Florence," he says.
"It's always good to have some days where you go really, really deep. In the final 20-25km, I was pushing some very good numbers, so on top of a nice result, it was very good training. I'm normally never afraid to go too deep because
I know my body can handle it."
Despite coming within metres of winning the stage, Martin reveals he never thought he could actually hang on. "No, not really," he admits.
"I always felt the peloton was coming closer. There was also a bit of a headwind on those long highways. With about 20km to go, the peloton could see me and, mentally, I was already caught. But there was a descent through a small town where I was going quite fast and suddenly the peloton wasn't getting closer.
"That gave me a motivation push and I went into time-trial mode. It was fun at that stage because it was very cat and mouse. I still knew my chances were minimal, but I like to do crazy things so I kept hanging on and fighting. I was giving 120 per cent, but even when I saw the finish line, I could feel the peloton on my back so the surprise when they caught me wasn't big. Honestly, I was just very happy about what I was able to do, even with seventh place."
Indeed, he should be. It was arguably the finest seventh place in professional cycling history. Solo or otherwise