As riders took to the start line of Bicycling Australia's 2022 Mudgee Classic, one very fit looking older participant shared a laugh with event MC Lee Turner. Later in the day we caught up with the rider, 80yo Ross Salmon from Queensland's Gold Coast, and enjoyed listening to some of his fascinating memories from a lifetime of riding.
Training for next year's World Duathlon Titles, Ross said his latest goal was to get a place on the Australian Team.
"It will be wonderful to be able to represent Australia in Spain in August next year—if I qualify," he said. Ross then told us he was fortunate to meet Sir Hubert Opperman in the 1950s.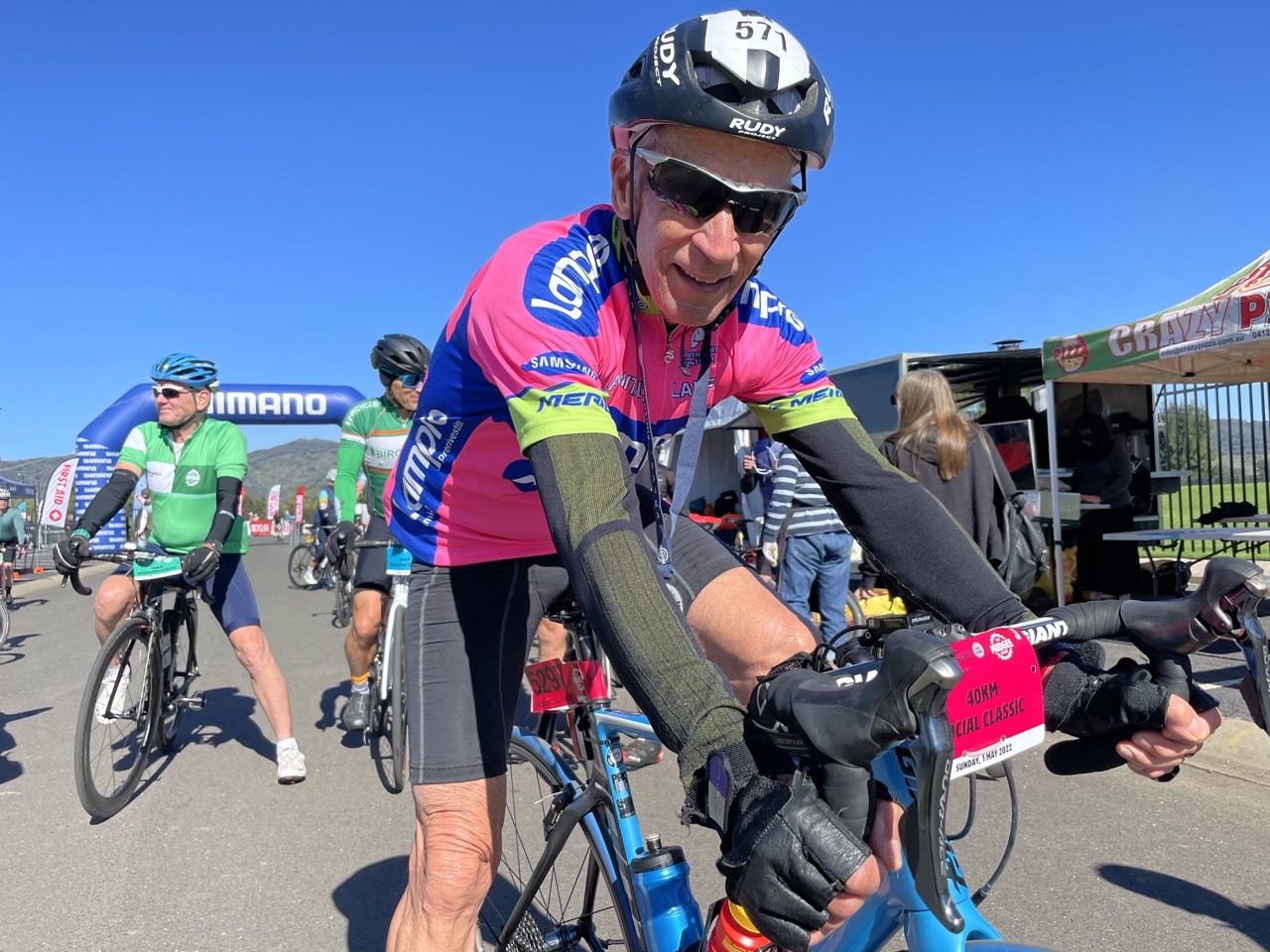 "He introduced me to Malvern Star and cycling," he said. "From that age on I won a couple of titles—schoolboy racing in 1958—and with his guidance I continued my cycling, along with triathlon and duathlon, and here I am today," he continued.
"At the young age of 80 let's hope I've got a few more years ahead of me and a few more highlights," he added with a laugh.
A few days after the Mudgee Classic Ross emailed through the following note and included the original letter he received from the late great 'Oppy'.
Sir Hubert Opperman – four time national champion, multiple Tour de France participant, 24-hour record holder and Paris-Brest-Paris winner – turned to politics after cycling. There he served as a Federal MP for 17 years, held several ministerial portfolios, and was Government Whip.
While in Canberra he wrote the following letter of encouragement to keen young cyclist Ross Salmon.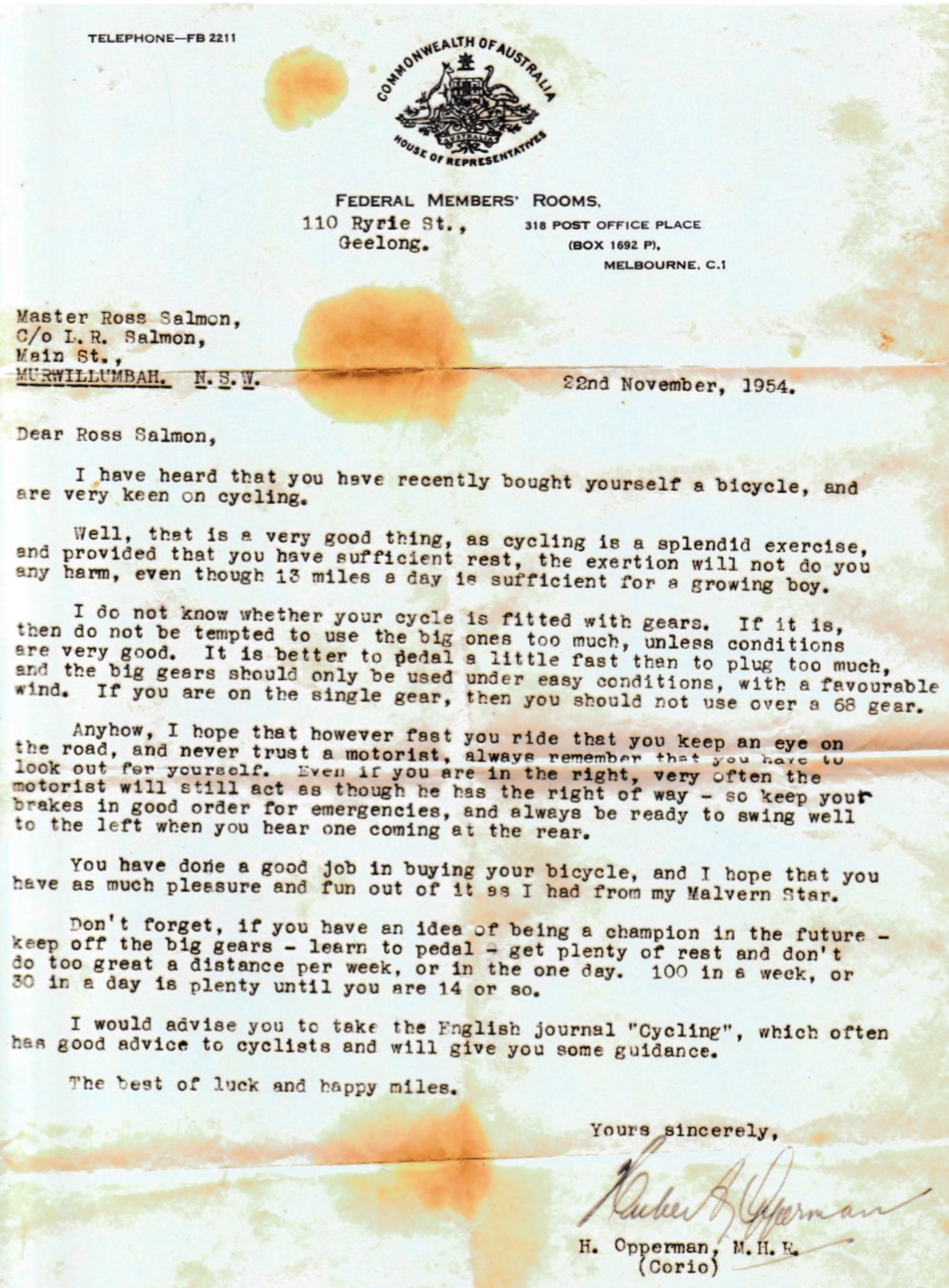 And below is the letter we received from Ross, and we thank him for the permission to publish it.
Firstly you guys produce a great magazine, Thank you.
My cycling story started as a 12 year old boy, 1954, who must have showed some talent and loads of enthusiasm. It all started in the northern rivers town of Murwillumbah where I was born, spend my early years and got involved with the Tweed River Cycle Club and as mentioned Malvern Star and Sir Hubert Opperman, who in the 1930's rode to fame to become Australia's No. one cyclist and ranked high on the world stage.
Through a Malvern Star retail outlet in Murwillumbah I became known within that cycle manufacture company and Hubert Opperman.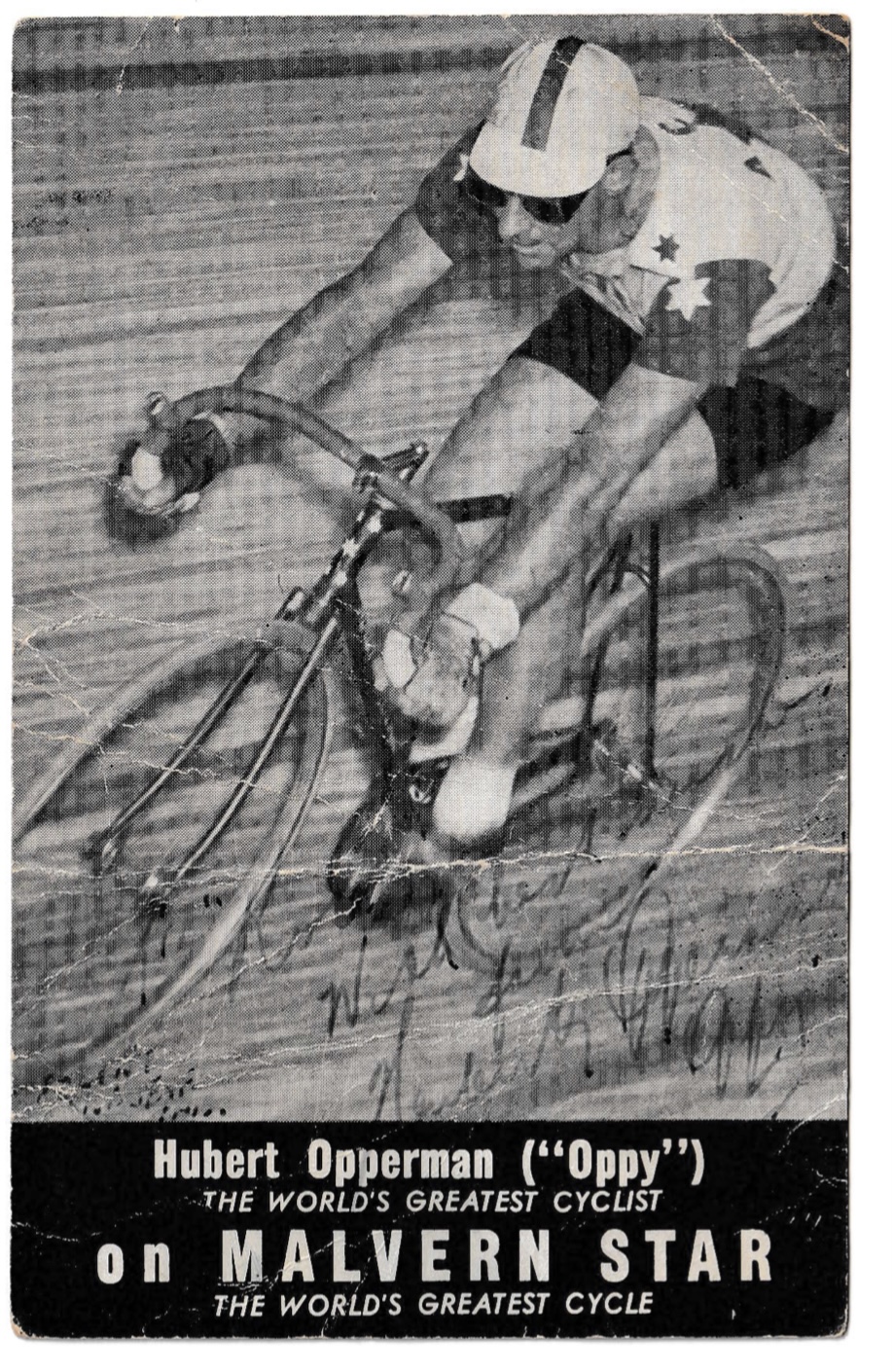 I've enclosed a copy of Oppy's records and this encouraging letter advising on how young legs were best to train and I'd say as good to day as it was then.
This letter is a precious piece of memorabilia and should be place in Australia's Cycling Museum as it would be the only such writings from one of our past cycling greats.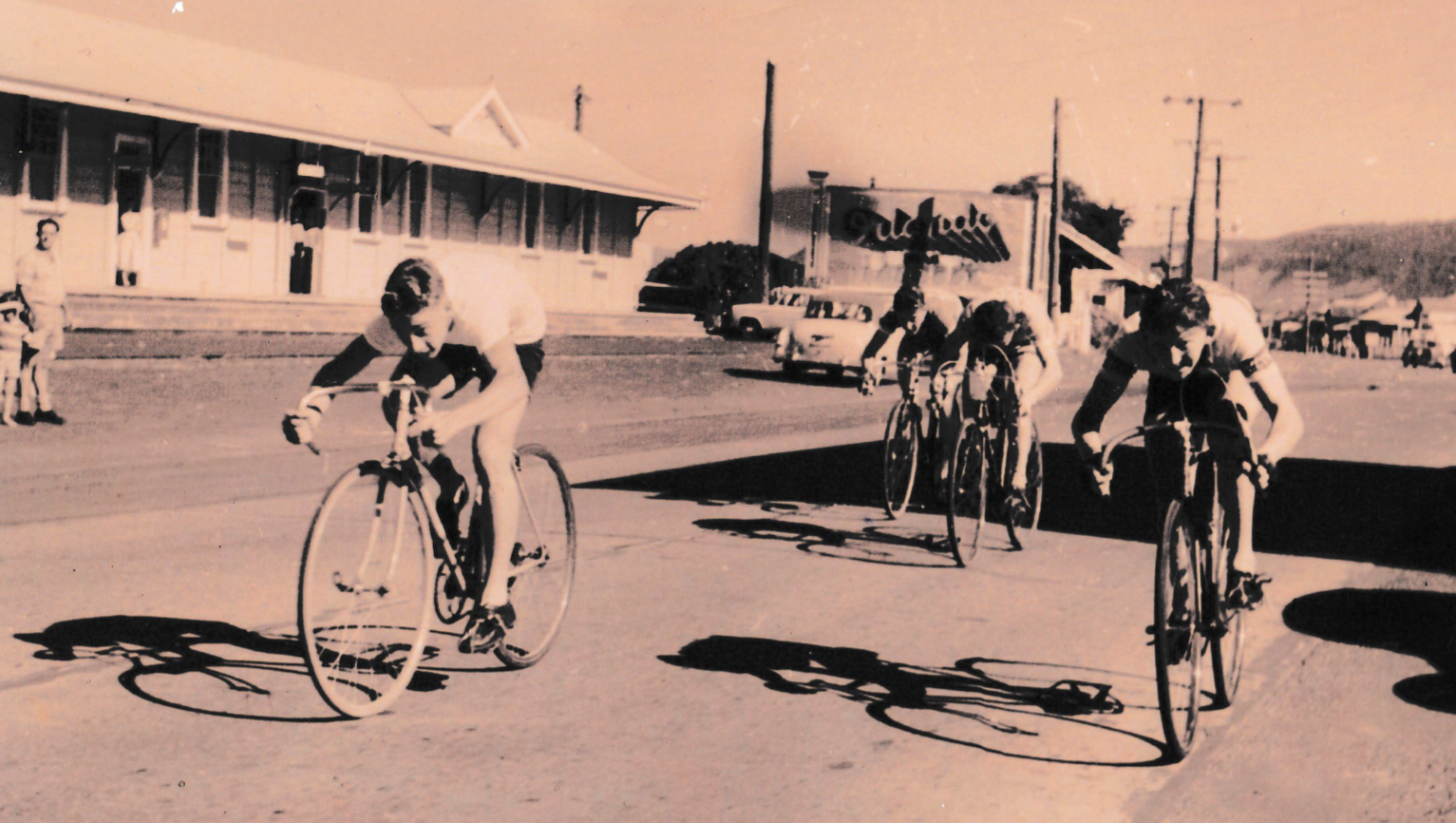 The Oppy frame was built by Malvern Star of lighter steel and for the 40 and 50's the design was lugless, quite rare for that time in cycle frame development, the limited versions were rare.
The photo, Ross on the right, also enclosed of me winning one of the school boys elimination races to gain a position on the school boys state team in 1958 on an Oppy frame held in Centennial Park Sydney on Saturday 6thSeptember 1958 where 16 school boy representatives from city and country gathered to compete, I finished mid field.
We wish Ross Salmon the very best as he trains for his next event, and thank him for sharing this fascinating Australian cycling history.