24yo West Australian Jai Hindley has come of age as a Grand Tour rider, the Team Sunweb rider finishing 2nd overall at the 2020 Giro d'Italia.
Hindley rode the time trial of his life aboard his Shimano-equipped Cervélo P5. Team Ineos rider Tao Geoghegan Hart rode a faster final TT to secure the overall win, and is now the team's 5th Grand Tour winner in 10 years.
Hindley's teammate Wilco Kelderman secured third on the final podium – making it a 2-3 for Sunweb.
24yo West Australian Jai Hindley during the final Individual Time Trial.

It's a massive step forward in my career and it's three weeks I'll never forget.
"It is super-disappointing to lose the jersey on the last day like that and at the moment it's pretty hard to take," said Hindley immediately after the stage.
"I think when I look back, I'll be super proud with how the team and I rode the past three weeks. It's a massive step forward in my career and it's three weeks I'll never forget."
Hindley said as a team Sunweb didn't put a foot wrong all race.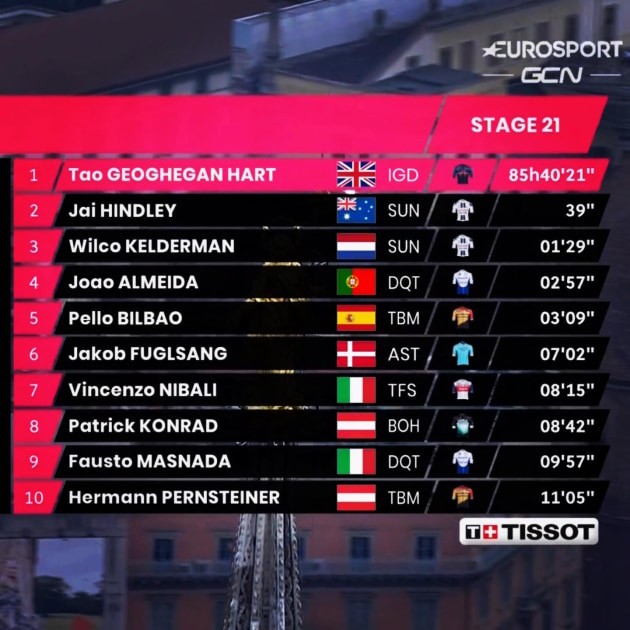 "We can be super proud of what we've accomplished," he added.
"I'd just like to thank the guys on the team, the whole team actually – the staff, everyone involved. It's a massive operation to get here and to be on the podium in Milan; a lot of work, effort and time has gone into it and I really appreciate what the team has done to get me here."
Team Sunweb's Giro d'Italia coach Luke Roberts said Jai had the pleasure of wearing the pink jersey into Milan.
"We've had a lot of highs and lows throughout the three weeks but when we needed the guys then they were all there and rode strongly as a team together," he said.
"I think we can be proud, we were up against a tough opponent. We can walk away happy from this race with the two spots on the podium, the stage win, some days in the pink jersey; it's been a great race for the team."