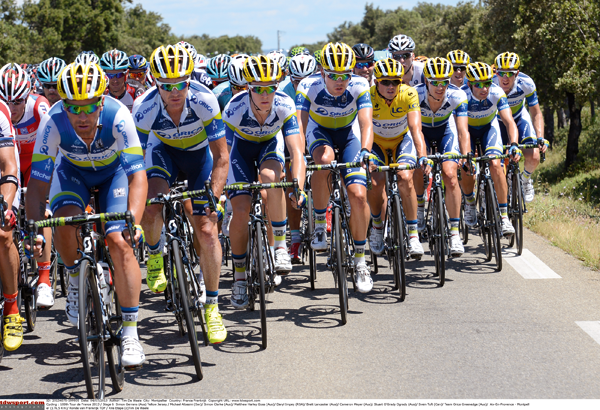 All the planning and a large part of the preparation for the athletes of Orica GreenEDGE are well under way for the upcoming 2014 season. And compared to recent years the 2014 season is shaping up to be very different for the team—and indeed the WorldTour as a whole.
This year's WorldTour is looking to be somewhat lacklustre with the closing of two teams, Euskaltel and Vacansoleil. Add to that, the end of Tour de France wild card team Sojasun, and the reduction in roster of the once mighty Saxo Bank and things might be construed as looking pretty grim. In excess of 75 riders have flooded the market where there is no demand; there are no places in existing teams and no new teams. Not to mention associated staff like soigneurs and mechanics who are also now without jobs.
There was word on the street that Formula 1 star, Fernando Alonso and his brand may have been cycling's White Knight in these desperate times. His investment in the sport would have been something of a turning point for the sport but for whatever reason his intentions never came to fruition. Here's hoping that he hasn't been entirely scared off by the UCI's bureaucracy, and that he'll return in the future.
Last issue, I wrote about how I felt cycling was at a turning point and with all the problems we have had in recent years; how we were now ready to close the door on the past and move on. I spoke about emerging markets in cycling, the return of the South Americans, about cycling having an increasing presence in Asia and Africa. This may now seem at odds with the grim outlook I've just given for cycling in 2014. Maybe I am way off the mark and the worst is still to come. I still believe things will take time to settle and get going again. Who knows? Only time will tell.
For Orica GreenEdge, after a highly successful 2013, the 2014 season is going to bring a whole host of new challenges with a lot of exciting riders and some new young guys. Among them are the British brothers, Simon and Adam Yates and to add power to the Aussie contingent is the inclusion of Damian Howson. Damian trialled with the team in the last part of the 2013 season where he impressed us and then backed up by destroying the field in the individual time trial at the World Under 23 Championships in Florence. He's a rider who will definitely have the capacity to add to Orica GreenEdge's proud team time trial history. Toward the end of 2014, the talented sprinter Caleb Ewen will also be a valuable addition to the squad and the world of professional cycling.
Add to the arrival of these guys the experience of highly respected Aussie classics specialist, Matt Hayman, the tri colore of Italian Champion, Ivan Santaromita and the young Colombian climbing sensation, Esteban Chaves and we have a lot to look forward to. Not only in 2014 but also in the years beyond with a young and dynamic roster that we are keen to spend our energy on developing for the future.
Riders aside, kicking the 2014 season off for Orica GreenEdge is the Tour Down Under and there is not a race much more important to the team than this. It's our chance to show our Aussie pride and team strength to our core fans. It's a race that we commit to as much as any other despite its skewed placement in the WorldTour season calendar.
One of the advantages we have is a wealth of riders to choose from with the sort of talent that can bring success in a race like Tour Down Under. So early in the season, a team needs options and with names like Meyer, Gerrans, Clarke, Impey and Goss we have a lot of cards to play. All of who have been preparing with their sights firmly set on one week in January.
The biggest difficulty we face in preparing the team for Tour Down Under is that we're an international team with an international roster so getting everyone together for training before the important season opener is difficult – especially at time of year when athletes want and deserve to be with their families, away from bike racing. In trying to select a team for any race at any time of year, it's always easier if we can have the riders together – a luxury we don't have before Tour Down Under, no doubt, it makes assessment for selection more difficult.
For our team, the only pre-season camp that includes all the team is late November – early December and we spread ourselves between Melbourne and Canberra. This get-together however is more about meeting sponsor demands and fulfilling pre-season requirements, such as UCI medical and internal assessments. It's not so much a camp focused on training or preparing physically for the coming season.
So, we have to look to other advantages and strengths that our team has. Two of the key attributes in my mind are pride and professionalism. These are two of the most fundamental qualities that any team or athlete can have and they'll play a valuable role in preparing our guys for the Tour Down Under. Sure we're a little more fortunate than many of the European teams—our guys do train in a Southern hemisphere summer, and do have the option to do some lower level races. But for me, it is their pride and professionalism that is key.
Given the route planned is similar to 2013 with shorter stages and punchy climbs, typical of Tour Down Under, it's going to be another race that will be wide open for the victory. The appearance of Tour de France winner, Cadel Evans after a three year absence, will add some excitement for fans who haven't seen him at Tour Down Under since he was Tour de France Champion in 2011. As always there will plenty to race for, and plenty to see. Although it's an early season race, as with all World Tour races, there is a lot at stake and those early WorldTour points are always handy. But for us in Orica GreenEdge, it's more than that. This is our home event and our chance to show our pride and professionalism.