The latest edition of Bicycling Australia Magazine – edition 231 of the nation's leading road cycling title – is out now.
We are thrilled to feature two exclusive interviews inside – one with Lachlan Morton who recently completed one of the most incredible cycling feats ever, and the other with the one-and-only Amanda Spratt. Further details below –
Amanda Spratt
Photographer & writer Coco Louise Henry goes one-on-one with Australia's best-known female pro rider, Amanda Spratt. It's a wide-ranging interview and fascinating insight into the life and times of 'Spratty', who started racing at age 11 and is showing no signs of slowing down.
Lachy Morton's 'Alt Tour'
The Tour de France may have been one of the cycling highlights of July 2021, but this was certainly the other! Steve Thomas spoke with Lachlan Morton after he completed an astonishing 5500km ride around France.
‍Stream On
Peter Maniaty speaks with the world's top cycling commentators and hosts including Mike Tomalaris and Dan Lloyd as he delves into the thorny topic of televised race coverage. What has changed and what's coming next?
‍The Devils Cardigan
Get ready for a seriously epic adventure … We jump aboard a gravel bike and tackle one of Tasmania's most exciting rides. This is a cold, wet and slippery adventure, and a thrilling one.
Wollongong 2022
It's now just a year away, yes the World Championships will be in Wollongong this time next year. With such a high-profile cycling event on our shores in just 12-months, we thougt it timely to speak with event CEO Stu Taggart.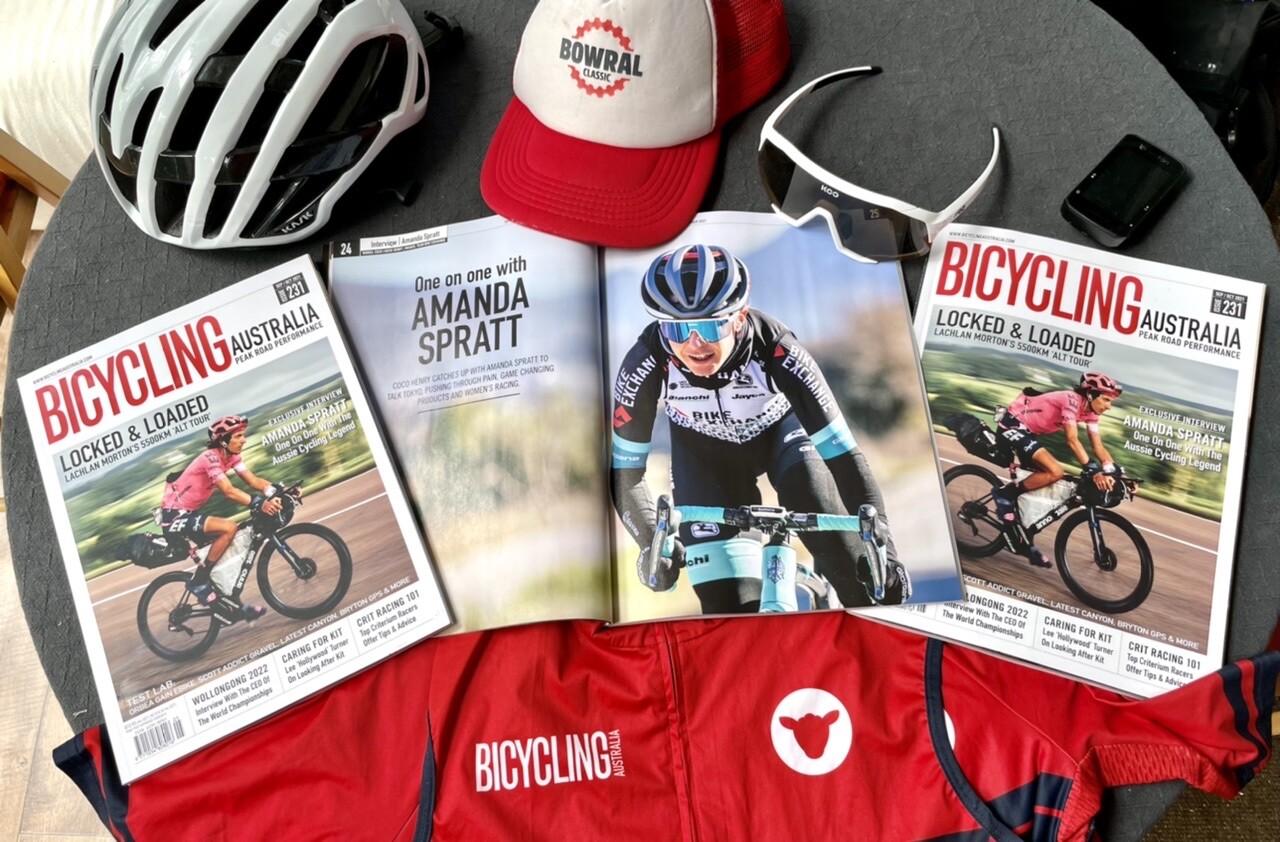 ‍Crit Racing 101
Three top criterium racers offer their personal insights into the fastest, most intense and most fan-friendly racing, the crit.
‍Kask Moebius helmet
One of two new Kask helmets to feature in this and next edition, Peter Maniaty takes an urban roll with the Kask Moebius.
‍Trek Light Review
We line up some of the top front and rear light options from Trek. Not only for dawn, dusk and nighttime, these are perfect all-day running lights.
‍Aftershokx Audio
Headphones while cycling is a divisive topic but this unique offering may make the difference.
‍Armour Tube Inserts
Tube inserts are popular in MTB circles and also gaining a following in the gravel world. Here we test Armour inserts from Tannus.
‍Bryton GPS Computer
A new fully-featured GPS computer from Bryton, the Ryder 750.
‍Panaracer GravelKing Tyres
We get down and dirty with 35 and 38mm tyres from Panaracer.
‍Canyon Endurace
Marcus Leach was so impressed with this steed he wants to buy one. Find out why here.
‍Scott Addict Gravel
Gravel is all the rage and this bike is up there with the best of them.
‍Orbea Gain E-Road
They're not for everyone but certainly are becoming popular – we ride the Mark II Gain from Orbea.
Bicycling Australia is Australia's premier road cycling magazine, delivering the best cycling news and information available.
Written by our team of expert riders, we're committed to improving your riding knowledge, skills and fitness.
Your new subscription covers every aspect of road cycling, from training, nutrition and riding techniques, to the latest bike, accessory and component tests, the best rides, plus easy-to-understand mechanical pointers to keep your bike running smoothly – everything needed to enhance your cycling experience.