Each month we take a look at the latest Top Gear in cycling, here is a close look at some recent releases.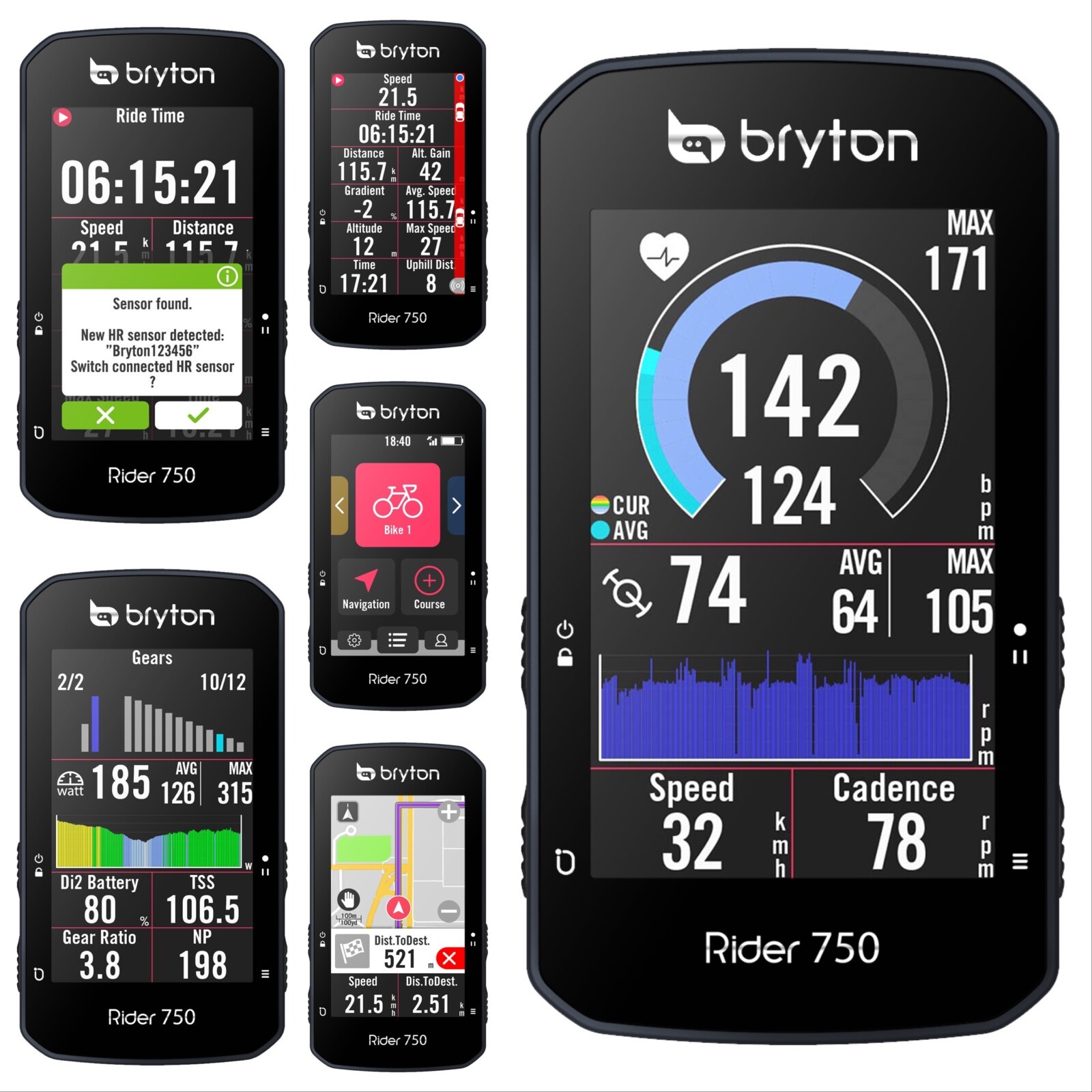 Bryton Rider 750 GPS
Feature-packed, this is the latest and most premium offering from Bryton; their Rider 750 designed to go up against the top models from Wahoo and Garmin.
Headline features are 20 hours of battery life, voice navigation and activation plus a large 2.8" color touch screen.
The Rider 750 incorporates a new intuitive Graphical User Interface (GUI) with dynamic colors corresponding to customized HR / Power zones and easy-to-understand icons.
The Rider 750 starts at around $450 for the unit and mount. For an extra $100 the GPS comes bundled with a heart rate monitor as well as speed and cadence sensors plus other accessories.
More at www.brytonsport.com.au
Precision Hydration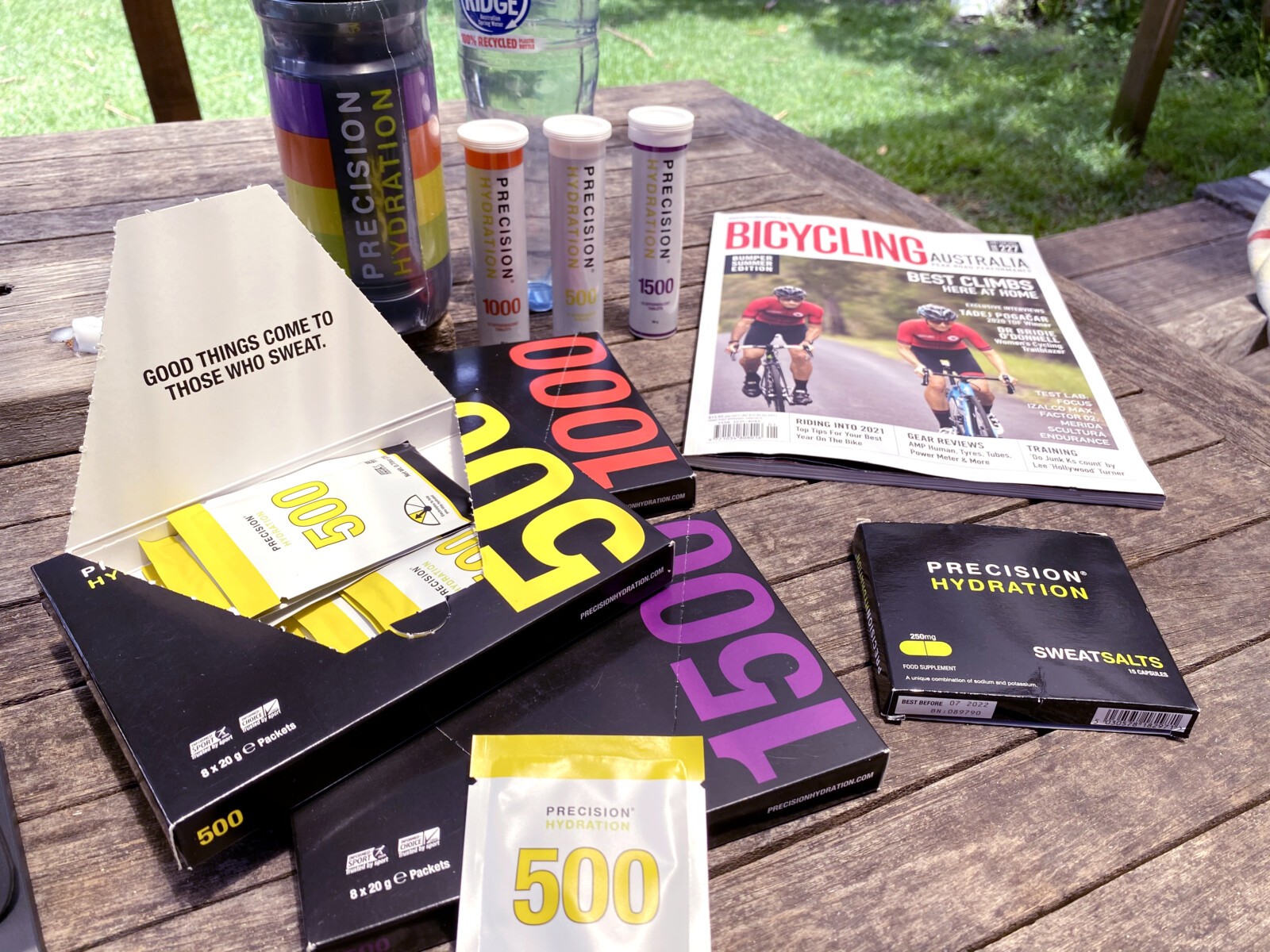 Precision Hydration offer a different take on the often complex world of keeping the body properly hydrated during training, full-blown workouts and exercise. The major point of difference here is the company's online sweat test. They also offer complimentary 20-minute video calls with their in-house 'sweat experts'.
Precision Hydration offer a range of sodium-based supplements including 'Sweat Salts', traditional tablets and powder packets.
Visit www.precisionhydration.com for more details.
New Specialized S-Works Ares Shoes
Specialized have released their rumoured Ares race shoes, purpose-designed sprint equipment tested to save the most marginal of gains, 1%.
Bicycling Australia have tested the shoes and can confirm the comfort, durability, feel and particularly the elimination of foot roll.
The S-Works Ares strikes the balance between power transfer and long-ride comfort by incorporating a stiff chassis with a completely new closure design. Tensioning is triangulated, thus ensuring retention is spread over a larger surface area. There's no tongue—instead you slip into an internal neoprene bootie, twist the BOA's and the foot is snuggly and comfortably enveloped inside the shoe.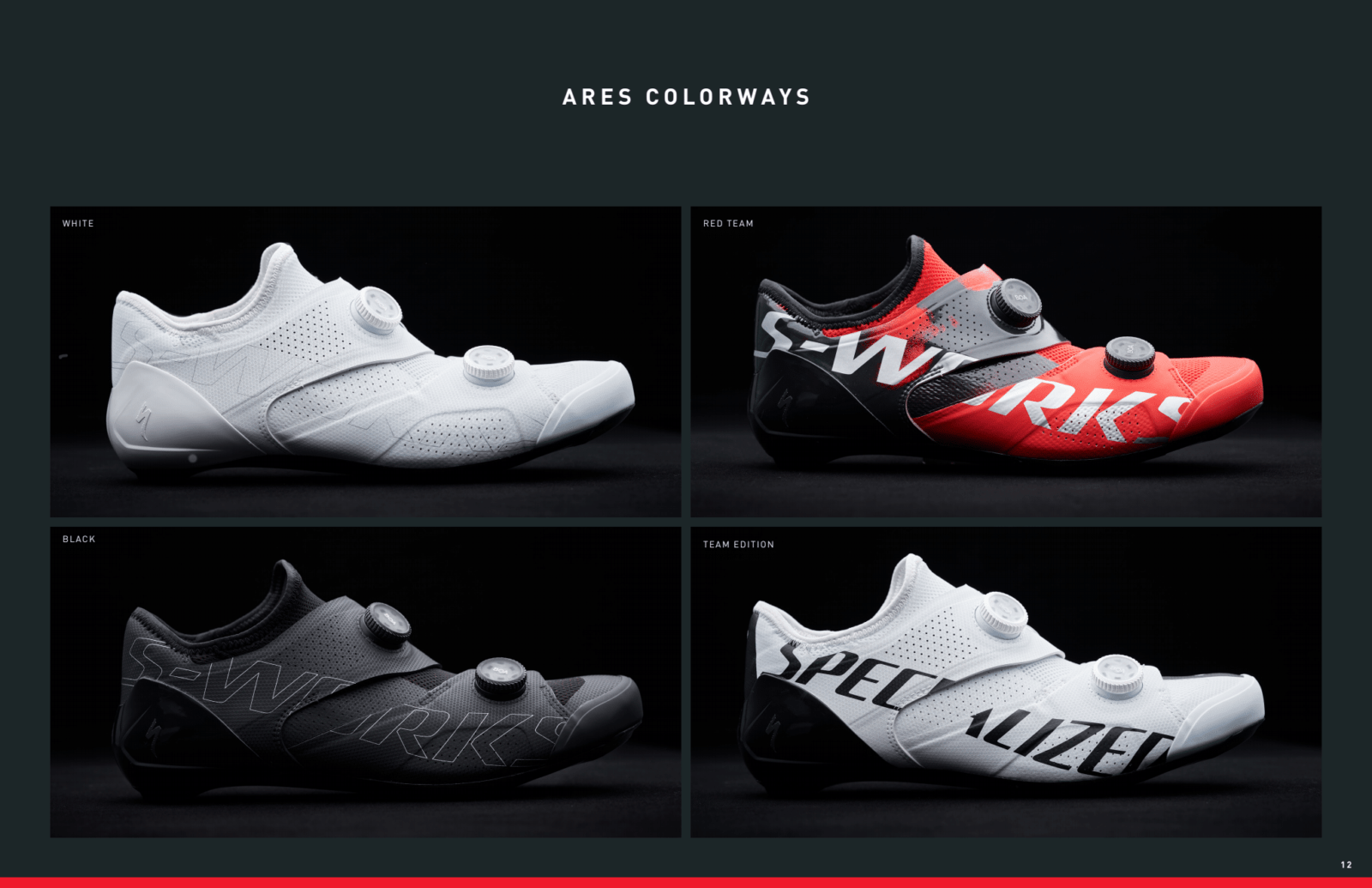 The S-WORKS Ares shoes will retail for $475 and are available in White, Black and Red. A full review is coming soon to the Bicycling Australia website.
More at www.specialized.com
Campagnolo Ekar 13 Speed
Campagnolo have launched their first gravel-specific groupset: the 13-speed Ekar. Touted as the lightest gravel groupset in the world, the full ensemble weighs in at 2385 grams.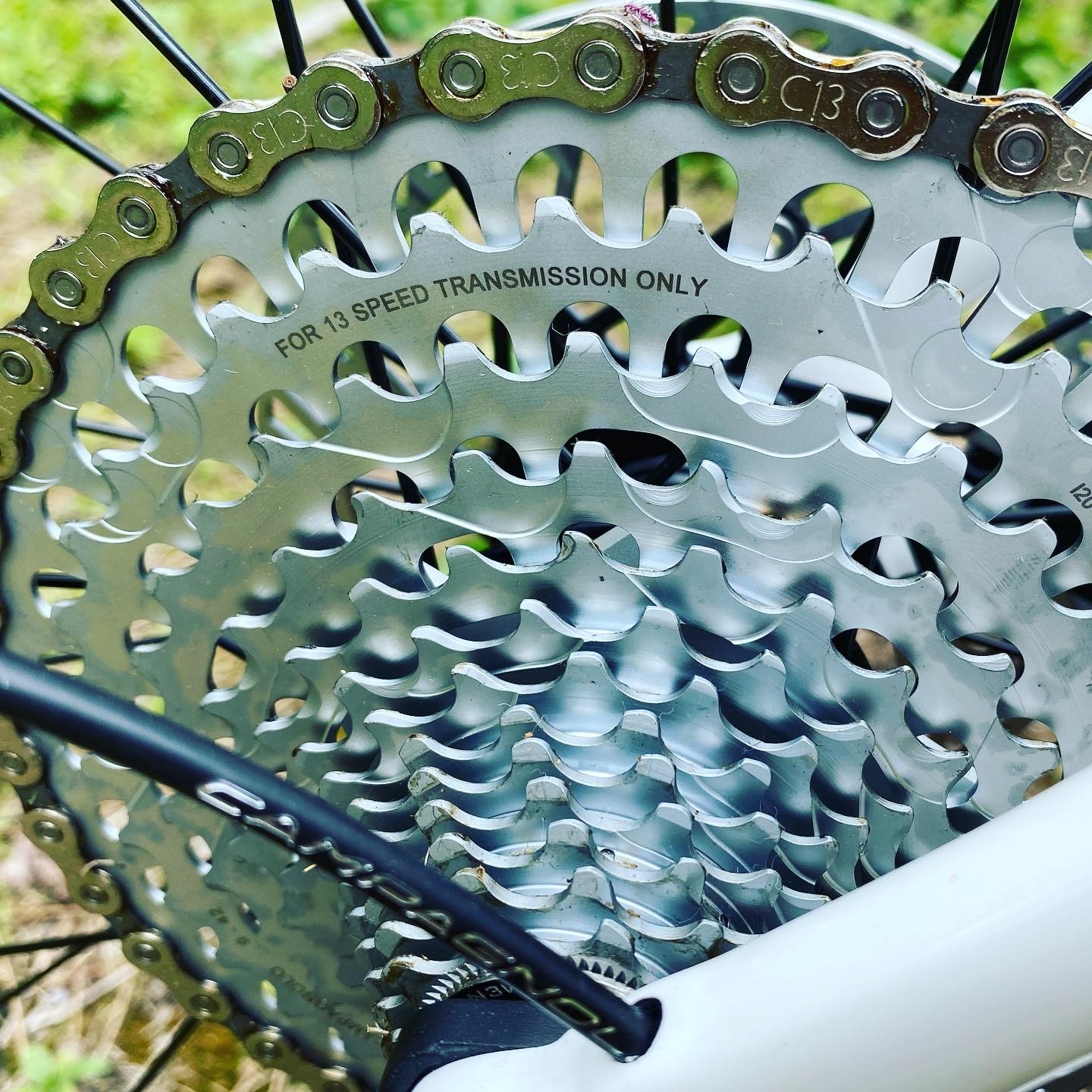 Ekar is named after an Italian mountain not far from Campagnolo HQ. Other than the 1 x 13 factor, the other standout headline are the gear options on offer. Three rear cassettes are available and they range from 9 to 36, 9 to 42 and 10 to 44.
For more on Campagnolo Ekar, read the review further back in this edition.
More info: www.campagnolo.com
Bicycle Maintenance App
A smart idea from an Aussie cyclist and developer, the 'Bicycle Maintenance App' features a series of videos and easy-to-follow instructions to help keep you out of trouble.
The app has a components section which outlines what each part of a component does and what effect it has on the component if you adjust it. This section gets amazing feedback as it allows the user to know what each part does, and takes the mystery out of that particular component.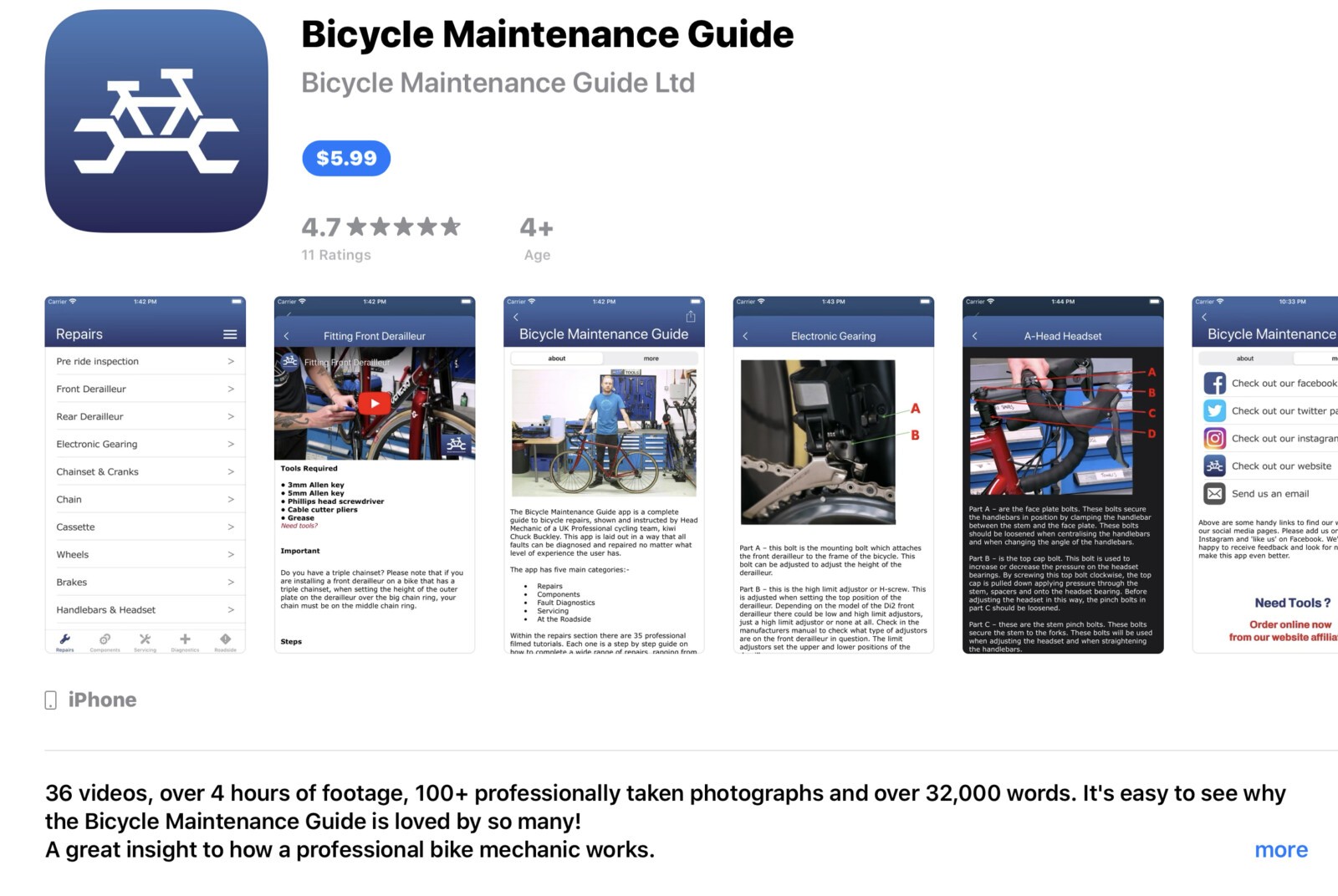 Content can be viewed offline and features loads of tips and advice from an experienced bike mechanic. More than 8000 users from around Australia and the world have downloaded the app.
The app can be found at the Apple and Android stores.
Schwalbe Aerothan Tubes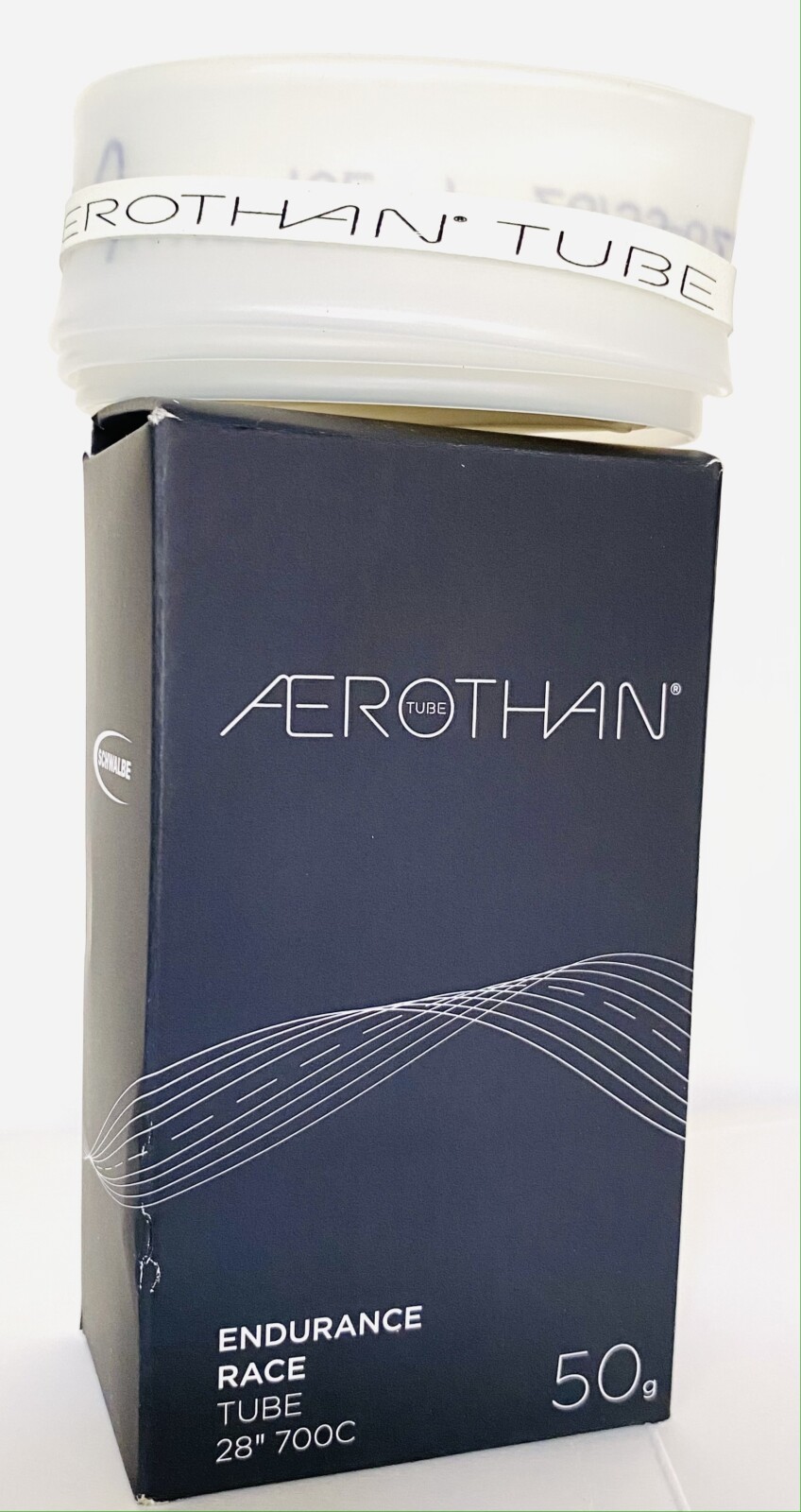 Looking to save a considerable amount of weight but not go tubeless? Schwalbe's new Aerothan tubes may be your answer. Weighing in at around 50 grams each, these 'plastic' tubes have been developed by Schwalbe along with German chemical giant, BASF.
Other than weight saving the material offers a number of benefits—for more details and a full review, read Peter Maniaty's report in the 'Test Lab' section of this edition.
The patented thermoplastic polyurethane compound is 100% recyclable and the tubes retail for around $50 per tube.
You can find your local dealer at www.bikebox.com.au
New Book From GCN
Global Cycling Network (GCN) is proud to present the new title 'Essential Road Bike Maintenance'—260 pages packed with all the essential knowledge needed to confidently take on and complete pretty much any bike maintenance task.
During the recent lock-down, the numbers of those choosing to cycle have increased dramatically both during the week and at weekends with a large proportion of the population taking to 2 wheels to avoid public transport or just get some headspace.
This book offers everyone of all abilities the perfect helping hand to become more knowledgeable and more confident about virtually every aspect of bike set up and maintenance—with words, pictures and videos at their fingertips.
For more details or to order visit shop.globalcyclingnetwork.com
Shamir OHS & Eyres Safety Optics
With more than 25 years' experience, Shamir OHS and Eyres Safety Optics sits at the forefront of the eyewear industry and is widely recognized as a leader in high-quality performance eyewear.
At the pinnacle of the range is the 703A Yarr, a high wrap, semi-rimless design for increased viewing area. Its sporty design is ultra-light, and its flexible temple tips and soft nose pad make for maximum comfort.
The eyewear performs at the highest level in sports with the right dimensions and optical properties to suit any frame, and provide an improved viewing experience, smooth transition between viewing fields, and comfortable viewing posture.
Wearing Shamir OHS & Eyres Safety Optics eyewear is the key to enhancing your vision to ensure you get the most comfortable and reliable eyewear for wherever your active life takes you.
Style Options:
Black/ Grey Frame – Grey Flash Silver Lens.
Black/ Red Frame – Grey Lens.
Crystal Black Frame – Polarised Grey Lens.
For more info visit www.shamirohs.com.au
Ciclovation Gravel Grind Bar Tape
In keeping with the gravel theme of this edition here is the perfect tape from Ciclovation and their distributor Full Beam Australia.
Developed for gravel and mixed surface use, the tape's unique, high-density rubber-based compound is made to withstand all weather conditions while offering enhanced grip and improved control via vibration and shock absorption.
Multi-layer, multi-density foam laminates effectively absorbs shock, dampens vibration and minimizes fatigue.
GEL padded adhesive keeps tape firmly wrapped on the handlebar and prevents residue for easy installation. Reusable, expanding locking bar plugs are reliable and resistant to falling out.
Material: Grind Touch, Rubber with Gel padding
Length: 2000 mm
Width: 30 mm
Thickness: 3.0 mm
Plug: UFO, Lock-in
Colour: Chocolate Brown
Price: $49.95
Order via: www.fullbeam.com.au
Shadowstand Bike Stands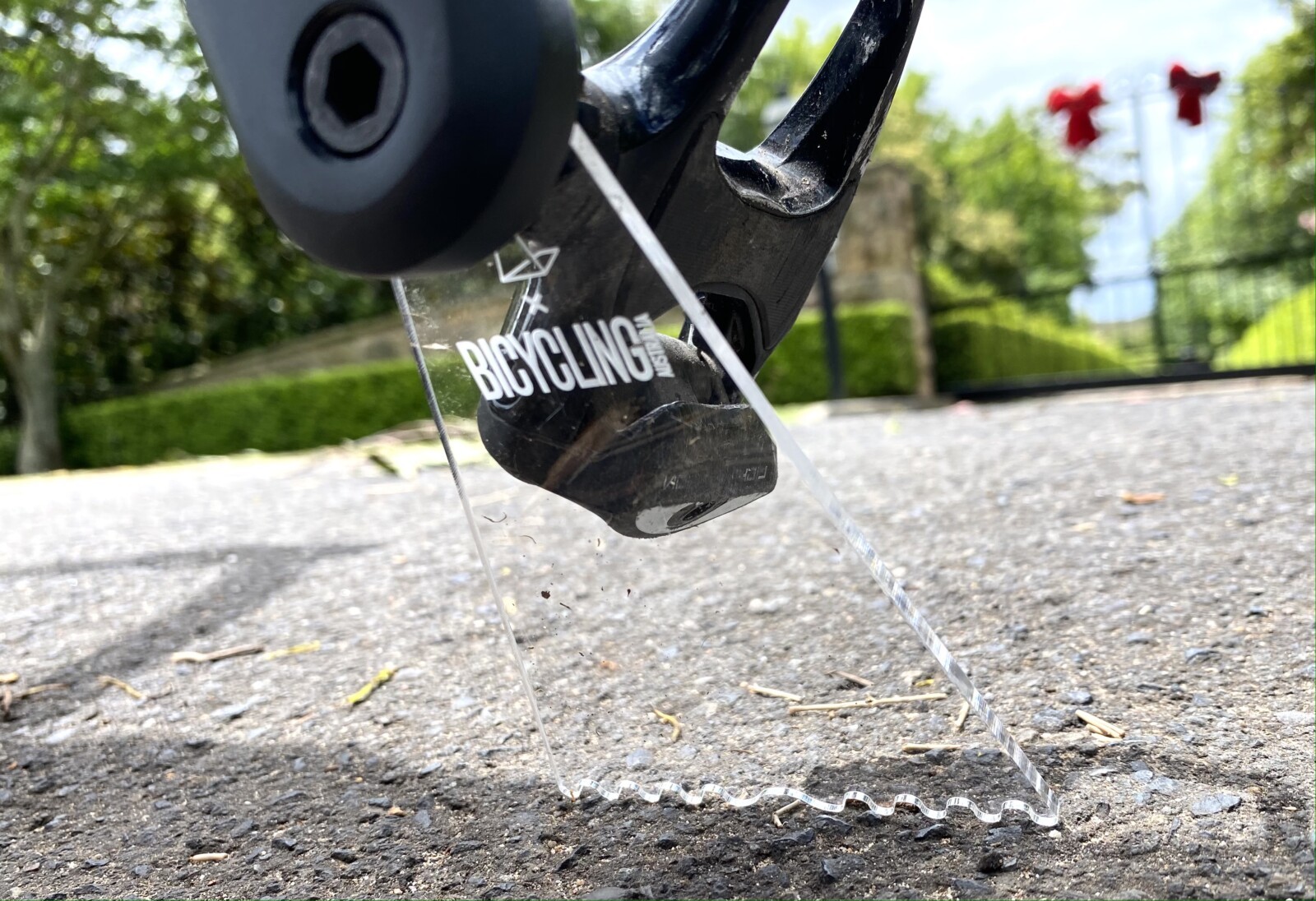 A unique offering and the perfect piece of kit for the rider who has everything. This small and clear piece of acrylic is designed to be a portable and temporary bike stand. It's perfect for quick photos of your pride and joy while out and about or at your favourite destination.
The Shadowstands are available in two sizes—the small one easily fits in a jersey pocket. The larger stand is designed to support a bike with the cranks in the traditional 9-to-3 position. More focused on photographers, this model is not suitable for the jersey pocket.
Shadowstand offer custom printing with a name or logo neatly etched into the acrylic and on the packaging.
For more visit www.shadowstand.com
New Focus Atlas
Focus have entered the ever-growing gravel and adventure bike market with a new model, the Atlas.
The bike will be available in three variants, the Atlas 6.7, 6.8 and 6.9, and features a reliable alloy frame, carbon forks and the capacity for 47mm tyres.
Focus say the Atlas is equipped with mounting options for bikepacking adventures and is the missing link in their lineup. It slots in between the endurance road bike the Paralane, and the cyclocross racer the Mares.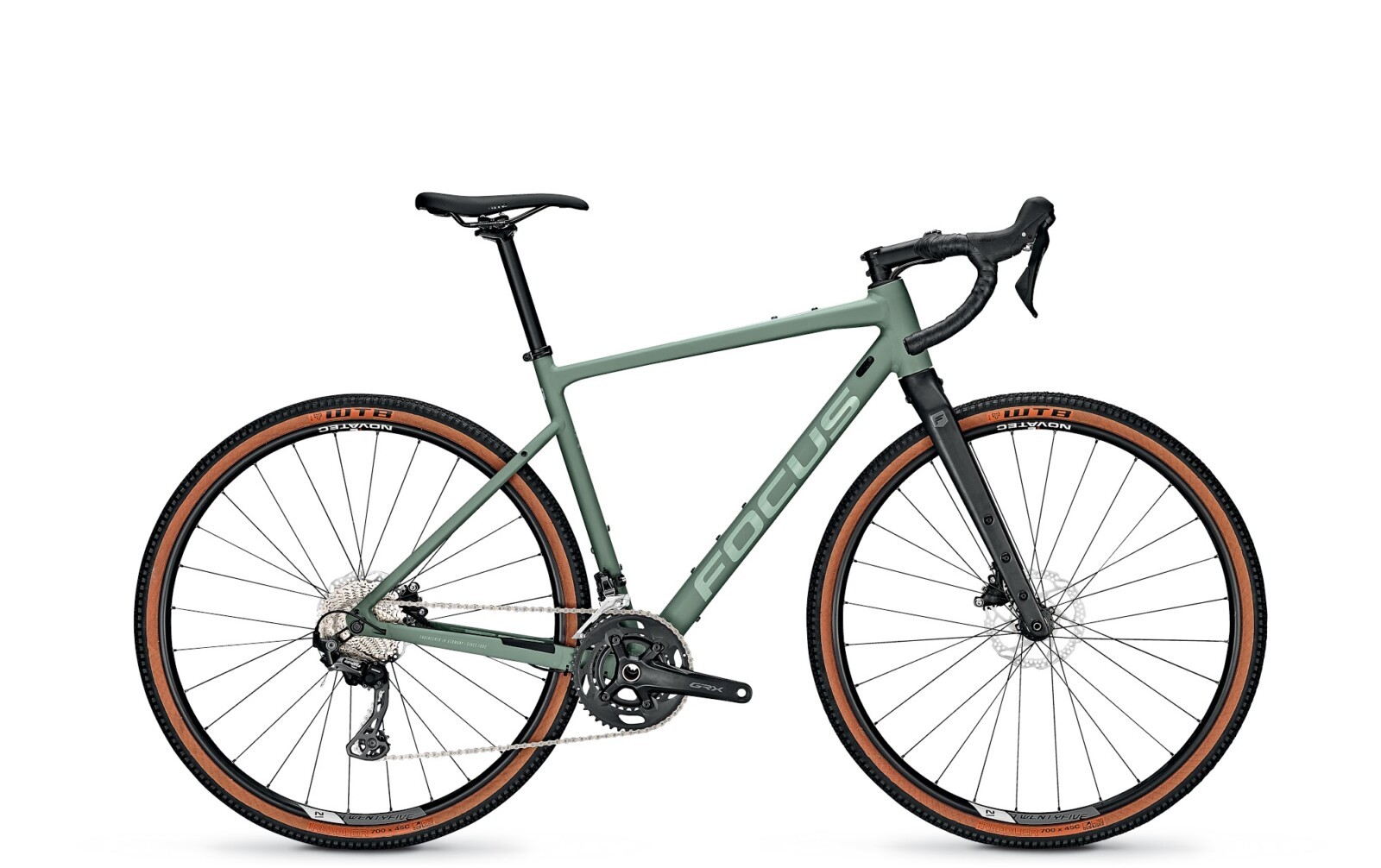 Key Features:
endurance geometry
integrated cockpit cabling
robust aluminium frame & full-carbon fork
large tyre clearance
650b compatible
Shimano GRX groupset
Approx. weight—10.5kg
Pricing is expected to range from
$2499 (Atlas 6.7), $3099 (Atlas 6.8)
and $3799 (Atlas 6.9).
More at your local Focus dealer or at www.focus-bikes.com
New Lazer Sphere Helmet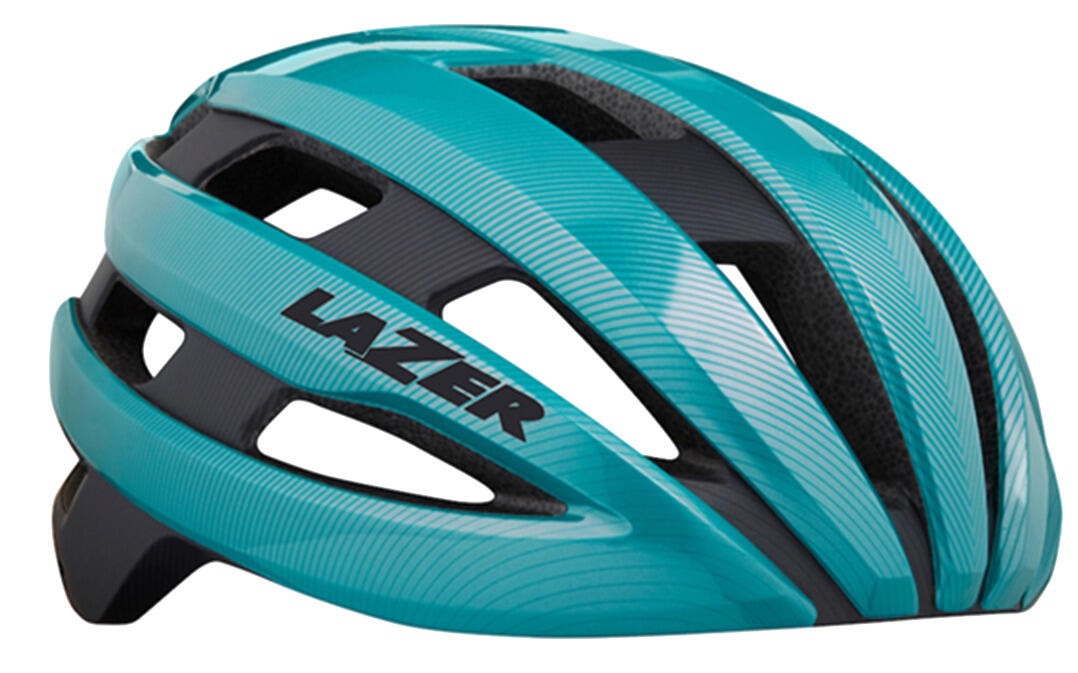 Lazer have released a fresh helmet for 2021, the new Sphere featuring a number of safety and comfort inclusions.
Available in four sizes and created with the Advanced Rollsys® fit system, the Sphere includes 18 cooling inlets and exhaust ventilation holes connected by specially engineered air channels designed to draw air from the front to the rear of the head.
The Sphere can be combined with Lazer's Aeroshell which is available as an accessory to protect the rider from the elements.
The Sphere is designed for eyewear docking, has thinner straps, reflective stickering and a ponytail-friendly rear design.
It is available in a number of on-trend colours, and weighs in at 250 grams in size Small.
More at www.lazersport.com or your local bike shop.
GoPro Hero9 Black
The ultimate camera for cyclists? The latest model from GoPro is the Hero9, and this lightweight but heavy-duty action camera sure packs a punch. The unit shoots 20mp photos, 5K video and features Hypersmooth 3, the company's latest image and video stabilisation software.
There's a larger rear screen, a full colour screen on the front, and handy fold-out tripod mounts in the base of the unit.
Bicycling Australia tested the Hero9 Black during the summer break. We can attest to its fine image quality, super-smooth video output, ease-of-use and simple file transfer and sharing. Highly recommended!
More at www.gopro.com
Princeton Carbonworks Wheels
Launched to the world a few short years ago, Princeton Carbonworks wheels have quickly earned a solid reputation among amateurs and pros alike.
Team Ineos use the wheels on their TT bikes, and Princeton now offer a number of options from gravel through to road.
The company recently launched the Grit 4540 gravel wheel. Featuring a variable depth sinusoidal cross section for cross wind stability, there's a slight variation in width with measurements of 21mm hook to hook and 29.9mm at the widest point.
Tubeless ready, the wheels feature a hole-less tyre bed the company say aides stiffness and helps make the tyre bed thinner and lighter while providing greater hoop stiffness. It also makes tubeless tape redundant.
The Princeton Grit 4540 wheels weigh in at 1530 grams.
For further details, including pricing, contact Australian distributors
www.degrandi.com.au
Silca Synergetic Chain Lube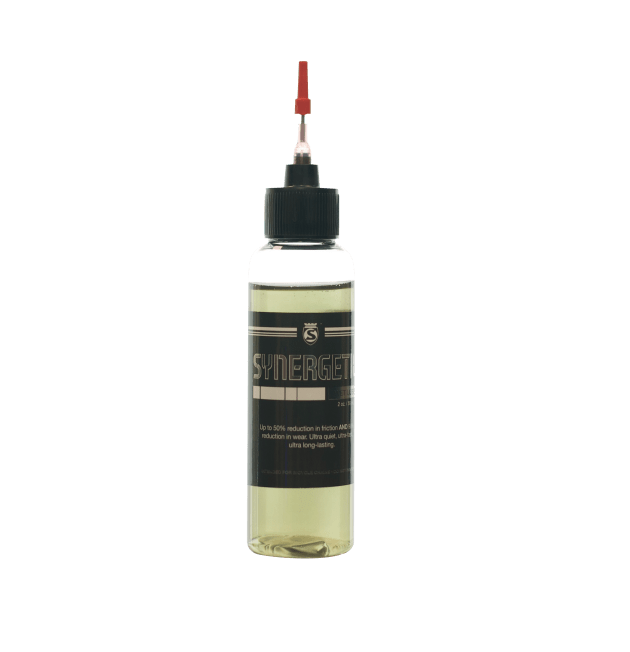 Silca's new oil-based 'Synergetic' lubricant is created from technology originally developed in F1 racing. It is designed to reduce friction and practically eliminate wear in metal components.
Following the success of SILCA Super Secret Chain Lube and Super Secret Chain Blend, the company say the vast majority of cyclists are still interested in using oil-based wet lubricants for both ease-of-use and reduced time commitment.
While hot melt wax and drip wax may ultimately be slightly more efficient and cleaner running, the requirement of starting with a perfectly clean, dry chain, and the shorter re-application intervals are not for everybody.
Silca say the secret is a phenomenon known as a durable tribofilm, which is formed under pressure causing the additives to form a highly lubricious solid on the surface of the metal which acts not only as a lubricating surface, but also as a wear surface.
SPECIFICATIONS:
2oz / 59ml Squeeze bottle.
Precision Applicator Tip.
Ultra-high wearing, ultra-quiet, ultra waterproof wet lube.
RRP: $53:95
More info at www.echelonsports.com.au