Leif Justham was a young man on a mission, the fit and enthusiastic cyclist wanted to make a real difference and use a bike to do it.
Passionate about the planet, 21-year-old Leif, from Scott Creek in the Adelaide Hills, formulated a plan to ride his bike around Australia.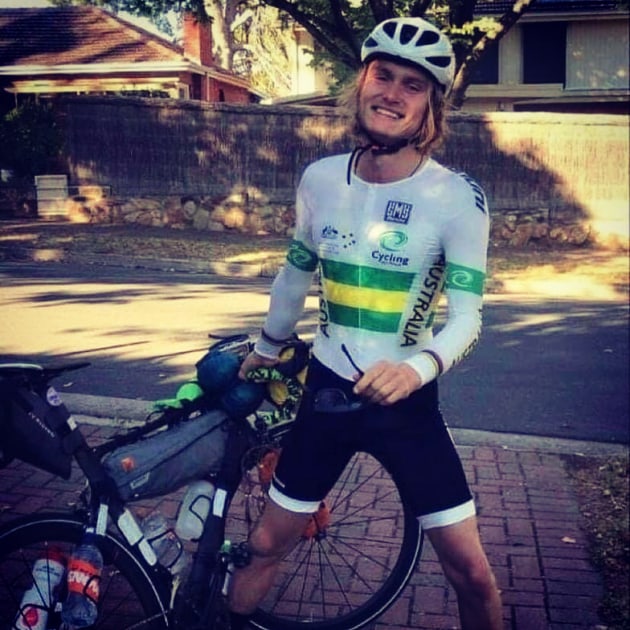 The objective? To raise awareness of dependence on fossil fuels, encourage the use of renewables, and get people thinking about where superannuation and savings were being invested.
'If I told you I would ride my push bike 20,000km around this country just for you to change your super and bank to one with better rates, while simultaneously investing in renewable energy, regenerative farming, ethical investments, would you do it?' Leif wrote on Instagram in February this year.
'In about a month I will be pedalling out of Adelaide and heading clockwise around this enormous and unforgiving island. My biggest challenge yet!
'By choosing a bike over a 4×4, it is saving over 6-tonnes of carbon dioxide being deposited in our atmosphere, and almost 3000l of diesel.'
'I am going to talk to every person I meet about banks and super, and switching away from ULP91 …." Leif continued.
Days before departure he wrote '3-sleeps until I start my journey. The equivalent distance of half the equator and I'm very scared.'
Just days into his trip Leif was killed after being hit by a semi trailer, 70km west of Caiguna in Western Australia.
The truck driver, a 37yo South Australian man, has been charged with dangerous driving occasioning death. WA Police say he will appear via video link at the Kalgoorlie Magistrate's Court on Thursday, April 15.
Tributes have flowed for Leif Justham, his family saying he lived by his convictions and had a passionate love for the planet and all the life that came from it.
Cyclists have united behind the young adventurer with hundreds of online comments supporting and remembering him, and reinforcing the safe cycling and share the road message.
Rest In Peace Leif Justham.