Each incarnation of the legendary GoPro action cameras are touted as better than the last, but how does the new Hero9 stack up for cyclists?
It was close to 20 years ago that the first GoPro camera appeared on the market. Before the time of mainstream digital photography, that debut GoPro Hero was a rugged 35mm film camera designed for surfing but perfectly suited to other action sports such as dirt bike riding, snow skiing and mountain biking. The company launched its first digital camera 15 years ago, in 2006, and have pretty well-tuned, honed and perfected the humble action camera ever since.
With their compact form factor, decent battery life, wide-angled lens, tough case and high-quality photo and video output, many riders have come to depend on GoPro cameras, particularly those who like to blog, record or share highlights of their rides.
Bicycling Australia have used and abused GoPro cameras for many years. We have recently been testing the latest release from the company, the Hero9 Black, so how does it stack up against its many predecessors?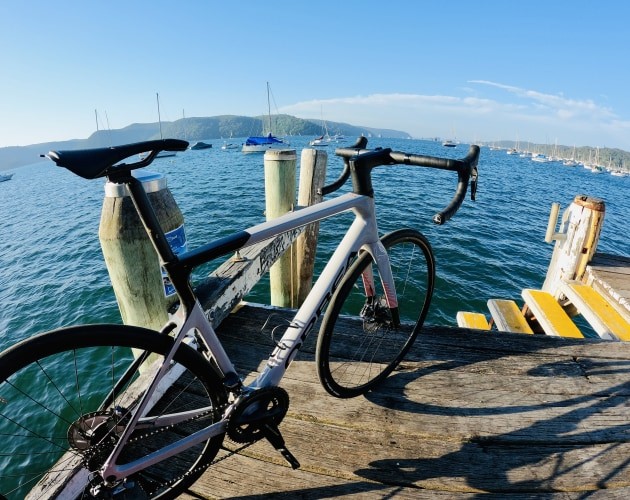 Larger and slightly heavier than earlier versions, initial thoughts are this—the new model is the most capable release yet, and the closest an action cam has come to replacing an actual camera. Obviously there's no interchangeable lenses and the Hero9 won't replace a DSLR, but for size, convenience and output quality it sure makes you think twice before packing a compact or semi-compact camera.
…The Hero9 is the closest GoPro have come to replacing an actual camera…
For cyclist, road, gravel or MTB, this is peak GoPro. For those more interested in video, the new Hero9 features Hypersmooth 3.0, image stabilisation that almost defies belief. We've tested this on gravel roads and fire trails and were super impressed with the smooth results. There's now 5K video along with 8x slow motion and 'Time Warp 3' time lapse.
The camera is now 20 megapixels and offers surprisingly good image quality (the photos on this page are out of the Hero9). Still image wise, there's a SuperPhoto HDR mode along with the ability to shoot RAW.
Bigger and heavier, the camera still fits comfortably in the hand and weighs in at 158 grams, 30 grams heavier than the model it replaced.
The bottom line for cyclists … we've found the camera to be an indispensable part of the kit. Charge it the night before, slip it into the jersey pocket, and catch the action and highlights of your ride.
GoPro also offer a range of bike-specific mounting brackets including stem, handlebar, seat post and helmet. Whether you are riding for recreation or racing a crit and keen on catching the action, we can't fault this latest offering—it's very well-suited to our sport.
Top Features – GoPro Hero9 Black Edition
20MP Camera
5K Video
158 grams
Voice control
Colour front screen
RRP: $629