Winter is upon us and the early morning ride now requires some form of lighting, front and back. There's any number of lights available with contrasting performance at widely varying prices. Until recently choices for road riders were slim; mainly small, dim LEDs or, if you wanted to actually be able to see with the light, large clunky head units with cables attached to equally heavy batteries that would often mark the paint of your frame. Over the past couple of years LED light technology has advanced rapidly and the battery industry is running to keep up, both developing smaller and more powerful units at lower prices. We've assembled a cross section of what's available in compact lights (ie with integrated batteries) that are powerful enough to 'see with' for safe and comfortable night riding, as opposed to 'safety' lights that only allow you to 'be seen'. There are other brands on the market beyond this indicative batch.
All the lights have tool-free mounts except for the Strada which requires an allen key. The others mount and detach in just seconds with either a stretchy silicone strap (great if you prefer to keep your bars free from extraneous attachments until the dark pervades) or a tool-free mounting bracket with quick release option for super-fast attach and release.
All shots were taken on a Canon 600D with a five second exposure at f6.3 and ISO-100. Ten reflectors spaced at five metre intervals indicate distance from the light.
BBB Strike 300 $119.95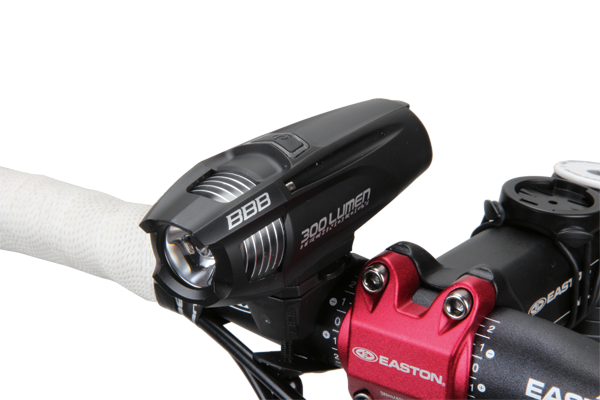 The Strike 300 turns on with its highest brightness then switches down through three to the lowest setting, then flashing, then off. The body is 110mm long and has an alloy heat sink to minimise thermal power losses. It also features power management technology to regulate charge and discharge. The Strike produces a modest beam that has a reasonable central focus for moderate speeds. There is some light spilling back to the bike providing some benefit for peripheral vision. The Strike has a big brother (same size, higher power) sporting 500 lumens for $149.95.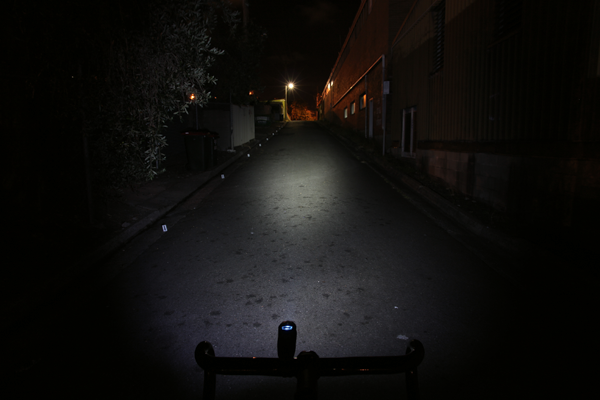 2.25 lumens/gram
2.50 lumens/$
Cateye Nano Shot $169.95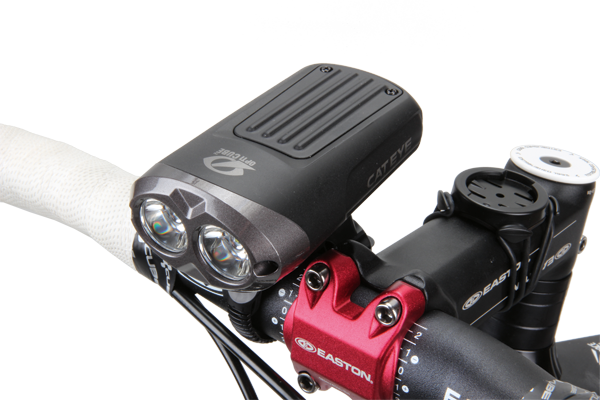 Rated at 600 lumens this light features two LED emitters which fire through high and low beam lenses, and also provide a 'flashing while constantly on' function. You can switch between high and low directly without scrolling through 'flashing' and 'off' positions, so you are not left in the dark while searching for the setting you want. The flashing-while-on format is designed to eliminate the stark contrast between on and off for comfort and safety. The beam is reasonably focused, projecting a good distance down the road and also a low level of light filtering back around the bike.
3.31 lumens/gram
3.53 lumens/$
Cygolite Expilion $179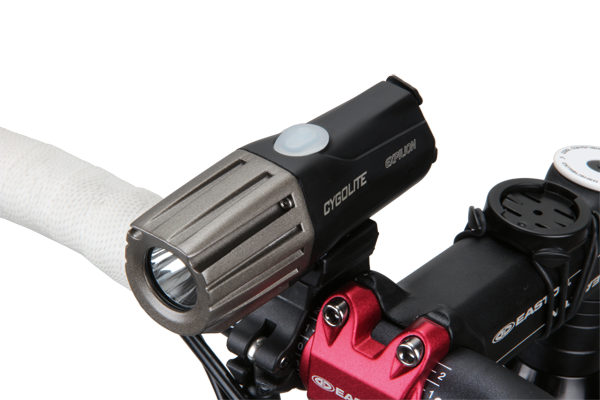 The 700 lumen output of the Expilion is very bright and provides good vision down the road. It has a distinct cut-off though, so illumination for peripheral vision is low and the contrast makes your eyes work hard to adjust. Switching between high and low beam requires scrolling through the full range of options, (medium, high, boost, low, 'steadypulse', 'dayflash', walk, SOS). The single LED will drain the 2900mAh battery in one and a half hours on the boost setting. Overall the Expilion 700 is a very strong performer in a tidy package.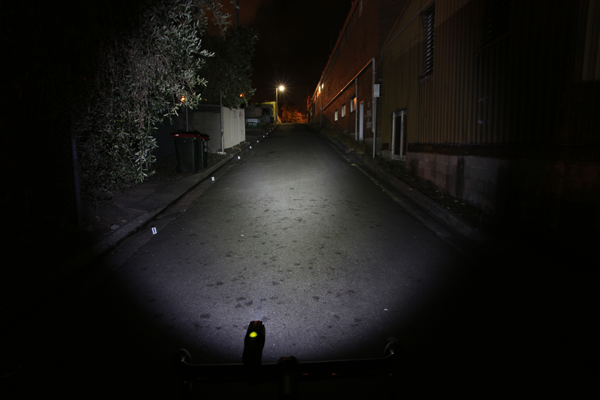 4.21 lumens/gram
3.91 lumens/$
Cygolite Metro 300 $99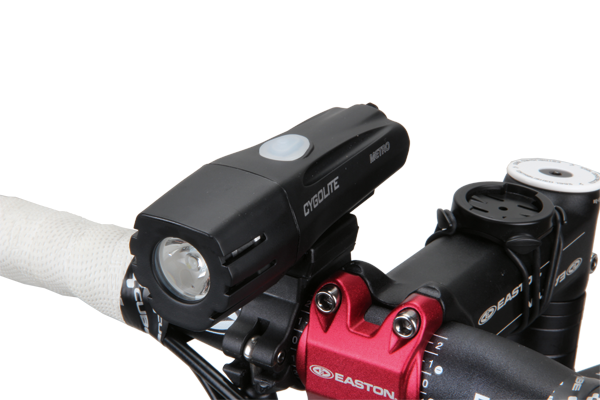 The Metro 300's centralised beam is medium intensity, and gradually diffuses around the edges. Using the same mounting and 102mm long body as the Expilion and a single LED, the Metro 300 has five modes: medium, high, low, 'steadypulse' and 'dayflash'. It will remember the last mode used when you turn it on again. It also has small lateral ports to increase your visibility to traffic approaching from the sides.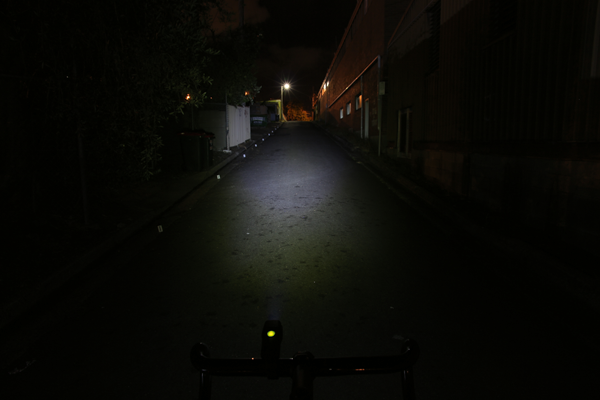 2.25 lumens/gram
3.03 lumens/$
Exposure Sirius $179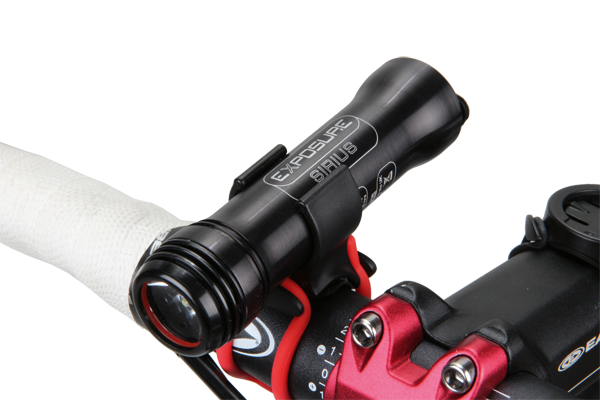 Exposure lights are made in the UK and have a strong MTB following due to their powerful beams and rugged alloy bodies. Exposure lenses and reflectors make the most of every available photon, with light directed specifically to a defined zone. The Sirius' beam is bright and tightly focused, so you can clearly see what is coming up on the road as it falls within the spotlight. However the beam is very sharply defined at the edges, so vision falls away outside the spot.
The Sirius is a very light unit and given its almost 'pencil beam' output would make a good helmet mounted light.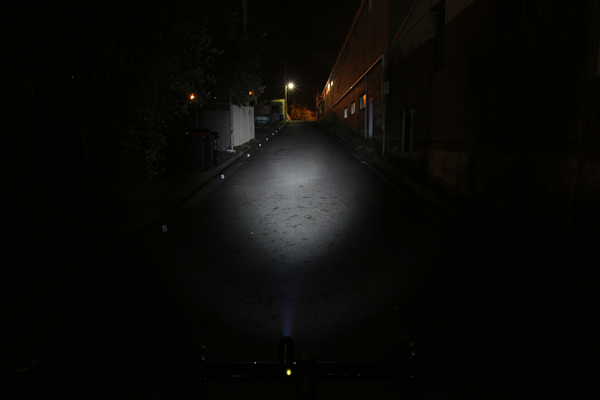 3.82 lumens/gram
2.01 lumens/$
Exposure Strada $369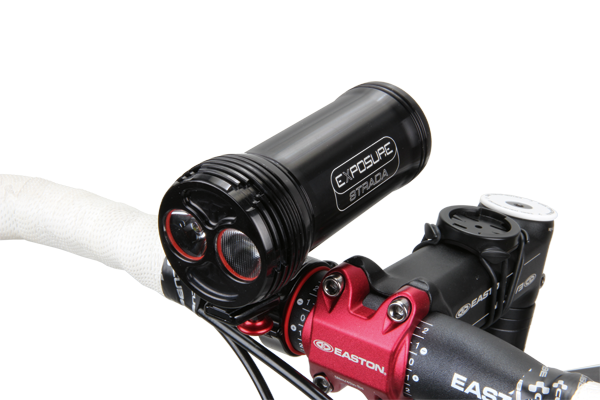 The Strada uses its 800 lumens and twin LEDs well, producing a wide and flat beam to increase your peripheral vision, clearly lighting up the verge as well as the road. High powered lights like this can dazzle oncoming traffic just like a car's headlights on high beam, so the ability to dip your light, as the Strada does, is a good feature.
The Strada enables you to customise its output to suit the type and length of riding you plan to do, whether it's a three hour night sprint or a week's commuting.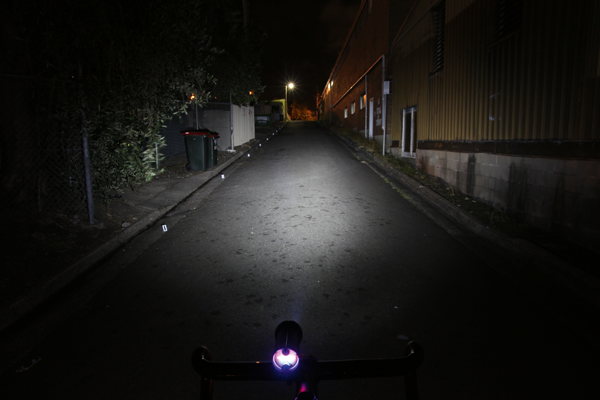 3.17 lumens/gram
2.17 lumens/$
Hope Vision 1 LED $199.95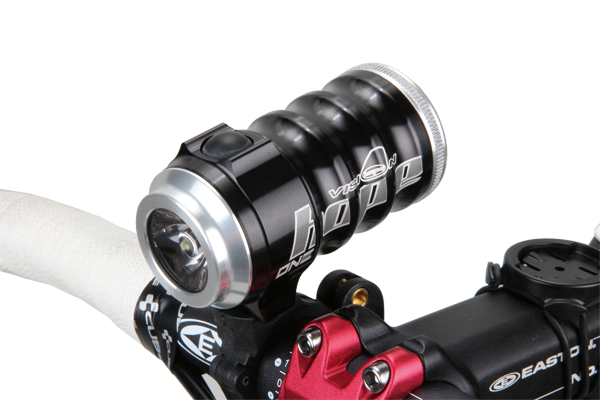 The Hope uses a single LED and does a good job of focussing all available light to project a tight single beam. Its throw is reasonable for the claimed power output. There's no power gauge to warn you of impending cut out so it would pay to keep a spare set of batteries with you. The mounting of the Hope is a solid quick-release that holds the chunky light solidly in place.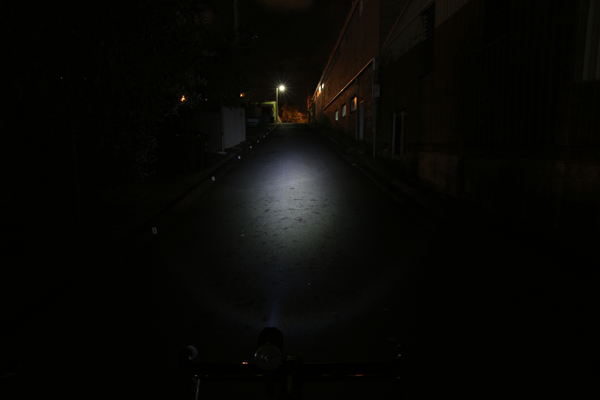 .84 lumens/gram
1.00 lumens/$
Lezyne Mega Drive XL $229.95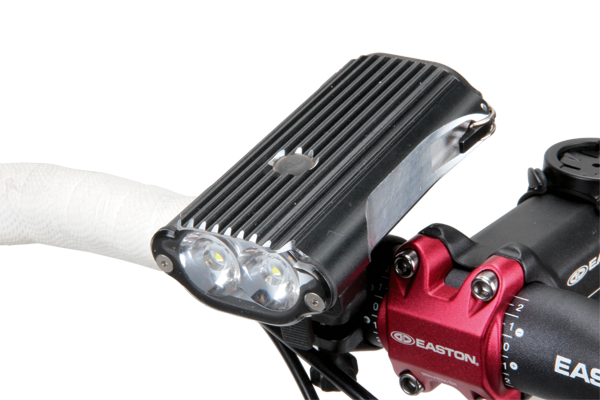 The Mega Drive is a bright light with a strong central beam, and significant light around the periphery and back to the light. Second heaviest in the review at 287g its chunky yet compact alloy case is finned to dissipate the heat that a light of this output produces. Two LEDs pump out a total of 1000 lumens on the 'blast' setting. You'll get a relatively short 1.5 hours (claimed) at this output though, so use the power wisely unless you purchase optional spare batteries which can be swapped out very easily.
3.48 lumens/gram
4.34 lumens/$
Lezyne Mini Drive XL $74.95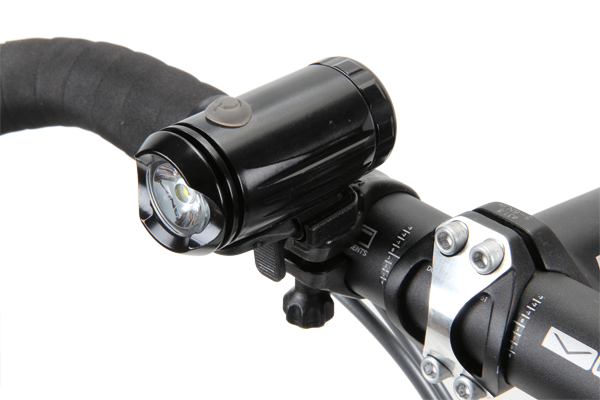 The Mini Drive has a very compact machined aluminium body, and delivers a claimed 200 lumens through a single LED. The light output from the Mini Drive is well spread, with a moderate intensity spot surrounded by gradually diffused light. It's possible to swap out a drained battery so you can keep riding.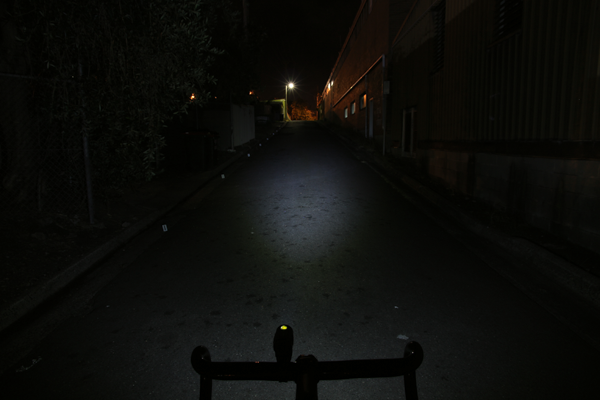 2.35 lumens/gram
2.66 lumens/$
Light and Motion Taz $299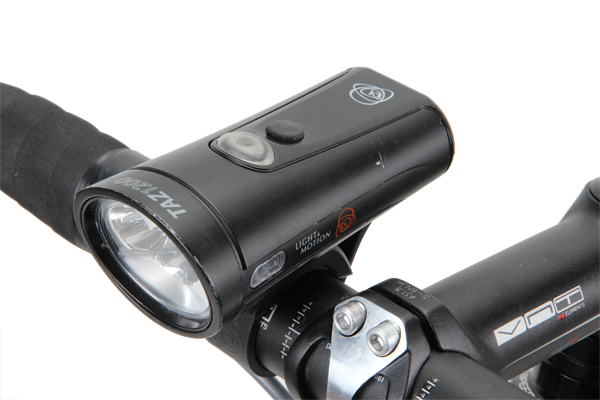 The Taz should be the brightest light in this review, and so it is. Rather than a central spot beam the Taz simply floods the road ahead with light. There are several constant and flashing modes and also a race mode which allows you to toggle between high and medium beams with the single press of a button.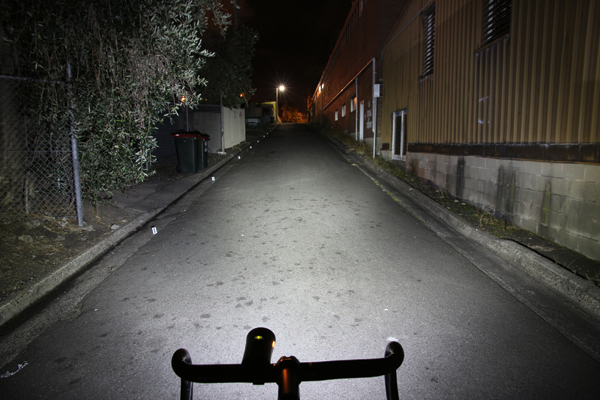 5.55 lumens/gram
4.01 lumens/$
Serfas True 250 $129.95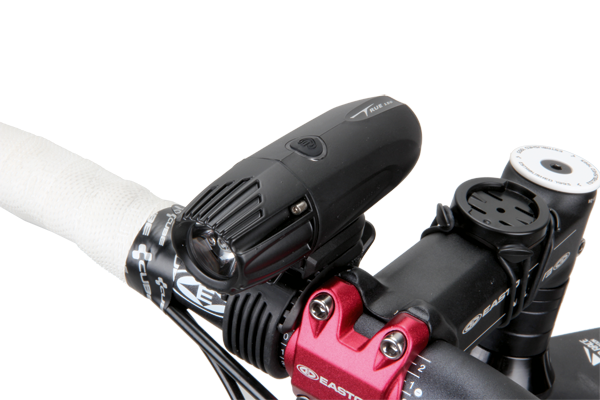 Pushing the second lowest lumen rating in our lineup this light has a low intensity, centrally focused beam with a secondary broad ring of light that gradually disperses close to the light. The light cycles through high, medium, low, flashing and off modes. 250 lumens is not a lot of lighting power but the Serfas design uses it well.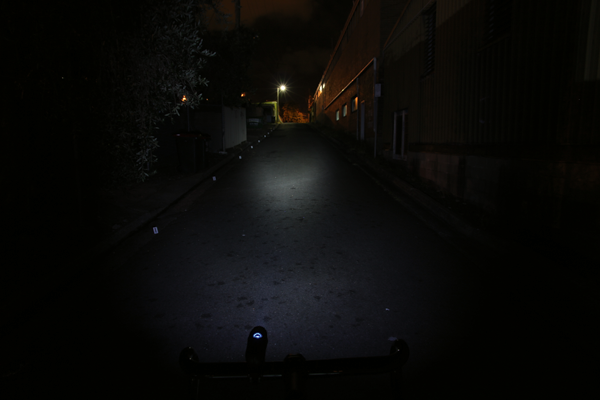 1.66 lumens/gram
1.92 lumens/$
Serfas True 500+ $139.95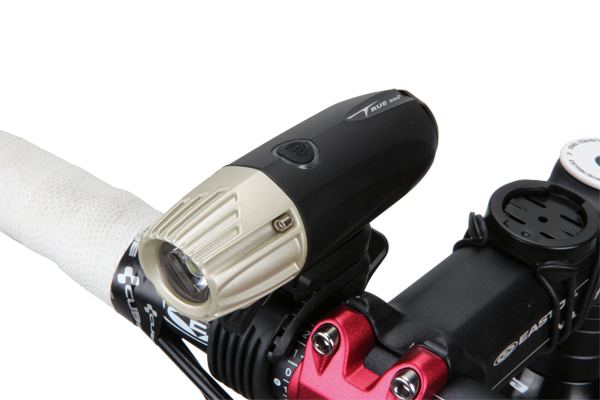 Serfas' highest-powered compact integrated battery (2600mAh) unit punches out a lot of light; a strong central beam that diffuses evenly back to the bike enabling very good vision. The True 500+ uses a 2600mAh lithium ion battery; spares are available at $34.95 so it's possible to increase the run time of the True 500+ in a flash.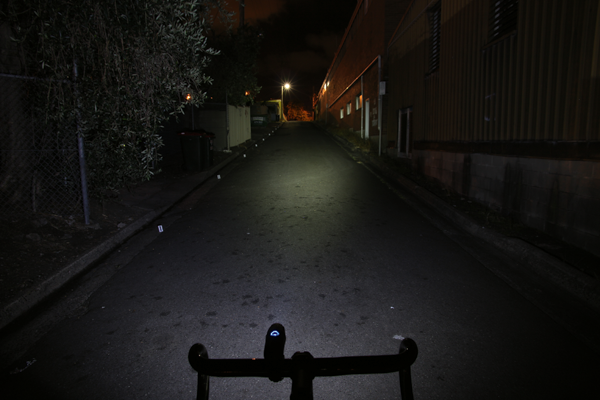 3.24 lumens/gram
3.57 lumens/$
Moon X Power 500 $129.95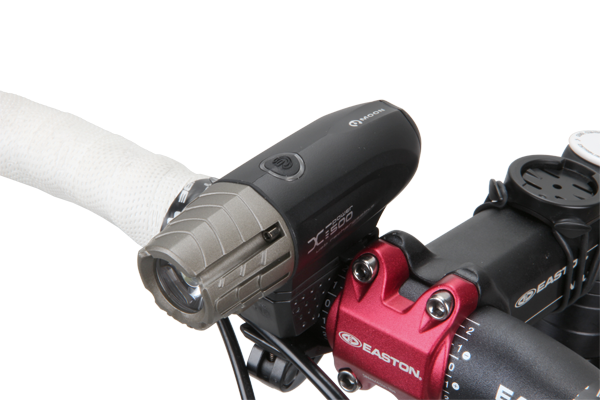 The Moon X Power employs a single T6 Cree emitter to produce 500 lumens for a very useful beam surrounded by plenty of light for good peripheral vision. There's plenty of light here for all but the most demanding velo-vampires, though the 2300mAh battery is only good for one hour forty on high beam, so an optional spare battery may be a good investment.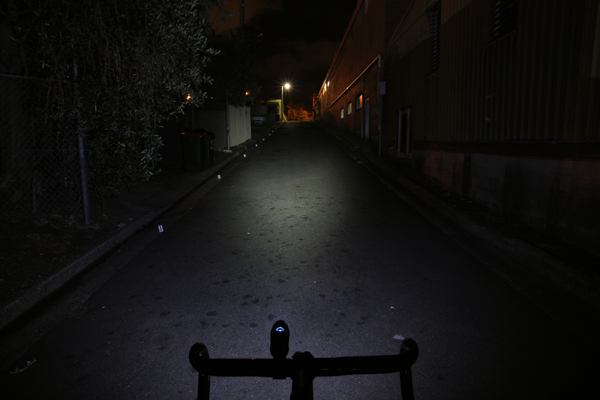 3.47 lumens/gram
3.84 lumens/$
Lupine Piko TL $420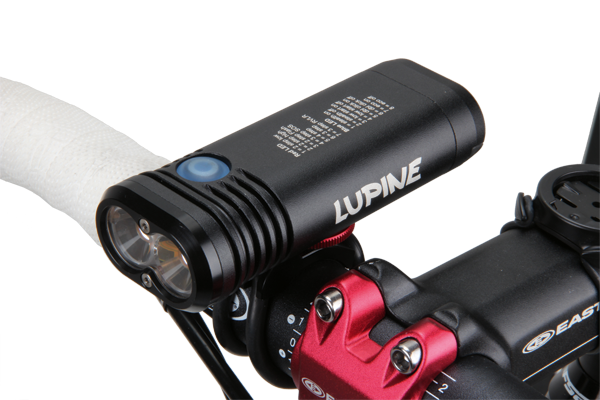 Rated at 900 lumens and with the venerable Lupine heritage, the Piko is a dazzlingly bright performer and also the top scorer for style and design here. The beam from its two LEDs extends from two metres to beyond the 50m mark, providing strong enough light to clearly define the walls and fencing down the lane in our photo. There is a range of programs for beam and run time management, with directions printed on the light itself. Mounting of the anodised alloy unit is simple and tidy; choose between it's two options, a tough rubber O-ring and a thumb wheel clamp.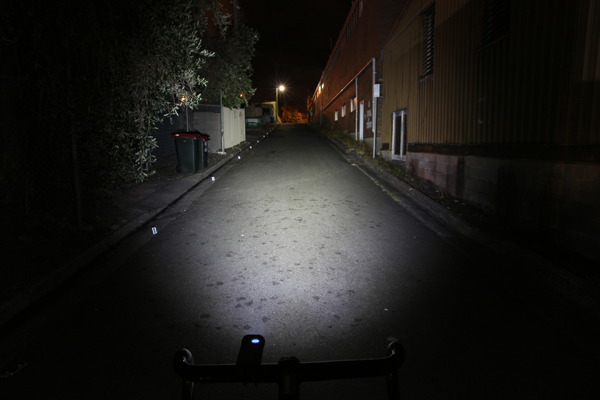 4.5 lumens/gram
2.14 lumens/$