He signed up for the 5500km Indian Pacific Wheel Race late last year … and wasn't even a cyclist at the time.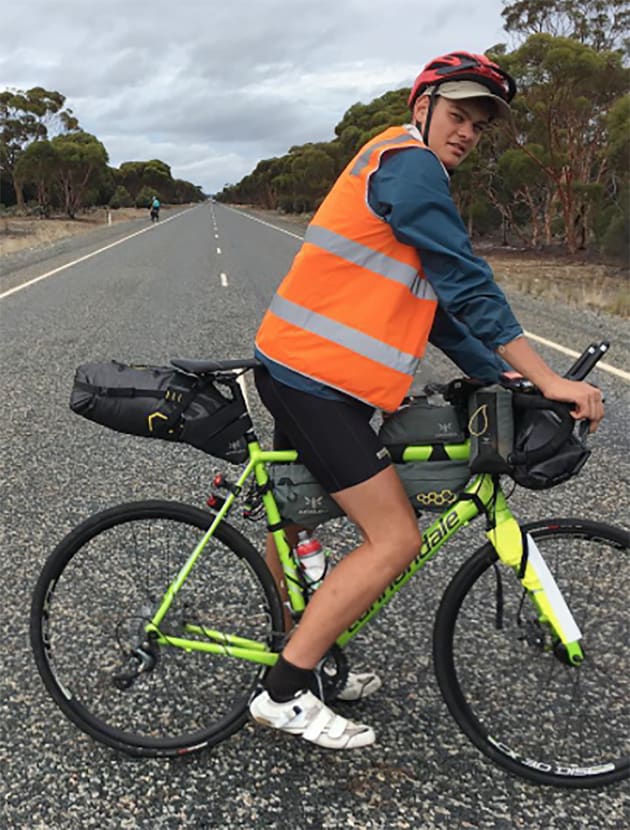 Meet Lochie Kavanagh, at 18yo he is the youngest rider in the Indian Pacific Wheel Race, a gruelling cross-continent, totally unsupported, two-wheeled adventure.
After days of trying to get in touch with Lochie, we finally spoke with the inspirational young rider late on Saturday night. He'd just pulled in to a remote roadhouse on the WA / SA border and had spent the previous 12 hours battling nasty headwinds that, at times, reduced his speed to single-digit figures.
Despite struggling on Saturday, Lochie was positive, upbeat and incredibly determined as we had our first-ever conversation with the Sydney-based teen.
Completely oblivious to the fact that Lochie is as new to ultra-endurance cycling to he is to cycling itself, we were totally gobsmacked when he casually told us the following.
Riding 'A Couple Of Months'
Lochie: "When I turned up on that first day and told them I'd only been riding a couple of months they all laughed at me."
Bicycling Australia: "Sorry Lochie, how many months have you been riding?"
"Just a few," he continued.
"Actually – I started riding after I signed up for the race. I'd never even ridden – I didn't know how to clip my cleats in, I didn't even have cycling shoes at the time," he said with a laugh.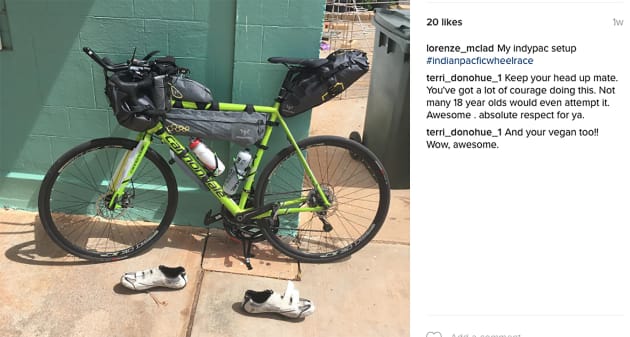 Having finished his high school certificate last year, Lochie heard about the Indian Pacific Wheel Race via an Instagram post and quickly decided it was something he wanted to do.
Signs Up, Needs To Buy A Bike …
"So a few weeks after I signed up I thought I'd better train," he told us.
"My uncle gave me a bike – I started training and putting in a few kilometres on that."
Shock, utter shock.
As a new rider, we asked how he was coping – one week into one of the most gruelling cycling races on the planet.
"It's mostly mental," he said. "It's all about mental gains. Obviously you've got to train your body for this but a lot of it is mind power. For me it's a matter of taking the race one step at a time – one town at a time – that's what I've been doing."
"Anything is possible," he added. "Anything."
Total Determination
Now enveloped in the 24/7 lifestyle of ultra-endurance cycling, Lochie's had limited communication with the outside world since the start of the race. He broke his mobile phone on Day 1, and said he'd been trying to buy another phone and activate a new sim card at various roadhouses along the way.
Eager for race information, he asked if "many more have dropped out?". After telling him of the numerous unfortunate abandonments, he had this to say.
"The more people who drop out, the more motivated I am to keep going," he said.
"Unless I have some sort of frame collapse or something – I don't think anything else could make me drop out," he added.
"Unless something like I was bitten by a poisonous snake, and was taken to hospital … but I'd probably get the ambulance to drop me back to my bike and keep riding."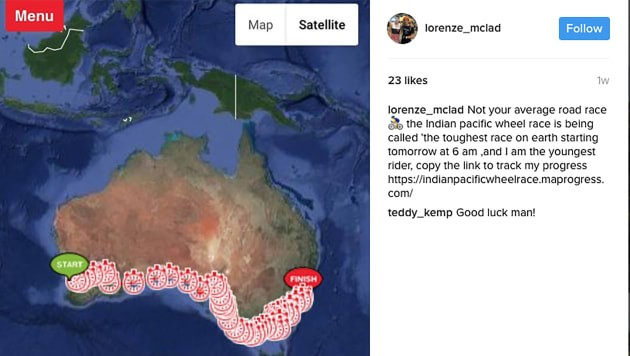 Finishing the conversation to allow the young rider to get some much-needed rest, we told Lochie just how big the IPWR had become, and how numerous people have been wanting to know more about him, and were wishing him well.
"Well that's interesting," he said down the crackly line.
"I didn't realise it was such a big thing. I knew there is a tracker, but I thought the tracking would be for nerds. I did see IPWR written on the road, it's good to know so many are watching."
"OK I've got to get some rest now," he said. " "I should have tailwinds tomorrow and want to put in a 400km day – my biggest effort so far."
As of Sunday night Lochie Kavanagh had covered an impressive 1700km and was located approximately 200km into South Australia on the Nullarbor Plain. At 9pm he was still riding. Holding his own against riders with decades of experience, Lochie was just 125km behind competitors such as Rupert Guiness and Cycling Maven.