Words: Zac Williams Images: Sirotti
Aussie pro Luke Durbridge offers a fascinating insight into how 2020 impacted his career in this interview with Zac Williams. 
For Luke Durbridge, the last few years of his career have been missing something. He's not mounted an uninterrupted Classics campaign since 2017. Since then he's either missed the entire Classics season (2019), crashed out of Paris Roubaix (2018), or had more recently had the COVID-19 pandemic cut his Classics campaign short. In another blow, the 2021 Roubaix did not go ahead as planned, the event re-scheduled for October.

After his break-out 2017 Classics season where he was just off the podium in five separate races, he's been working towards stringing together another year where he can go deep into the finals of the big races and challenge for a podium or, better yet, pull off a big win.

While he's had the frustration of these interruptions over the last few seasons, Durbridge has been building on his already impressive TT engine, claiming back-to-back victories in the Australian National Time Trial—both ahead of the then TT World Champion, Rohan Dennis.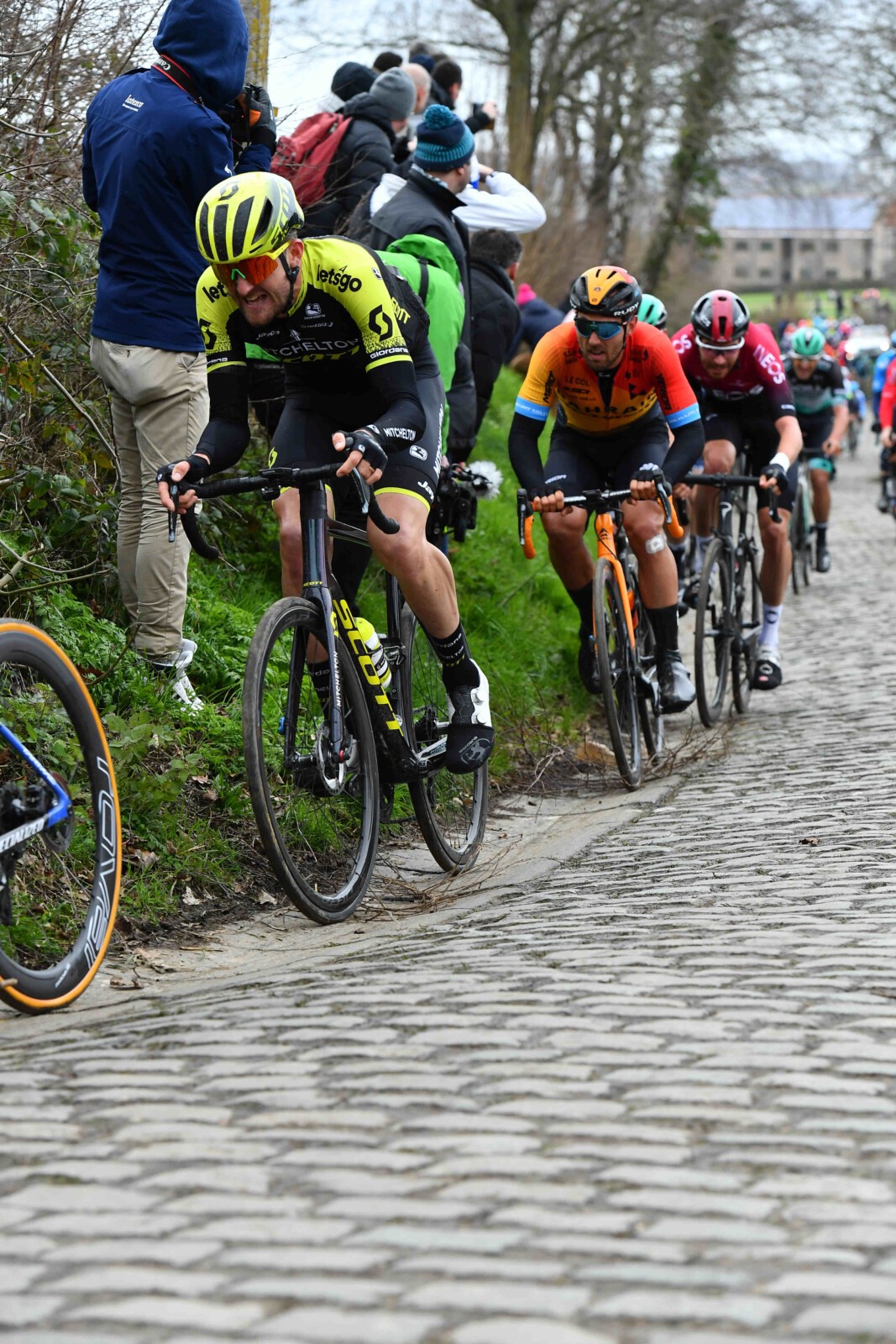 After the year that was in 2020 I sat down with Luke to have a chat about what his year looked like, what 2021 will (hopefully) hold for him and to look back on his first Roubaix and one of his fondest Classics memories.
BA: In the midst of all the lockdowns, how did you approach your training last year?
Luke Durbridge: I basically halved the number of hours I do, because physically you couldn't do it being locked inside. The sessions I was doing were predominantly track-based; lots of ergo, high power, really punchy efforts. I was probably consuming more carbs, eating more appropriately around my training and I really felt like if I was going to experiment with my training that this was the year to do it. Because I didn't have the risk in terms of not having a Grand tour to front up for so I could risk being a bit heavier going into the world champs than I otherwise normally would be. But the funny thing was that with all the effort that I put out on the ergo and the gnarly sessions that I had to do I actually went into the worlds the same weight I would go into a grand tour.
I think I did 30-35,000km in 2019 and in 2020 I did 22,000km. For me to run about the same skinfold and the same weight going into the worlds and 20 watts up from the National TT in January, I was really pleased with that. So, we really set a new benchmark that I'm going to carry forward into this year. I'm definitely going to factor that kind of training into my program post-Classics, mainly because I need some time to mentally recover from the toll those sessions took on me more than anything.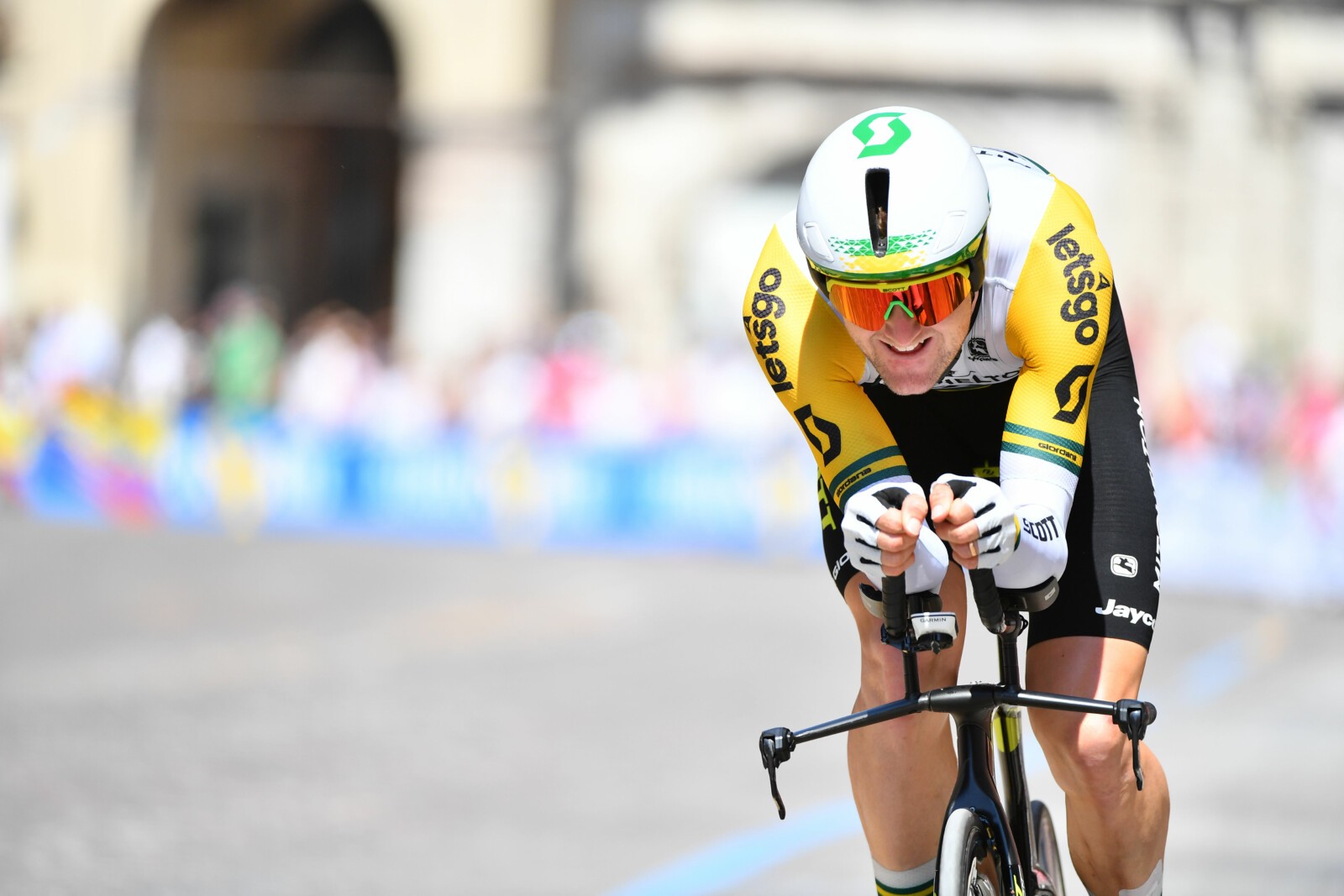 I will say that there's a massive difference between the TT work I was doing and then moving straight into the Classics which is what I had to do last year with the compressed calendar. It meant that I was good for 200 of the 260km, but around that 5 or 6-hour mark my legs would start to give out and wouldn't let me get deep into the final like I'd done in previous years. You really need a hardness in your legs to do the Classics which you only really get from doing those hours on the bikes, those 6 and 7-hour rides that I'm doing at the moment in Perth are tuning that Classics engine for the first half of the season. But as soon as the Classics are done, I'll be revisiting those gnarly sessions that I was doing in last year's lockdown.
 BA: You haven't had an uninterrupted Classics campaign since 2017—how was it to get some of the big races under your wheels again last year?
Luke Durbridge: I haven't done a Roubaix in nearly three years; I missed out in 2019 because of a crash and then missed out last year after the cancellation. Still, it was really good to get a Flanders in my legs last year and get three solid Classics under the belt, which was something I missed out on the year prior, crashing in the first race of the classics and breaking my wrist. You really do miss that in the legs; it's really important to have those days where you finish and everything is broken, you're totally done. It's impossible to replicate that in training.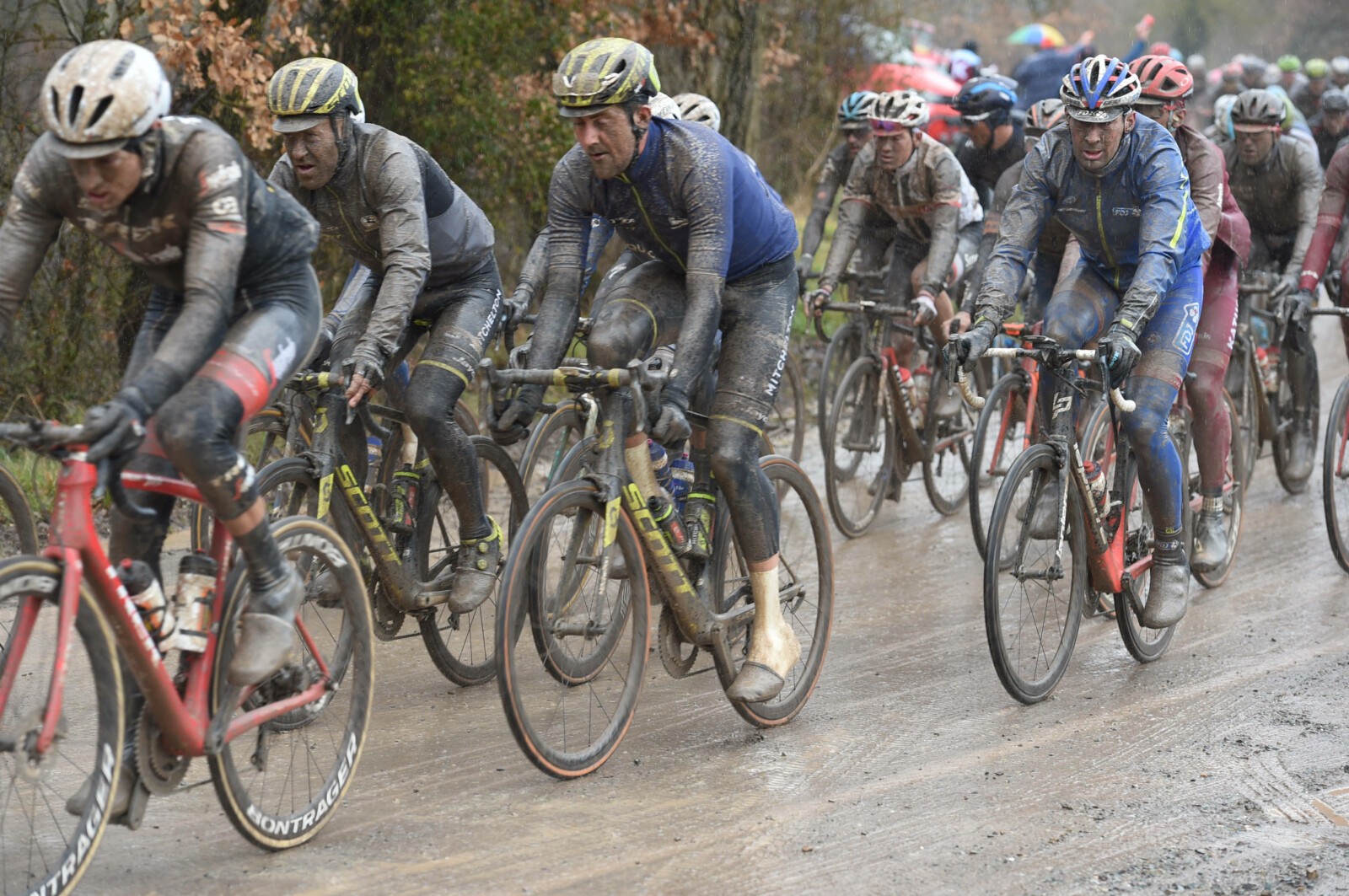 BA: Give us a rundown of what a typical Classics campaign looks like for you.
Luke Durbridge: After the pre-Classics training camp we have you've got two Classics straight away in the opening weekend, which are Omloop het Nieuwsblad and Kuurne–Brussels–Kuurne.They're just so intense. They're probably some of the hardest Classics because everyone's got that anxiety and excitementabout them being the first two Classics of the season. Then you get to the neutral section of Nieuwsblad and you're just like, "OH MY GOD I COMPLETELY FORGOT THIS IS JUST SO GNARLY," and everyone says it in the neutral zone.
There are always crashes, everyone is scared and it's bucketing rain, it's cold, it's crosswinds and you hit the first cobbled section and it's just a great rip the Band-Aid off Classic that prepares you for the rest of the races. I've learnt over the years that I've had good ones and bad ones but I'm usually better in Kuurne because I've had that day before to get the feeling back, I've been overwhelmed and now I'm ready. I generally use those two as the settling of the nerves before the main races. But they're still big races in their own right, and if you have a good result at either of those it's awesome—but if you don't go so good you don't read too much into it because you've got another 4 or 5 weeks before the major ones are coming.
From there I usually do either Paris–Nice or Tirreno–Adriatico. Then I normally fly direct to Belgium about a week before the other races start where I'm doing recons behind the scooter because they always slightly change the courses.
I dial in the turns off the big roads and onto the big roads and then back onto the small roads and on again and again.
Mat Hayman actually did a great thing last year, where he did a little quiz. He got all these photos of all the climbs in a particular race.
…I flew in a day or two before Roubaix and Matt Wilson picked me up from the airport and drove me straight to the Forest of Arenberg…
We'd do the recon of the course and then the next day in the bus he'd pull us in and give us a quiz and you have to sit there and name every climb off by heart by just looking at the picture. It was really good, but it just shows the level you've got to be at. I've got to the point now where I can see a signpost at the bottom of a climb and know exactly what's going to happen.
BA: So, how'd you go in that quiz then?
Luke Durbridge: I did alright, I didn't win—I got second. Luka Mezgec actually won which surprised me because he's only got into the Classics the last couple of years; he's really immersed himself in them since he realised that he can be good at the Classics. Which is cool to see.
Once I've done the recons and prep we're straight into it with E3 Harelbeke, which is a race that I really like. It's basically a mini Flanders. It's got all the climbs of Flanders but it's about 50km shorter. So, you've got E3 Friday, then Gent–Wevelgem Sunday.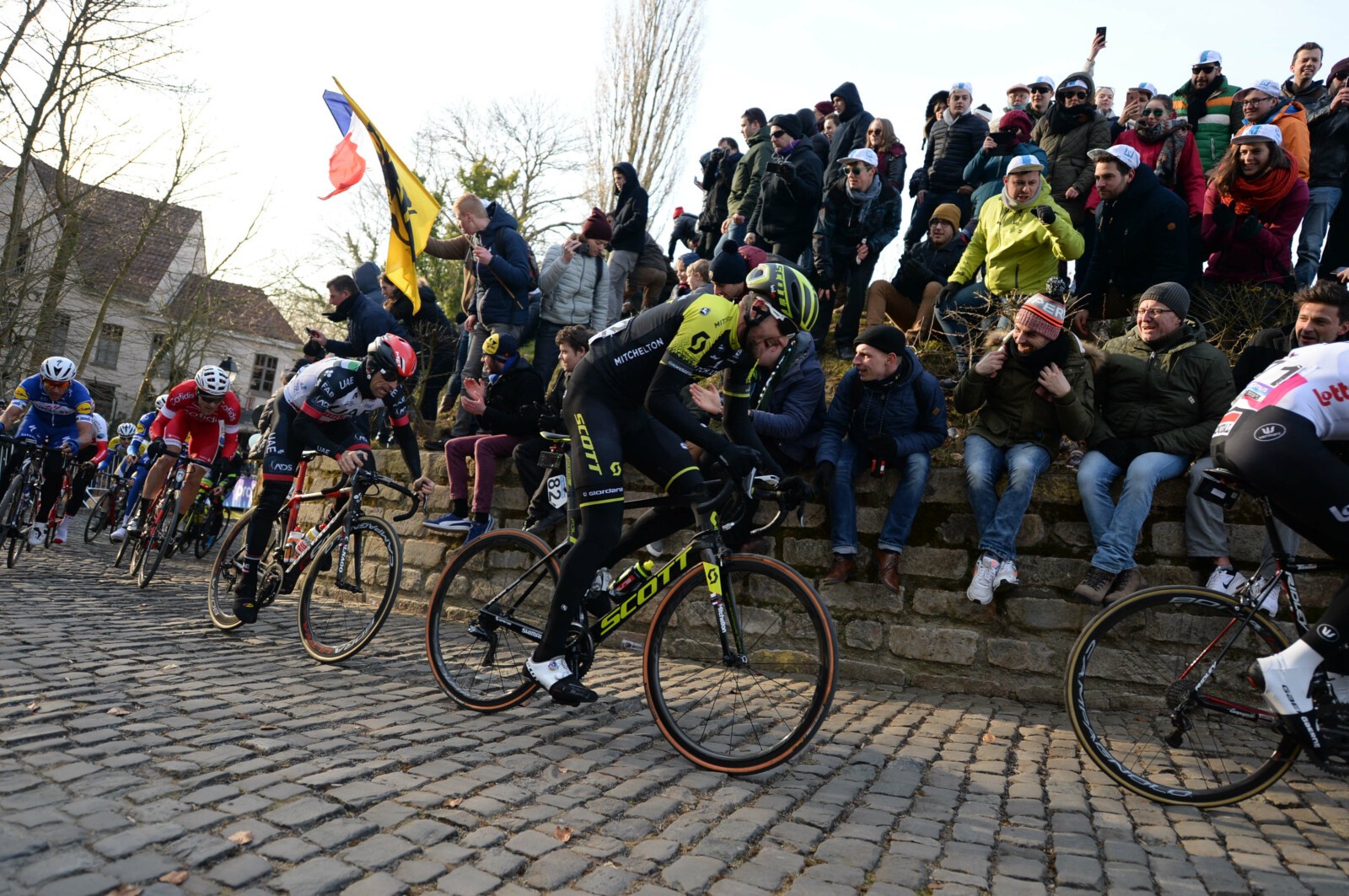 Then we go Dwars door Vlaanderen on the Wednesday and then Flanders on the Sunday. And then Roubaix on the following Sunday. So, it's in quick succession; you are there technically for a month but its only really three weeks.
Then after Roubaix you're a broken man and you've got to have a bit of an offseason and a rest and pick up the pieces and go again.
…There are loads of memories over the years from the Classics but one that stands out is my first Roubaix…
BA: What are a couple of your best memories from your Classics career?
Luke Durbridge: There are loads of memories over the years from the Classics but one that stands out is my first Roubaix. I got called up for it really last minute. I was actually leading a stage race in France, Circuit de la Sarthe and the team thought I was going well and there were a couple of guys who were sick so I got the call up as a second year pro and I jumped at it. So, I flew in a day or two before Roubaix and Matt Wilson picked me up from the airport and drove me straight to the Forest of Arenberg. It would've been 7pm at night. I'd never even raced in Belgium, never did Roubaix U23 or anything. I was just a trackie,
I was already two years pro.
They took my bike off the roof and Matt said "Look, this is the hardest section of the race so just ride this and then you'll know that this is how hard it will be". I was like, "Righto, so this is the Forest of Arenberg then." So, I charged into it, it was pretty much getting dark and I'm ripping through the Forest of Arenberg two days before the race, and I'm like, WHAT THE HELL. There's no way. So I get to the end of the Arenberg, Matt had to take the detour around it in the car and I get to the end and he's sat there leaning on the car with a big grin on his face and he says "So, how was it then?" and I just leant the bike against the car, got in and said, "Yeah, well look, we'll just cross that bridge when we get to it." I was so broken, and I'd only done one section.
It was pretty special that year; we had Stuart O'Grady, Baden Cooke, Sebastian Langeveld, Matt Goss, Brett Lancaster, and Mitch Docker too which is when we really became good mates.
So then two days later we start the race. We miss the breakaway and then we're all getting in trouble because of that so the boys just started to use me up because nobody expected me to finish. I've not even got to a cobble section and I'm already wrecked. We get to the first one and immediately I'm in the box, I think I got dropped by the second cobbled section, with probably 180km to go. So, I was like, well, day done.
…We swapped off so hard, as hard as we could to just stay in the race and we eventually roll into the velodrome…
So, I'm riding to the feed and Luke Rowe, Jetse Bol and Russ Downing pick me up. And Luke Rowe said: "This is your first Roubaix, hey?" And I was like yeah; he said yep me too, "Do you want to finish?" And I just said: "Rowey, there's 160km to go mate," and he's like, "Yeah, we'll be right, we'll just swap off and we'll get there."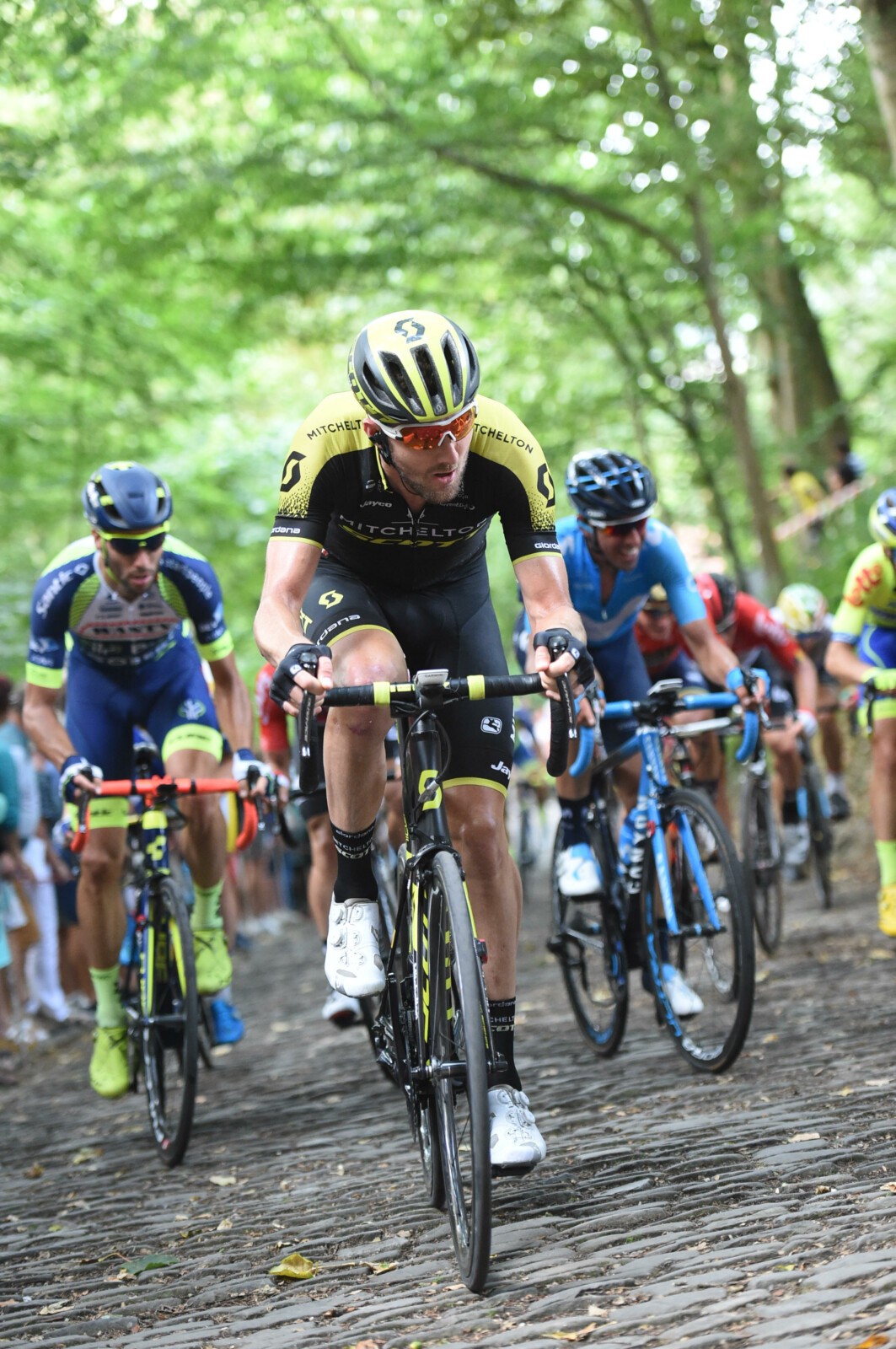 So that was that. We just swapped off, four of us for 160km. There was nobody in the feedzones—they had all left by the time we had got there—so we were just sharing bottles and coke cans that spectators were giving us.
We swapped off so hard, as hard as we could to just stay in the race and we eventually roll into the velodrome. We were all on a high and I just thought that it was the best participation event I'd ever done, we were still inside time limit, we'd lost 27 minutes, we were the last group on the list to make it. I rolled to the bus and everyone is already showered and changed, and they all look at me getting on the bus and couldn't believe what I'd done. The directors were like: "DID YOU FINISH? But we passed you at 170k to go?"
It doesn't matter though, I think every time I do that race unless I'm actually broken, I'll finish. I think I've finished every race except one where I fractured some ribs—it really is that special.