She's an Olympian, a star of the track, and one of the top-performing road cyclists of 2022. And she has recently signed a two-year contract with top-level women's outfit Team DSM. Here Coco Louise Henry speaks with Maeve Plouffe.
Olympian Maeve Plouffe is rapidly emerging as one of the most exciting Australian riders to watch after winning the first ever Warrnambool Women's Cycling Classic, a gruelling 160km race and the longest race in the world on the women's calendar.
The 22-year-old has already ridden at the World Championships in Berlin and the Tokyo Olympics, set Australian records in New Zealand, and won three Australian Champion titles in the madison, individual pursuit and team pursuit.
Coco-Louise Henry caught up with Maeve to hear about the WWC, her future racing plans, and how she hopes to protect the world's natural environments after racing.
Maeve, it's wonderful to speak with you—first up were there any particular aspects of the Warrnambool Women's Classic that you thought might be a challenge?
It's great to chat too! Obviously the first element is the pure distance, I've never raced that distance before and it's the longest road race in the world on the calendar at the moment so we all knew that it was going to be a bit of a battle.
I wasn't too concerned about the climbing as they're punchy and short. I do love a crosswind, so when I saw that there was a head crosswind for most of it I knew that it was definitely going to play to me because it would deter any big break aways from going and make it more of a sprinters race.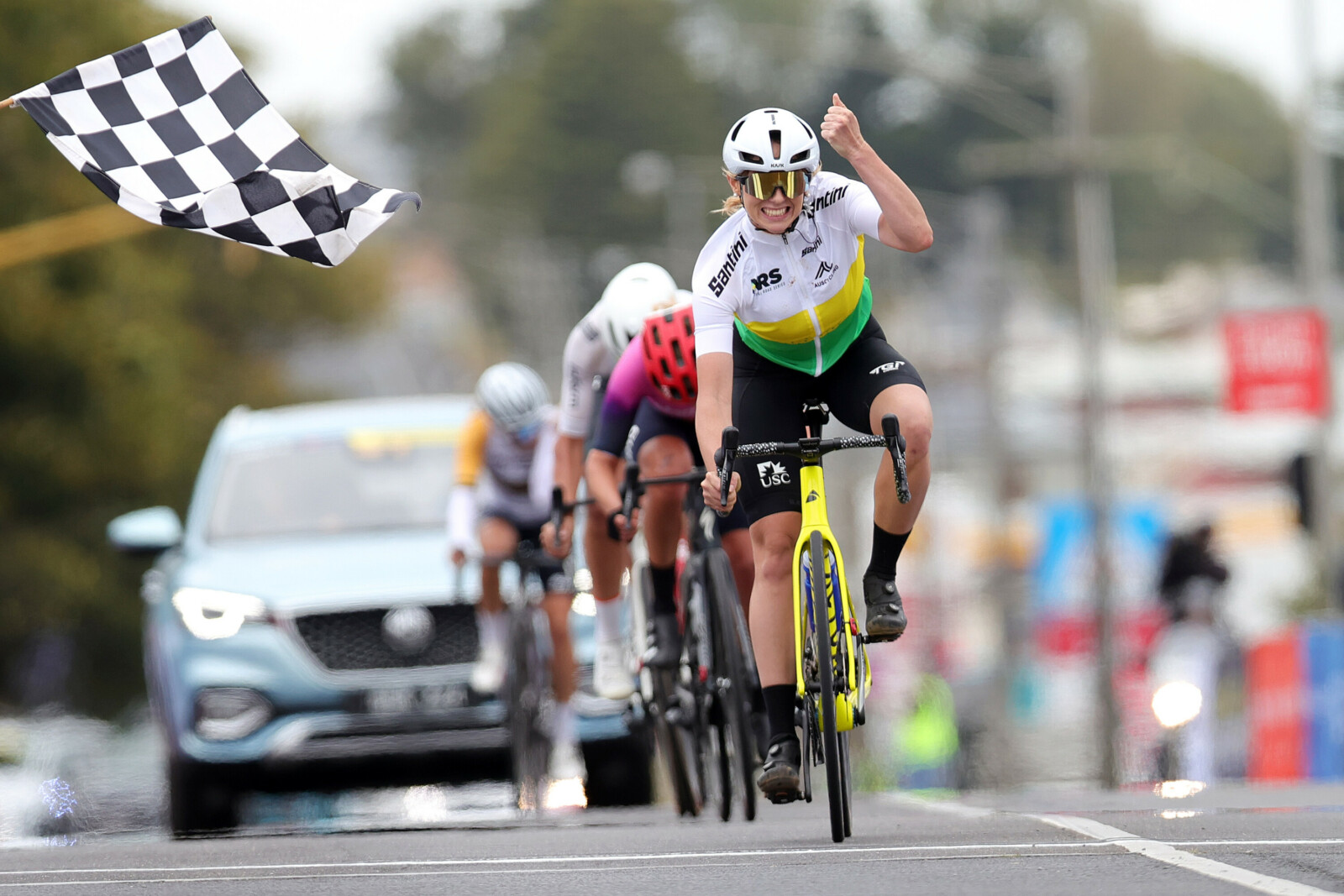 Was there anyone in the final bunch of the Women's Warrnambool Classic that you thought could be a problem when it came down to the line?
Pretty much everyone! My job throughout the race was to look out for those top riders and be in any moves that they went with. So when I saw that initial attack I knew I had to be there, and we got away with a bit of a dream team. I was a little further back so I had to jump across and dig pretty deep to get into that front group, but once I got over there I realised that this was the group to be in.
We had Nicole Frain and, strategically, her really strong ride at Nationals with the long range attack put me on notice. Pretty much the last 10ks I was on high alert for anything like that; I knew that a lot of riders would be trying for that style so I just had to keep an eye on them.
Were you holding your breath?
I think that as the kilometres started to creep down I got more and more confident. I was feeling quite good but I was a little bit nervous about how my legs would feel at the end. I've never sprinted at the end of a 160km race before so I wasn't sure how I would go.
But I was feeling quite good; when there was a break up, a little climb with 5km to go, I jumped on it straight away, and a few other fires started but I was pretty happy just to let others chase those. I used my track cycling background to pick the moves that I thought were really dangerous and pick the wheels moving forward.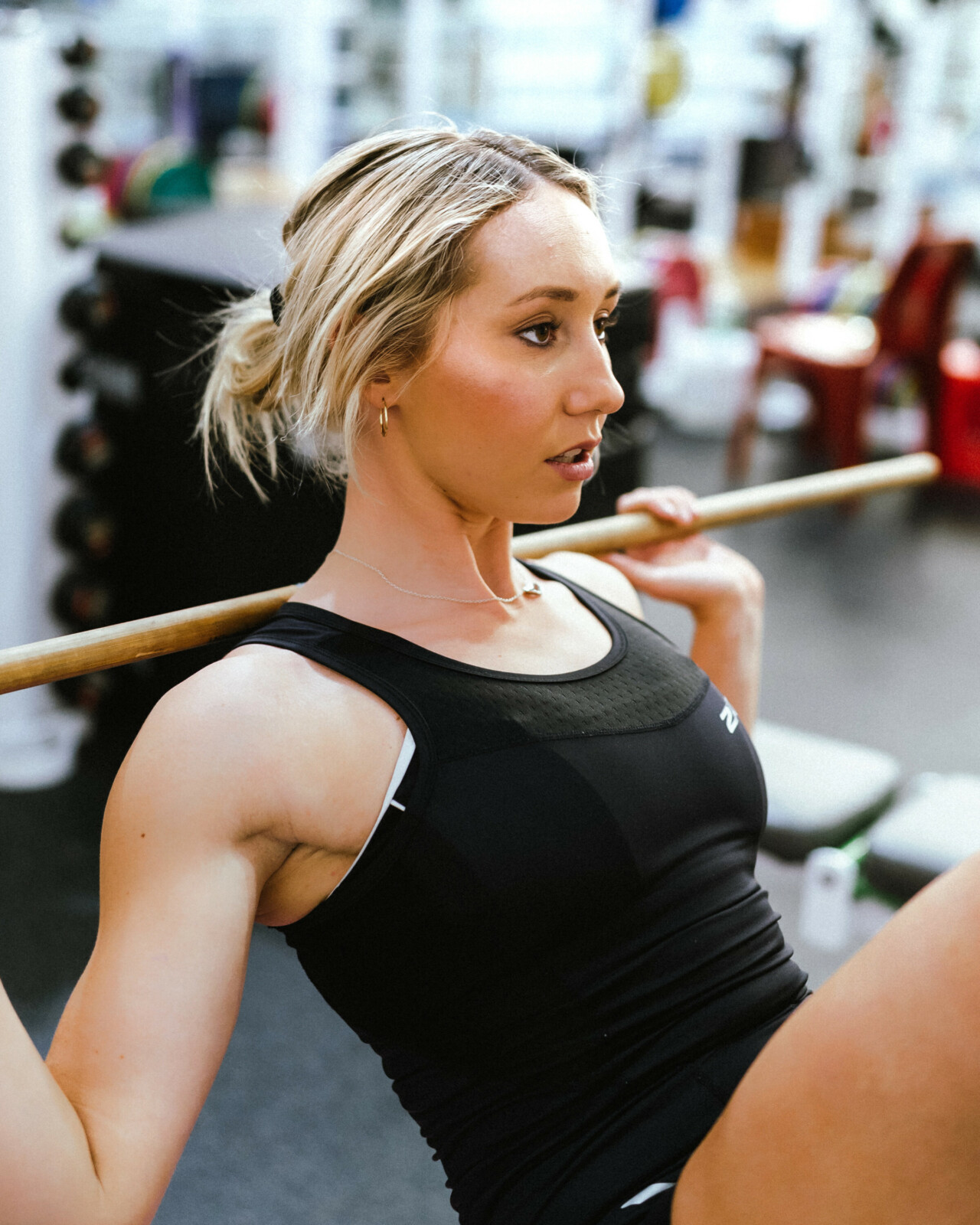 I was really happy with the decision making at the end there, but it was a little bit nerve-wracking, especially when Nicole went with that final fly that you can see in the replay and I jumped straight on the end of that and I was in a really good position. She started to slow down with about 500 metres to go and then I had to make a really big decision in the race because I had to decide whether to stay on her wheel and get that wind protection for a little bit longer but risk going backwards, or start my sprint earlier than I wanted to. So I made a half sprint and then wound it out, and we now know how that ended.
It sounds like it was 50% strategy and 50% strength?
It was definitely a very strategic ride. Especially when it came to the end when there were 5 riders, one from each team and all strong. That's cool though, so I think it was a really good race to watch and a good showcase.
Will you do the race again?
I would love to do it again, if I'm in Australia next year at the right time then definitely.
Are you planning to be somewhere else?
I never know these days it just depends on what race schedules look like. I'm pretty invested in the track this year so if I'm still in Australia my first race will be that second World Cup in Milton. And my main target this year will be the Commonwealth Games on the track. But next year I'm pretty open to doing some road racing so if I can find a team that would be good. To be honest I've been so focused and stuck in my ways on the track that I've never really looked around and paid attention to the road stuff and I've kept my calendar pretty set, but now that I've gotten some road results I'm starting to look around a bit more.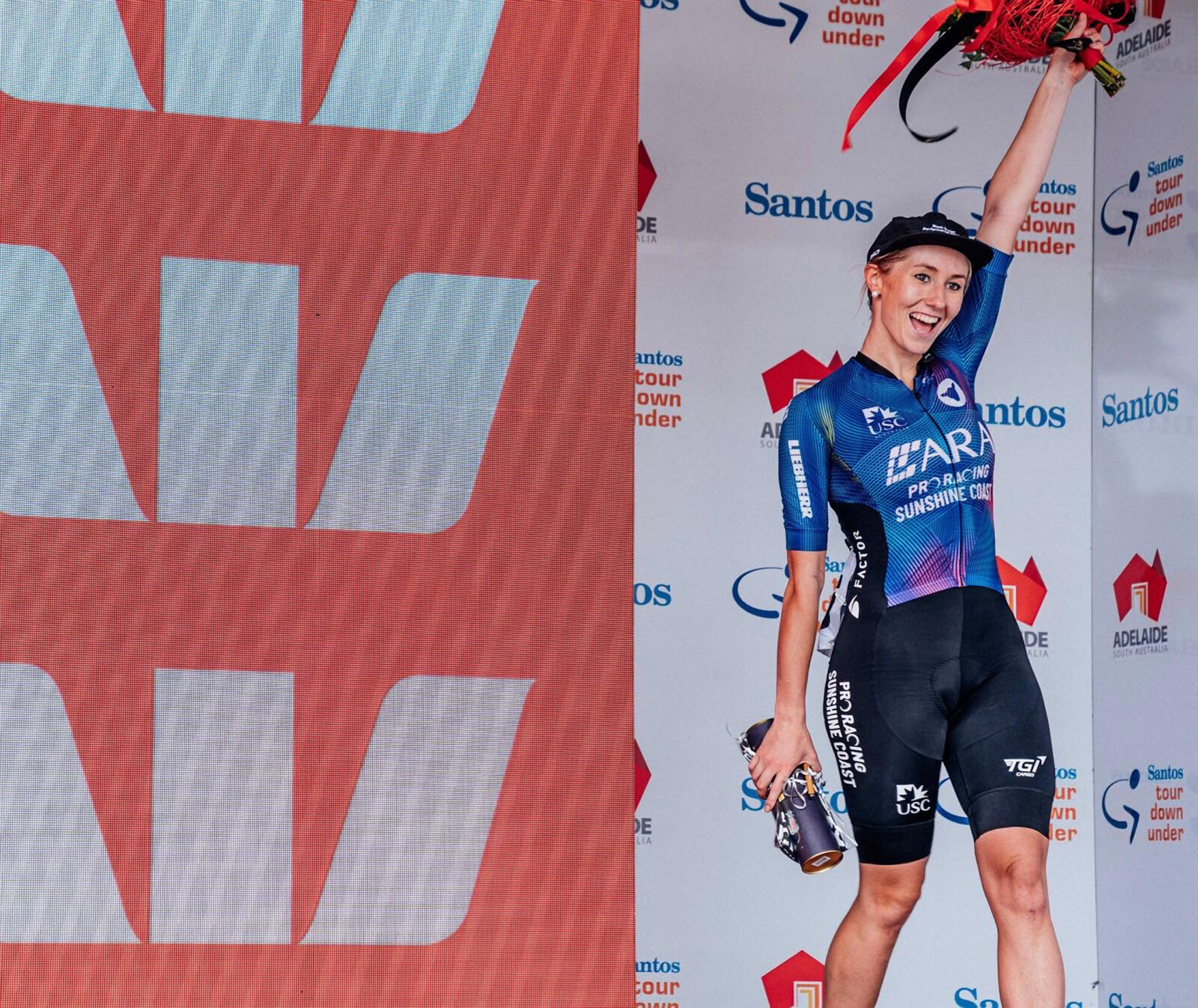 Do you have a big career goal that you're willing to share?
I'm at a funny point in my career because I'm still figuring out what I'm good at and what I like. One thing that I noticed when I came into cycling is that the elite time trial pursuit riders just do time trials and pursuit, but I do love the bunch racing as well. My coach sat me down at the start of the year and said, 'We'll have to get you to get a couple of good time trial results because that's how we'll get you to make a good road team.
You need to be a good time trialist, I think that will be your way into the road scene.' And I was like ok, that's cool, because I'm an individual pursuit rider, that's my forte. And then a few weeks later I got really upset because I didn't get to ride the time trial at Nationals because I had COVID, and he was like, 'No, don't worry about that anymore because you've started winning sprints now, so your way in might be as a sprinter."
So I'm in a little bit of a, not an identity crisis, but I'm trying to figure out which way I want to go. I do love individual pursuit and my times have come down a lot recently, and I want to aim to win that at the World Champs or break the world record. But at the same time I'm really starting to enjoy the road and I'm learning the bunch riding on the track, that sprinting and tactical side of things.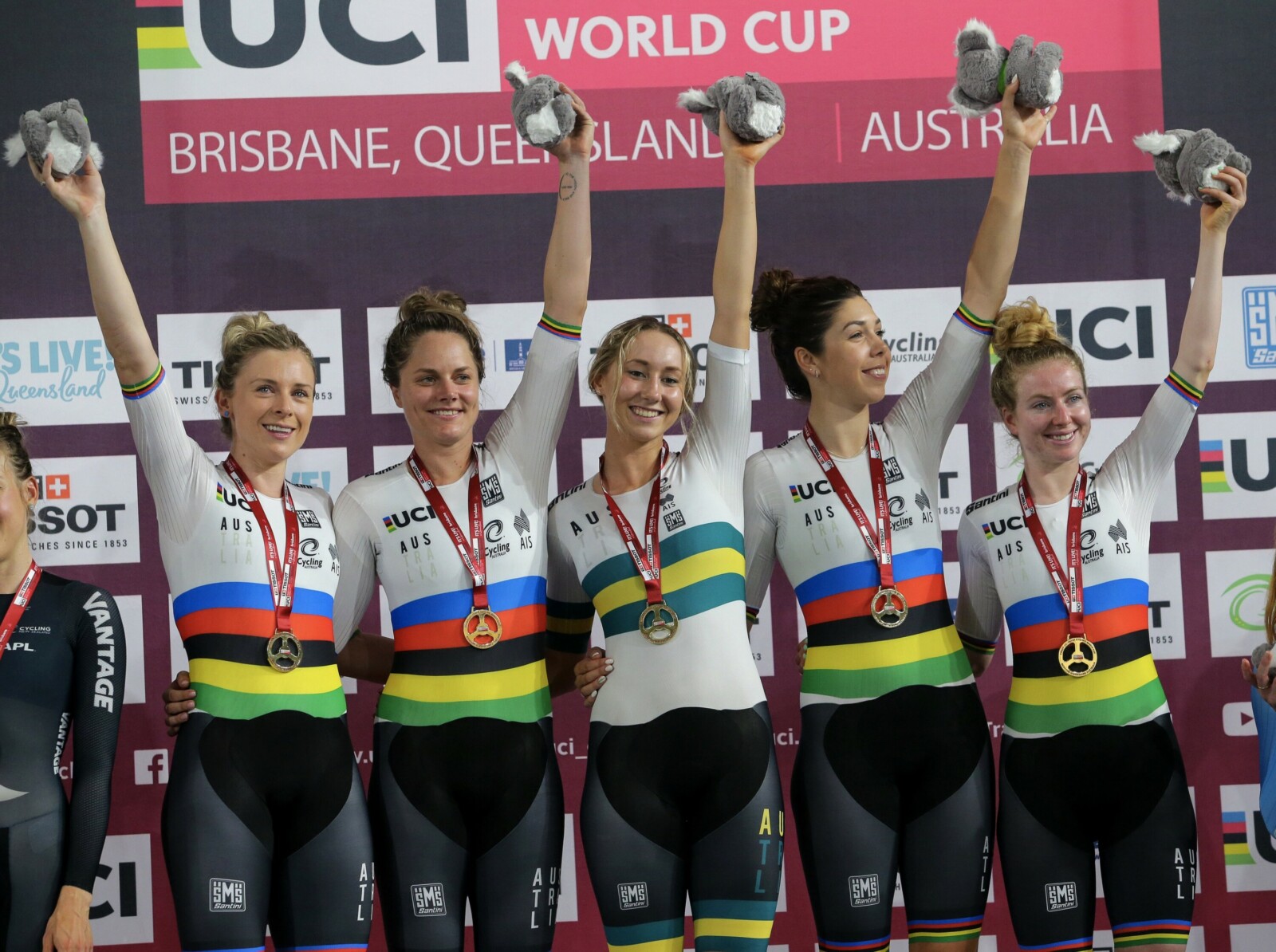 Do you have plans to relocate to Europe at some point?
I would love to do that next year. This year the current plan is that I will do the World Cup in Canada then I'll be in Europe until the Commonwealth Games.
Where will you base yourself?
I think it's looking like Belgium. I've got a really great team who are very well connected. When I first started with them we went over to Belgium, but I didn't last very long because I broke my wrist in a street race so I didn't get to experience it, but for the other girls it was great for their development.
"…I hope to use science to inform policy and legislation and decisions … I'm almost training for a job that doesn't yet exist…"
We were all quite young but this time around I'll be one of the older girls on the team so I think that's great that some of the NRS teams are getting over there and getting that development in. It helps riders like me who don't have the results in Europe yet but want to try it out. I'll probably have more of a track focus but I might also do some of the smaller road races in Belgium depending on what we can get starts in.
How are you fitting all of this in with your degree?
Uni actually started back today. For me it's about anticipating the workload on the bike and then adjusting my uni load to suit that. A lot of student athletes defer or take big breaks from study but I've never really been the one to do that.
The least amount of study I've done was last year before the Olympics, I did one unit of study and that was really weird to me so I went back to three straight after. I love doing university on the side, although it is tricky now that the international borders are open so we can travel again. At the end of the day it's about negotiating what I can do, especially now that I'm getting to the pointy end of my degree and it's a bit more field based and more face-to-face for law as well.
When I first started my degree the study came first, I never skipped sessions for study, but I did care a lot about it so I might just stay up a little bit later than I should and I neglected my recovery a bit. But now as I've started doing better on the bike cycling has become more of a priority and I'm doing fewer subjects.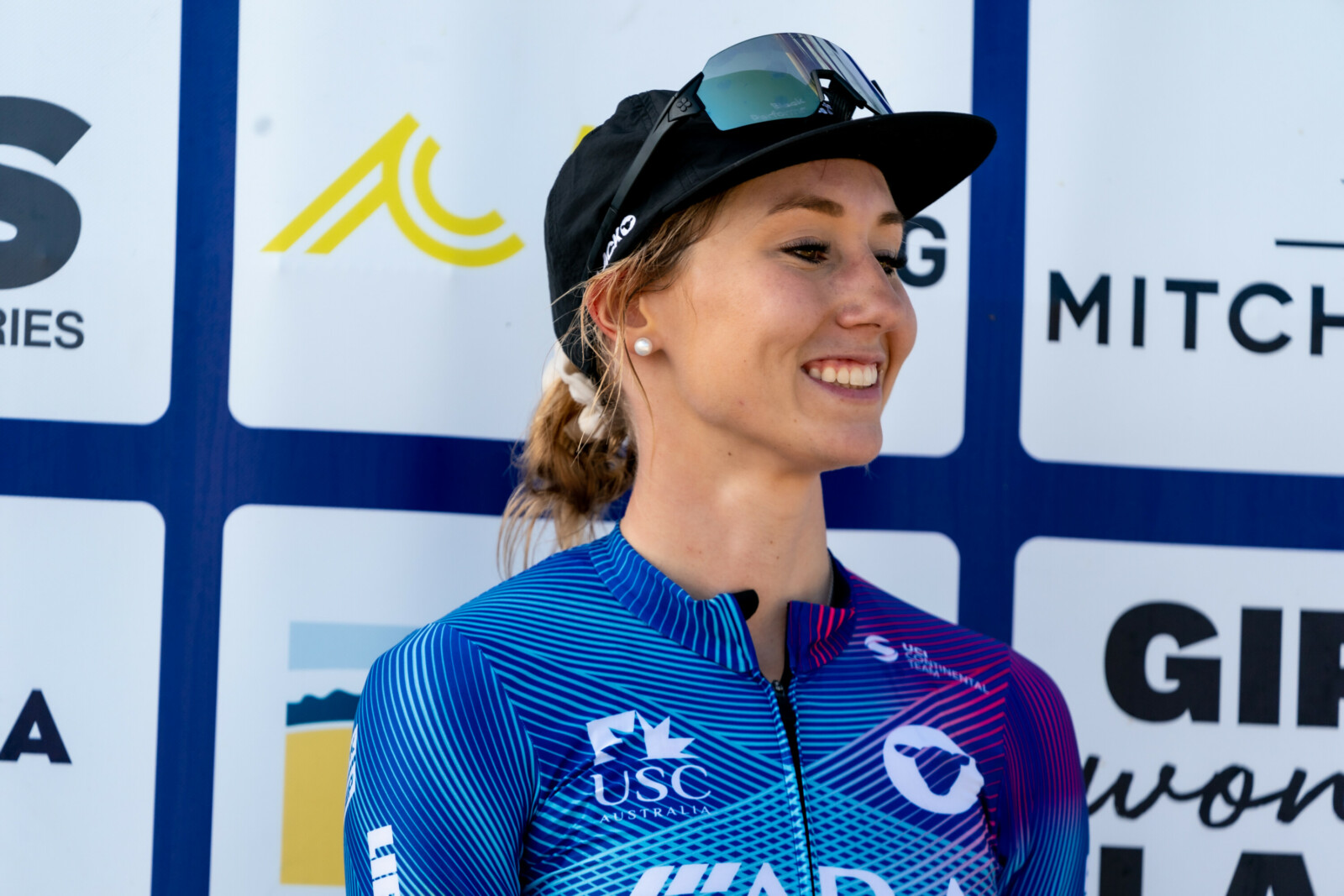 Are you planning to use your degree when you finish it or use it as a post racing career?
That's a good question. My degree is something that I find interesting but I want to keep racing for at least the next decade if I can. I think that potentially I can go volunteer or do internships with it as something on the side while I'm racing, especially in science as they're always looking for volunteers and I enjoy the field work doing surveying and things like that. I don't see myself taking on a big full time role, I might do my Honours or study further. But I'll stay engaged in the field in a leisurely way, I don't want a big gap in my resume.
And what kind of job do you think you'll look for when you're ready?
I'm studying law and science, so I get a lot of questions about how that will work in the real world. I hope to use science to inform policy and legislation and decisions. There's a big gap in that area, so I'm almost training for a job that doesn't exist, which is kind of funny. I guess it does exist in some regards, but I'm not sure. I would go into a position writing laws, I would also consider a pure science job. There are a lot of areas I'm discovering that I'm interested in—for example ocean productivity and discovering what areas we should be protecting compared to other areas that have high production.
And who would your dream employer be?
If I'm really dreaming it would be the United Nations or one of the big international conservation organisations.
What do you do to wind down and relax?
I absolutely love being out in nature. It's great that training on the bike we can be outdoors and exploring, and sometimes I find spots out while I'm on the bike that I go visit later like little beaches or coves or waterfalls that I rode past. I'm a bit of a nature geek so that's probably one of my favourite things to do. I always bring my camera with me. I do love my photography, although I'm not incredibly good at it—I don't think I would ever consider doing it properly. I just keep the photos for myself.
What kind of music do you train to on the trainer?
A bit of everything to be honest! I get influenced by what everyone around me is listening to at the track, they're all listening to rap and hip hop music so I find myself listening to that. I grew up with more punk rock, the original punk rock type of music, so whenever I want a feel-good tune I put Blink 182 on. But what I listen to changes depending on who I'm around.
Do you have a favourite bike?
I love my Argon 18 pursuit bike, it's absolutely beautiful.
Do you name your bikes?
No, I don't!
Dog person or cat person?
Dog person! Labradors. We do puppy raising for the Guide Dogs so we've had about twelve of them.
.