Officially released in July this year, Peter Maniaty rides the new tubed Vittoria Corsa N.EXT tyres.
Nowadays they're owned by a Milanese private equity fund. But Vittoria's cycling heritage runs deep, producing high performance road tyres since the early 1950s. In 2022 their rubber is trusted by no less than six UCI World Tour men's teams, with the bulk of their tyres – over seven million each year – manufactured at the gargantuan Lion Tyres factory in Bangkok, Thailand. Which is precisely from where these little beauties arrived a couple of months ago.
Corsa N.EXT is the latest addition to the revered Corsa family. Vittoria positions it as their road tyre for the Competition category – one step down from the existing Pro Competition range that includes Corsa, Corsa Control and Corsa Speed and a step up from its Advance Training offerings, namely the Rubino Pro.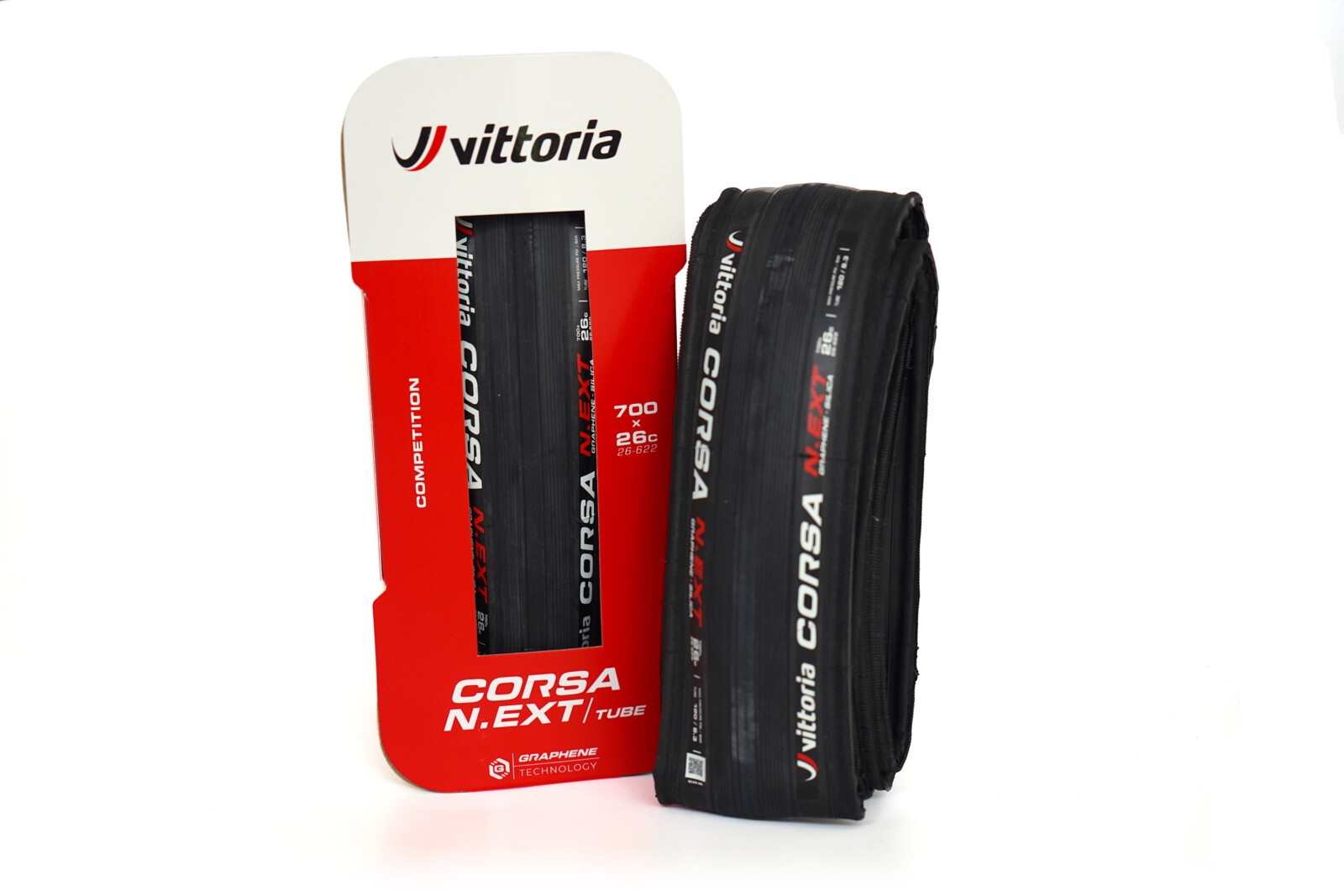 In purely commercial terms, Corsa N.EXT is a clear play at gaining more of the growing cohort of committed amateur riders who clock up big kilometres each week and want solid value, improved speed and performance (who doesn't?), but not at the expense of durability and puncture resistance. The theory makes absolute sense, so how did they stack up?
FIRST IMPRESSIONS
Out of the box, the first thing I noticed was the compound. The Corsa N.EXT rubber is considerably softer and tackier to touch than other road tyres I've been riding in recent years.The other thing to catch my eye was the familiar linear tread pattern, which mimics that used by its pro-level Corsa siblings.
On my home scales the 700x26mm foldable clinchers came in at a very respectable 205 grams, just a shade over the advertised weight of 200 grams. Vittoria says the tubeless-ready equivalent in the same size tips the scales at a reasonable (but not quite class-leading) 285 grams per tyre.
TECH
Rather than the Corespun cotton casing common to Vittoria's existing Corsa models, the N.EXT instead becomes the first Corsa-branded tyre to feature a longer-lasting vulcanised nylon casing. It's also the first to utilise a new hybrid compound with both graphene and silica infused in to different sections of the tyre.
Introduced by Vittoria in 2015, graphene is an ultra-light and strong type of carbon. With the further addition of silica, Vittoria's testing suggests this compound translates into big gains in terms of cornering grip (+32%), speed (+9%) and puncture resistance (+21%) versus the Rubino Pro.
Looking more closely at the construction of the Corsa N.EXT, the central section of the casing features three separate 100TPI layers of nylon, while the sidewalls have just two. There's also a high-density puncture protection belt immediately below the tread surface, whilst an additional 'bead shield' reinforcing guard helps to further bolster durability regardless of what the road and elements send your way.
While the Corsa N.EXT is a very different tyre from previous Corsa models, it does share the same distinctive linear tread profile. To maximise rolling efficiency in straight lines, the central section of the tyre features wider-spaced grooves, which equate to a larger contact surface. Towards the edges of the tyre the grooves are closer to aid grip and handling through corners.
FITTING
Mounting the 26mm foldable clinchers was very straight forward, with the supple rubber casing and aramid bead sliding easily into place on my wide carbon rims (22mm internal/29mm external). Yes, I did use tyre levers, but only because I'm lazy. It's safe to assume you'll encounter a considerably tighter fit when mounting TLR models.
ON THE ROAD
During the course of this review, I travelled around 800km spread across a six-week period that included some truly abysmal riding conditions – perfect for tyre testing! However, within the first few kilometres of my very first ride it became abundantly clear the comfort and grip of these tyres is absolutely outstanding.
SUMMING UP
Corsa N.EXT is an excellent all-round road tyre that fills a gap in the Vittoria range. It's the complete package for everyday riding with above-average rolling resistance and comfort complemented by improved puncture resistance and simply brilliant grip.