Mike Tomalaris, the former SBS TV cycling presenter and lifetime Tour de France tragic, was presented with one of the French Government's highest accolades at New South Wales Parliament House during week.
Awarded France's National Order Of Merit – the country's second highest national order after the Legion of Honour – Tomalaris received the medal from France's Ambassador to Australia, Jean-Pierre Thébault, on behalf of President Emmanuel Macron.
We caught up with Tomo to ask more the award and his reaction to the surprise announcement.
"I had no idea but was told I was nominated by the head of Atout France, the French Government tourism office based here in Australia. The nomination went to the French Government and President Emmanuel Macron gave it his seal of approval," he continued.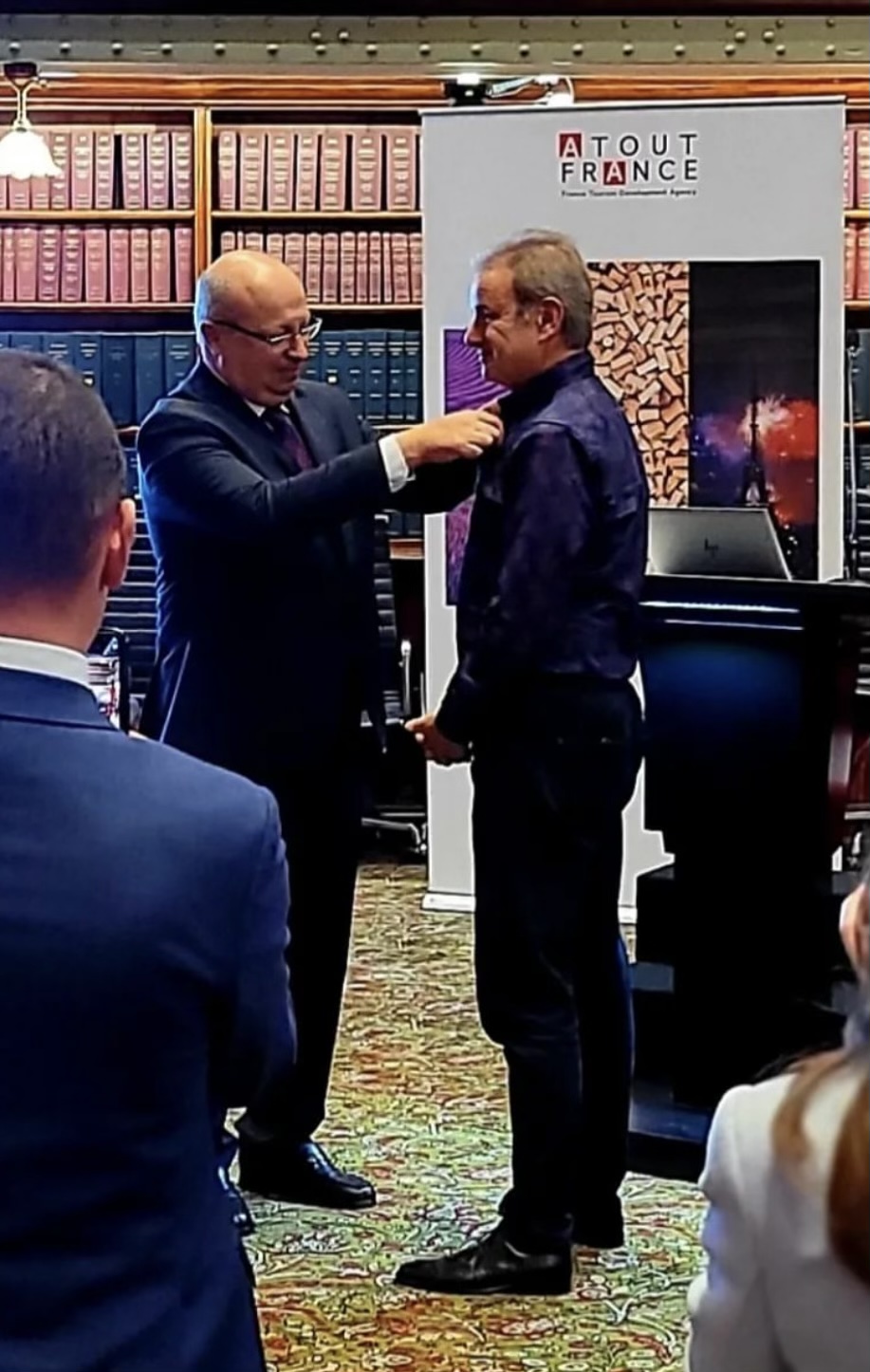 With only a handful of other Australians ever receiving the medal, one standout is Australian recording artist Tina Arena who's a major star in France and has lived there for many years, continued Tomalaris.
"To the French it is very prestigious," he continued. "It's up there with an Order of Australia they reckon," he added.
Explaining how humbled he was to receive the award, Tomalaris said it was rewarding to be honoured and thanked by people from all walks of life, and not just cycling.
"It's surprising, but I guess it's an example of the influence I never knew I had," he said. "And not just across cycling, but tourism, politics, even people who had little interest in the sport but fell in love with the Tour de France … it's so much more than the pushing of pedals."
'The high accolade must have extra special meaning considering your unceremonious exit from SBS', we put to Mike.
"My former employer – and I can't bring myself to use the initials – they first gave me this opportunity a long time ago," he said. "I remember back in 1991 when they first had the rights, my job was to go into the office at 7 in the morning and log the images being beamed in from British broadcaster ITV. That first highlights package would go to air each day – and that's when I fell in love with the Tour."
"The coverage developed over many years, and a huge cycling family slowly evolved around the coverage. And the cycling fraternity became a family – the viewers that watched the Tour were family to me. I like to think I helped bring them all together."
A Sudden, Unceremonious Exit
"Then, suddenly came my unceremonious exit last year," he continued. "I don't wish ill of my former employer, but I've been scarred mentally, and I will probably carry those scars forever."
Tomalaris went on to say he is now busier than ever, cycling almost every day, and has a full working schedule.
"I'm in a really good place," he continued. "I've been given many wonderful opportunities since leaving – to promote cycling and be among fellow riders with major tour companies, charity organisations and more. And I'm happy. I see my family a lot more. I have two wonderful grandchildren who I get to spend time with … overall I am in a really good space."
Moving to current coverage of the sport and the up-coming Tour de France, Tomalaris said that it was the viewers who will ultimately lose out after SBS sacked both himself and Robbie McEwen.
"From what I can tell it's the loyal Australian viewers who have lost out," he said." Take this year's Tour for example – I wont be involved for the for the first time in 31 years. And Robbie won't be there for the first time since he retired in 2013 – that's a big chunk of history that will be missing this year."
"But life doesn't revolve around us, and I'm sure now a new generation will enjoy the Tour," he added.
Mike went on to tell us he has not been able to watch SBS since his sudden departure last year, and, like many others, has turned to GCN for coverage.
"Since leaving on Oct 12 last year – unceremoniously and unexpectedly, I haven't been able to bring myself to watch any cycling coverage on my former employer's network," he said.
"I haven't watched a frame," he continued. "And it's not through ill-feeling for anyone on the team – it's just the one or two people that did the guillotine job on me.
"I'm not being nasty, it's a mental thing, I just can't do it. Whether it was Paris-Roubaix, the Giro, the Tour … I helped put the network's cycling portfolio together from the early days,"
"Instead – and it pains me to say – I have now subscribed to GCN, I watch it and enjoy it a lot," he continued.
"I think GCN is very well put together. It's slick, polished, and very impressive. Orla the anchor does a wonderful job as do the full team – Robbie, Dan, Brad Wiggins – they have a brilliant lineup of experts."
"There are some differences – GCN offer purely a sporting spectacle – they don't have to talk about the regions or the cuisine – it's the pure cycling side and I'm really enjoying watching it."
"That said," he continued in his usual raw honesty, "I have no ill feelings towards my ex-colleagues – I miss them dearly and love them dearly – all of them."