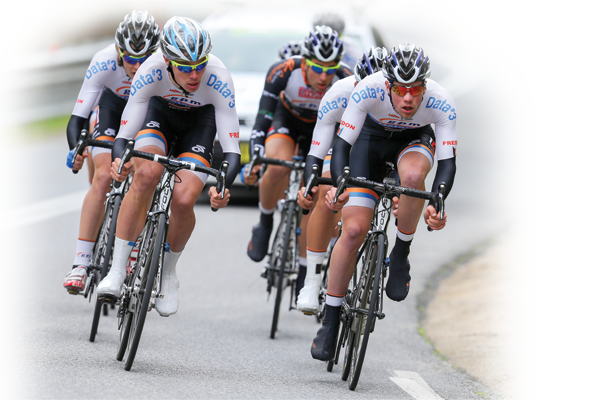 For many former Australian pros, professional cycling still runs thick in the blood even after retirement from their riding careers. Many are still visibly working in the background of teams they once represented in Europe, while others have taken a punditry role in the media. Trent Wilson chose a different path, instead choosing to return to where it all began, and establishing New South Wales' first NRS team.
Wilson raced his junior years with Parramatta Cycling Club in Sydney's west before turning pro and racing in both Europe and the US before his retirement at the end of 2008. Wilson then established Team Mace – McDonagh Blake in 2009 which through many incarnations has become Team GPM in 2014.
Like most of the bigger NRS teams, GPM has an attitude of developing the riders off the bike as well as on it. "Our team philosophy is for every rider to have a job or study outside of riding the bike. Team management, coaches and parents work closely with us to allow the riders the opportunity to train and race, but with the priority being school and studies. We work with each of them to ensure there is balance," Wilson tells me. With GPM another team that doesn't pay any of its riders a salary, it is this theme of 'balance' that seems to hold young riders in good stead should they transition into a professional athlete, and perhaps why Aussie pros consistently perform at a high standard in the Northern Hemisphere. Wilson agrees, "The amount of Australian pros in Europe now is phenomenal and the development [of today's young cyclists] is definitely a lot easier, but at the end of the day you still have to just get out there and ride your bike."
GPM have also forged a strong partnership with Parramatta Cycling Club (Wilson's own club) who also have a registered NRS team. "In 2010, Simon Hammond began the Parramatta Cycling Team development squad. This was for the development of riders, to sign younger riders and give them the opportunity to travel and gain experience; they have certainly gained some great results over the past three years though. Both teams generally travel, stay, live, eat and socialise together. However come race day, they are certainly competing against one another." Both teams also do some fantastic charity work off the bike too, with the squad acting as patrons for the Day of Difference Charity and Black Dog Institute. Both charities also run fundraiser cycling events throughout the year and support from the NRS teams provides invaluable fundraising assistance.
2014 will be GPM's sixth year in the national series and Wilson admits this year will be different to others. "2014 will be a rebuilding stage for the team. We have signed a lot of young guys and a few of the older guys have moved on. In saying that though, there are a few surprise packets in the teams and we still expect to win a few races throughout the year as we usually do." Namely, one of those surprise packets could include former Junior Track World Champion, 21-year-old Jackson Law who lit up the junior ranks in NSW alongside new Orica-GreenEDGE signing Caleb Ewan. "We have a rider roster of 17, five of which are under 20 years of age which I am happy about and keen to develop. We have signed Brad Mills who will add to the experience and leadership of Caleb Jones and Chris Jory, the latter of which will have a point to prove. Also watch for Jesse Ewart to have a break out year in the hills."
With a shift in priorities then for the season ahead and an obvious focus towards the younger riders and their development, I ask Wilson where he sees the team in the next three to five years, especially within the context of an expanding NRS. "The NRS is definitely getting bigger every year, with the teams growing faster than the series unfortunately. In terms of our team, we just have to keep growing as a team and increasing our sponsorship. I see it getting to the point that within five years the budgets of teams will be three times what they are now and we will be rivalling the Northern American scene for competitiveness." And does Wilson see his own team hitting the heights of the Drapac's and Huon-Genesys' in the future? "We plan to have the team growing and being in the same league as the bigger teams going forward. We are also starting to work more closely with Day of Difference which is a great charity, but through which we also get to meet some great people." With this in mind, it shouldn't surprise that what began as the first NRS team out of NSW may also remain it's largest.
Although the most populous state and traditionally with successful results on the velodrome, NSW is significantly under-represented when it comes to riders competing in the NRS, being trumped mainly by their Victorian neighbours where Wilson believes the state government is more cooperative and welcoming of the sport. "Unfortunately for us, the NSW Police don't cooperate with Cycling NSW and we struggle to run small club races on back streets, let alone NRS races occupying main roads and travelling through country towns." Victoria has double the amount of racing days as NSW on the national calendar. However, all NSW races take place on the periphery of the state, the closest to Sydney being some 400km away. The best example of what Wilson is talking about is the cancellation at the last minute of the 2013 Goulburn to Sydney after a large number of teams threatened to boycott the race if it went as planned along the Hume Highway for 70km without rolling road closures. The event usually saw the left lane of the freeway used for racing while the right was open to traffic. In 2013 NSW Police refused the request. "We will never match Victoria until we can get cooperation with the police and rolling road closures. It's a shame because we have some great roads and fantastic mountains." Wilson also cited the example of the Hornsby to Swansea race that ceased in similar circumstances to 'the Goulburn'.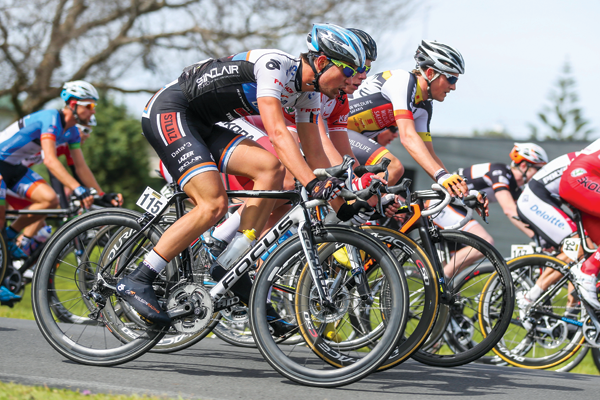 In terms of the direction of the wider National Road Series, Wilson has mixed feelings. While suggesting Cycling Australia still has a long way to go with the series, he also admits "it has come a long way since I first came back to Australia and started the team five years ago". He also cedes the following: "To be honest, the teams fund the NRS. We pay ridiculous entry fees to go to races and if it weren't for us there wouldn't be a series. As far as race structure, they ask for the directors' opinion and yet do what they want anyway. For example, the Tour of Tassie being held in November in 2014, no one wanted it there". Wilson is strong in his suggestion that it is the teams driving the growth and success of the NRS, and he acknowledges "every year it seems the growth of talent is getting bigger, in addition a lot more developed riders are staying in the NRS rather than going overseas to have a crack." As for whether this is good or bad for the development of young riders is debatable. Whether the NRS should be seen purely as a development pathway or alternatively, a professional scene in itself more akin to the North Amercian tour is still up for debate. If it is the latter though, Wilson is right in suggesting that within the next five years, teams will need to triple their budgets. In this case one would see it as rare for a rider not to be on some form of salary and then by very definition, Australia will have its very own fully fledged professional cycling scene.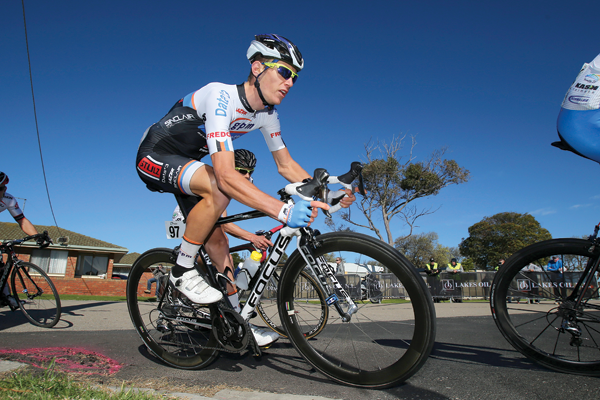 For this to become a reality however, teams would have to begin attracting mainstream sponsors from outside the cycling industry for purely financial and not just equipment support. "It's very difficult to attain non-cycling [industry] sponsors, it may be the economy or the lack of publicity. I work in the industry so it isn't too hard to get industry sponsors and I do believe they get a return on their investment." But does this all-important return on investment translate to sponsorships from companies outside the industry? "As far as I see, unfortunately our financial sponsors don't get their money back from the investment. However, most of the sponsors in the NRS are industry sponsors or lovers of the sport, so in this case they do." In this context then, for teams other than the big guns of Drapac and Huon-Genesys – and on a larger scale, Orica-GreenEDGE – where the team benefactors are huge cycling fans, it seems that the leap to a fully-fledged professional team with financial backing such that all riders and staff are remunerated is still quite a way off.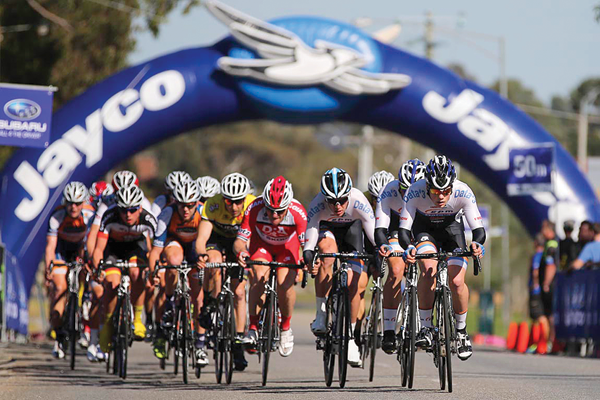 Putting the business issues aside, it's hard not to simply get swept up in Wilson's pure passion for junior development and the racing aspect of the sport. Within his development squad of riders from his junior haunt of Parramatta, he surely sees multiple young riders reminiscent of himself as a budding teen dreaming of taking the big step to Europe. "I grew up watching two or three Aussies racing in Europe. When I was there, there were probably 25 of us. Now there would have to be almost 50 for sure. I just see this number growing in the next decade." Maybe even one of his riders will retire from a glowing career as a pro and chose to do as Wilson did, come back to Parramatta and begin the cycle again.
Twitter: @brentonanthony
Team Info:
Official Team Name: GPM

Number of riders: 17

Number of Staff: 5

Team's debut: 2009 (as Mace-McDonagh Blake)

2013 NRS wins: 2

Frame Supplier: Focus

Other sponsors: Stulz, Fredon, GPS projects, Champion Systems, Sinclair Ford, Reynolds, Lazer, BBB, Northwave, Nutriscience, Morgan Blue, Panaracer.