We catch up with Australia's original Tour de France star—Phil Anderson—to talk about how he broke into the big time of the then Eurocentric pro bike racing.
These day's it's unusual to an Aussie winning grand tour stages and contending for the overall title in the Tour de France, although it wasn't always that way.
Back in the late 1970s a near rookie racer named Phil Anderson took his racing talent show to France, without even an inkling that there was such a thing as making a living from racing his bike.
Phil duly took the French on at their own game, and against all odds became Australia's first grand tour star and yellow jersey wearer.
In the 1982 race he wore the yellow jersey for 10 days, and many believe that had he not been an outsider who found himself in a ludicrously French situation that he would have won the 1983 race—something the man himself is too humble acknowledge. We caught up with him to talk about his early career.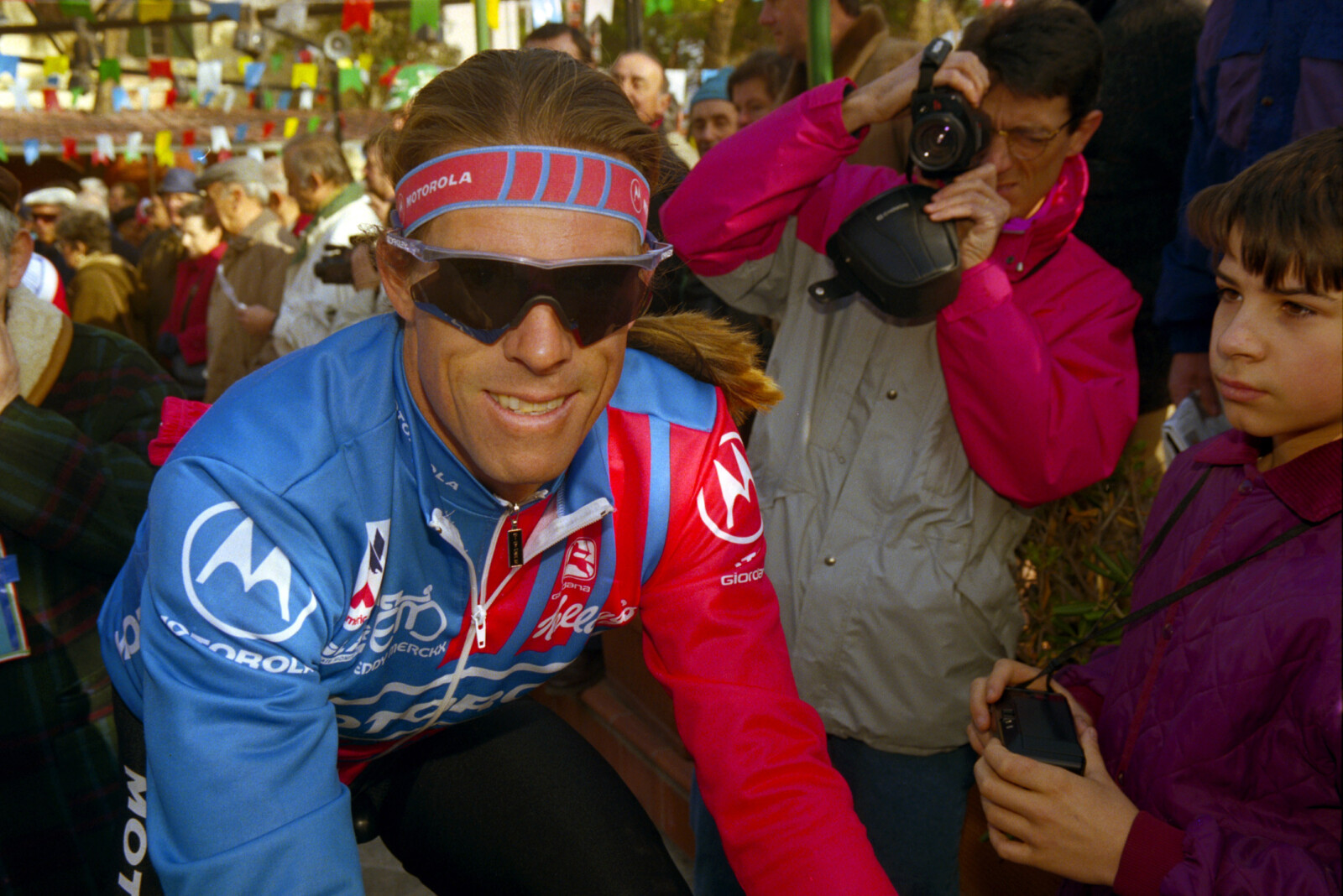 Part 1, Life today. Where are you living these days?
I still live in the countryside (but have downsized from a farm) and just have a much small ¼ acre place surrounded by bush and on the ocean—2.5 hours out of Melbourne, which is nice.
Are you still running cycling tours, or did COVID end that?
We were looking to get out of the business—basically retiring. COVID came at a good time for us because that was the decider to just pull the pin. For two years nobody wanted to travel, and even still the industry is suffering a it because people just don't want to get on a plane for 24 hours, and I think the group travel concept is going to take a while to come back.
We're basically retired, staring to enjoy the fruits of our life, starting to travel a bit, camping and seeing a bit of Australia.
What riding do you do now?
Now I ride a gravel bike pretty much all of the time—I rarely ride on the road. We even have a little trailer behind to take the dog on, as he gets tiered after 20-30km on the trail.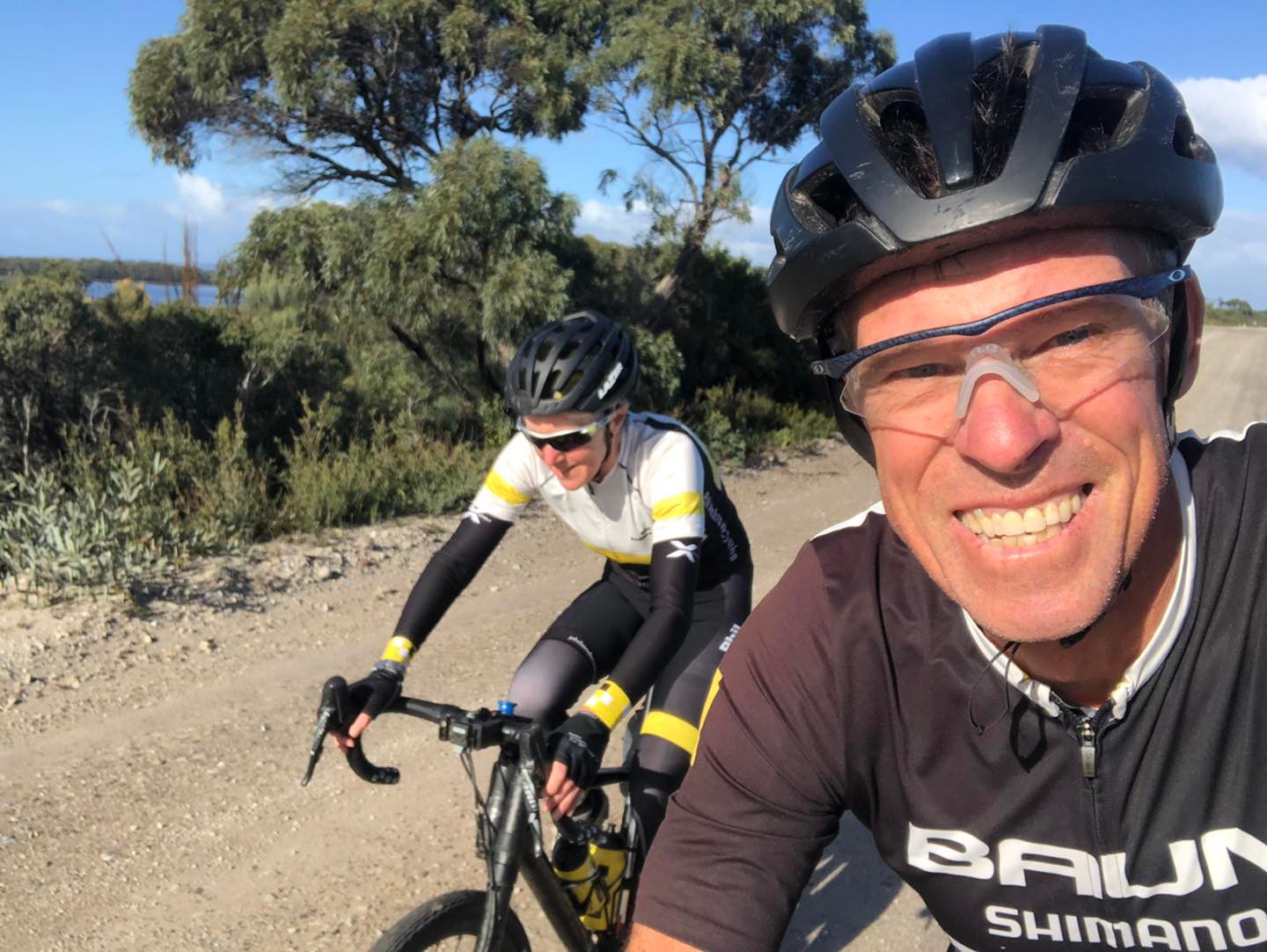 Do you still have any involvement with cycling in Australia?
Not really. I did a coaching thing here when I returned, just as a formality. But I wasn't that keen on staying at that level in the sport, and so never did anything with it. I was a director for a couple of events in the late '90s—one of them was one of Cadel's first ever road races (Tour of Tasmania around 1998).
Also, with the coaching course you had to choose an athlete to use for a training program, and I lived out in the country and chose a young Simon Gerrans. He was gifted as a football player and cricketer, and loved moto cross so could handle a bike. I was friends with his old man, so we used Simon, before he was even at state level.
We did a training plan, took him to a couple of races in Melbourne, but other than that I've not had too much to do with cycling. I still follow it on social media and watch it on GCN.
Australian road cycling seems to be in a good place right now, but many of the newer riders have not come through the AIS and GreenEdge System?
I'm not really that close to what's going on and where riders are coming from. It might be a different pathway now; a lot of riders used to come through the AIS, but I think funding has been limited somewhat now compared to 10 years ago.
While there's still plenty of talent coming through, it's in different ways now, which is frustrating for the athletes as they used to have a pretty good gig, and it was pretty organised for them. Now it seems it's maybe going more back to the club and national level—but I don't really know enough on that. It's interesting how it's gone; there was a big push for Sydney 2000 and then onwards, but I think the Sports Commission has cut back a little bit.
Every year at the Tour de France there's some standout rider comes through, who's done it not entirely on their own but a bit left field.
Part 2, In the beginning: How did you get started with cycling?
I was 16 when I began. I was a reasonable athlete—field and cross country—so as a kid I was reasonably good at endurance.
I didn't know anything about cycling as a sport, and remember seeing a local bike race on a closed boulevard circuit near to home. I asked the guy what it was about. I was pretty timid, and he told me there were races every week, they had velodromes and clubs all over Melbourne, and told me to ask at the local bike shop.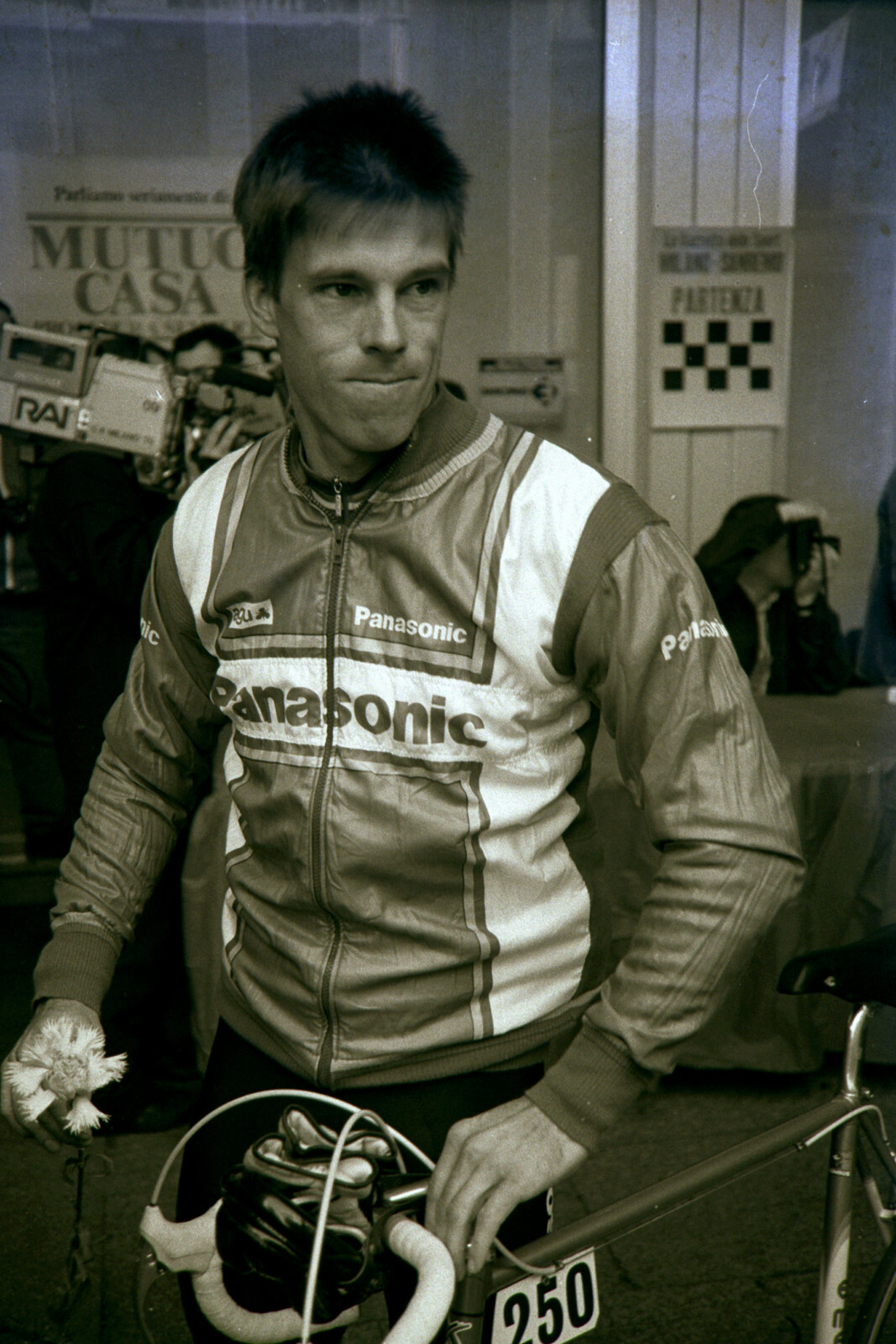 I went along and they told me there was the Hawthorne Cycling Club, and that I should go down and find out more. I went to the monthly meeting and joined up and started racing.
I was curious, and definitely didn't show any great talent, quite unlike the stories you hear of riders who turn up and show instant talent and win on their mum's bike. It wasn't like that for me. I was about dead last in my first race. It was a handicap and they put me off half an hour before everyone else, with some older guys and novices.
The elite riders came smashing through about 10km from the finish, and by the time I got there everyone had pretty much packed up and gone. I persisted and kept turning up at the races. I started to finish with stragglers, then the next group, and eventually after a year or two I think I won a Junior TT Championship—possibly because I hadn't really ridden with a group then, as they just went straight past. I won that, as it was just a matter of putting your head down.
From that I got a bit of attention and some coaching, and immediately started improving. In my third year I got on the state team and went to the nationals, and then got selected to go to the Commonwealth Games and got a gold medal in Edmonton in 1978.
It was a slow progression that took off when I got coaching. People in club helped me to get rid of the 54 chainring and use smaller gears. I didn't used to train before that, just turn up at the races; maybe I found the sport by accident, I wasn't directed by anybody.
Older riders would give me advice, and I was quick on the uptake of it. Even now I'm always curious and listening for advice.
In my fourth year I won Commonwealth Games gold on the road, and then I got the invite to go to that club in Paris 1979—the ACBB, which had a long history of good riders.
Robert Millar was with me, and we won most of the races in France that year, and at the end of the year I won the GP des Nations (ITT) and negotiated to get onto the Peugeot team, as the ACBB was a kind of feeder team to them.
How did you get the invite to ACBB?
Through Gerald Georges, a French guy who had a restaurant in Melbourne; cycle sport was his thing. He didn't race, but maybe his dad had, and he taught him about it. He had a passion for it, and the walls of his restaurant had pictures of cyclists on them, and he became a sponsor of the club.
He was a good friend of the ACBB director, and he said that if I was really interested that he would get me in to the club, and would pay for my flight. Once I got there he said they would sort an apartment, give a bike and everything else.
At that stage I was still pretty naive about cycling. I'd just come back from the Commonwealth Games, was an amateur, and ACBB was an amateur club, and the next step was to try and to go the Olympics. I figured that I could go there, get a lot or racing and experience in Europe and go for the games.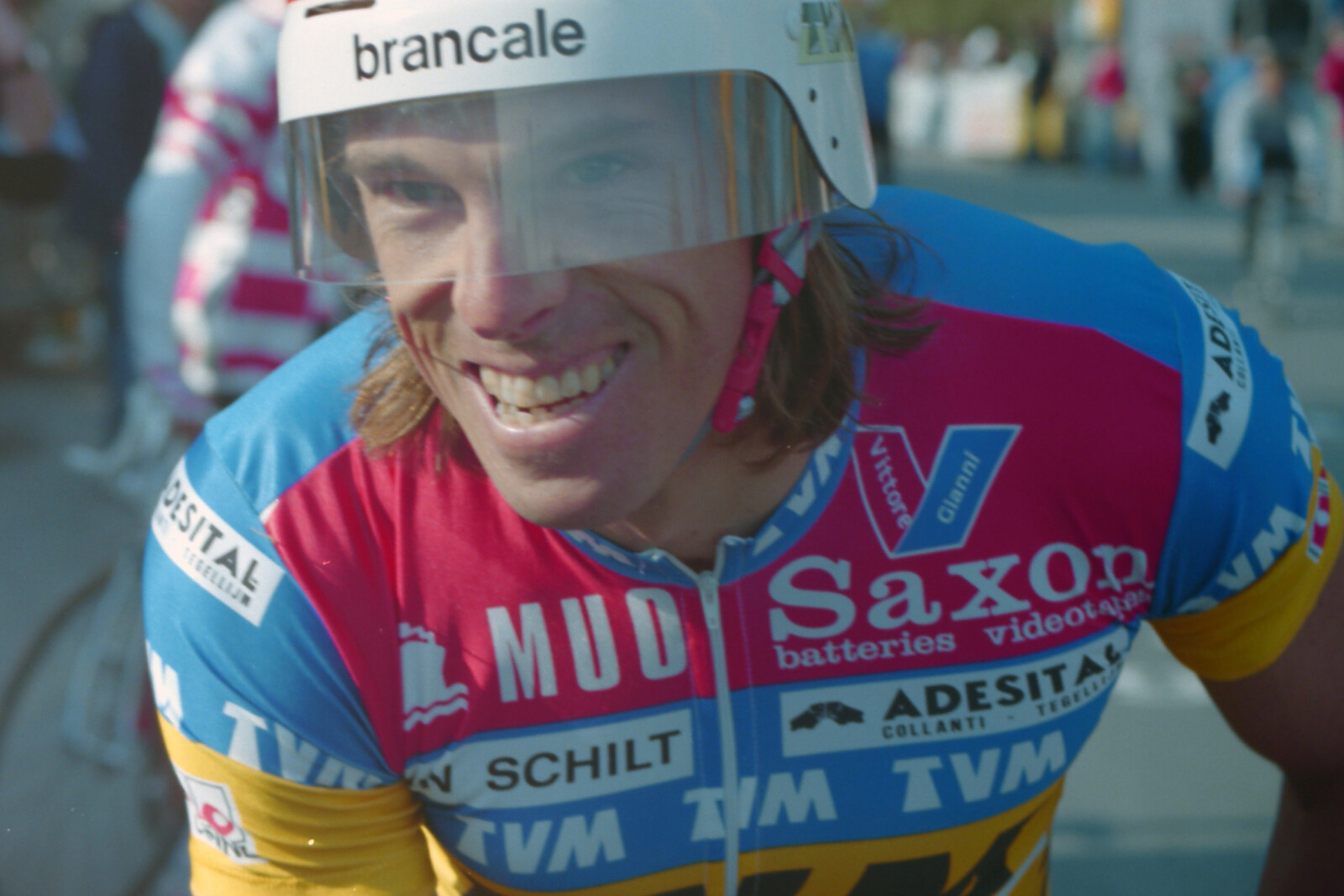 When I got there I went to watch the prologue of the Paris-Nice, which was just around the corner from where I stayed. I was just in awe. They had a professional division of cyclists in Australia, but it was a far cry from what I witnessed there. It was fantastic; just the equipment and the bling. It was all televised, and you'd rush home and watch repeats on TV.
That was my introduction to ACBB, and once I'd got a taste of and was that there was a bigger step you could take, as a pro, and to go to the Tour de France (which I'd never seen on TV before). I didn't know anybody who'd done it, apart from Paul Sherwen, who was dropping by our apartment from time to time and telling us stories about the Tour and pro peloton.
Before that I'd had no idea there was a pro category. By the end of the year we had a couple of teams—Mercier and Peugeot—coming up to us and asking if we wanted to ride with them.
I had to decide whether I wanted to try and go to the Olympics or turn pro, and though I might not get the offer again—so both Robert and I signed on the dotted line and never looked back.
How were you treated as outsiders in a French setup?
There was the language separation, but you slowly pick it up. Robert and myself would sit at the end of the table, and slowly we got integrated into the group. Possibly we got left out of some races, simply because the French guys were all fighting to get onto the teams. Eventually they couldn't leave us out as we were performing and getting results. I didn't do the Tour the first year with Peugeot, I didn't deserve to really. By the second year I was winning races from the start for the season, so they couldn't really leave me out.
Many of the western media believe that had you not been on a French team in 1983 that you would have won the Tour. The team rode most of the race in support of Pascal Simon, nursing him through in yellow with a broken collarbone?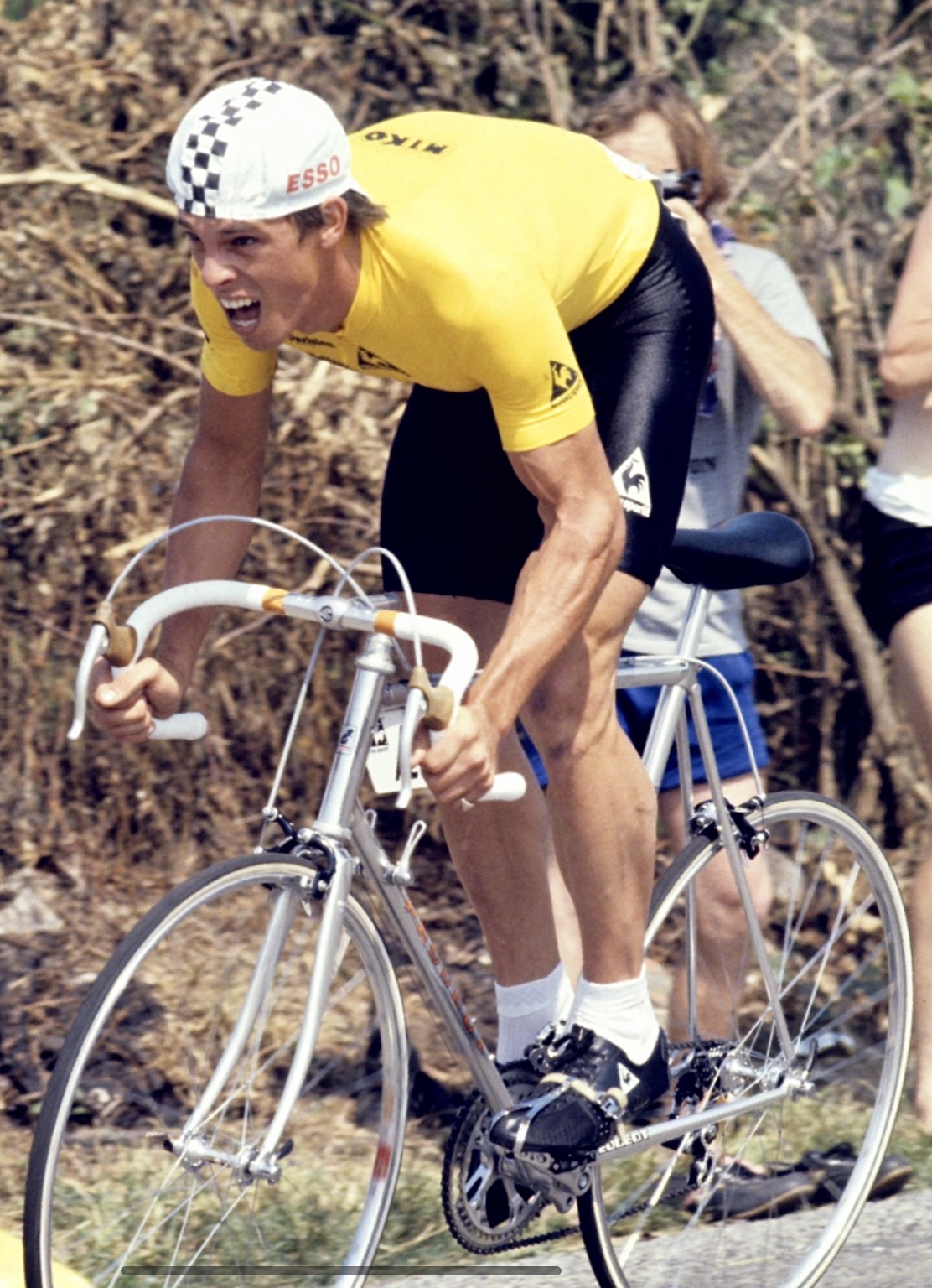 Ahh, yeah well, I think now it's more acceptable (being a foreigner). Even if you look at the GreenEdge team, there are hardly any Australians on it any more.
It was a bit of a shock, to have a bunch of French riders—who were used to working for Thevenet or Bernaudeau—to be working for an alien. Many of them didn't even know where Australia was; I may as well have been from Mars.
Possibly there were other French teams also coming up and asking why they were working for an Aussie and not one of them. You never know where the pressure is coming from.
Still I was as thankful and grateful as I could be to my teammates. When I got jerseys, I remember in my first year I only got one jersey, the second year I was 10 days or so in yellow, and each day you get three jerseys, and so every day I'd give one to a teammate, and they were so grateful and happy. I remember giving Bernard Boureau a jersey; he burst into tears.
He never thought he'd get close enough or have a teammate to touch a jersey. He'd been leading me out in the sprints every day, because Bernard Hinault was trying to stop me taking the seconds.
Now you see entire teams, multinational teams all around the leader. By the end of my career at Motorola we had so many nationalities. You just didn't see that in my early career. That was the big difference from the start to the end of my career.
If you look at Jumbo-Visma and how they ride now, they just lay it down on the line. It would have been incredible to have-ridden on a team like that. I guess I was in an equivalent team back then, but now they're just used to working for a designated leader, no matter what nationality he is.
What was like racing in the peloton during the Hinault era as one of a few foreigners?
In every generation of riders, there's always a Hinault, and possibly a Phil Anderson in the bunch. I got on okay with Hinault, but it wasn't great. We still see each other from time to time.
He's got a big personality, and works on intimidation, a bit of a bully in the bunch. I was fine with that, I just did my own thing and wasn't caught up in the history—which was one of the advantages of being an Australian, there was no history or culture riles to follow.
I respected Hinault, but no more than anybody else in the peloton. When I got over there I found there was a bit of a hierarchy, and that he was the patron. When he wasn't there? Well, it was open for grabs.
Once I started winning races you started to earn the respect—before that nobody would even talk to you, they didn't have time for you. When you were green under the years you'd be stuck in the gutter in crosswinds, and wouldn't dare to push in. When you started winning races and showing your class the gaps would open and they'd let you in.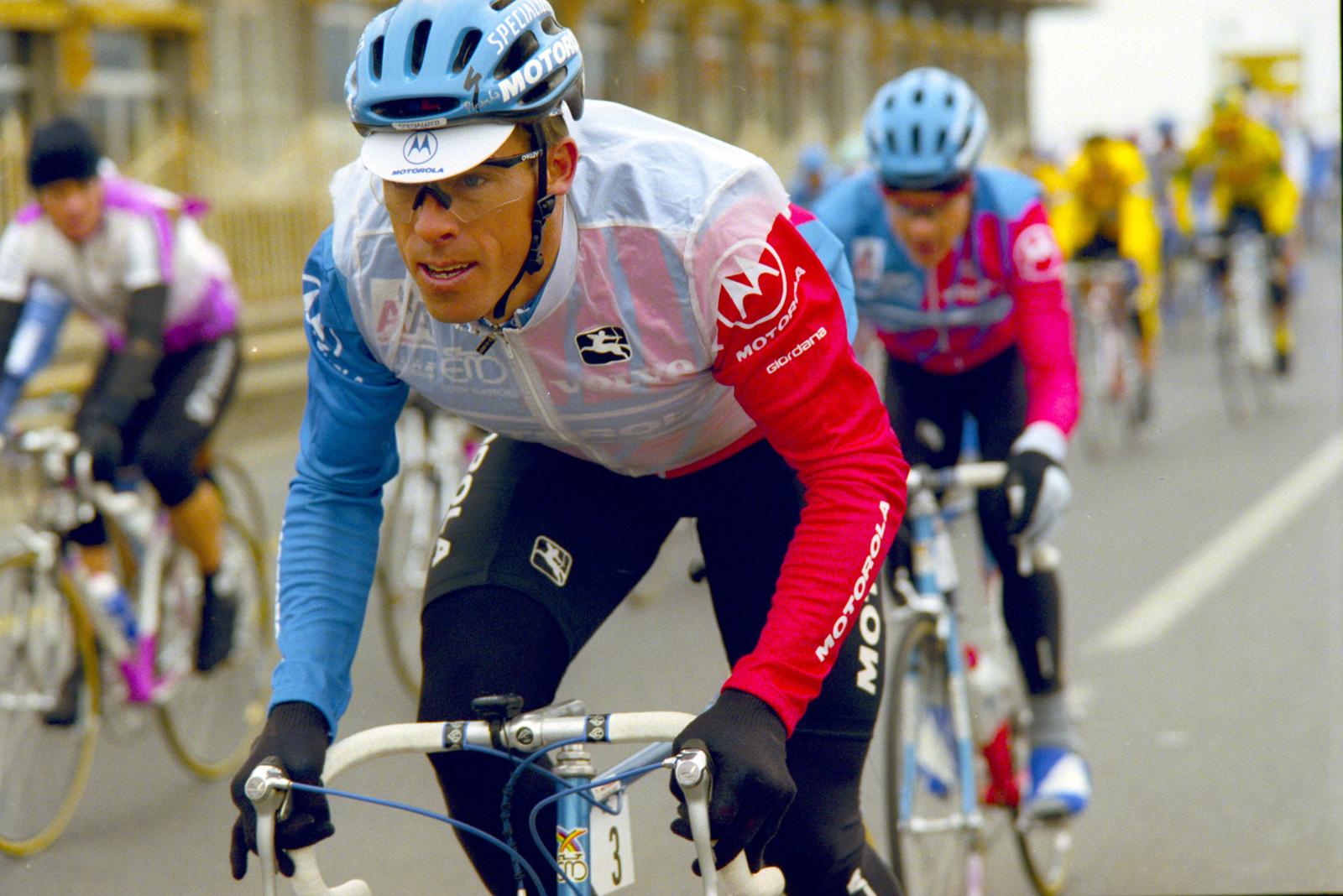 Guys from other teams would pull you up to the front or help you when you had a problem or were struggling, but before getting results it was pretty hard back there. A lot of people go through their whole career without having that opportunity to win.
Financially, things started to improve a lot during your career, but now they're on a whole different level. What are you thoughts on it?
During my career it changed a lot; I had 15 years, which was pretty long for my generation. When I went in there were very few bike riders making $1,000 a month. Riders would just take what they were offered—there was never any negotiation, no managers; it was very ad-hoc.
By the end of my career there were riders making $1 million. Now you don't even have to win a race, just show that you have the talent to pull the peloton along at 60kph and somebody like Ineos will see your potential to be part of a winning team, which can be financially rewarding and secure in a top team.
If you take the numbers out not that much has changed in the sport. There are a lot more "foreign" riders in the peloton now, whereas it was always pretty well just European riders and the likes of me, Greg Lemond and maybe Herrera, who sort of paved the way for riders to follow in the 1990s and into the new millennium.
For 20 years before me you'd see riders come over on national teams, when it was amateurs and pro's, so it's another world now. Whether it's sustainable or not (financially)—well, you look at sports like Formula 1 and football, and think it's not sustainable.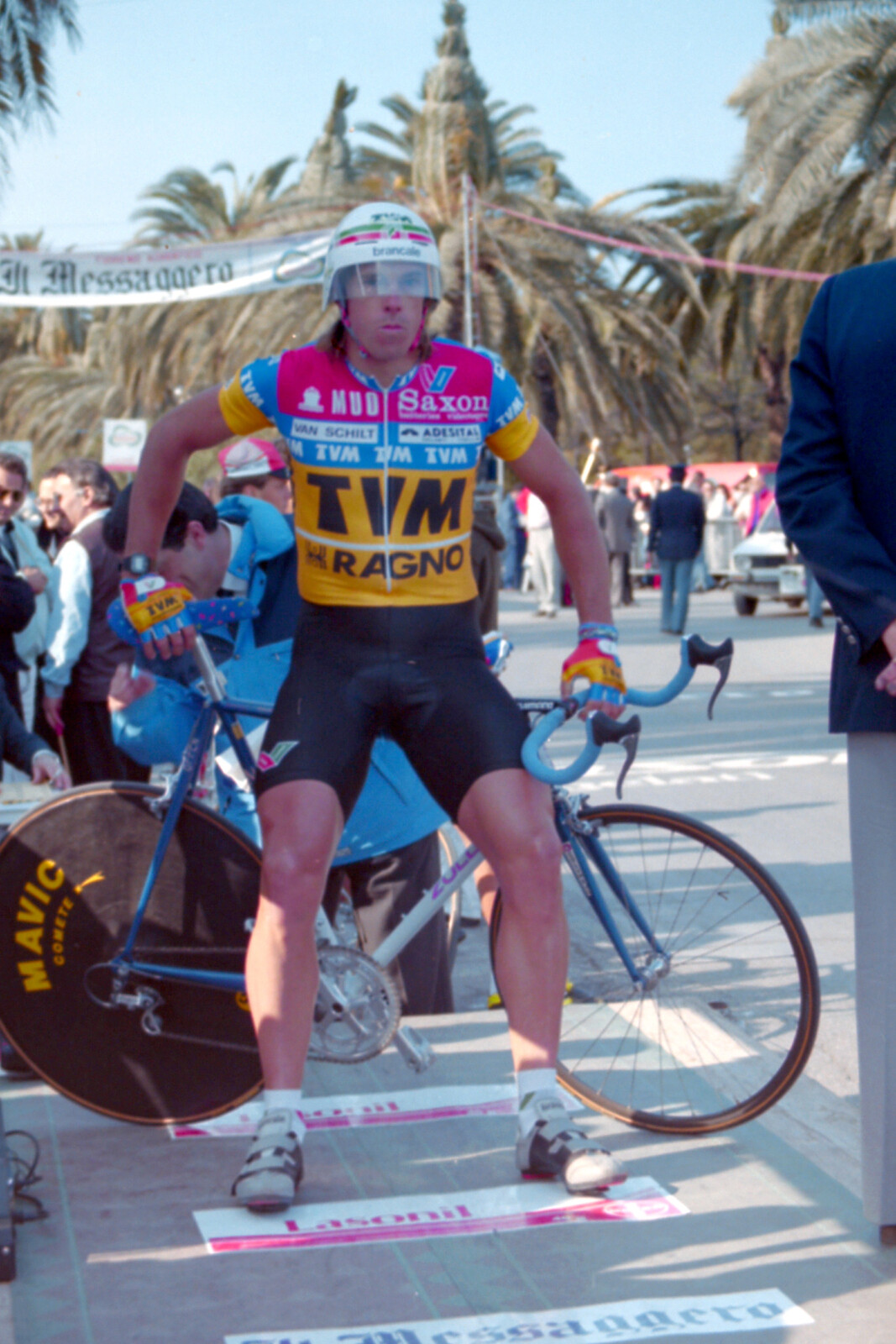 Then, you look at the big budget teams now, and even the smaller teams, and quite often there's one passionate person who has the money who is behind it. It's quite often more about that passion than whether it's sustainable or not. It's not always financially viable, it's passion: people like to own F1 and footie teams, and have a company which is totally sustainable—such as a company like BMC, who doesn't sell that many bikes—it's just the tip of the iceberg and a (good) front for a passion.
What do you make in the way the style of racing has gone over the years, from super team domination back to standout young guys etc?
There's always been dominant teams, even during my career. I remember Peugeot and Renault being considered power teams during early 80s.
When I went to Raleigh-Panasonic rarely a week would go by that we weren't winning a race with Vanderaerden, myself, Oosterbosch and Planckaert. If ever I had a break from racing and looked at the results I'd see the team winning without me being there.
I remember one year starting the season a little later, having stayed three weeks longer in Australia. By the time I got over there our team had already won six or eight races (Panasonic). Then two years later I was on the TVM team, and I don't think we won eight bloody races in the whole year. It just shows the difference between teams, even then.
Now it's all high tech, and they talk about those micro differences. When you go to the start of a race now and see the setups it's amazing. I remember on a bike tour going to the Ineos mechanics truck—they had mechanical steps to get in, the glass doors opened like a supermarket, they had aircon—it was more like a surgery.
But as I say, it's all relative. We had cutting edge stuff and the truck, but not the aircon—but then it was as good as it got then.
At the end of my career with Motorola we were the only team to have a chef, a Swiss chef who would come along and prepare just one dish at night.
The difference between teams and super teams has always been there, and possibly always will be. Every now and then smaller teams get through and get the results; they sometimes find a star rider, which is good to see, as with Van der Poel and Alpecin, now the whole team are winning big races.
What do you make of the new generation of riders mixing racing disciplines—and would it have been appealing to you back in the day?
They have a much lighter road program now, and so race a lot less. There aren't too many riders doing multi-discipline racing.
A lot of riders have come in though cyclo cross and come into their own on the road, and there are a couple of very high profile riders, so maybe that will start a trend.
My team didn't like me riding mountain bikes. The last three or four years with Motorola I moved to the South of France, near to the Parque Estoril and Cannes. If I was home for a week I would train once a week on a mountain bike in the park. There wasn't much single track, but it was beautiful there, and I wasn't doing any racing offroad. My team didn't like that; they thought it was too risky doing a 4-hour session on a mountain bike.