Sarah Pendergrass takes us on an epic and inspiring inland cycling adventure—600km of self-supported, solo bikepacking in Outback Queensland.
The blistering, dry heat and relentless sun take its toll as I approach my tenth hour of riding off-road for the day—bumping along corrugations, scanning for somewhere suitable in these vast plains to set up my tent and stealth camp for the night. I feel a sense of pride in my mental strength and in my body for riding my longest day ever on a fully loaded bike. I'm looking forward to sunset and to completing a challenging day of my mission.
I live on the Sunshine Coast, Queensland and, keen to visit friends in Longreach—the "Capital of Outback Queensland"—I dreamed up the idea to ride my bike there. Without sufficient time to ride the entire 1,500km and with temperatures rising, I used a combination of my van and the Spirit of the Outback train to design a self-supported 600km point-to-point ride.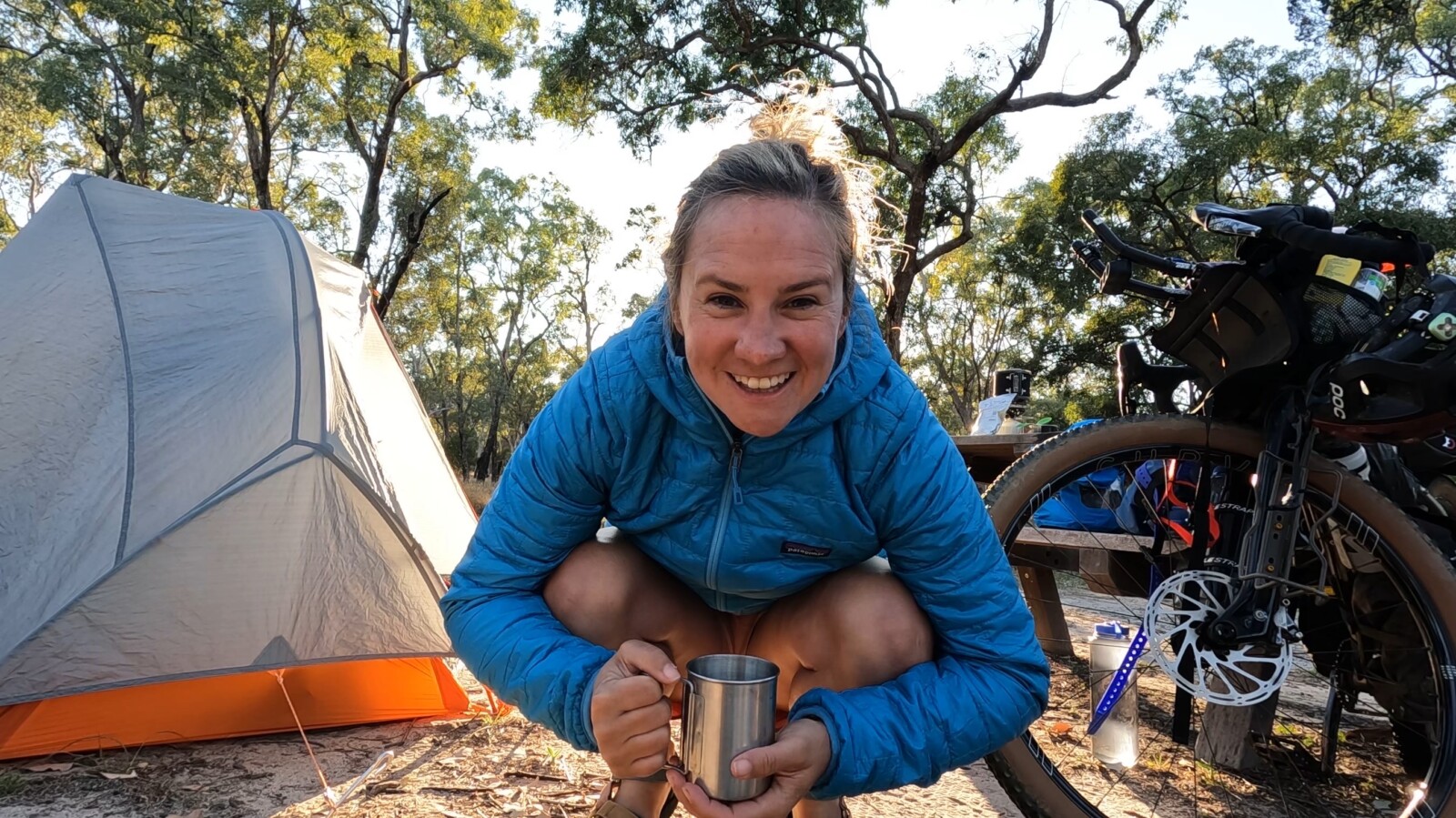 Other than riding bikes as a child, my first experience of riding came through dipping into triathlon, six years ago. It wasn't until 2018, at 35, that I first rode off-road and discovered a love for mountain biking, which then—in an effort to combine my existing passion for endurance missions and multiday adventure—led me to purchase my first gravel bike at the end of 2020 to test out the world of bikepacking.
With a collection of adventures behind me, I set off in October to take on my biggest solo bikepacking trip yet, connecting the "Sandstone Wilderness" National Parks of Outback Queensland on my way from Emerald towards Longreach. Here is how the inland epic unfolded.
Day One. Blackdown Tablelands National Park. Ghungalu Country
30.3km, 689m vert. Unpaved.
The day I changed my plans and established the mission mantra: "Make good choices; there are
no rules".
A brilliant start to my adventure: riding corrugated, dusty red roads; run/hiking in my bike shoes (I ride in flats); and swimming in my bibs under a waterfall while enjoying panoramic views across the tablelands.
With severe thunderstorms forecast combined with some ground truthing, I released any ego associated with "sticking to my planned route" and instead drew on my van as a resource for two extra nights.
Highlight: Bumping into a friend unexpectedly and pride in my decision-making—earning myself bonus days in other National Parks, instead of functional highway rides connecting A to B.
Day Two. Carnarvon Gorge.
Bidjara and Karingbal Country
With massive storms rolling around overnight I was delighted with my choice to stick with the van. This also meant that, parked in rain and mud, I struggled to finish packing for my "official bikepacking" departure.
Unable to get an early start, I opted for a spontaneous six-hour return drive to Carnarvon Gorge. A fantastic choice to visit a magical place and enjoy a wonderful few hours hiking.
Highlight: "The Amphitheatre"—breathtaking.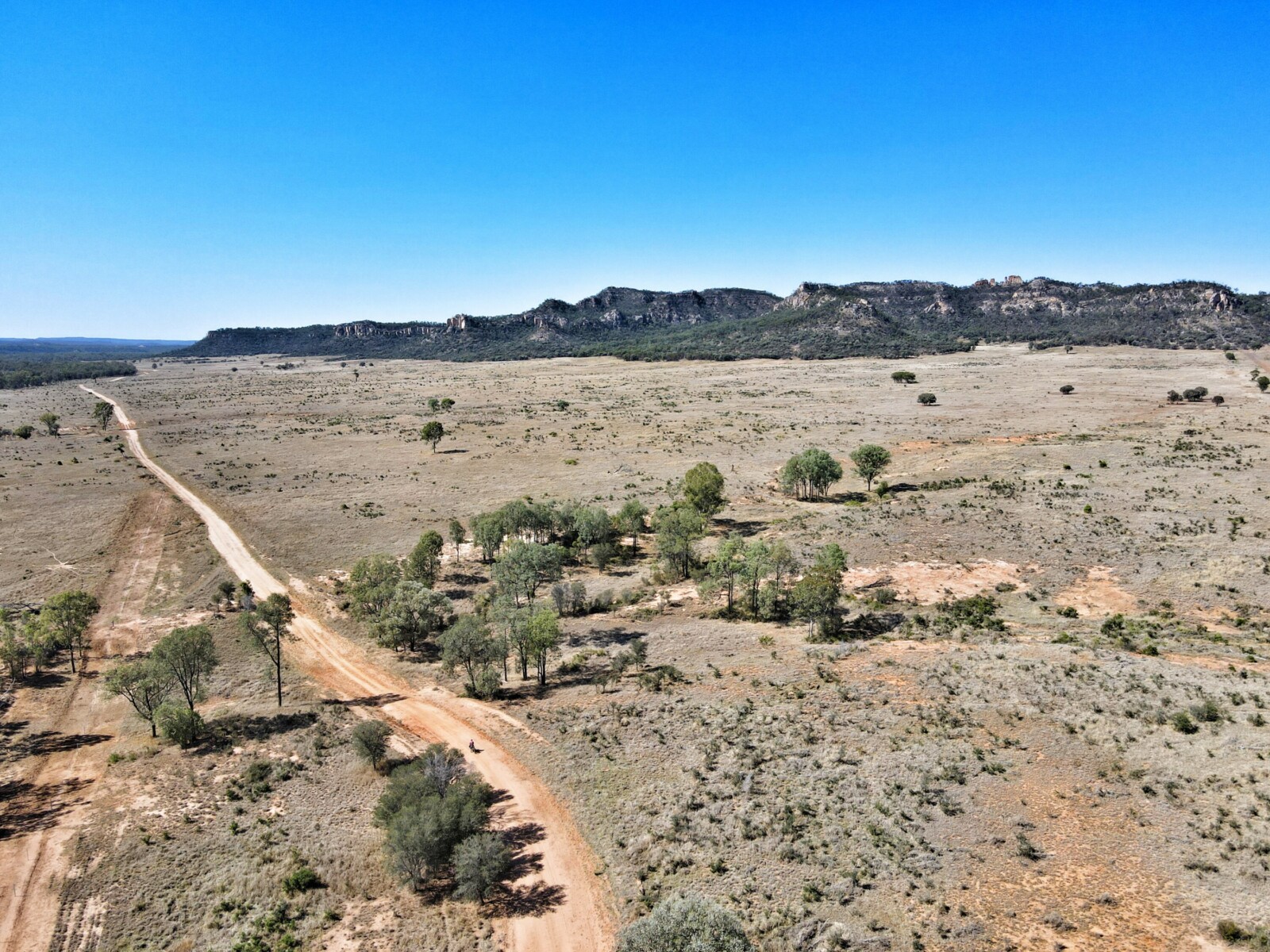 Day Three. Emerald to Springsure
80km. 465m vert. Paved.
Let the bikepacking begin! This was one of only two days where I had the luxury of riding from one town to another.
Many people had expressed fear around riding on the highway in a busy mining area, and, while road trains were an unknown, these huge trucks were incredibly respectful as they passed by—albeit I was practically doing a track stand each time with the force of them passing.
Highlight: Riding confidently through 80kms of deathly straight bitumen highway in the heat, on a loaded bike.
Day Four. Minerva Hills National Park. Kairi Kairi Country
33.4km. 579m vert. Unpaved.
An absolute gem of a National Park with huge cliffs looming above the highway below. I was delighted to have this extra day to explore and climb dirt roads amidst this moonscape.
Highlight: Riding up to the lookouts, feeling strong and seeing yesterday's long stretch of highway from above.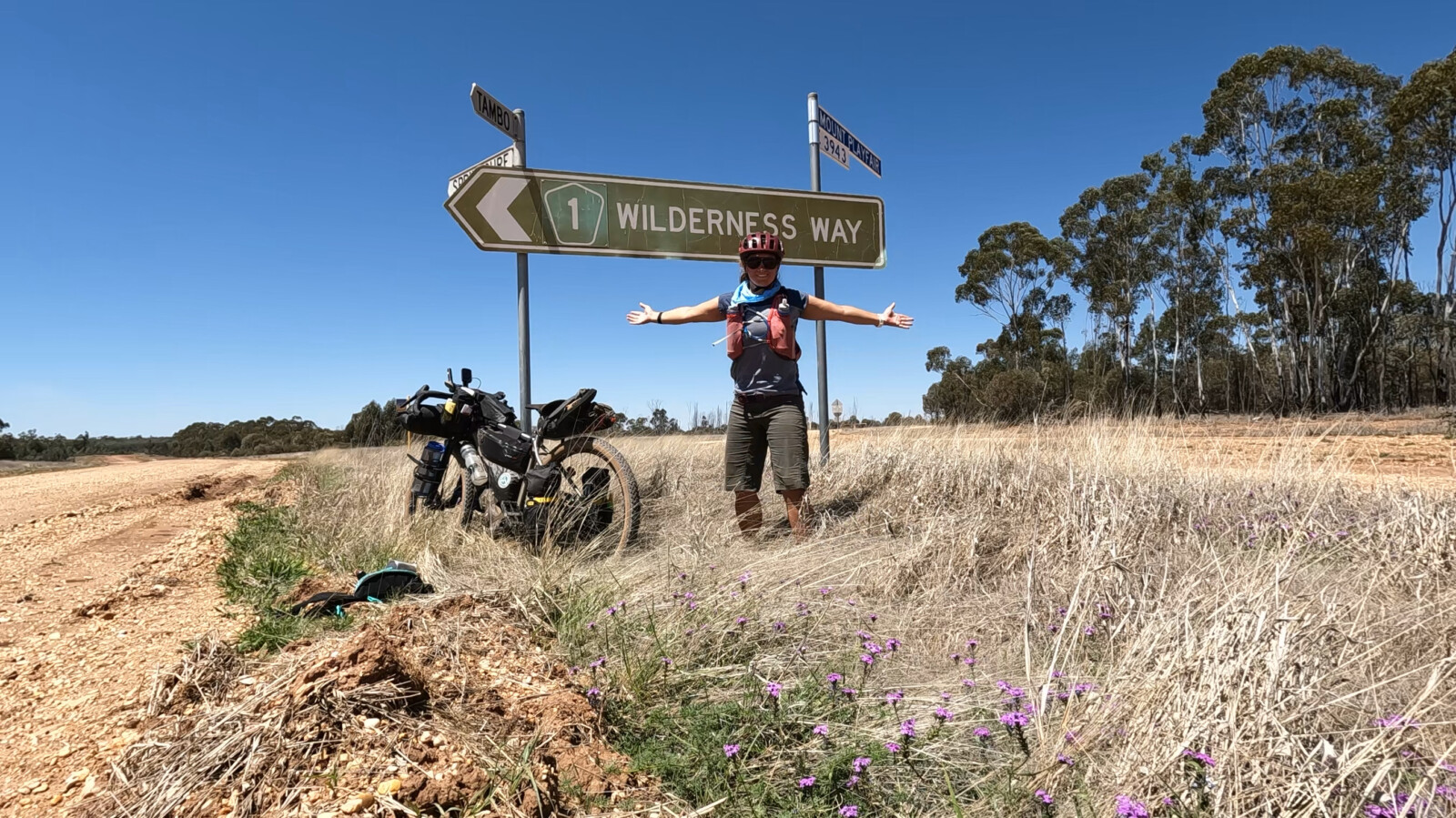 Day Five. Springsure to
Middle of Nowhere
134km. 957m. Mainly unpaved.
My first time riding from sunrise-ish to sunset-ish on the heaviest bike I've ever ridden (approximately 35kg, including 10 litres of water) and the beginning of no resupply for potentially six days.
Uncertain about road surface and how my body would feel, I factored in 100km for today—a guesstimate to ensure progression towards Salvator Rosa. Reaching 100km, I was remote and feeling the impact of relentless sun and zero shade. Rather than set up camp in a ditch and fry in the afternoon sun, I continued riding until it was time to pitch my tent in a different ditch, still remote, yet closer to sunset.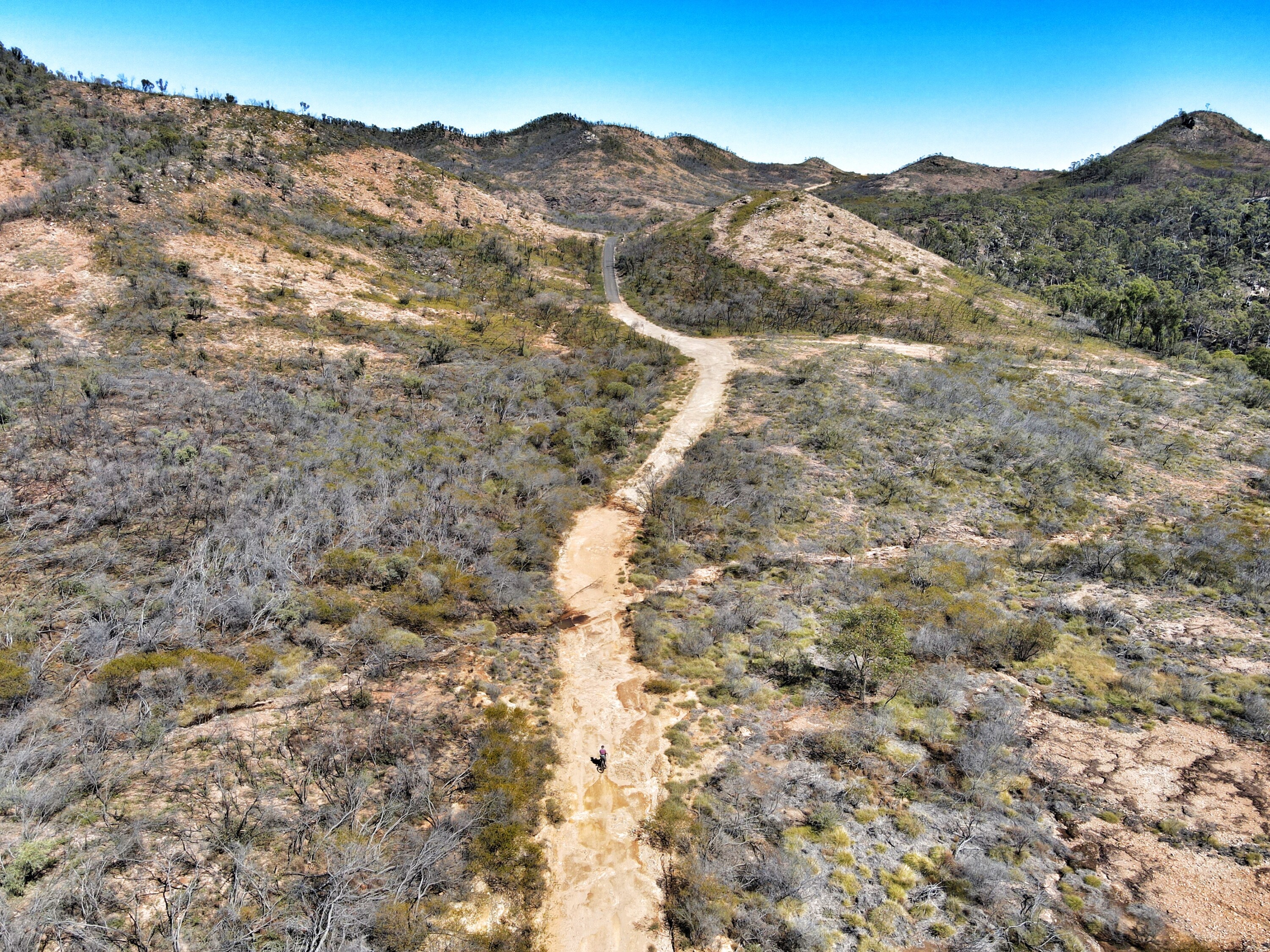 I faced tough road surfaces and the longest, straightest stretches which left little room for curiosity. Going into this feeling undertrained, yet confident in my base and head game, it is amazing what we can do when we have no other choice and a very simple goal—I sucked it up and settled in.
Highlight: Being given cold water by a friendly road worker, Mark, on a remote stretch.
Day Six. Middle of Nowhere to Salvator Rosa section of
Carnarvon National Park.
32.5km. 209m vert. Unpaved.
Waking up feeling surprisingly awesome in spite of the massive day beforehand and a fearful night of disrupted sleep thanks to howling and barking wild dogs, I was excited to be riding towards the distant sandstone escarpment, to the Nogoa River campsite.
Riding past one of few properties, an Akubra-wearing man on a motorbike came zooming towards me. I realised it was the cowboy who had stopped yesterday, offering to throw my "pushy" into his ute and to give me a lift. He seemed happy to see I was still alive and had told "everyone" there was a "crazy girl" out there riding a bicycle.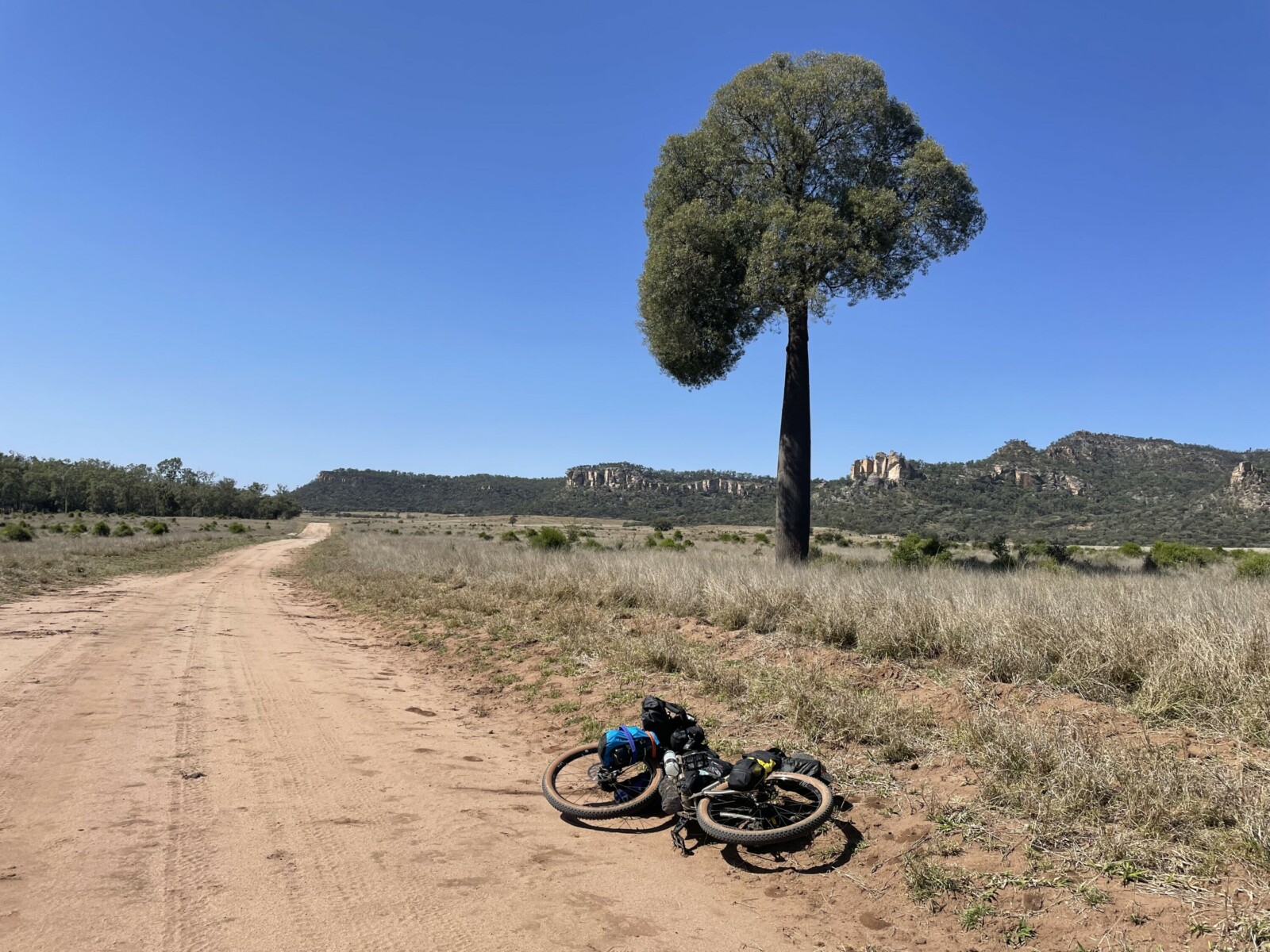 It was a solitary trip, yet one of memorable interactions which reduced me to tears because of the kindness of strangers. Indeed, it also included gifts of delicious fruit and a surplus onion which I had no reason to cook amidst my dehydrated food; yet also had to keep given my strict "leave no trace" approach to adventure!
Highlights: Conversations; fruit and water gifts; clean(er) clothes after a creek wash; and the onion, which became akin to a "Wilson" volleyball companion.
Day Seven. Salvator Rosa
I woke up feeling so much gratitude that my self-propelled adventures had brought me to this serene, beautiful place. No riding today (which I missed)—purely a day to hike the trails around Spyglass Peak and to relax in cool water holes: a green and lush contrast to previous days of barren, dry plains.
Highlight: Conversation with an Indigenous man, visiting his grandmother's country—a Kara Kara woman. He told me how he had heard her totem—the mopawk—calling during the night and reminded me to "listen to country".
Day Eight. Salvator Rosa to Tambo
134km. 692m. Unpaved.
After a cold night and a minor mishap with my tent poles, I was hopeful I could tick off two days in one and make it to Tambo, the next town.
Today the Type 2 fun really delivered. Moving time—8 hours. Elapsed time—9 hours 45.
The Outback heat seriously showed up, along with flies, deep sand, gravel, red dirt and a short stretch of bitumen to finish—complete with a solid headwind and the aroma of dead kangaroos littered on the roadside.
Coming back into phone signal as I approached town came with mixed emotions.
Highlight: A shower and a bottle of full fat coke.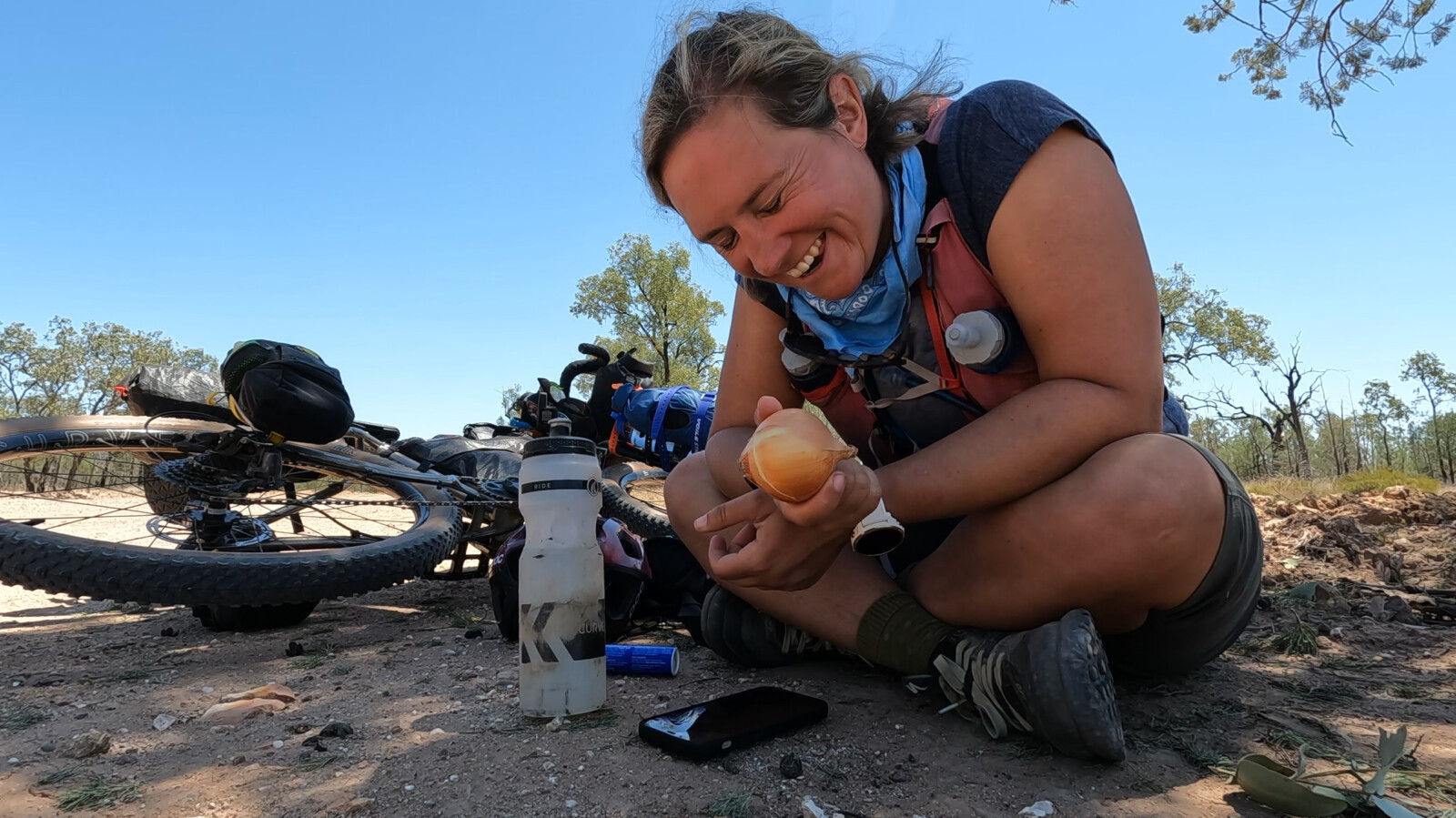 Day Nine. Tambo
20km. 50m vert.
I earned myself the day off to explore Tambo—population approximately 400. With no need to ride my bike today or get up early, I got up early and rode my bike, but only for a relaxed explore.
Highlights: Outback sunrise and sunset and attending the iconic chicken races at the pub.
Day Ten. Tambo to Blackall
102km. 163m vert. Paved.
My last day before my Longreach friends collected me. I had a classic "final day" meltdown where I struggled to pack and
resorted to strapping half of my belongings to
my aerobars.
While 100km of paved highway seemed like an easy prospect after riding off-road, heat, open plains and a block headwind certainly made the arrival at Blackall rewarding. It was admittedly also suitably anti-climatic.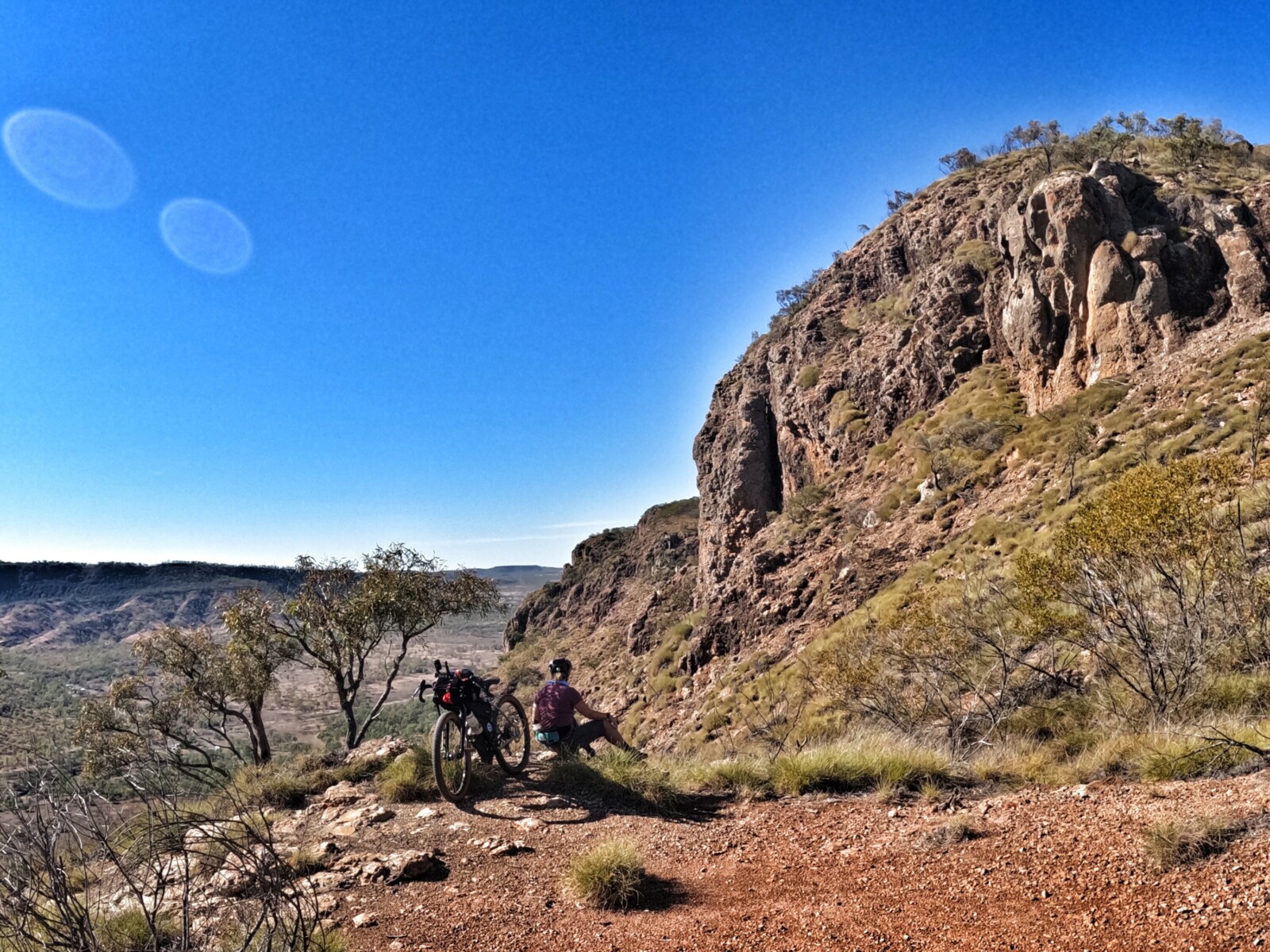 Before I left Emerald, a policeman had asked "What are you doing this for?", anticipating a charity response or similar. My response: "For nothing!" This trip was purely for me, and what a gift that is—both to have the awareness of how arbitrary these missions can be in many respects, and also to have the gifts of health, time and adventure.
At the end of my ride, I spent the weekend in Longreach with friends prior to catching the 9.5-hour train back to my van in Emerald and driving home. From day one I adopted the mantra, "Make good choices; there are no rules", and I finished feeling proud that I had successfully carried myself through this harsh, Outback landscape, self-propelled, entirely alone.
The Bike Set Up
I was riding an XS Curve GMX +, a titanium adventure bike built with exactly these sort of missions in mind. Built with a SRAM Force1/GX groupset, the wheels are Curve Alloy Dirt Hoops fitted with 2.2" Maxxis IKON tyres and a tubeless set up. Curve Walmer drop bars and ancient Profile Design aerobars, plus a Brooks Cambium C17 saddle and Pedaling Innovations Catalyst flat pedals.
For power, I ran an SP Dynamo hub, connected to a K-Lite Dynamo Power front light and dual USB box. I carried an extensive tool and repair kit and three heavy spare tubes, and had zero flats or mechanicals.
For navigation I mapped my route on ride with GPS and downloaded the GPX files to a Garmin Edge 530, with my Garmin watch and mobile phone for contingency.
Packing all manner of lightweight items including a small drone, Sarah captured some sensational images such as this.
Essential Gear
The Curve GMX+ is an oversized frame with numerous bosses, designed to carry gear. My bikepacking bags are primarily from Revelate Designs and include a harness and bar roll; a full-frame bag; 2 x feed bags and a Vole saddle bag. I carried gear on the front forks with a Blackburn Outpost Cargo Cage and King Cage Titanium ManyThing Cage plus Voile Straps. I also mounted Curve Titanium cages and Rocket Pooches.
Aside from the logistics of planning water resupply, adventuring in this climate in the shoulder season certainly posed challenges temperature wise with 4C to 40C. My gear needed to allow for this.
My sleep system included a Big Agnes Copper Spur HLUV 1 tent, Sea to Summit Spark 0 sleeping bag and Thermarest Neo Air mat. I also took a hooded puffer jacket and merino base layers.
I cooked on a Jetboil Stove and carried water, mainly in 1.5 litre Nalgene bottles and Salomon soft flasks, plus a Salomon 12 litre hydration vest for longer stretches of no resupply.
Camera gear included an iPhone 12, GoPro Hero Black 10 and DJI Mavic Air 2.
For safety, I carried a Garmin inReach satellite device which I used to share a tracking link and for two-way messaging; plus a first aid kit. I've also completed a five-day Wilderness First Aid qualification.
More Content
More updates and the latest images of Sarah's adventures can be seen on her Instagram account – search Sarah Pendergrass or All The Gear No Idea.
Sarah speaks in person before and after the trip on her podcast, Into the Wee Hours, available on Apple Podcasts, Spotify and all of your main podcasting channels—
www.intotheweehours.com/podcast