Paul Ardill, one of the nation's most loved and respected long distance cycling enthusiasts, has been killed while riding in Queensland.
78yo Ardill, a close friend of many including us here at Bicycling Australia, was hit by a vehicle at around 10am on Saturday, May 15 near Kilkivan, north of Brisbane.
Queensland Police issued a statement that reads 'Initial investigations indicate around 10am a cyclist was travelling east approaching the intersection with Rossmore Road when the rider has veered into the path of a vehicle travelling in the opposite direction.
The rider, a 78-year-old New South Wales man, died at the scene. The driver of the vehicle was not physically injured. Forensic Crash Unit investigations continue.'
Elder Statesman Of Endurance Cycling
Bicycling Australia offer our sincere and heartfelt condolences to Paul's wife Val, along with his family, close friends and the wider cycling community.
The elder statesmen of ultra-endurance cycling, Paul was an incredibly passionate ambassador of not only long-distance adventure but the sport as a whole.
Rest In Peace Paul Ardill.
Interview With Paul Ardill – 2017
20 March, 2017: If you've been following the lead up to the Indian Pacific Wheel Race, the 5500km unsupported coast-to-coast cycling race that starts on Saturday, you'll be familiar with names like Mike Hall, Kristof Allegaert, Jesse Carlsson, Juliana Buhring and Sarah Hammond.
You've probably also read about Rupert Guiness, Cycling Maven and Durian Rider – other well-known cyclists among the 70 starters of the Fremantle to Opera House epic.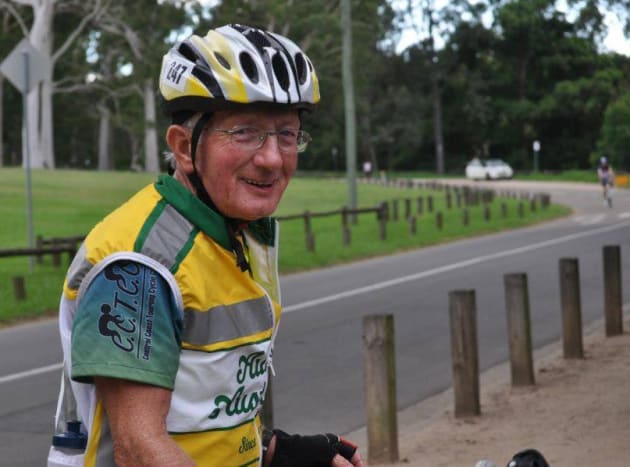 There's another rider we'd like you to get to know. No he's not going to win the race – in fact he'll probably finish a week or two behind the leaders. But so far as inspiration goes, we think he's the winner by a long shot. Meet 74-year-old Paul Ardill.
Taking up cycling after suffering a stroke at age 65, Paul's doctor suggested he start riding a bike to restore lost balance.
From Around The Block To Around Australia
"I was supposed to just ride around the block I guess," he told us from Fremantle where he's busy making final preparations for the gruelling event.
"But the block's been getting bigger and bigger," he added with a laugh. "I don't know what the doc's thinking now … he must think I'm mad."
Embracing his new-found passion for cycling, Paul's rides became more regular as he ventured further and further afield. In 2014 he spent 9-months riding around Australia, his wife supporting him in their motorhome.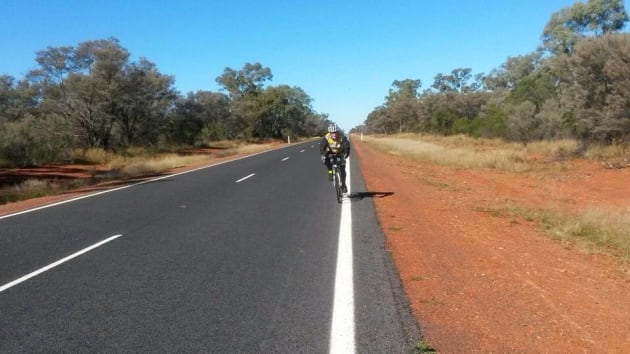 "As for something like the Indian Pacific," he told us, "I did Race to the Rock this year."
"That was a 2,300km race from Adelaide to Uluru on A CX bike – the same frame I'm using now actually, it's a versatile thing."
As for his Fremantle to Sydney race plan, Paul intends riding 14 hours per day and hopes to complete the Indian Pacific Wheel Race in around a month.
"My plan is simply to get home as quickly as I can," he said with a laugh.
"Having ridden across the Nullarbor before, it all depends on conditions. I'll start each day at about 4am."
"If I've got tail winds I'll go for it, if there's a head wind I'll take it easier. If I can do it sub 28 days I'll be happy, 24 days would be my absolute best and 32 is my worst-case scenario. But it all depends upon conditions. If it's snowing over the mountains it will be a little slower – it was snowing there a few weeks ago."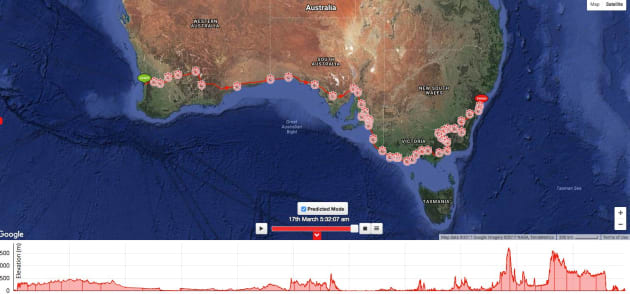 Surprisingly at ease about what many say is the most mentally straining section of the ride, the Nullarbor Plain and it's infamous 90-miles of dead-straight road, Paul had this to say.
Nullarbor 'Hoodoo'
"The Nullarbor seems to have a bit of hoodoo about it but I find it fascinating. A lot of people think it's boring but if you just look around as you ride, it's a very interesting place."
Gear wise Paul is riding a Giant TCX and all up, including bike, will be carrying 21kg. Four kilos of this is water.
"I've got a Sea to Summit air mattress & sleeping bag, and a light-weight Black Wolf tent," he said.
"I'll probably camp 80% or the time – that depends on conditions. Food wise – I'll carry about a day and a half on board and buy other food as I go. It only cost $220 to fly me and the bike over here – it's going to cost a bout a grand in tucker to get back," he laughed.
Paul's Motivation
So what motivates a 74yo to join 70 other riders, many less than half his age, and race across Australia?
"One of my biggest motivations is my brother who's in a wheelchair," he said.
"He retired and stopped moving. Quality of life is very important, you've got to keep moving and it's as simple as this – if you keep moving you'll have a better quality of life."
Paul believes people who are most active seem to be the happiest.
"While you can, you might as well give everything a go," he said enthusiastically.
"People will always do what they want to do," he added. "But if they see me out there, racing across Australia, they might think 'if that silly silly old bastard can do it I might as well have a go as well'."
We'll be bringing you highlights of the Indian Pacific Wheel Race on the Bicycling Australia website and Facebook page for the duration of the race. We've also promised to buy Paul "as many beers as he wants" upon his arrival in Sydney.