As important to modern day cycling as disc brakes and electronic shifting – and with the performance benefits of a tubular … that's how R & D specialists at German cycling-specific tyre company Schwalbe see tubeless tyre technology with their new Pro One release for 2020.
First looking to tubeless in 2010 then debuting their maiden tube-free tyre to the public in 2012, Schwalbe launched the tubeless One in 2014. In 2016 the Pro One tubeless was launched, and for 2020 that highly-respected tyre gets a very major makeover.
Tried, tested and tortured (in temperatures of up to 39.5 degrees!) on the dream roads of Tuscany, Bicycling Australia were at the global launch in August this year. There we enjoyed learning all there is to know about the latest incarnation of the Pro One, along with news of 2020 upgrades to other tyres in the Schwalbe range.
Buzzwords, catchphrases and three-word slogans … yep, they seem to be part and parcel of any major launch … not just in cycling but right across the commercial world we live in.
With the French word 'Souplesse' being bounced around more than the 22 fired up test riders as we tackled a corrugated 5km gravel sector during the launch, hand on heart I can honestly say the road tyre has taken a big step forward with the latest Pro One. The feel of old-school tubular in modern-day tubeless? Yes it certainly seems so.
Moving Forward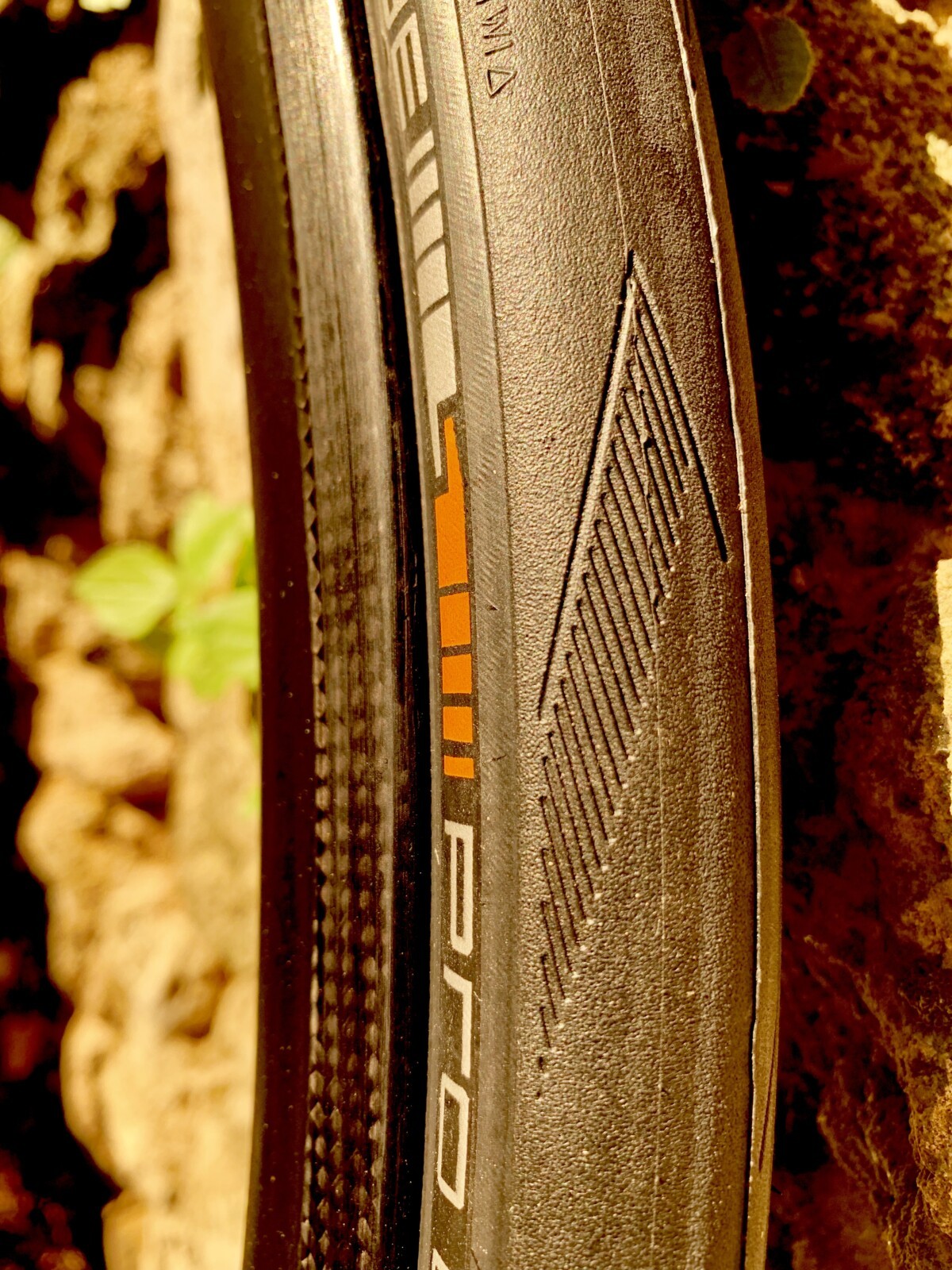 "If you don't go forward you go backwards," Schwalbe Product Manager and former pro rider Félix Schäfermeier told Bicycling Australia in Italy.
"The tyre is the only interface between rider and road, so what can we do to improve that? … We can add what we are calling souplesse, or suppleness. This is obviously a common word in cycling and has been through the ages. Suppleness is smoothness and this is what we have adapted to the tyre. To generate the most supple tyre and ride feeling we've developed a completely new tyre with a new compound and new technology."
All new products need a point of difference and with the Pro One this is crystal clear. A lighter tubeless tyre, that's softer riding, easier to install and delivers increased performance.
"Below the thread of a typical tyre there are three layers of a carcass," Felix continued to explain.
"With the new Pro One we have removed one of these layers – to obviously save weight – and also created a new level of puncture protection through a 14mm wide 'V-guard' belt. This consists of a high-resistance puncture material. It is a tight mesh weave to best prevent being pierced. With this we are relying more on the tightness of the weave over the thickness of the protective layer as was the standard in the past."
The Feel Of A Tubular
'Tubeless with the feel of a tubular'.
That's how Peter Krischio of Schwalbe summarised the new tyre's characteristics. He said the objective was to develop a fast, light-weight and safe tire that offered maximum souplesse – a "living" tire that ultimately leads to less fatigue and greater performance.
"In order to realize these characteristics we have constructed a completely new carcass, optimised its compounds and modernized the manufacturing process. The new Pro One is not a successor of the previous generation but an entirely new concept", he said.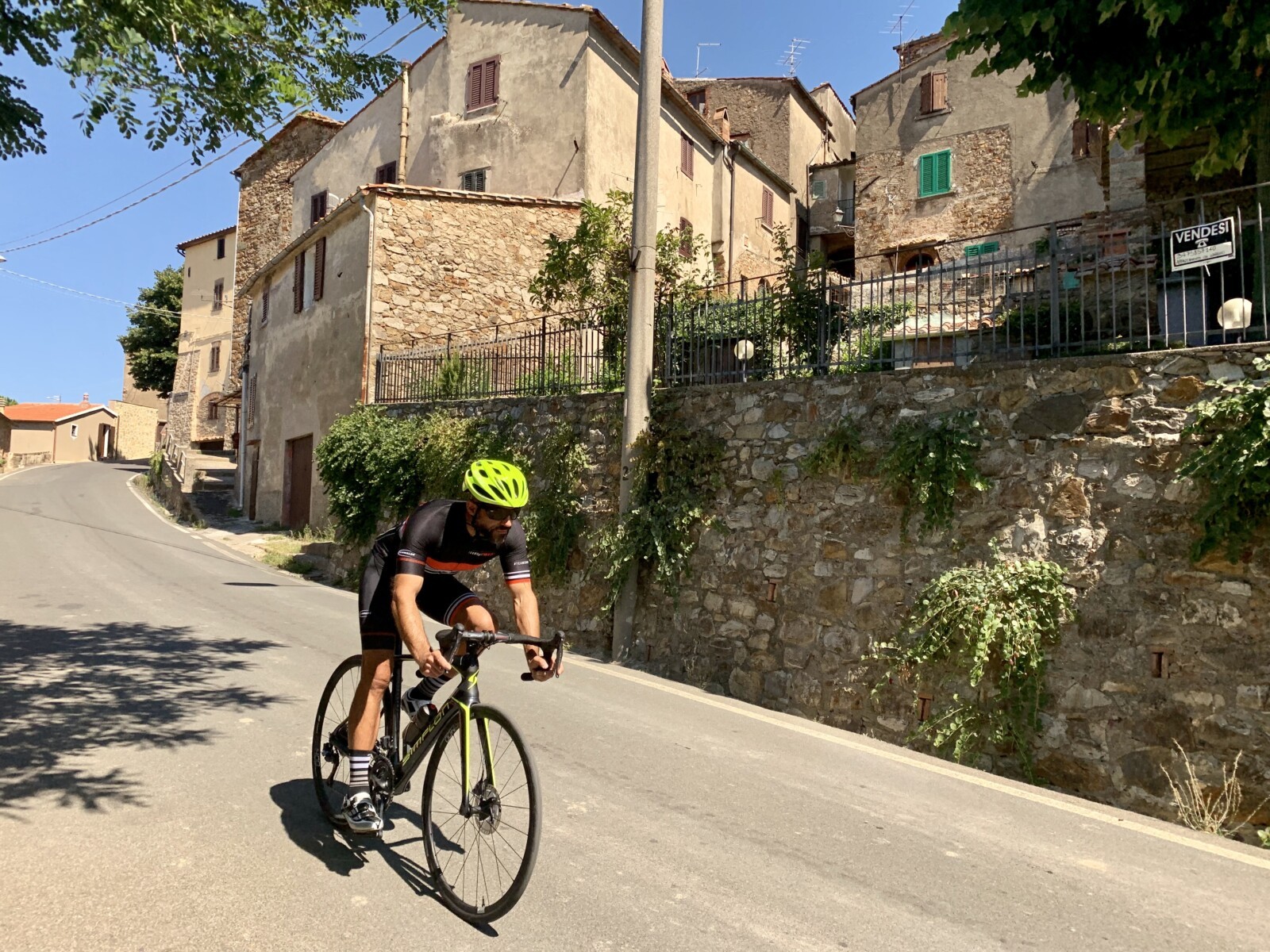 So How Do They Ride?
"Souplesse is not something that can be judged or measured, it's really done by the feeling of the ride," Felix told us at the launch.
As if we ever need an excuse to head out for a ride … this was it.
The test bike was a 54cm Simplon Pave Disc – a Gran Fondo-specific frameset fitted with Di2 Ultegra, DT Swiss P1800 wheels. It weighed in at 7.5kg and was fitted with 30mm Pro One tubeless tyres. We were not told the tyre pressure prior to the ride – this was kept 'secret' to keep riders guessing and gauge personal feel of the 'souplesse' factor.
To the roads – and the first test ride featured around 80km of distance, just over 1000m of vertical, a temperature range of 24 to 44 degrees (according to the Wahoo Roam). The road surfaces ranged from course Tuscan bitumen to rough and sharp gravel to silky smooth freshly-flattened blacktop.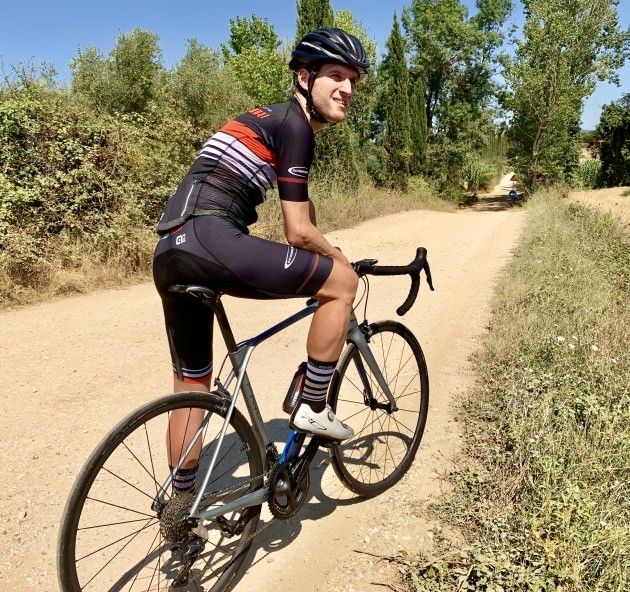 Getting dropped on the second long climb by the lead group (I'm still blaming the jet lag), it was refreshing to focus more on the feel of the ride than the close proximity of the wheel in front.
The tyres offered a level of smoothness and comfort I've not previously experienced in a properly inflated high performance, non-tubular tyre. That 'souplesse' or suppleness rang true. Maybe the 40-degree Tuscan heat was going to my head but I kept comparing the ride comfort to the absorption and fluffiness of a perfectly baked sponge cake … the bike just glided while maintaining a true performance feel.
The tyres were super smooth and held up well under acceleration – the feel you might expect from say 100-110psi in 23 or 25mm tyres. To several fast and twisty 3 to 4km descents and they hung on exceptionally well as we followed the fast wheels of the two professional riders leading the group. Foreign roads and mystery sweepers we'd never ridden … it was comforting to know there was 30mm of grippy and reliable rubber under the bike.
We later found out the test ride pressure was 4-bar or 60psi.
Weights … And Size Options To 30mm
To the all-important weight details and the Pro One is 245grams in 25mm, 270grams in 28mm and 295grams in 30mm.
Designed to suit modern (wider) rims, 25mm will measure 27 to 28mm on a 19mm rim. Full compatibility charts including offerings from the world's major wheel producers can be found on the Schwalbe website.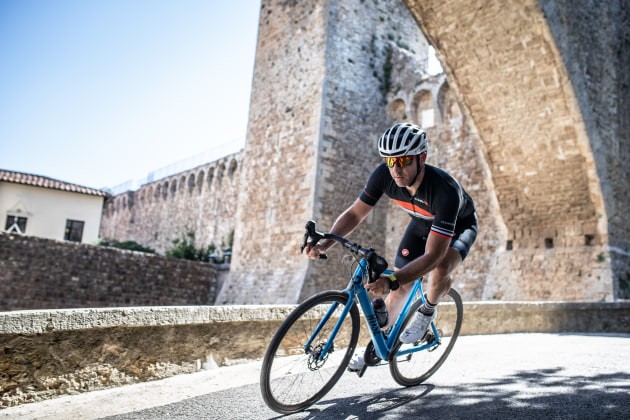 Tubed Version Still Alive
To other upgrades from Schwalbe for 2020, and traditionalists will be please to know tubed Pro One tyres will still be available.
"Typical road cyclists don't tend to take up new technology too fast," Felix told us.
"So we also have a tubed version incorporating the new technology but created for tubes – the Pro One tube type tyre. This tyre is clearly marked 'tube only'."
Pro One TT
In other exciting news – one certainly for those pushing the limits or looking for a lightweight race alternative, Schwalbe have released the world's lightest tubeless road tyre.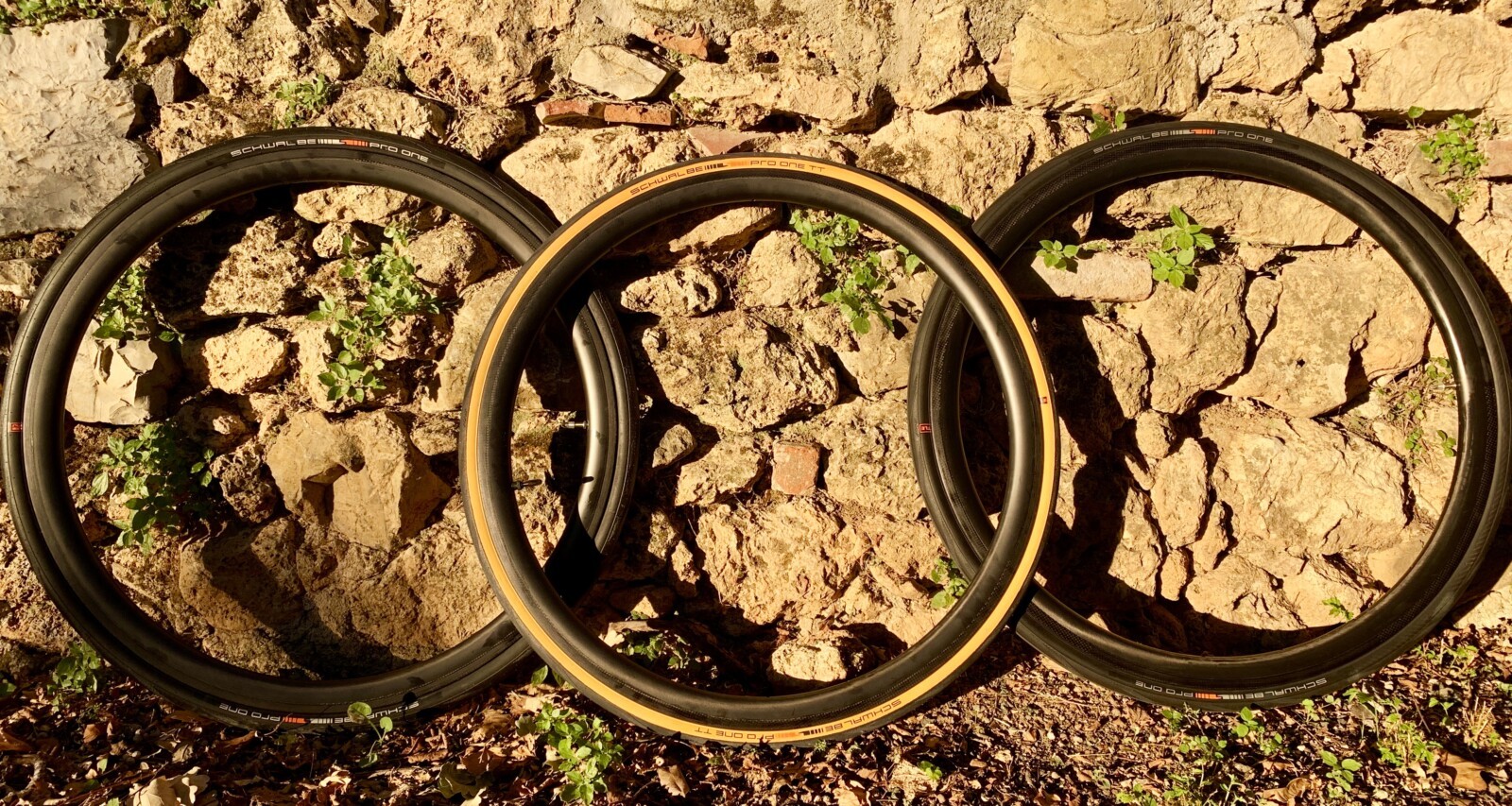 Totally eye-catching with tan walls, the Pro One TT weighs a tad over 200grams and is certain to receive plenty of attention from the weight weenie brigade.
"We removed the puncture later and have the tyre down to 205grams in 25mm," Felix told us.
"Yes that means there's puncture risk, but this is a tubeless and used with sealant which adds that protection.
"This is the fastest and lightest tubular tyre in the world," he concluded.
Fast Facts
Pro One Tubeless Easy was specifically designed for use without a tube and offers by far the greatest performance level. Summary: Addix Race Multi Compound, 245 g (size 25 mm), 13% lower rolling resistance, 22% more cornering grip, increased puncture protection and higher mileage compared to the previous model.
Pro One Tube Type is for all those who would (still) rather ride with a tube. Its specifications: Addix Race Multi Compound, 235 g (size 25 mm), 13% lower rolling resistance, 22% more cornering grip, 30% increased puncture protection, higher mileage. Important: The Tube Type tire is specifically designed for use with a tube and may not be used tubeless.
Pro One TT Tubeless Easy The world's lightest tubeless tire, it is for time trial cyclists and triathletes. With its Addix Race Single Compound, it is designed for time-trials and extreme triathlon. The tire weighs 205 g (size 25 mm) and rolls 21% easier than Pro One Tubeless Easy. Patrick Lange rode a prototype of this tire to win the Ironman World Championship 2018 on Hawaii in record time.
The tyres are available now from Bikebox & Schwalbe dealers. More info at www.bikebox.com.au