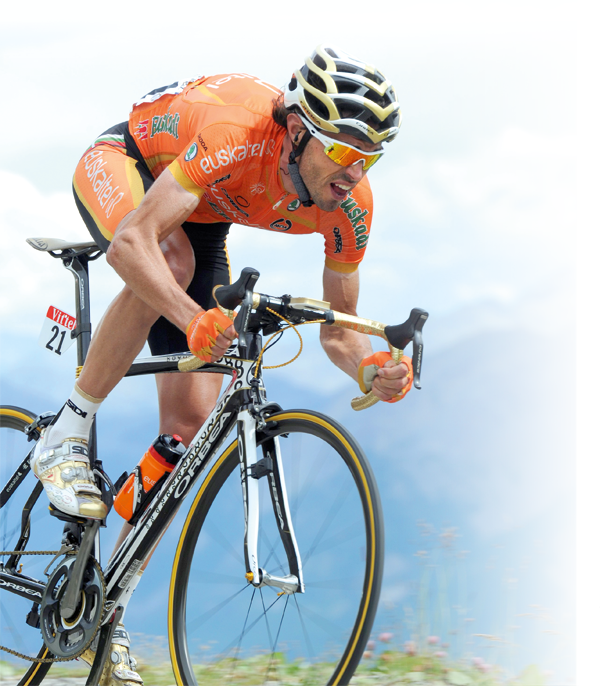 Spaniard Sammy Sanchez is one of the most accomplished and respected riders in the pro peloton; we caught up with him while he was determinedly preparing to put a darkened 2012 season behind him.
As is all too often the case in the frequently cruel world of pro bike racing, a rider, in this case Sammy Sanchez, saw his hopes and dreams evaporate in a blinding fog of pain as he hit the road with a resounding thud.
All of the hard work and sacrifices he'd made in the preceding months and years, were abruptly null and void. One crash had ended his hopes of a podium finish at the 2012 Tour de France, along with any chance of retaining his Olympic Road Race title just a couple of weeks later.
It was a tragic and tense moment for the northern Spanish rider, not to mention for his Euskaltel-Euskadi team, who were banking on his results to help secure their top-shelf future in the World Tour, which was in serious jeopardy.
In 2011, Sanchez had also started the greatest race in pro cycling as a GC contender, only to have his podium hopes floored by crashes in the opening week. Somehow he managed to ride his way back into contention that time, through a demonstration of defiant grit and class, and had danced away with the final polka dot jersey as king of the mountains, as he recounts with a mile wide grin. "It was great, especially as it had been more than 30 years since a Spanish rider had won the KOM in the Tour."
Yet, he's not often considered a pure climber. "Because they've changed the way they score the points (for the KOM) it's possible for a non-pure climber like me to win. It was a dream come true for me, I always wanted a photograph of me on the podium in the Tour de France, and when (after crashing) I was out of contention for the overall I focused on the mountains jersey. I got points on some tough climbs, and had some high placings on mountain stage finishes."
The crash that finally forced him out of the 2012 Tour, on stage 8, had left him with a broken finger and a severely bruised shoulder and back. "I still get a lot of shoulder pain, but it's not as bad on the bike."
The 2012 season had started out well for him, with victory in the tough Tour of the Basque Country already bagged he went into July with the best form possible. But it wasn't to be. "That's cycling," with a shrug and a wry grin was how he summed up his misfortune.
Sanchez first turned pro in 2000, and has loyally ridden for the whole of his career with the mountain-loving Basque based Euskaltel-Euskadi team. Despite having potentially outgrown the team with his success in recent years, he has remained true to his colour, orange.
It's no secret that the team has suffered sponsorship and financial hardships of late, and the recent re-signing of Sanchez for three years was seen as something of a guarantee of their immediate future. "Sure I had a lot of interest from other teams, but I wanted to stay with the team. I know everybody and how things work, and I like the way things are. I don't think I'd find the same attitude in another team. The team's sponsorship was not so much dependent on me signing, as I only agreed to sign if they had their future secured first."
As a talented all-rounder, with perhaps a slight weak spot when it comes to time trials, and with a team not known for their ability to ride in unison on the flat or against the clock, it would appear that he'd somewhat restricted in his hopes of actually winning the Tour in the future; can it be done? "I think it would be difficult, I'm not saying impossible, but every year the route is different, and it would have to suit me. If there were a long team time trial then we would lose something like three minutes to a team like Sky. In a race like the Vuelta it's not such a big deal (the impact of a team time trial), as in the mountains we have riders to pull time back. With no team time trial and not too many individual time trials I can hope to make the podium. The team would need to sign two or three strong team time trial riders to go any further."
In the past he's also scored two GC podium finishes in the Vuelta. "It, the Vuelta, even the Giro, it's different – I can get on the podium, but I don't have the team of Cadel, Wiggins or Nibali, and at the Tour that makes more of a difference."
When it comes to toughness ranking there is often debate between the three grand tours; how does he rate them? "The Tour is definitely the toughest race. But the passes of the Giro are the hardest climbs. The Vuelta has adapted its own formula and it works well; it's more explosive. They come up with some really steep climbs, they're good for the spectators and tough for the riders, but it's spectacular."
The majority of the Euskaltel team sponsors are from the Basque region, so it would seem logical that the Vuelta would take priority over the Tour for them? "No, not at all. The Tour de France is the biggest, and by far the most important race on the schedule – it has the biggest exposure and is thus the most important for the riders, the team, and the sponsors. Also, the Basque region spreads into France."
With his clear all-rounder potential he has broken the once traditional 'pure climber' mould of past Spanish champions. And he's marked his card as a formidable single day classics rider too, as have a number of his latter-day Spanish counterparts. "Alejandro (Valverde), Contador, Luis Leon Sanchez, Purito (Joaquim Rodriguez), Oscar Friere. They are all great single day riders. If you have more riders like this it breeds even more".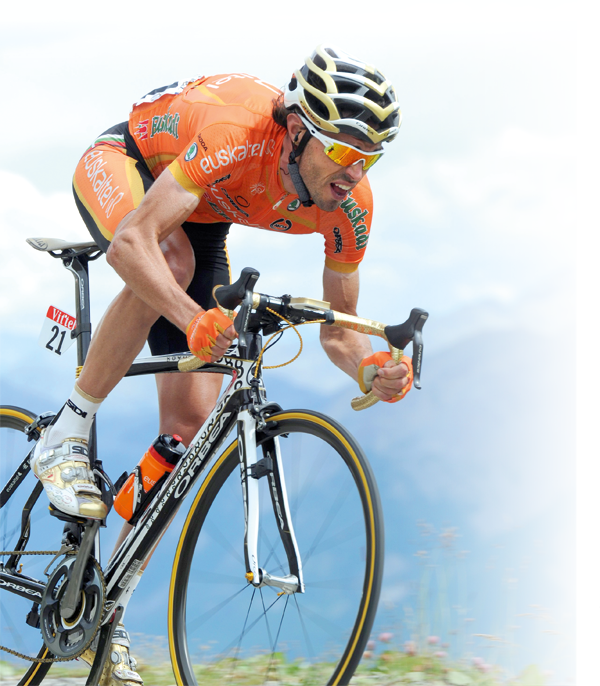 Having several classic podium finishes to his credit is testimony to his versatility, and to his ability to ride alone – as you hardly ever see an orange jersey at the front of a classic race. "In the classics it's the first half of the race where the team support is important, as things go on it becomes more a case of man against man, which is good for me."
His return to form at the end of 2012 led to a fine second place in the Tour of Lombardy, his second podium finish in the season-ending classic. "It's the best classic for me, and the one I enjoy the most; although Liege-Bastogne-Liege and Fleche Wallonne also suit me well."
The Euskaltel team is staunchly recognised for its Basque patriotism, yet some riders including Sanchez are not actually Basque, and in 2013 they've also signed some non-Spanish riders. "I'm from Oviedo, in Asturias, (not from the climb of El Angliru, and just to the west of the Basque region), but there is no difference at all – perhaps the team is a bit different in its origins and approach, but that's all."
The frequent harsh weather and relentlessly hilly roads of northern Spain have put it very much at the centre of Spanish cycling culture. "It has the toughest racing scene in Spain, just about all of the top Spanish (and some foreign) riders make their way through this system; Contador, Valverde, they're not from the region but both came through the amateur team system here. In the past 30 years almost all of the top Spanish riders have come through the Basque region's racing scene, all doing a minimum of three years of racing here."
At the core of this scene are numerous cycling schools, something we're not familiar with in Australia, apart from the elite-focused AIS system. "I started with a local cycling school, they're not at all elitist. Anybody can join, they're a bit like football clubs; they have training, coaches, it's quite normal here."
Yet, despite the region's rough-cut racing culture and its manifold heroes, Sanchez has seen a sharp decline in cycling in the region. "When I was young, Miguel (Indurain), Perico Delgado and Tony Rominger were my heroes. Now I hope youngsters can look to riders like Frierre and be inspired. Kids races used to be full of riders when I was younger, now there are hardy any races as there are not enough riders – maybe it's a reflection on modern society."
On his return to racing in 2012 he rode the Tour of Britain, just weeks after the Olympic Games in London, and witnessed from afar the 'Wiggins effect'. "It was my first time there (TOB) and it was amazing. Bradley winning the Tour and then the Olympics, it will change his life forever. I saw so many young kids cheering him and Cavendish, I think in 10-15 years there will be a whole new generation of riders inspired by them."
Four years earlier it had been his own turn to be crowned Olympic Champion, when he rode out of the smog and humidity to take the road race title in Beijing; how had it affected his life and career? "Before that I'd finished second in the Vuelta, performed in the classics and the Tour de France. But when I won the Olympics the whole world knew who I was, not just the cycling world. It was huge, and very important, and lead to lots of coverage and exposure in mainstream media."
Meanwhile as the major races of 2013 draw ever closer, Sammy rides out on yet another dreary northern day, not shying away from his commitment. "When it's cold and wet I just wrap up even more, maybe ride harder for a shorter distance, but I don't stop. When it drags on for a long period, then maybe I'll drive south to the sun for a while."
Sammy Sanchez is clearly a humble person and respectful rider; the sport could do with a few more like him.