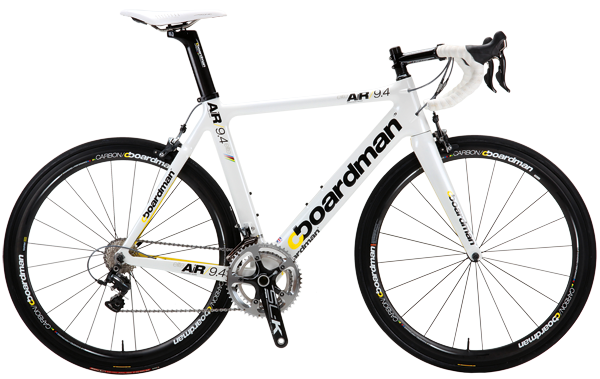 So what is in a name? Well when it comes to bikes, quite a lot apparently. There are many riders out there who will pay top dollar for bikes that are considered marque brands regardless of the comparative value and conversely, there are those that shy away from perfectly good bikes that are great value simply because the brand carries no cachet. This makes it pretty hard for new brands to rise to an acceptable level of café cred in a short space of time unless there are extenuating circumstances. One way to leap up a few rungs on the cycling ladder is to be associated with the name of a famous cyclist. Boardman bikes bear the name of Chris Boardman, one ofBritain's greatest cyclists. Chris Boardman has a very impressive resume; he is an Olympic gold medallist, he has won three stages of the Tour de France and has set numerous world records. All this stands for nought though, if his only contribution is to lend his name to the bikes.
Boardman was nicknamed 'The Professor' for the meticulous way he researched and tested every possible facet of his equipment and training. He brought the famous Lotus time trial bike to the public eye, and later went on to assist in the development of Hotta time trial frames. Such is the respect for Chris' knowledge of the technical aspects of cycling that he was heading up the research and development for Team GB Cycling in the lead-up to the Beijing Olympics. It would therefore be a great waste to only use Chris' name on the bikes as a marketing tool and not utilise the breadth of knowledge that he has accumulated over the years. Chris states that he works closely with the team at every stage of development, and it certainly seems to be working as the results have followed. Boardman's TT bike has been piloted to victory in the prestigious Hawaiian Ironman Triathlon byAustralia's Pete Jacobs, and the frame we are testing is the ride of choice ofBritain's triathlon prodigies the Brownlee brothers, who won gold and bronze in the London Olympics.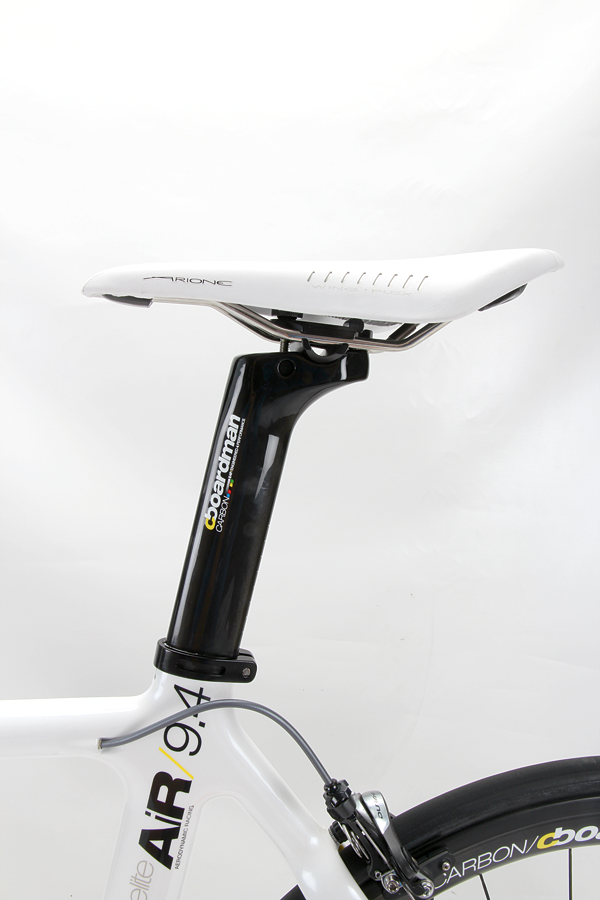 The Air 9.4 is an aero road bike that comes ready to race. It is equipped with Dura-ace 7900 running gear and carbon clincher wheels. Teamed with a Ritchey finishing kit, Fizik saddle and Vittoria Open Corsa CX tyres, there really isn't anything more you could want or certainly expect for the asking price. The Air 9.4 is built around a high modulus carbon monocoque frame. The same frame is used throughout the entire Air range so regardless of which model you choose, your frame will be the same as the one used by Olympic gold medal winners. The frame features a BB30 bottom bracket, a legacy of Boardman's input into frame design. The BB30 arrangement allows for optimum stiffness to be built into the frame due to its extra width. Its large box section chainstays meet this junction with maximum surface area and enable the efficient transfer of power to the rear wheel. The downside to BB30 is that Shimano still don't make a BB30 crank, so an FSA SLK Light crankset is used to take care of the power transfer, which it does with great aplomb and meshes in nicely with the remaining Shimano running gear. The frame superficially looks quite simplistic, with predominantly straight lines and clean internal cable routing. The large sections of the full-carbon tapered fork and wishbone seat stays have been designed with flat internal faces and curved external faces in an attempt to smooth out the airflow around the wheels, especially when used with deep section wheels.
On the road the bike was unsurprising in its handling, but not uninspiring. Steering and handling were stable at all speeds, however not as sharp as some may like through tight corners. On rough roads and at low speeds the Boardman behaves like you would expect of an aero road frame; some feedback through the frame is inevitable but it is not overly harsh, especially given the stiffness of the bottom end and the relatively large seat stays. It easy to crank the Boardman up to speed, and it tends to roll smoothly over rough roads. On good quality roads the Boardman is outstanding; the faster you go the better it is. The ride is smooth, the shifting is sweet and the carbon wheels roll very nicely.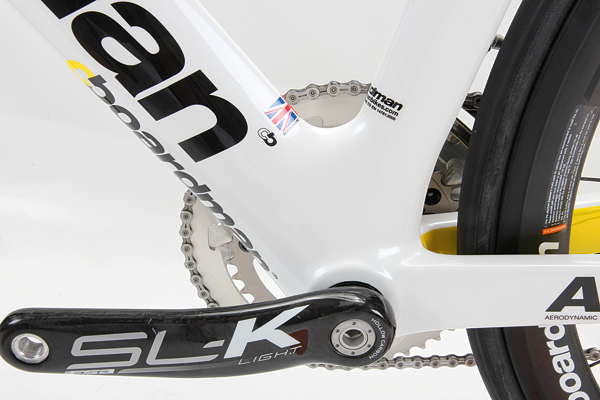 The Shimano 7900 Dura-Ace may be superseded now, but it is still a great groupset. The shifting is quick and precise and having not yet ridden the new 9000 series it is hard to imagine how they would have improved on the performance of 7900. It also means that if you have existing wheels, you don't have to get your head around the whole 11-speed compatibility issue. From experience I know the braking of the 7900 is exceptional, however, on the full carbon rims this performance is dulled somewhat. Even with the right brake pads a full, firm squeeze of brake lever, which would ordinarily have the rear wheel off the ground, doesn't bring the carbon rims to a complete stop. This is not a deal breaker and is common amongst many full carbon wheels, but any new owner should take the time to learn the limitations of the braking of this combination and keep it in mind. Throughout the test the wheels stayed true and showed minimal flex. In a stiff, gusty crosswind they can be a bit of a surprise but not unruly and are more than competent as a great looking, everyday wheel. In a race the Boardman is as stiff as you could want, and out of the saddle acceleration is fully rewarded with maximum forward momentum. Should you be lucky enough to get away, or like me, be chasing solo to get back on, an aero-optimised frame can only be of benefit. The other advantage of an aero frame is that if you intend to dabble in triathlons the Air 9.4, fitted with some clip-on bars, can make a great tri bike if you can get your position dialled in, while still giving you a great quality road bike to race or train on. As an owner of an early generation aero frame I can honestly say that the ride quality of these machines has come on in leaps and bounds and I would be quite happy to swap out my older aero frame for the Boardman.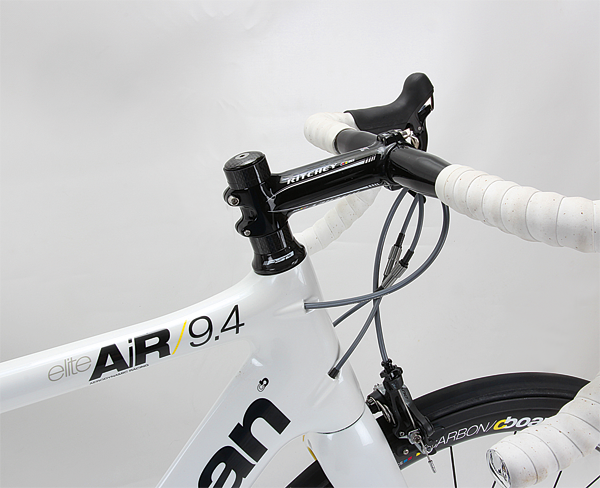 Until recently Boardman bikes were only available via the internet from theUK, but now Goldcross Cycles have taken over the distributorship. In doing so they have managed to keep the price comparable with those from overseas when one takes into account the many and sometimes fluid costs associated with importing a high-end bike. It also means you now have a local warranty point of contact and, if you live near a Goldcross shop, you have the opportunity to look at and feel the real thing before purchase. That sad irony of this is that if you don't live near a Goldcross shop and even then they are only in Queensland and Victoria (although they tell us they are looking at expanding their network into new states late 2103) then you will again need to purchase your Boardman via the internet. However, the guys at Boardman will attempt to make it more than just a 'click and buy' experience, with assistance in sizing, set-up and specifications, whilst all the time retaining access to Australian warranty and backup.
Summing Up: The Boardman is a bike whose reliability, predictability and robust feel belie both its rather svelte 7.5kg weight and its sub $5k price tag. The quality of all the components and the local warranty back-up should provide countless hours of trouble free riding, whatever your preferred riding format.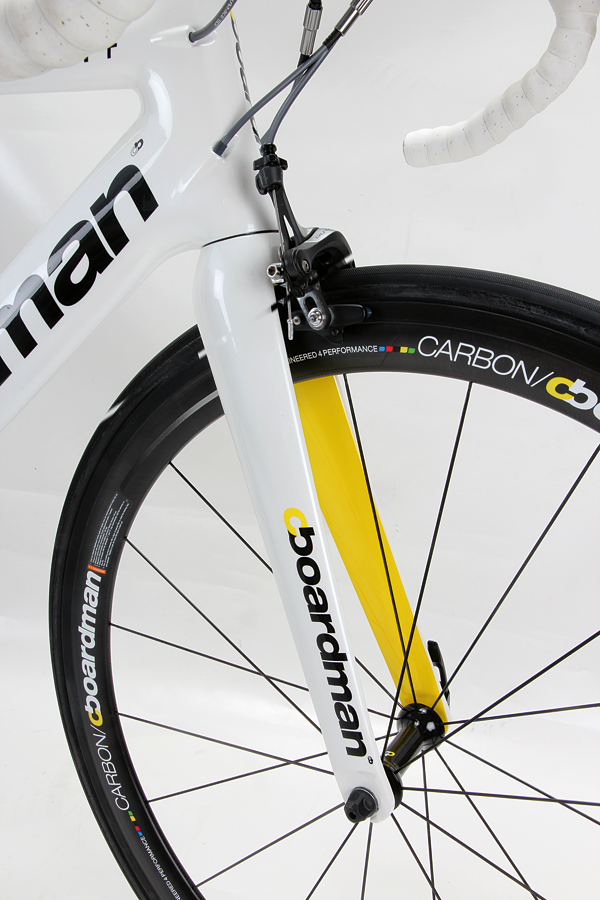 Performance: The faster you go the better the Boardman is, at speed it glides over rough roads and handles predictably through sweeping corners. It can take on long solo miles or get around in a tight bunch without any real problems. The Dura-Ace is… well its Dura-Ace and it works, every time, and the wheels make the bike look every bit the part and ride as well as they look, a bike that will perform equally well at the circuit or the coffee shop.
Value for money: This is a race ready bike straight out of the box. There is nothing else needed. For just a smidge under $5,000.00 you get carbon race wheels, great tyres, a premium groupset and a frame that rewards every ounce of effort. 12 months ago I would have said this was sensational value, and with the way the market is at the moment and the enormous range of bikes in this price range coupled with the Dura-Ace now being superseded I would have to say that it is still good value proposition, but no longer outstanding. Conversely I'm sure you could pay $2-$3k more for a similarly specced bike if you wanted to, but with the Boardman there is no need.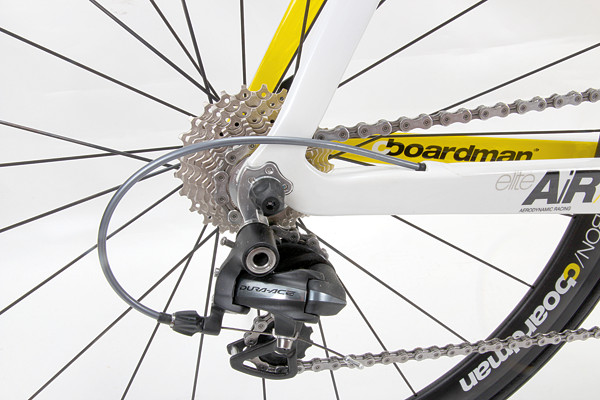 Overall: A quality frame, a faultless groupset, and race ready wheels make this a bike that ticks a lot of boxes. A bike comfortable enough for long hours in the saddle yet stiff and light enough to climb well. A race bike capable of road or criterium racing with aero qualities that would make it a decent triathlon bike for those after a do it all bike.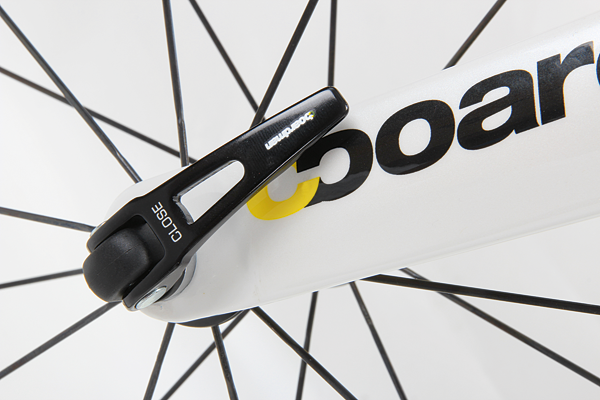 Specifications
Frame: Boardman AiR Ultralight Carbon
Fork: Boardman AiR Ultralight Carbon
Head Set: FSA Semi Integrated
Stem: Ritchey WCS 4 Axis
Handlebars: Ritchey WCS Logic 2
Saddle: Fizik Arione Kium
Seatpost: Boardman Carbon
Shift Levers: Shimano Dura-ace 7900
Brakes: Shimano Dura-ace 7900
Front derailleur: Shimano Dura-ace 7900
Rear Derailleur: Shimano Dura-ace 7900
Cassette: Shimano Ultegra 12-25
Chain: Shimano Ultegra
Crank: FSA SLK 53/39
Bottom Bracket: FSA BB 30
Wheels: cboardman carbon clinchers
Tyres: Vittoria Open Corsa CX
Bidon Cage: N/A
Pedals: N/A
Weight: 7.5kg
Price: $4,999.00
Distributor: www.goldcross.com.au