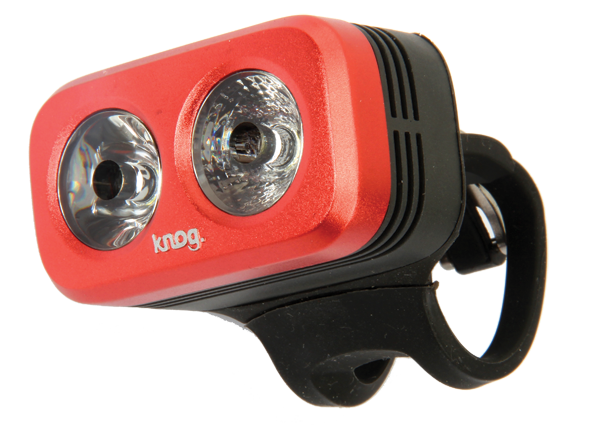 Knog have established themselves as a designer of funky and cool bike kit with a growing range of cables locks lights tools bags and gloves; with emphasis on both form and function.
The Knog Blinder range has just seen the addition of a classy and compact twin lamp headlight and a new version of the four LED rear blinder.
The front light comes in four anodized colours and weighs just 75g. At just 50mm wide it fits on the tops next to your stem quite easily. Mounting the light is easy with no tools needed; the stretchy silicone strap secured with the stainless steel cam lock. Again, it looks cool and works well—unless the leading edge of your bars is less than 22m diameter e.g. some flatter integrated stem and bars. Knog has included a second, longer strap for bars up to 35mm. The light allows you to switch between low and high power on four settings, narrow beam wide beam, dual beam and eco flash. There's a red warning light when charge is getting low and a green light to show fully charged. Run time is a fairly short one hour on high power dual beam, and a more respectable six hours on low power eco flash. 200 lumen output from the two cree LEDs is good though high-speed descents will have you squinting for some extra distance and looking for the brake lever. The light performs very well in an urban setting, with ample light for average speed on known roads. And if looks matter this light is a clear winner.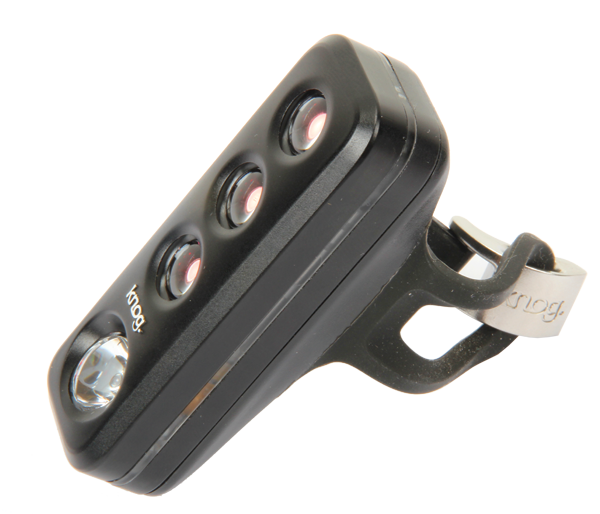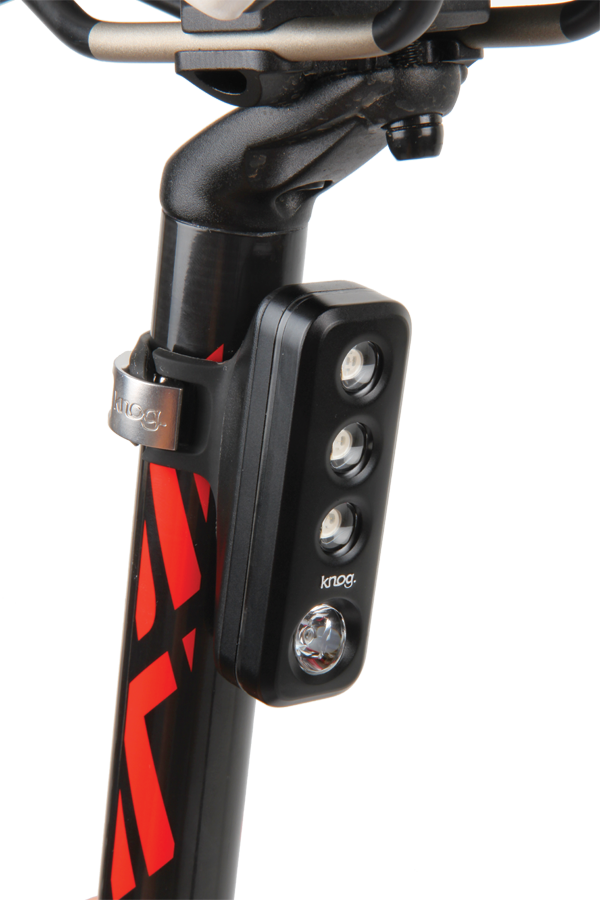 The 52g rear Knog Blinder has four LEDs set vertically like a four
spot traffic light. Again very smooth design work delivers a light that will not detract from the most expensive of bikes. The lower light has a larger lens and CREE diode and at 70 lumens really packs a punch. There are multiple flash patterns and also a lower brightness setting that your mates behind you in the bunch will appreciate. Like the front blinder the rear is fully waterproof, charging is via USB and mounting has the same silicone / stainless clip system.
Price: Front $89.99
Rear $64.99
Distributed by: Apollo Bicycle Company