'It's going to be quite competitive out there – probably the strongest women's TDU we've ever seen.'
They are the thoughts of Rachel Neylan, key member of the inaugural University of South Australia sponsored Australian national team for the Santos Women's Tour Down Under which starts in Adelaide on Thursday.
Women's TDU Organisers have confirmed the star-studded lineups for teams that will take to the start line of the four-stage race that kicks off at 11am in Gumeracha in the Adelaide Hills.
Aussie teams Mitchelton-Scott, Holden Team Gusto Racing, Specialized Women's Racing, TIS Racing and Sydney Uni-Staminade Women's Cycling Team will compete against some of the world's fastest women on wheels when the flag drops.
Defending Champion Keeps Cool As World's Best Prepare To Battle
Defending champion Amanda Spratt was looking calm and relaxed at the event media launch on Wednesday, the Mitchelton-Scott rider saying she wasn't under too much pre-race pressure.
"We're Australians, it's January and we all know our form," she said.
"We have an incredibly strong team in Mitchelton-Scott, it's not just me that can win stages but three or four others in the team."
Excited about the prospects ahead, Spratt said this year's edition was "a very different race". "Three road stages opens the professionalism," she said. "I can see the first stage being a bunch sprint, then two hill top stages 2 and 3 – particularly the last few kilometres of stage 3."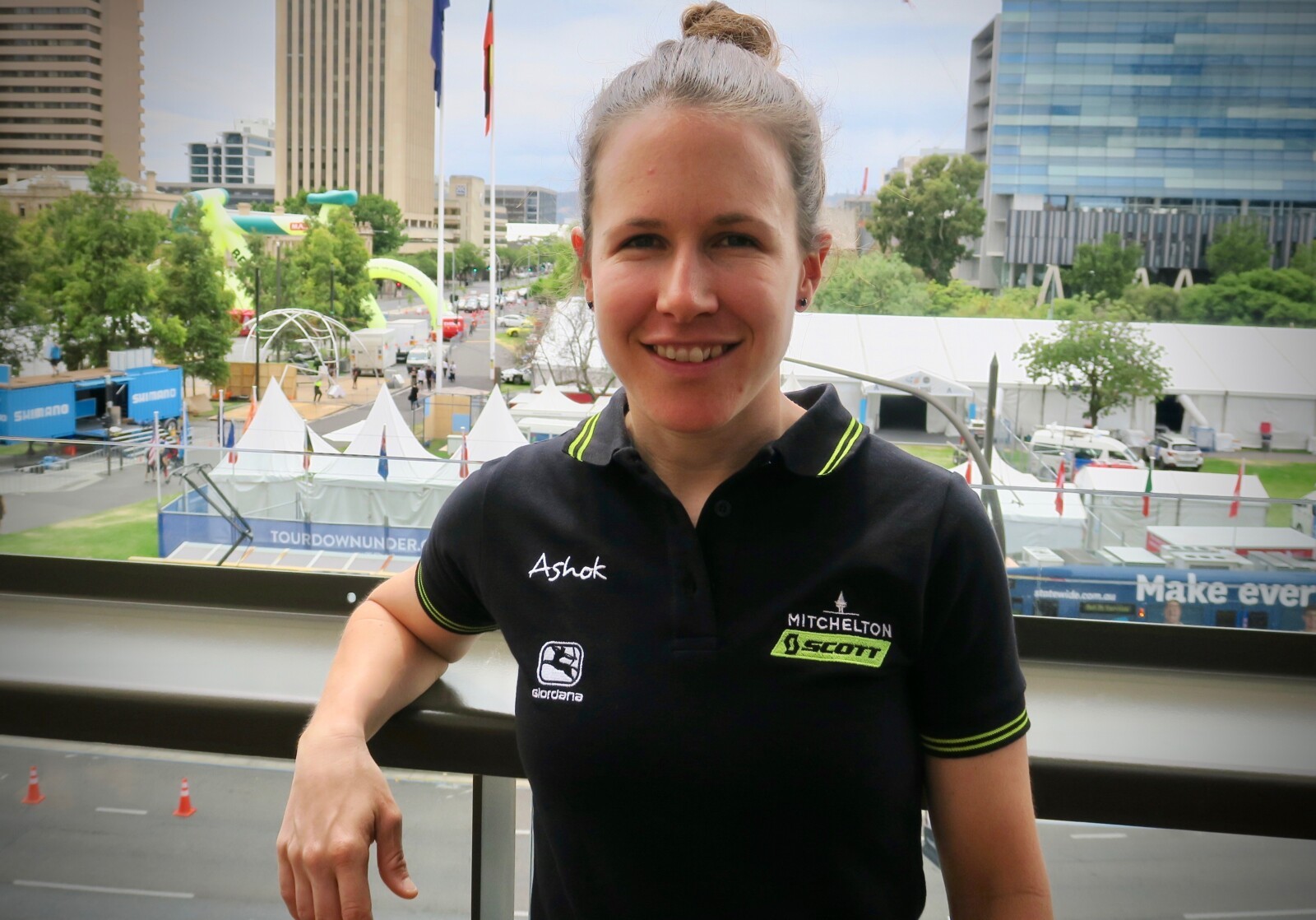 Racing against a world-class field including the high-profile European and US teams, Spratt singled out the Uni SA sponsored Australian national team as significant challengers for the overall win.
"UniSA are a really strong lineup," she said. "They could easily be a national team at the world championships."
Spratt went on to say there will be a major focus on the other Australians "but we will never underestimate the Europeans either."
"We have the top domestic teams and some of the best teams in the world," she said. "Fans are certainly in for some brilliant racing. The race this year is very different to previous years," she added. "We now have three longer road stages and just the one criterium to finish with. In my opinion that helps to raise the professionalism of the race."
All Eyes On UniSA's Debut Women's Team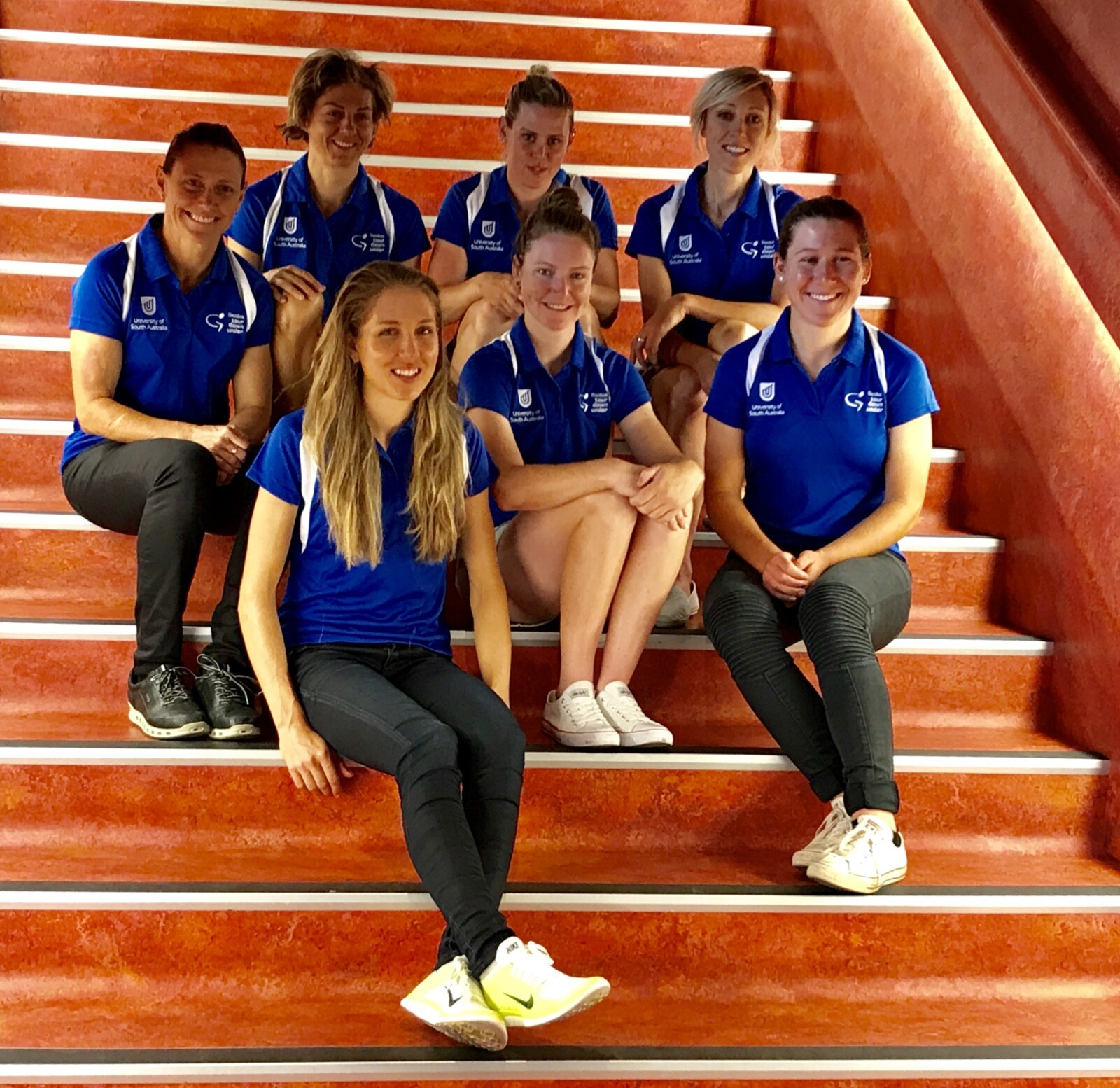 Meanwhile across town the UniSA team enjoyed a low-key official launch. With a super-talented line up of riders, the team is a veritable who's who of Australian women's cycling. Consisting of Katrin Garfoot, Rachel Neylan, Tiffany Cromwell, Lauren Kitchen, Shara Gillow and Lauretta Hanson, the team is managed by Brad McGee and Kim Palmer.
Speaking at the launch Kim Palmer said she was excited to be working with such a strong and experienced team.
"I think we cetainly have the strength in numbers and talent," she said. "With our depth and experience we'll be able to give it to the the other WorldTour teams. We want to race, we want to make the race, and we're certainly looking for stage wins and the overall GC."
One pivotal member of UniSA's 'Super Team' is former Orica-Scott now Movistar rider Rachel Neylan. Speaking in Adelaide today Neylan said it was an honour and a wonderful opportunity to be part of such a strong national team.
"We are grateful to Cycling Australia and UniSA for giving us the opportunity to race here," she said. "UniSA has had an 18-year association with the men's race, but this is the first year they've actually had a women's team. Aligned with the fact that 2018 is the first year Movistar have a women's team, it's a nice double whammy for me to be representing two new women's cycling outfits in January."
'Racing Hard, Taking Opportunities'
Explaining that her role was to support her teammates, Neylan said the team would be racing hard and opportunistically.
"UniSA will obviously be looking for stages and the overall GC as well," she said. "We have a very strong team. We're all really excited to work together, we've all got a lot of experience and we've also all got a lot of respect for each other – there's a great vibe amongst the girls and we're really looking forward to it."
In addition to showcasing Australian women's cycling on home turf, Neylan said that with three road stages along with the thrilling closing criterium this would be the best edition of the Women's Tour Down Under yet.
"Every year this race gets stronger and stronger," she said. "This year there are more UCI points on offer – it's going to be quite competitive out there and probably the strongest women's TDU we've ever seen."
Stage 1
At 11am on Thursday riders will set out from Gumeracha before covering two loops of the Hills-based circuit for a total stage length of 115km. They'll track east through Birdwood and on to Mount Pleasant before heading south past Tungkillo before tackling the Cyanide Climb near Mount Torrens for Subaru Queen of the Mountain points.
After passing Mount Torrens the women will continue towards Woodside before turning back towards Gumeracha via Lobethal. Literally hundreds of fantastic vantage points are available along the way with the town of Gumeracha expected to be buzzing.
Subaru Queen of the Mountain points will be awarded atop the Cyanide Climb, Terlinga Road, Mount Torrens, with an 11.1% gradient. The sprint is adjacent to Gumeracha Oval and the hydration station is on Torrens Valley Road, Birdwood.
Santos Women's Tour Down Under Stage 1 – 115km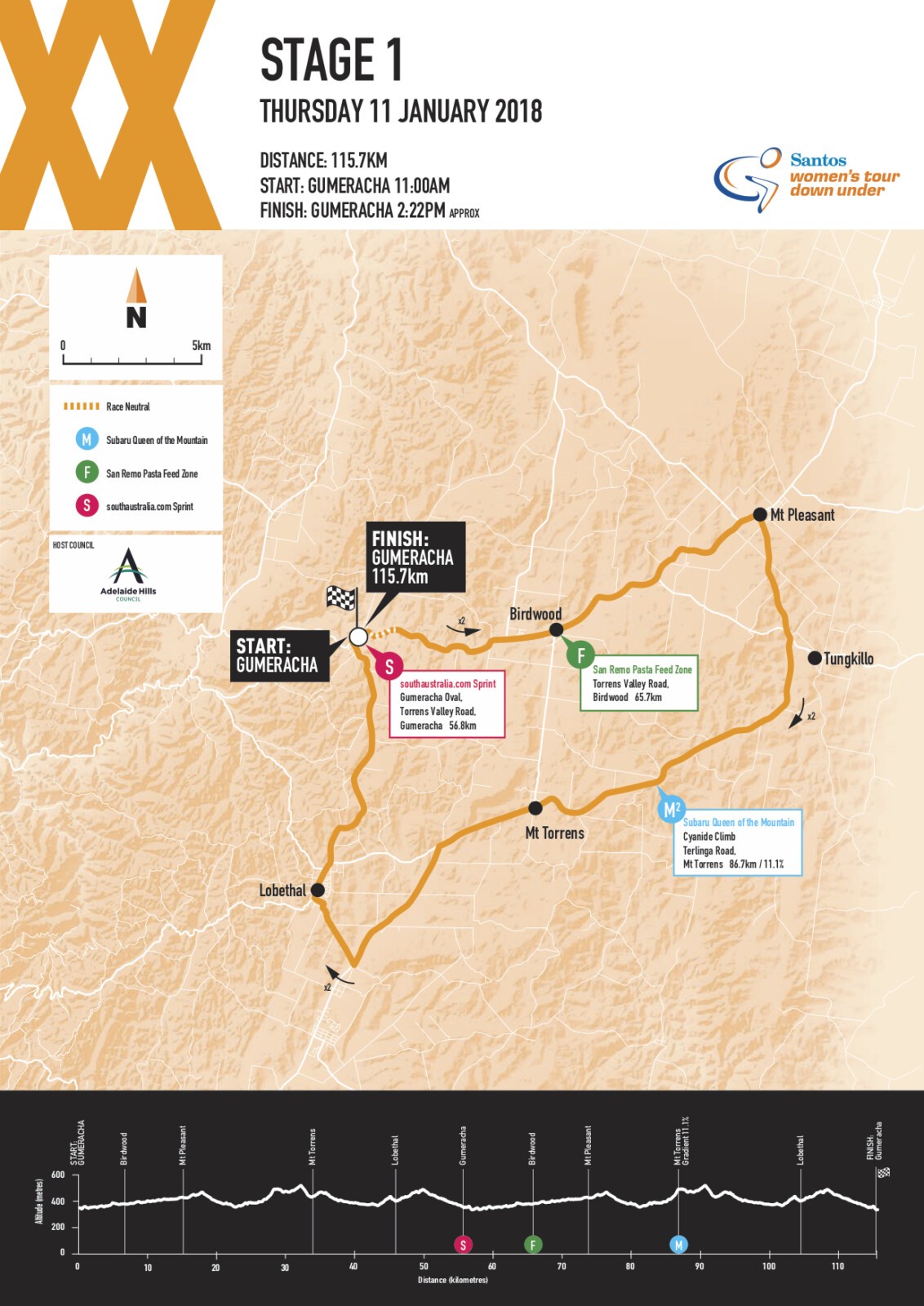 Santos Women's Tour Down Under – Full Start List
Mitchelton-Scott (Aus)
Jess Allen
Lucy Kennedy
Alexandra Manly
Sarah Roy
Amanda Spratt
Annemiek van Vleuten
UNI-SA Australian Team (Aus)
Katrin Garfoot
Lauren Kitchen
Shara Gillow
Rachel Neylan
Tiffany Cromwell
Final Rider TBC
Maaslandster International (NL)
Desiree Erhler (Switzerland)
Christel Van Loo (Netherlands)
Anna-Leeza Hull (Australia)
Amanda Jamieson (New Zealand)
Serene Lee (Singapore)
Yasue Nakahara (Japan)
Holden Team Gusto Racing (Aus)
Erin Kinnealey (Australia)
Kimberley Wells (Australia)
Carlee Taylor (Australia)
Grace Brown (Australia)
Nicola McDonald (Australia)
Final rider TBC
Specialized Women's Racing (Aus)
Kate McIlroy (New Zealand)
Sharlotte Lucas (New Zealand)
Ashlee Ankudinoff (Australia)
Ella Bloor (Australia)
Lucy Bechtel (Australia)
Taryn Heather (Australia)
TIS Racing (Aus)
Georgia Baker (Australia)
Chloe Moran (Australia)
Kristina Clonan (Australia)
Maeve Plouffe (Australia)
Briana Hargrave (Australia)
Jessica Mundy (Australia)
Sydney Uni-Staminade Women's Cycling Team (Aus)
Megan Scott (Australia)
Angela Smith (Australia)
Jade Colligan (Australia)
Chloe Heffernan (Australia)
Gina Ricardo (Australia)
Georgia Whitehouse (Australia)
Waowdeals (NL)
KOREVAAR, Jeanne (NLD)
KOSTER, Anouska (NLD)
MARKUS, Riejanne (NLD)
STULTIENS, Sabrina (NLD)
VAN DE REE, Monique (NLD)
GAFINOVITZ, Rotem (ISR)
Wiggle High 5 (UK)
EDMONDSON, Annette (AUS)
CURE, Amy (AUS)
CORDON-RAGOT, Audrey (FRA)
YONAMINE, Eri (JPN)
STEWART, Macey (AUS)
BARBIERI, Rachele (ITA)
Ale Cipolini (IT)
HOSKING, Chloe (AUS)
PALADIN, Soraya (ITA)
TREVISI, Anna (ITA)
KNETEMANN, Roxanne (NDL)
HAGIWARA, Mayuko (JPN)
SWINKELS, Karlijn (NDL)
Cylance (USA)
BRONZINI, Giorgia (ITA)
TAGLIAFERRO, Marta (ITA)
RATTO, Rosella (USA)
STEPHENS, Lauren (USA)
ERIC, Jelena (Serbia)
BRECK, Holly Marie (USA)
Team Tibco Silicon Valley Bank (USA)
MALSEED, Shannon (AUS)
BUSS, Kathryn (USA)
GRANT, Emma (GBR)
JACKSON, Alison (CAN)
NEWSOM, Emily (USA)
RYAN, Kendall (USA)
Twenty 20 (USA)
CLEVENGER, Erica (USA)
MORSHEAD, Danielle (USA)
MEJIAS GARCIA, Marlies (CUB)
POWLESS, Shayna (USA)
LECHUGA-WILBORNE, Scotti (USA)
CLYNE, Margot (USA)
Team Virtue (Den)
GUARISCHI, Barbara (ITA)
MOBERG, Emilie (NOR)
PAWLOWSKA, Katarzyna (POL)
VILLUMSEN, Linda (NZL)
HANSEN, Louise Norman (DEN)
SCHMIDT, Trine (DEN)
Vantage New Zealand National Team (NZ)
ANDERSON, Grace (NZL)
HARVEY, Mikayla (NZL)
RIPPON, Lydia (NZL)
SMITH, Kate (NZL)
McMULLEN, Rylee (NZL)
PAINE, Deborah (NZL)