Luke Durbridge has beaten World Time Trial Champion Rohan Dennis to win a second consecutive national TT championship, as young Sarah Gigante won both the U23 and Elite events at the 2020 RoadNats.
Durbo took 18-seconds from Dennis's time to claim his back-to-back green and gold stripes, with Chris Harper rounding out the podium to finish third.
Speaking of Dennis, who recently signed with Team Ineos, Durbo said "When the world champion rocks up for the national titles it makes me lift my level."
"A lot of work goes into this in December, a lot of support from back home, family, my wife Lara, coach Ben and the team," said the Mitchelton Scott rider.
"We all put a lot of effort in to train hard in the off-season but this is why you do it."
Durbridge said winning another national title – particularly in an Olympic year – was very special to him.
"I think that going into the Olympics this year that it's a really good indicator that maybe there's two spots up for grabs," he said.
"And that both Rohan and I can take them would be fantastic."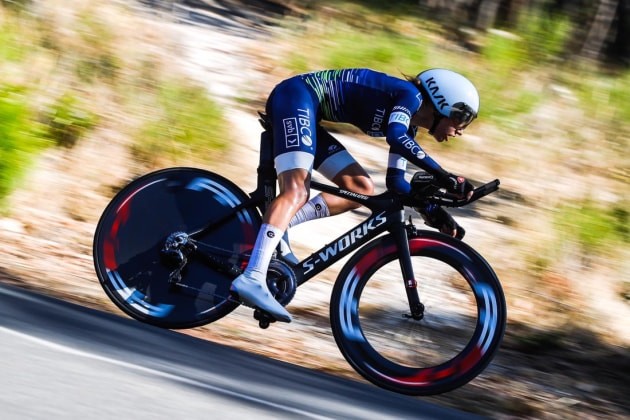 Sarah Gigante Wins Big
In other action at the RoadNats, young rider Sarah Gigante took out the Individual Time Trial titles for both the Elite & Under 23 classifications.
"I am absolutely stoked, the time trial is always the race of truth," said Sarah.
"I just came hoping to come out here and give it my best shot. I was meant to be sitting down in the hot seat, but I was not sitting down, I was up there sitting next to the computer biting everything. I've probably put holes in my new skinsuit, I was so excited."
Elite Women's Results
Sarah GIGANTE* (Team TibcoSilicon Valley Bank)
Grace BROWN (Mitchelton Scott)
Emily HERFOSS (Roxsolt Attaquer)
U23 Women's Results
Sarah GIGANTE* (Team Tibco-Silicon Valley Bank)
Jaime GUNNING* (Specialized Women's Racing)
Emily WATTS* (Subaru Giant Women)