Next time you are wandering around your local bike shop, ogling your dream bike, take a look at the four bolts clamping the bars to the stem. Or even the two bolts holding the stem to the steerer.
The pressure that these six bolts are under every time you climb, brake or hit a pothole should concern you a little. As bikes are getting lighter, materials such as carbon, titanium and light aluminium alloy are being used in areas that we never thought possible and it is not uncommon these days to find a titanium bolt in your alloy or carbon seatpost clamp, wrapped around you expensive carbon frame. Effectively clamping and securing these parts to stop them slipping requires specific torque applied to the bolts. Step back and look at the complete bike; every bolt on that bike has a specific torque setting allotted to keep the component secure without risk of damage to the bolt or threads. Even the torque of the bidon cage bolts will be specified.
All competent bicycle manufactures should now be assembling your pride and joy with these settings from the factory and your favorite bike shop will also be aware of these numbers and following them. It could be slightly unrealistic to assume that every bike is put together with every torque value being perfect but the numbers are there for a reason.
Checking a few stems in my workshop showed that the settings vary between manufacturers, and even between models from the same company. The stems I looked at were all between 5Nm and 6.8Nm. This might seem close but while testing the wrenches below, tightening to 6.8Nm on a carbon stem with titanium bolts when the recommended setting was 5.0Nm was not something that I wanted to chance. Seatpost clamp torque settings also vary, ranging from 4Nm to over 7Nm.
Stems, bars and seatposts are the kinds of things that we often find ourselves adjusting at home with just an allen key. When people want to do more maintenance on their own bikes, from changing a brake cable to full rebuilds, they really should invest in a suitable torque wrench. In this article we have assembled a cross section of different torque wrenches available on the market and tested them on a selection of stems, clamps, cranks (50Nm), pedals (40-50Nm) and other parts, to help you decide which one suits you best.
It's important to follow the instructions that come with your torque wrench. Something as simple as holding the wrench in the wrong spot, halfway down the handle instead of the typical and probably more comfortable position on the hand grip, will affect the torque delivered. You should also make sure you unload the wrench before storage, as prolonged periods in a high torque setting can affect the calibration of the unit.
They all indicate when you have reached the desired torque setting. Some are preset, some adjustable, and not all are equal…
TOBE 5Nm $35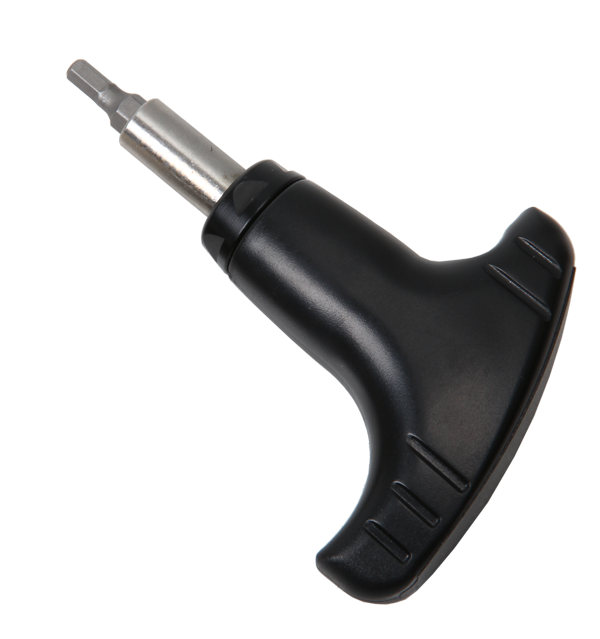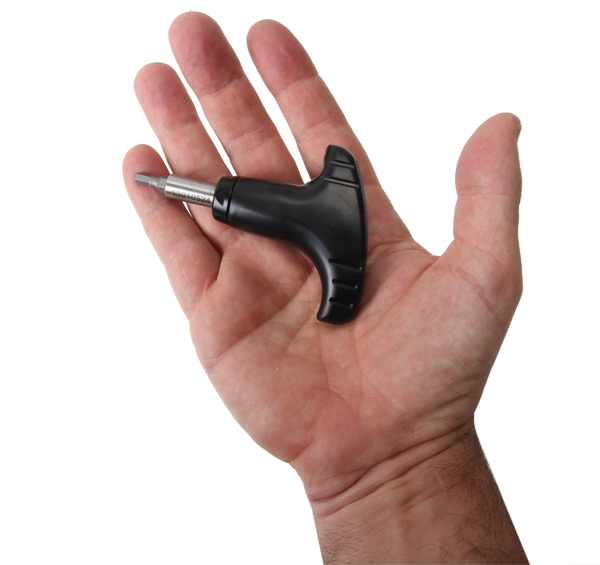 This model and its bigger brother the 7Nm are at the simpler end of the scale, and the less expensive. They are preset at the factory and non-adjustable. They both come with 4, 5 and 6mm bits that are held in the socket securely with a magnet and are simple to use. 5Nm is a common torque setting to be found around your bar, stem and seatpost. I found 7Nm less common and as such this one may spend more time in the toolbox than in your hand. The 7Nm tool has a slightly larger handle to help with leverage and fits my hand well. The 'click' is very loud in both tools and will not be missed when in use. You'll just need to add a T25 and T30 torx bit and you should be set for most situations. Not a bad tool for the dollars.
Southcott Cycle Division
TOPEAK COMBO TORQ WRENCH & BIT SET $22.95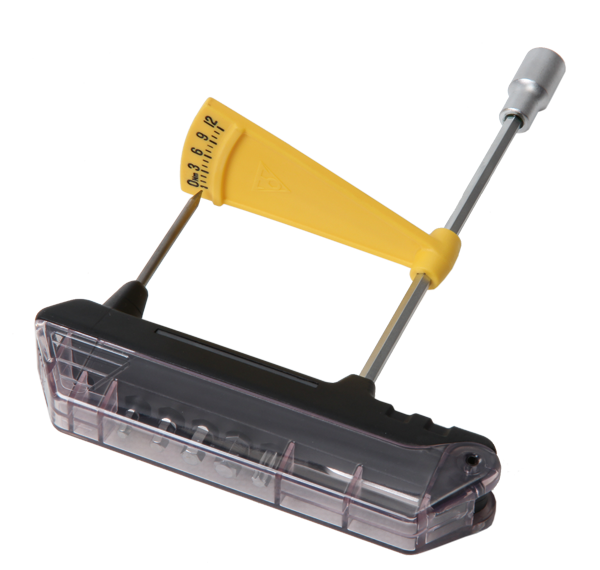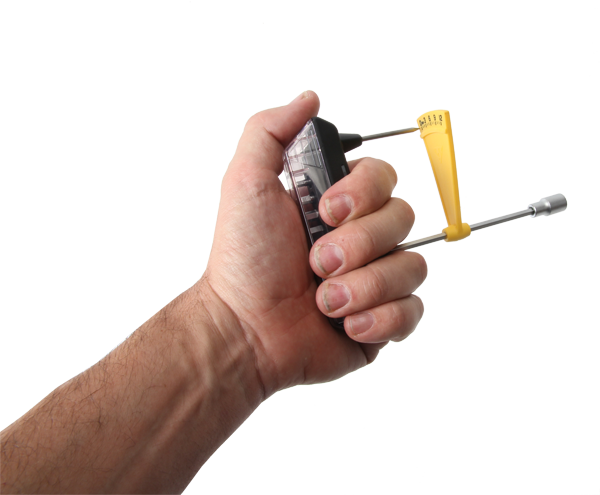 The Combo Torq is the only tool on test that uses a guide and not a preset value to warn you when to stop. This means that you don't need to stop working to reset the wrench when moving from one bolt to another but it does leave too much room for error. When in use, your hand and the bike can get in the way of the scale when you need to stop tightening. Trying to see the scale while using to wrench is difficult. Also it is hard to get into some areas of the bike such as the rear brake bolt on a road bike. It is cheap and functional but a little difficult to use.
Cassons
ICETOOLS EXPERT $145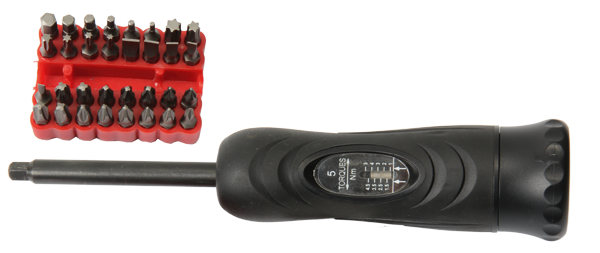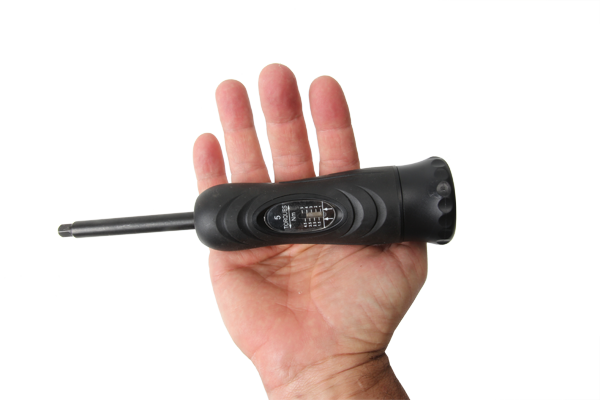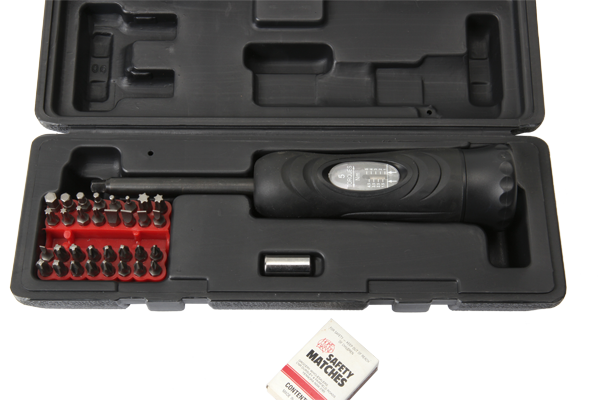 Looking more like a large screwdriver than a wrench, the Icetools Expert has a 1-5Nm range and comes with 32 bits, covering Hex, Torx and screwdriver fittings. Topping out at 5nm is not high enough for most current bikes as many areas require 7 to 10Nm. The shape of the Expert fits into your hand well but the weight and the length of it make working on bikes a bit difficult. Getting into tighter spaces such as seat clamps and rear road brakes almost impossible.
Southcott Cycle Division
KINCROME $341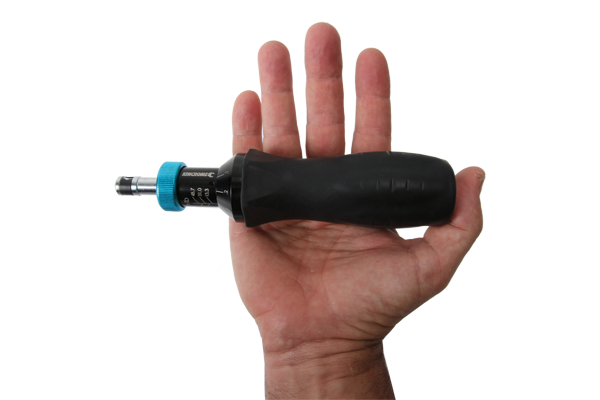 Covering 1-6Nm, the Kincrome is on the lighter end of the scale for bike use. It feels like a better quality version of the Icetools wrench (screwdriver). It is shorter overall so able to fit into a few more spaces but still sharing the 'screwdriver' design with Icetools, it has some of the same limitations. The socket is of good quality and it holds the bits securely (once you supply your own) and is comfortable to hold and use. The markings are very easy to read and understand with detents at each setting. Maybe a little pricey for the features you get, but it feels solid and well made.
Kincrome
BIRZMAN $139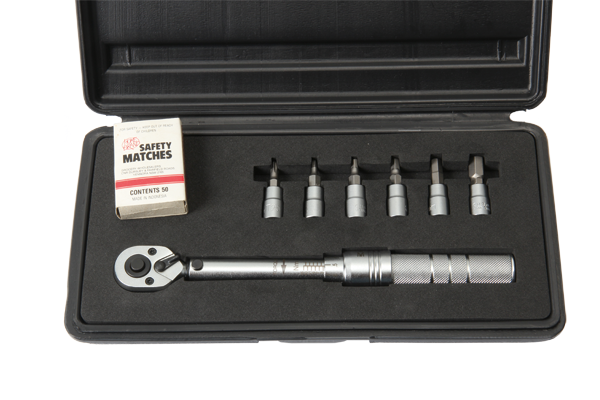 The Birzman is the least expensive tool to come with a certificate of calibration from the factory to show the actual readings of the gauge in testing. This is a nice touch which adds a level of quality to the product. Birzman have put together a very neat package with separate sockets for each bit, very secure detents on the head of the tool so you will never drop the bits, a hard case to protect the wrench and a simple adjustment method. With a 3-15Nm range this tool will cover the majority of jobs on your bike, only struggling when you get to pedals, cranks and BB. The 'click' could be a little more pronounced as I almost missed it when working in a workshop with other noises around me. The lower torque settings produce a lower volume click. Mainly at low torque settings (under 4Nm). Also worth mentioning is that under dimmer lighting the markings are a little difficult to read. Overall, the Birzman was easy to use, accurate, able to get into tight spaces and inexpensive.
Bikecorp
SYNTACE $169, Bit set $49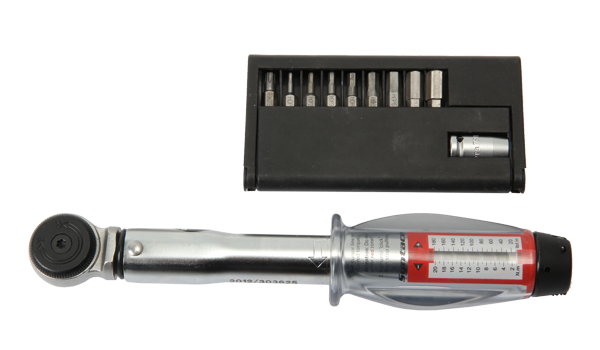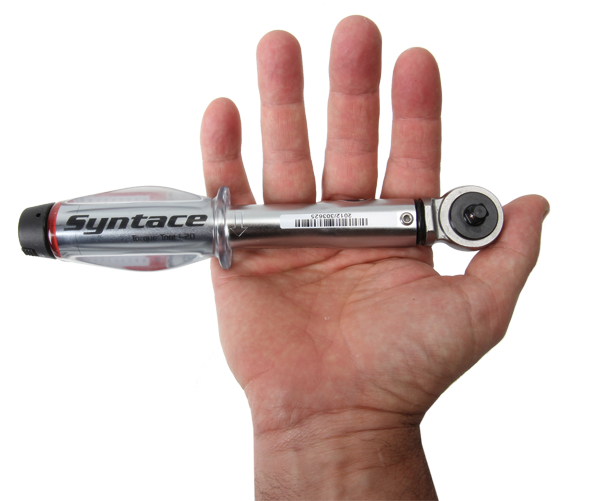 The Syntace 1-20 does exactly what its name suggests; it easily covers most bike bits (until you get to the crank area) with a 1-20Nm range – and does so with a minimum of fuss. Also included is the certificate of calibration to show the factory tested settings. The Syntace tool can also be recalibrated if needed and this is recommended every few years to double check the settings. This wrench has a clear rubber handle covering the easy to read scale and a good solid 'click' when the desired torque is reached. With a small ratchet head, it fitted everywhere it was needed with ease. The Syntace 1-20 comes on its own, or with an optional bit set which is made using high-quality steel. It takes some effort to wind the dial into the higher torque settings but the unit feels solid and well made. A simple plastic tube protects the Syntace tool between uses. A great value, workshop quality wrench.
EightyOneSpices
EFFETTO MARIPOSA $298.95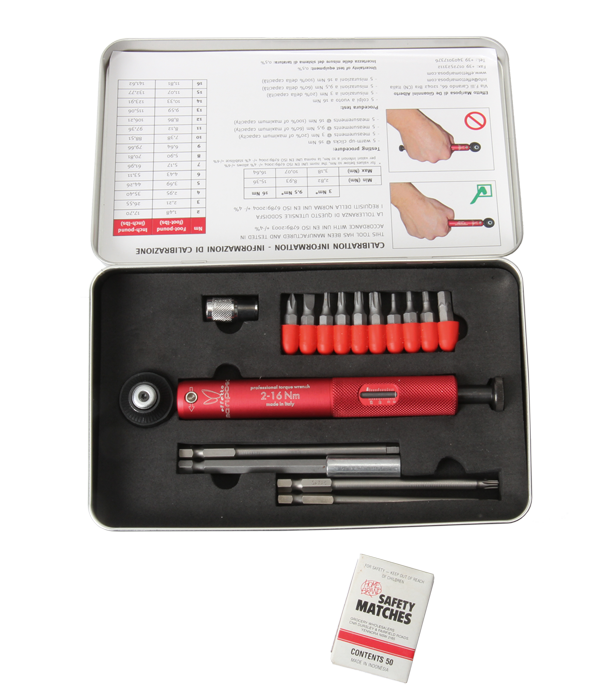 Turning up in a polished tin box with neat foam cutouts, good quality bits and a certificate of calibration, things started well for the Effetto. With a working range of 2-16Nm it covers the most important areas of your bike, only missing out the crank area. Having the smallest overall size on test is another great feature of this wrench and it is comfortable to hold. The red anodised finish with white etched dial stands out in your toolbox or on the workbench. However the torque settings are small and hard to read in low light conditions. The most common bits in this kit are longer than normal, which made them a little easier to use but sometimes made it harder to get into tight spaces. It would have been better if they were provided in the standard length as well. Ironically there is an extension to work with the less commonly used standard length bits as well; but these are small qualms. Overall, this is a great kit that will last a lifetime in the home workshop or a professional bike shop.
Echelon Sports
http://www.echelonsports.com.au/
TOPEAK D-TORQ $269.95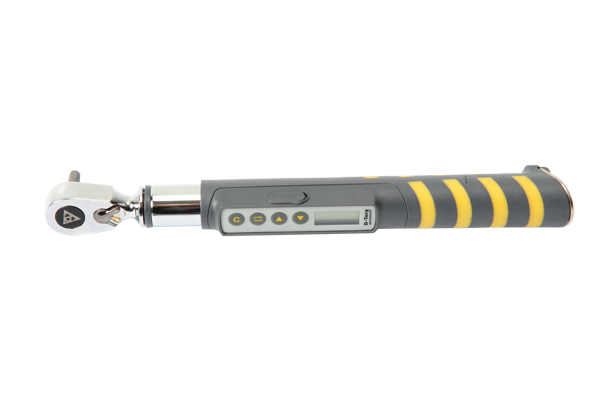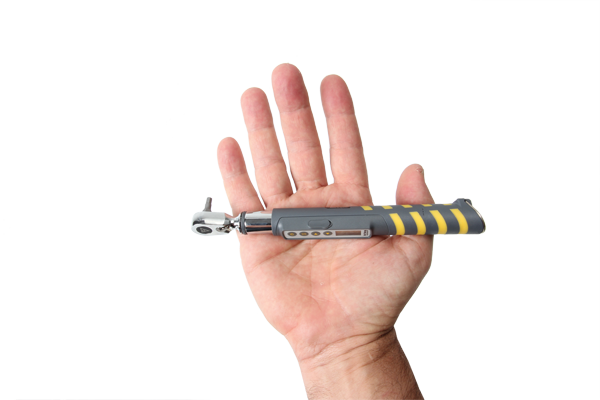 The Digital age is here. The Topeak D-Torq came packaged in a very small semi-hard case and found a place in my toolbox easily. My tools travel around the country with me in cars and planes and this is the only wrench that fitted in my kit, in its case. This is an important feature as torque wrenches are precision equipment and as such need to be looked after or their calibration may be affected.
Fitting nicely into your hand, the D-Torq was a joy to use and the electronic readout easy to see and adjust. The beep alarm when you get to the desired torque is loud and stays on if you go over the setting. Covering 1-20Nm in 0.01 increments is handy when you look at some of the settings that I found on my current road bike. 6.2Nm on the seatpost clamp, 5.5Nm on the stem and 2.8 on the cable guide. Each of these are titanium bolts securing carbon components, so a little care is needed. Striping a bolt in a $350 stem is not a good hobby! Good quality driver bits lock securely into the head and the single AAA battery is O-ring sealed in the handle. I did get the feeling that this wrench would not take well to getting wet or covered in spilt chain lube, but housed in its case, all should be fine. Building a new bike in the middle of this test, the D-Torq was the wrench I reached for most of the time. If it came with an extension for the bits and a couple of preset tension settings for common values it would be almost perfect.
Cassons
TOPEAK D-TORQ DX $299.95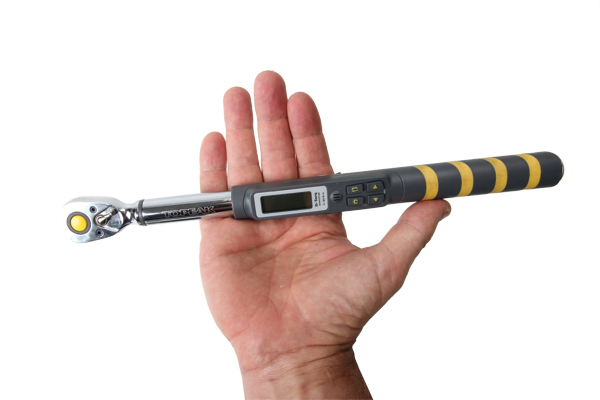 Having a range of 4-80Nm, the DX version seems a little overbuilt for a bike mechanic. It could actually be used on that 5.5Nm stem or seat clamp, but its overall size makes it unwieldy and a challenge to use with one hand. Having all the features of the smaller D-Torq it was easy to set up and use in higher load areas. Coming with a larger set of Bits, DX is ready to handle the big jobs. Being the only wrench supplied that could handle torqueing a threaded Bottom bracket (around 35-40Nm), modern crankset (45-52Nm) and your pedals (around50Nm). These areas in the past have just been 'done up tight' but with alloy bolts holding your cranks on and titanium spindles on some pedals, times have changed. Not seeing as much use for the home mechanic as the smaller kits, there is still a place for the DX.
Cassons
Conclusion
Sitting on my workshop floor, looking at a pile of torque wrenches, it is hard to pick one favorite. There is a place in some toolboxes for the simple preset unit like the Tobe 5Nm wrench. If the majority of your bike's bolts have torque settings around this mark then it might help you stay safe. In an environment where a torque wrench will see regular use, the price of the Syntace, Effetto, or Topeak would be money well spent. And the occasional mechanic will appreciate the price of the Birzman wrench with its extensive ranges of bits, wide torque range and sturdy carry case.
Using a torque wrench to maintain you bike as per specifications will help to ensure your own personal safety while taking on the descent at 85kph,or gripping on the bars while climbing that steep pinch, or just riding along. It will help avoid damage to your machine; through over-tightening clamps and crushing carbon tubes, for example. It may even contribute to better outcomes in case of a liability issue should insurance claims be required. Using the right tool for the job; it's peace of mind.