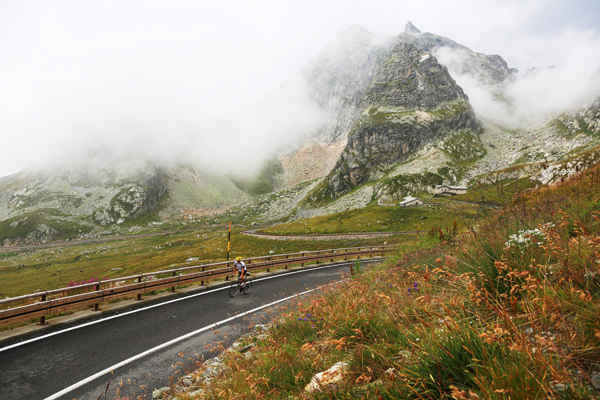 Although the French Alps grab the lions' share of Euro cycling attention, a huge portion of this great mountain range also lies in Switzerland, as Steve Thomas shows us around.
The cheese, oh yes please, more Swiss cheese! And the bread…and twist my arm and I'll down a rare afternoon beer too! After all it was a sleepy, sunny Swiss summer's afternoon, and we were almost halfway through an unexpectedly epic and staggeringly scenic day in the saddle.
We were lounging on a sun soaked and partly tree shaded porch of an old chalet in a tiny village in a very narrow valley, just on the Swiss side of Mont Blanc. Stephane, my ride buddy from the Bike Club Verbier had deviated from my blind ride plan and we'd dropped in on his family. Grandfather, wearing his Swiss mountain hat, old wooden stick resting in his hands, sat with us.
He pointed his stick at a date etched into a beam in the chalet; it was more than 200 years old and was part of the original family chalet, which has stood on this same patch of grassland for even longer than its etched numerals.
Gesturing his stick up towards a narrow valley splattered with scree and patches of fresh summer snow, he pointed out a vague line where distant chamois clung to the mountainside – that was the French border, so close, yet also so far.
After four days in the pristine and chic heights of the ski resort of Verbier (also well known for its mountain biking) this place was a total contrast; there were no designer boutiques or leathered blondes here, this was the Switzerland we all dreamed of in the past.
Local knowledge was proving to be the key to unlocking the best riding in this far-flung western corner of the Swiss Valais region, and had Stephane not suggested we take this road, I'd never have seen this amazing valley. The road we were following was a road to nowhere, unless you happen to be on foot. We were on the opposite side of the valley to Verbier; with the St Bernard Pass sandwiched somewhere between us. La Fouly was the village at the road-head, and our turn-around point, but it was the road that leads through this valley that took my breath – in more ways than one.
The climb is long but steady, no major grades, just a quiet and meandering country road which weaves its way through open meadows and picture-perfect Swiss villages. All are surrounded by steep sided, jagged alpine peaks which directly foot Mont Blanc itself.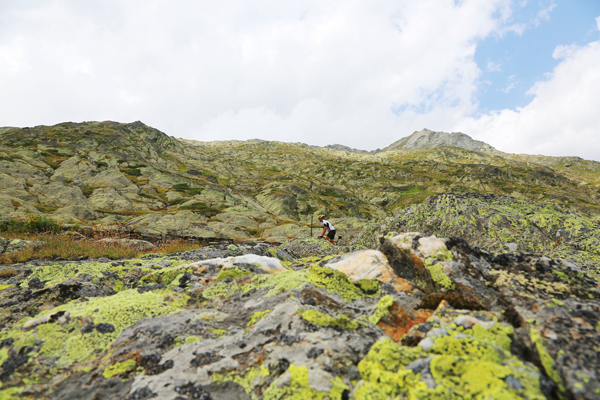 As we climbed further towards La Fouly the vistas opened up even more, and then with no warning the huge glaciers that flank the valley appeared. I had heard that there were a couple of glaciers around here, but really hadn't anticipated on them being straight out of town, let alone so big, and at the tail end of summer too. It really was a fitting treat at the end of the climb.
After taking a few snaps the realisation hit home, as did an afternoon bout of lethargy. We were here, the turn-around point. A long, sweet and winding decent lay head; there was the option of a back-road loop to make the day a true epic, but with the evil climb to Verbier waiting to ice off the ride, we chose to skip that option.
Although the Swiss Alps don't gain the attention that the great French Alpine climbs of the Tour de France do, it certainly doesn't make them any easier or less spectacular; the final section of the road to Verbier covers some 9.6km in distance and gains 770 meters of altitude at an average 8 per cent grade, meaning that it's no slouch in the climbing severity stages.
In 2009 stage 15 of the Tour de France finished atop this climb, when a certain Senor Contador stole the stage victory and rode his way into the yellow jersey. Strong rumour has it that the great race will finish here again in 2015.
For us however the climb was a game of survival, an unwelcome sting in the tail of a great ride. Hairpin after twisted hairpin make this curvaceous and ferocious bent out of shape beast a true classic climb, and a great way to work off the unavoidable excess of Swiss cheese.
Meeting Bernie
Just a couple of days earlier I'd headed off on another out and back jaunt with Nicolas, another member of the Bike Club Verbier, who had volunteered to take me on a gruelling slog to the summit of the Grand Saint Bernard Pass, which at 2469-metres tall is the third highest pass in Switzerland.
In all it's around 50km all in from Verbier to the summit, 35km of which is uphill! For a while it's a real grind on a very busy main road, including a tunnel or two; but after that the road splits, with the motorised traffic heading left for the Mont Blanc tunnel, leaving just the odd tourist and even odder cyclist to face the gruelling 25km or so grind to the summit, which is also the Italian border crossing.
The average gradient is less than 6 per cent, but in many places it lashed out to 11 per cent, so it's a real case of holding your horses, and for a long time too. Barren grey and green openness surrounds you the whole way up the climb; it's really quite an eerie ride, especially when the mist swoops in, as it did for us.
By the time we reached the summit we could hardly even see the border crossing, yet we still managed to slip into Italy for a well-earned coffee. As we sat there the mist cleared momentarily, just enough for us to catch a distant glimpse of the resident St Bernard dogs taking their daily walk, much as they have done for centuries – ever since they were first bred at the St Bernard Hospice which sits atop the pass along with a chapel and numerous eateries; it's a fascinating but desolate place.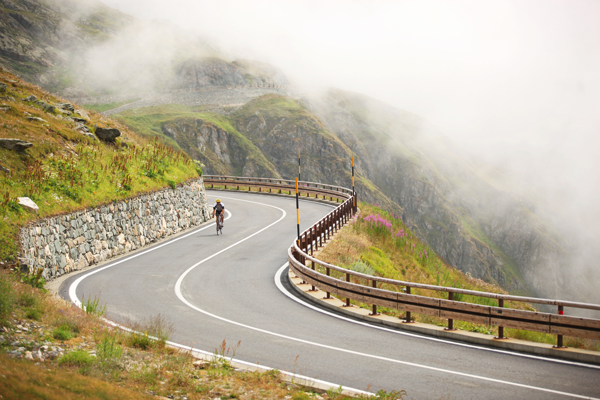 Needless to say the descent from here is one of the longest in the Alps and guaranteed to leave your wrists and neck throbbing. By way of sensibility we'd left the car at the bottom of the climb to Verbier, a rare but wise move on my behalf.
Winding On, and On
With my brief visit to Verbier done and dusted it was time to head into the 'Valais-proper', in other words the long valley which lies between the eastern edge of Lake Geneva (Lac Leman) and the valley door stop, otherwise known as the Simplon Pass.
The Valais region of Switzerland is predominantly French speaking, and is famous for its white wines, ski resorts and cheesy foods. Some 15 years earlier I'd lived for a couple of seasons at the far end of the valley, a time when I was somewhat leaner and meaner. Almost every day I'd trained on these spectacular and mountainous roads, yet I'd hardly ever gone more than 50km or so from base, which I guess is a normal thing when you live somewhere, so I'd decided to spend a week or so exploring other roads and rides in the valley, and on its steep sides.
Although there's some great riding both north and south of the spacious Lake Geneva, the serious riding is spliced in between the town of Aigle (where the UCI is based) and the Simplon Pass.
A huge freeway carves its way down through the middle of the valley, but there are plenty of side options for good and light-traffic riding, even along the valley base. A weeklong loop around this valley would make for a superb (and easily arranged) place-to-place tour. The northern valley side is painted with terraced vineyards which are all served by steep and narrow roads, perfect for riding.
Dip further into the hills and you'll find an endless selection of epic climbs up to the various ski resorts – most of which are around eight to12km in length and feature regularly in the Tour de Romandie and Tour de Suisse races.
Unlike most of their French cousins many of these climbs can also be looped in to make circular day rides, as there are numerous link roads traversing the mountains between the resorts, and outside of weekends most of these roads are also very quiet during the summer months.
I'd planned on heading across the border into France for a week of riding too, but things were just so good in the Valais, and really quite different too, that I decided to stay a little while longer, exploring the slopes of the Col des Mosses and beyond, a great two weeks of epic yet accessible riding. There really can't be too many places to match the Valais for guaranteed great riding.
Getting There and Around
By far the most convenient international airport is Geneva, and most major airlines will connect there. From Australia many carriers will also serve Zurich too, which is a three hour train ride from Geneva. There is also a good TGV rail connection to Paris (from the French side of the airport.)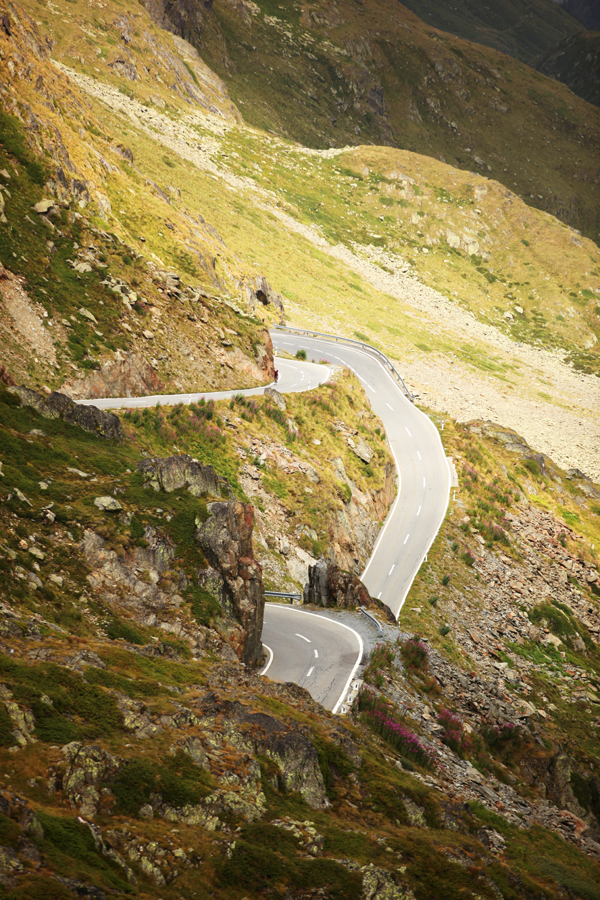 Adjacent to the airport terminal there is also the Swiss Rail station, which has a line running right through the Valais, and with typical Swiss precision. This makes it very easy to travel light and to get around with your bike. There are connecting links to the Grand St Bernard and Le Chable (base of the climb to Verbier – from where you can take the bus, cable car or even ride to town). Lines also run to most other main towns in the valley (www.swissrailways.com).
Rental cars in Switzerland are also a great option, and driving is good and easy. The best rates are found through online brokers such as www.kayak.com. Expect to pay from AU$35 per day for rental.
You could also ride from the airport into the Valais by heading through the city and following the road around the lake to Montreaux, although getting straight out of the traffic by other means takes less than an hour and is a much wiser option.
When to Go
The best times for riding in the area are between May and October, although it can rain at any time. During mid winter it is possible to ride many of the smaller roads and climbs in the region and if it's dry the scenery is amazing, but it is cold and it's best to avoid weekends.
If you want to combine things with watching a pro race then the Tour de Romandie takes place during May (www.tourderomandie.ch), the Tour de France also usually passes close by and the Criterium du Dauphine is just 45 minutes from Geneva too (around Annecy).
There are ranodonee and sportive events all through the summer; The Haute Route (www.hauteroute.org) starts in Geneva during August, and there is also the Romandie Classic in early September, which finishes in Verbier (www.tourderomandie.ch)
Where to Stay
It has to be said that Switzerland is not the cheapest of places to stay, with small hotels costing from AU$55 upwards per night – although budget rates are often available through online sites such as www.agoda.com.
A great option (especially if there are a few of you) is staying in mountain huts/refuges, which are often like youth hostels and are quite cheap (www.sac-cas.ch).
There are also some great campsites all around the Valais.
For full listings check out www.myswitzerland.com and www.verbier.com.
Food and Drink
You'll find great restaurants and food all through the Valais, especially if you're a cheese lover. Local cheeses are produced everywhere, and eaten with most things. Forget chocolate, the real Swiss delight is cheese!
The most famous regional dish is fondue, which is basically a bowl of hot melted local cheese and white wine seasoned with herbs, which is eaten with bread on long forks, or with potatoes. If that's not to your taste try raclette, the other regional speciality; this is basically potato with carved melted cheese and cured hams and pickles.
No to cheese? Then it must be rosti; a huge hash-brown like mix of compounded fried potatoes. Of course, you will find plenty of everything else on offer too, especially Italian food and local mountain style meat dishes.
As for drinks; the local Valais white wines are some of the best in Europe. The regional reds are pretty damn fine too, as are the local Valais beers.
Where to Ride
Outside of the main roads and highways just about every road in the Valais has great road riding. The classic climbs to Grand St Bernard, Verbier and La Fouly are 'must rides'.
In the main valley the routes through the vineyards between Aigle and Sion are superb, and the route besides the Rhone makes for a great easy ride (www.veloland.ch).
For other major climbs head to Col des Mosses and Col de la Croix (from Aigle), the ski towns of Anzere and Crans Montana or the climbs to Evolene, Grimentz and Nendaz on the south side of the valley.
Check out www.velorando.ch for route details.
There are some superb cycling specific maps to the region too (Kummerly+Frey – Suisse being a very good map) which are available locally. Most local towns also have free route maps, and even marked road routes – it really is hard to go wrong.
If you're in Verbier it's also worth checking out www.bikeclubverbier.ch