Caleb Ewan unleashed an unbeatable burst of speed in the final 200 metres to claim his second stage win of the 2017 Santos Tour Down Under in the coastal town of Victor Harbor.
Reigning World Champion Peter Sagan was keen to win Hansgrohe Stage 3 for his Bora-Hansgrohe team sponsor but he couldn't match the sizzling speed of the Australian Champion.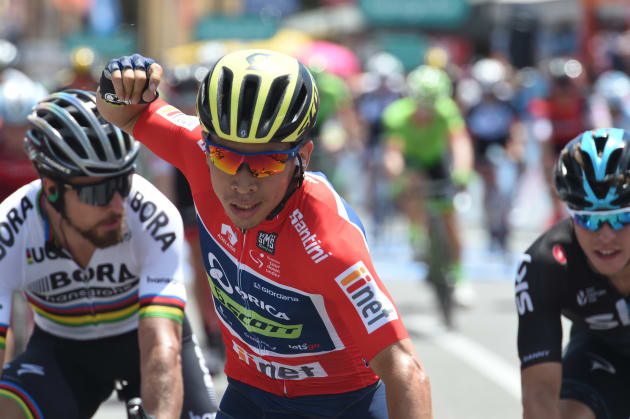 The ORICA-SCOTT star, who also took out Hostworks Stage 1 into Lyndoch on Tuesday, crossed the line at the end of 144 kilometres in a time of 3:24.45, a wheel clear of Sagan with Italy's Niccolo Bonifazio (Bahrain-Merida) close behind in third.
Ewan had to fight for position after he lost his way in the frenetic pace but once he found a route through the traffic he focussed on the finish line with laser precision.
"I lost a few of my team-mates in the downhill and it was a messy sprint," said Ewan. "Luke Durbridge took me back to the front with 3 or 4km to go and he positioned me perfectly in the end. I was jumping around the wheels and I'm delighted I made it again."
Following the stage Peter Sagan conceded he is not in the same form as Ewan.
"My legs are not bad (but) I am still not in the best shape and for that I am happy because the season is very long," he said. "You have to be positive and we still have time to get into the good shape. Caleb? He is riding at home and he was all (European) winter in Australia and he was training in good weather," explained Sagan who resumed training in December after a month off the bike for his annual holiday.
"I am happy with how I am racing now, and he (Ewan) is motivated to be racing here at home," said Sagan. "He is winning a lot, because he is the best here."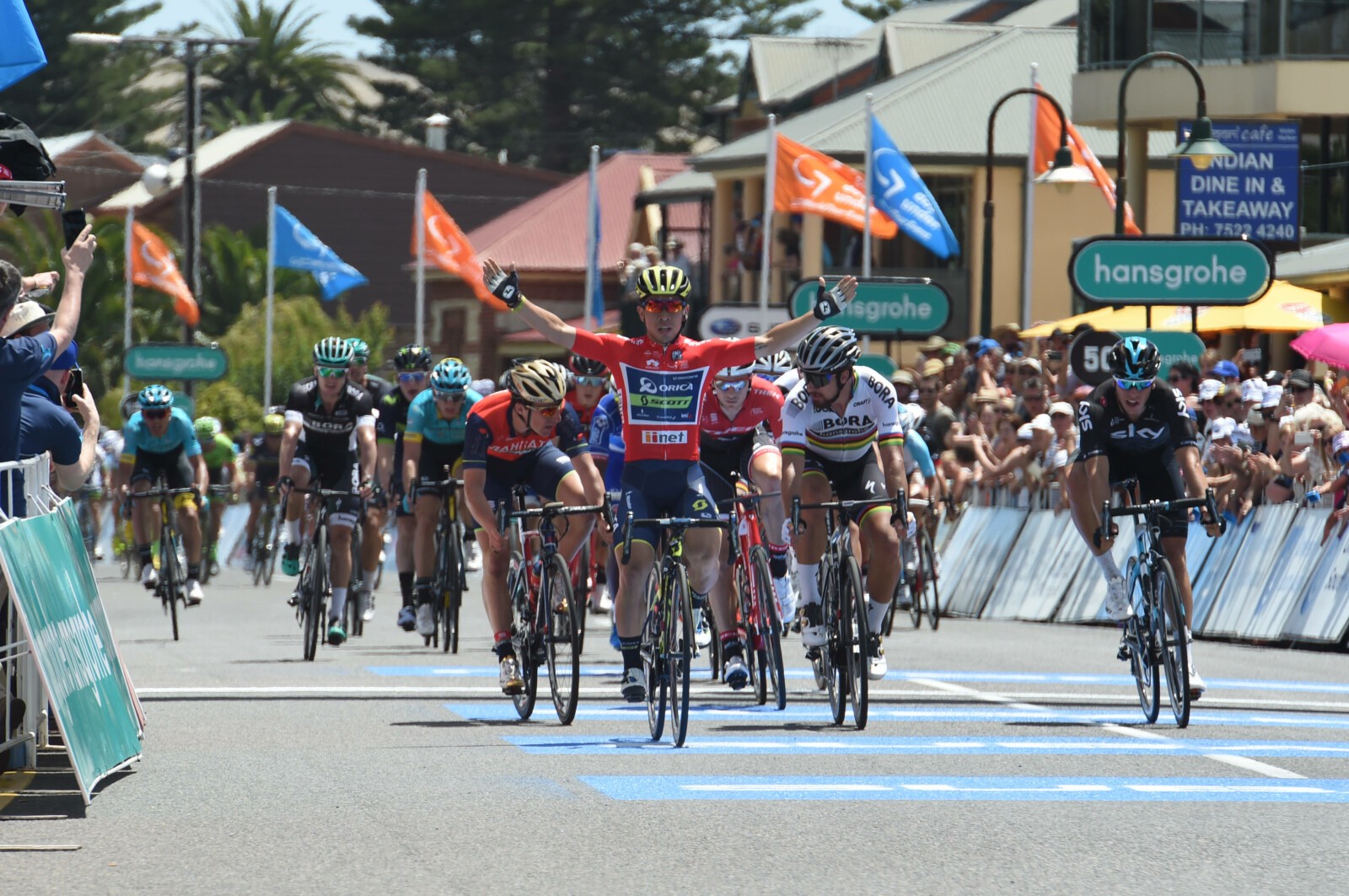 ORICA-SCOTT Team Director, Matt White, says that while Sagan is deservedly the World Champion, Ewan is doing a superb job.
"Caleb made a great sprint, with great teamwork," said White. "It was a very hectic sprint in the finale and the most promising thing is that in the last 600 metres, he read the sprint very, very well. He was on the seventh wheel and made up the last 400 metres by himself.
"Everyone knows Peter Sagan is the best rider in the world, and we also know we are in January, so we'll see what it means when we get back to Europe," said White. "But winning is winning, and that's what he's doing here."
Ewan's win was even more impressive coming after he spent yesterday's hilly stage being a helper to support the team's aspirations of an overall victory through his team mate Esteban Chaves.
"It took me quite a lot of time during the race to recover from the efforts I did for the team yesterday," said Ewan. "Then at the end we had to ride back a super strong breakaway and It was hard to catch the last guy up the road."
Richie Porte remains in the Santos Ochre Leader's jersey after his BMC Racing Team did their job to protect him throughout the day. Porte also remains leader of the Subaru King of the Mountain classification.