Long gone are the days of fitting heavy-duty tyres to a set of road rims for that weekend gravel grind, most major tyre manufacturers now have multiple gravel-specific options available.
And just like their cousins in the tyre world, wheel manufacturers are embracing the growing gravel market with gusto as they design and develop stronger, lighter and more efficient wheels for the rough stuff.

Easton offer two gravel-specific wheelsets—the EC90 and EC70AX we are testing today. Retaining many of the benefits of their higher-priced sibling, there's a minor weight penalty with the EC70 wheels, but at less than 50g, it's marginal.

Super wide with that 24mm internal cross measurement, these are purpose-designed for tyres of 35 to 50mm.

Once fitted, the tyres fill out to be rounder with a noticeably gentler and wider lateral curve. Width and 'width as measured' can be two very different things when it comes to tyres. It's often forgotten but that inner-rim measurement is critical and can make a significant difference to the overall ride and handling of the bike.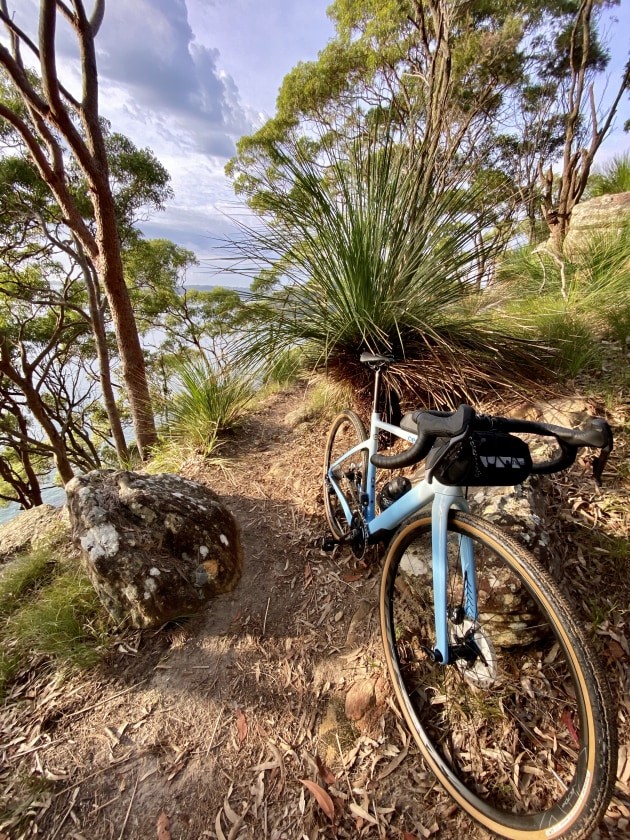 We initially used the Easton EX70 wheels with 35mm Panaracer GravelKing tyres. Upon first inspection, I asked the Easton rep if the tyres were in fact bigger, as that's how they appeared. "No, just 35's he replied," his knowing smile speaking volumes. A lighter tyre, that sits wider and offers all the advantages of a 35—that's got to be a good thing.
Later in the review process, and at around the same time, greater Sydney started to receive record rainfall, we thought it timely to test even wider tyres on the Eastons. In a stroke of good luck a package had just arrived from Michelin, inside was a pair of their 40mm Power Gravel tyres along with Orange tubeless sealant for review.
After several memorable rides on the trusty Panaracers, we switched over the Michelins for what was to be a series of wet weather outings. The tyres were fitted tubeless, and once installed filled out the fork and rear triangle fully and beautifully. The 40s measured at around 42mm wide (at 60psi), and again, on the 24mm wide rims, featured that wider, slightly lower and flatter shape.
To the local trails and the Easton carbon wheels felt fast. Spend some time on a variety of gravel bikes and 9 times out of 10 it will be the wheels that make the most significant difference to the overall feel, prowess and performance. While the test rig—a Cervelo Aspero—was no slouch, these wheels certainly gave the bike 'the edge' over the other high-end, purpose-designed gravel bike we were also testing at the time.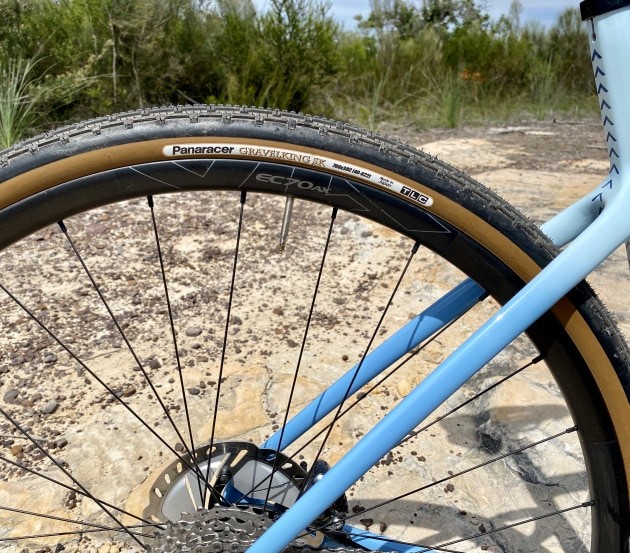 The wheels are quick to accelerate and provide a stiff, comfortable and direct feel. By about noon on the first day I was sold and concluded that this was indeed a premium mixed-surface wheelset.
Shallow depth, solid control
The EC70s have a depth of just 21mm which means they won't be affected by crosswinds. Looks and side profile are important factors—well they are to me. I've always steered toward gravel wheels with a deeper rim depth, and that has mainly been for aesthetics—you've got to be proud of what you're riding, right!
While 21mm is not exactly deep, the shaping, width and overall profile of the EC70 gives it a bold, capable and stoic stance. Couple this with tyres from 35 to a whopping 50mm, and the wheelset is built tough, looks great and ready for some serious riding.
Surprisingly light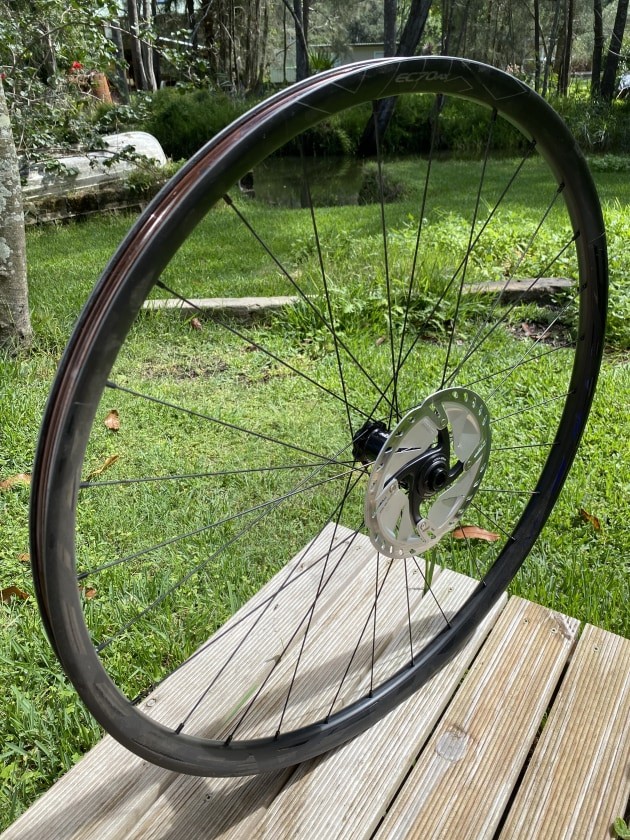 Off the bike and without a tyre fitted you'd think this wheel was different to the one described above. Surprisingly light in weight, the front wheel weighs in at just over 700g. Spin it on its hubs and you'd swear you were looking at a decent road-specific offering. Fit the tyres, ride hard down a local fire trail, and you can't help but be impressed with the performance considering the weight we are talking.
…The finish resembles that of brushed carbon, with the wheels complimenting the bike and adding to the 'ready for anything' vibe oozed by the Aspero…
Tubeless-ready from the factory, tape is pre-installed and the wheelset can be set up with or without tubes and we tested them in both configurations. Tubeless tyres popped positively into position, with no issues fitting an removing three brands of tyres—Schwalbe 35mm, Michelin 40mm and Panaracer 32mm—during the test period.
Overall the wheelset weighed in at a very respectable 1515g.
Smooth-rolling second-tier hubs
The carbon rims are connected to the companies X5CL hub via 28 3x double-butted Sapim straight-pull spokes. Easton offer end caps and axle components for all major industry standards, so compatibility won't be an issue. The X5CL hub rolled smooth and emitted a pleasant freewheeling sound. This was easy to ride with and not overly aggressive or overbearing.
The finish is subtle in understated black with stylised 'less is more' inspired Easton graphics. The finish resembles that of brushed carbon, with the wheels complementing the bike and adding to the 'ready for anything' vibe oozed by the Aspero.
Overall Findings
Wide, at 24mm internal, the rims are optimized for gravel tires 35mm and larger—but don't let that put you off riding them on the road. Several companies offer high-end road-specific 35mm tyres— Challenge being notable standouts. Fit tyres such as these to the EC70AX rims and you'll profit from the versatility of this wheelset.
Wider internals mean less ballooning and more overall confidence, particularly when riding bigger gravel tyres. That increased stance improves control and the feel between you, your bike and the ground.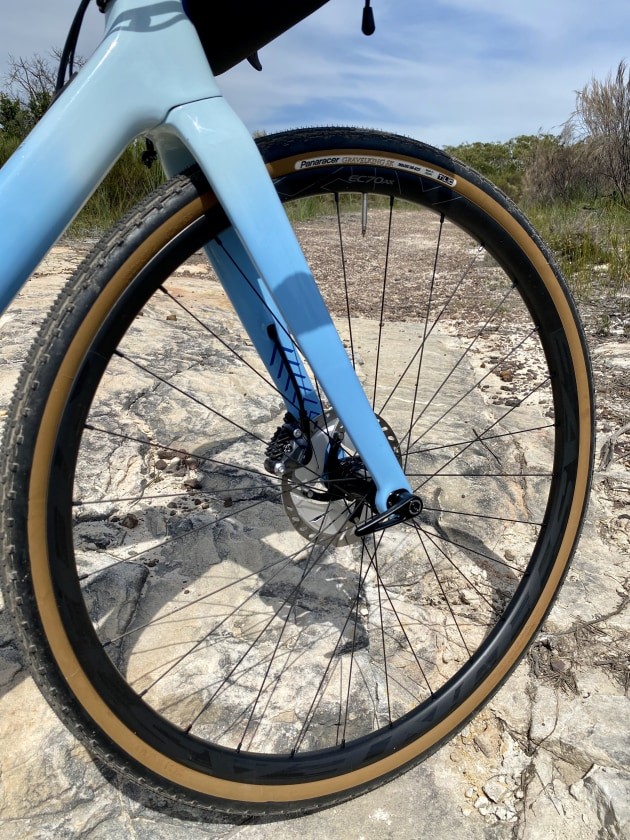 Easton support several gravel teams who have extensively tested the EX70 in events such as the legendary Dirty Kanza. Prototype wheels were in fact raced at DK200, with Amity Rockwell taking the DK Queen title and Amanda Nauman finishing 6th. Teams also raced the wheels at the 106 mile 2019 Lost and Found gravel event with the EC70AXs featuring in the Top 10.
Sadly our testing didn't involve such epics as the Kanza, but if the performance at the nearby network of fire trails and indeed Sydney's West Head Road is anything to go by, this is a standout and surprisingly versatile wheelset.
The wheelset is available direct from Australian distributors Sola Sport for $2124. For further details contact (02) 8379 0600 or info@solasport.com.au
Specifications
Wheelset weight: 1515g
Finish: Gloss Carbon
Type: Tubeless Ready Carbon Clincher
Rim type: Carbon
Rim Depth: 21mm
Internal width: 24mm
External width: 28mm
Spokes: Sapim Straight Pull
Spoke pattern: 28 / 3X
Nipple type: DT External Alloy
Front / Rear Hub: Easton Centre Lock 15X100/QR OR 12X100 / 12X142/QR
Bearings: Sealed Cartridge
RRP: Front $939, Rear $1185, Pair $2124