Standing back to inspect the Propel after building I think to myself, "Blimey, this thing looks fast". Angular and menacing, from any perspective its aggressive stance and aero tube profiles exude a potent sense of speed bordering on arrogance.
The mere presence of the mismatched rims infers a level of advanced knowledge and high performance experience, while the stem and its aerodynamic cowling looks like some kind of weapon.
'OverDrive 2' Technology
The cowling conceals Giant's OverDrive2 technology with its oversized headset bearings, and it's modular rubber rings and spring loaded flaps hide those first few loops of brake hoses and gears cables most internally cabled bikes leave exposed. Even the Di2 junction box is gone (at last!) from beneath the stem. 

The charging cable port has been relocated to the end of the handlebar in the right 
hand drop.
The Contact SLR aero handlebar is designed to cut weight and increase speed but it makes mounting a speedo more difficult…though Giant does have an option to get you sorted. The bars have been beefed up and while they feel rock solid when reefing on them in a sprint, they also offer their very comfortable flat tops, great for those (probably rare) times when you are just cruising.
There's a rear wheel cutaway seat tube for more wind cheating, above a massive, 
boxy bottom bracket junction that promises efficiency 
and stiffness.
'It's clear this bike is all 
about speed.'
First rides on the Propel invoke curious questions, envious glances and the usual 'tough job' comments from the bunch.
The Propel of course is more a sprinter, time trialler or rouleur oriented machine than a feathery climber. Despite its muscular frame there's no substantial baggage to slow you down. This M/L bike weighs just 8kg so isn't overly compromised on climbs…the wheel choice is possibly more of an impediment in this regard. It has been designed for converting watts into speed and this I found makes it great fun to ride.
The Need For Speed
With a short 165mm headtube (M/L) it'll coax you into a more aero riding position which in itself will add a couple of kph to your average speed. And it's this sensation of speed is so satisfying, almost addictive, and increasingly I found myself looking forward to more time on the road.
On one ride I found myself riding directly towards a massive storm front, the clouds of which seem about to engulf my turnaround point. I powered onward hoping to make the turn before being drenched. Again… even into a growing headwind this sensation of speed is inspiring me, motivating me to push harder. I made the turn before the rain, then put up the spinnaker and run for home, now with a decent tailwind and a definite feeling of elation.
Business Up Front, Party Out Back
It's in situations like this where the SLR aero wheelset comes to the fore. The 42mm front, 65mm rear will help you attain a good personal top speed through a mix of aerodynamic efficiency and flywheel effect, the latter factor however, also meaning they're not the most snappy off the line.
However compared to a set of 55mm wheels (front and rear) that I have also been riding, they are definitely less affected by crosswinds…the lower profile front rim offering less surface area to buffeting gusts makes for a more stable steering experience.
Factory Tubeless
Giant has fitted its Gavia Race 1 tubeless tyres to the Propel. They are a good match size wise for the SLR 1 wheelset, though perhaps not the toughest rubber. While it was an (admittedly confidence-inspiring) tight fit, I managed to remove and reinstall the rear tyre with a tube without levers when a small gash failed to seal. The upside of the soft Gavia tyres is they are sticky and provide good grip while cornering and braking. Leaning the Propel into corners in my local test descent was something of a revelation. I attributed this increased level of confidence and speed to the combination of sublime braking, and the Propel's exceptionally stiff cohort of frame, fork, bars and wheels, along with the sticky Gavia tyres.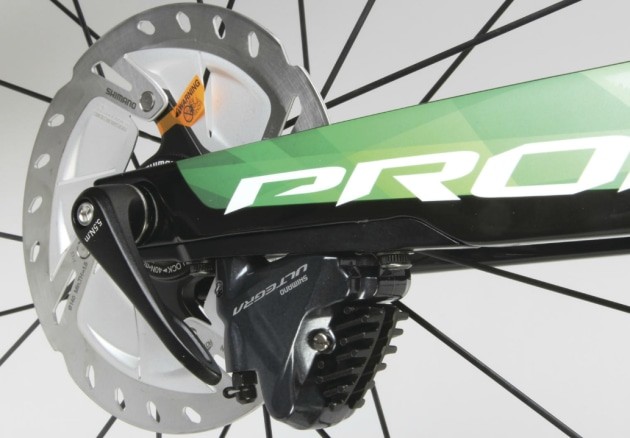 The braking is worth some more discussion. Ten years ago I opted for a 200mm front rotor on my mountain bike after some high speed descending resulted in hair raising brake fade (and resulting reduced braking capacity) with the stock 180mm rotors. It has been quite amazing to witness the development of road disc brake equipment over the last few years and ride the latest Shimano 140mm rotors. Despite longer, faster descents than my scary MTB ride, they continued to haul me to a stop, silently, with just a single finger and impressive modulation, despite their minimalist proportions.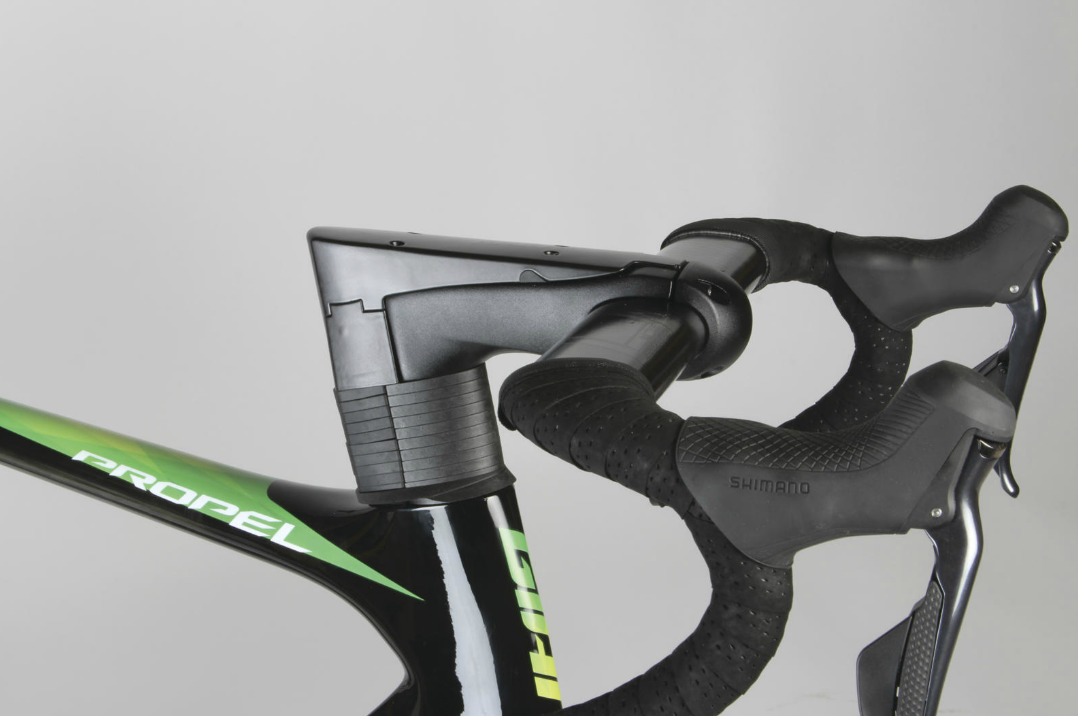 The team at Giant should be well pleased with the Propel. Incorporating a stiff aerodynamic frame, electronic gearing, flat mount hydraulic disc brakes, their Ridesense speed and cadence sensor, fully hidden cables and hoses, through-axles, and a raft of aerodynamic features including in-house designed tubeless wheels and tyres, the Propel is an exceptional machine. It's an exciting fun bike to ride that raises the bar for speed, performance and value.
Summing Up
Quality
On top of a well-finished, pleasingly stiff and aerodynamic frame Giant has developed a suite of credible components from saddle to stem and not least high performing wheels.
Performance
The Propel is a fast machine ideal for the powerful rider or rouleur looking to convert every watt and give none away to the wind. Not outdone in the cornering stakes either.
Value
By keeping much of the design and build of this bike in house…which is to say all of it bar the groupset, and employing years of experience in the the design and production of those parts, in the Propel, Giant offers a very strong value proposition.
Overall
I am very impressed with this bike and I enjoyed my time with it immensely. It performs so well on flat and rolling terrain, climbs without complaint and descends exceptionally well.
Sizes: XS, S, M, M/L, L, XL
Colours: Carbon Smoke/Green/White
Frame: Advanced-grade composite
Fork: Advanced-grade composite, Full-composite OverDrive 2 steerer
Handlebar: Giant Contact SLR Aero, composite, 31.8mm
Stem: Giant Contact SL Aero, alloy
Seatpost: Giant Vector composite
Saddle: Giant Contact SL Forward
Shifters: Shimano Ultegra Di2 Hydraulic
Front Derailleur: Shimano Ultegra Di2
Rear Derailleur: Shimano Ultegra Di2
Brakes: Shimano Ultegra Di2, hydraulic disc, 140mm
Brake Levers: Shimano Ultegra Di2, hydraulic disc
Cassette: Shimano Ultegra 11×28, 11-Speed
Chain: KMC X11EL-1
Crankset: Shimano Ultegra, 36/52
Bottom Bracket: Shimano, Press Fit
Rims: Giant SLR 1, [F] 42mm, [R] 65mm deep, 23mm wide, Tubeless, Full composite
Tyres: Giant Gavia Race 1 Tubeless, 700×25, Folding
Extras: Ride Sense ANT+/Bluetooth