Irwin wheels – they're not exactly a household name when it comes to road wheels but this small Taiwanese company, established about 25 years ago, firmly places focus on quality assurance and what I would describe as no-frills performance.
By their own admission, they don't spend much on advertising or sponsorship deals and claim to use these savings to deliver quality, high value wheels. With this in mind, it was intriguing to investigate how these wheels would perform. Would Irwin, or lose? (sorry!)
First Impressions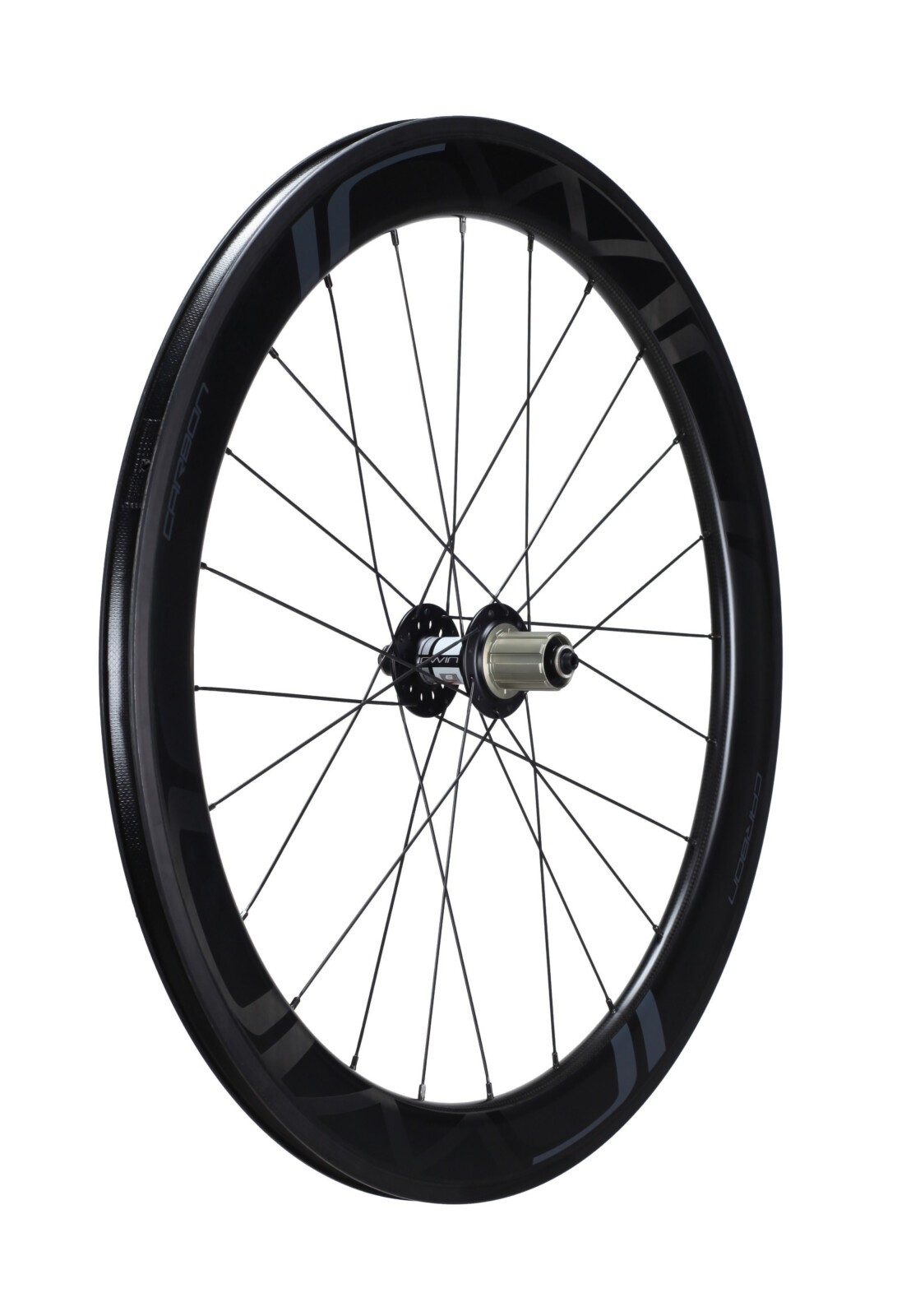 On test here is their 58mm clincher (tubeless ready) carbon wheelset. First impressions of the wheels were good. Out of the box they look and feel the part; 58mm deep and an impressive 26mm wide. These specs match with the current industry trend of wide rims. In contrast to conventional aerodynamic theory (which states that drag is directly proportional to the frontal area of an object), the current understanding of the air flow around rims suggest that a 'wider' rim (say, 26mm) actually reduces the drag coefficient and as such will be faster than a similar profile rim with a more traditional width of, say 21mm.
"The sense of speed and efficiency was tangible, particularly once the speeds crept over 40kph."
Additionally this wider profile also creates room for a beneficial broadening of the way the tyre sits in the rim, reducing rolling resistance and improving handling. This is almost entirely good news; the main downside being that a wider rim requires more material, which adds weight. The 58mm wheelset weighs in at 1755g. This is not a super lightweight figure but is comparable to its competitors. The Zipp 404 Firecrest wheelset (58mm deep, 24.7mm wide) is similar at 1690g.
The Irwin wheels use Sapim CX-Ray spokes; 20 on the front and 24 on the rear. These spokes are laced into in house designed, machined hubs. The internals of these hubs are ceramic sealed bearings. These hubs were impressive, and the wheels always felt like they rolled along effortlessly. The six pawl, 60 ratchet freehub mechanism was loud but effective. I quite liked the volume of the freehub, but it is not everyone's cup of tea. I think it is much like a loud exhaust on a modified car, half of the purpose is just to make sure others hear it.
Braking
Much of Irwin's research and development process has been around producing a carbon fibre composite braking surface that is stable under heavy braking conditions. Composites can break down (no pun intended) if heated past a critical point. Irwin has sought to create a composite that dissipates heat effectively and maintains structural integrity under heavy or prolonged braking.
While this review couldn't really assess the validity of the braking performance under these extreme limits, the result certainly seems that the rims provide smooth and relatively powerful braking for a carbon surface. I experienced a couple of unexpected rear lock ups but this was due to the tyre compound not the braking modulation.
Choosing Rubber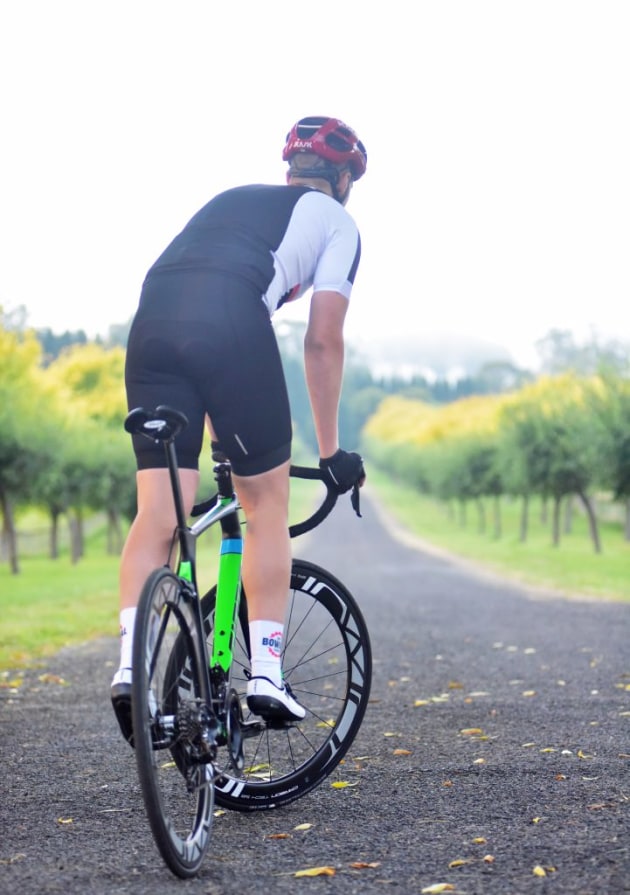 This segues us into looking at the tyres, for this review we fitted tubeless Vittoria Corsa tyres.
I have stated in previous reviews my scepticism that the benefits of tubeless road tyres are able to outweigh the practical drawbacks. This test largely confirmed my thoughts. I had some difficulty getting the tyres to hold pressure at first, but adding extra sealant; about 25mm in each tyre, resolved the problem. With this initial hurdle overcome, the majority of their part in the test was very positive.
The tubeless tyres create a lovely sense of connectedness with the road that you can't really emulate with clincher/tube setups. There were no pressure holding problems or other issues until I got a puncture on a wet ride during the final week of testing. The sealant successfully sealed the puncture enough to get me home, but I could not get it to hold for pressures above about 75psi, even after sitting sealed for over 24 hours at a lower pressure.
This would be repairable internally with a patch, but that requires a lot of disassembly, cleaning and re-sealing. For some, the advantages might outweigh these issues, but for me this experience was confirmation that I'll be sticking with regular clinchers.
Riding the Wheels
Getting back to the performance of the wheels themselves. The 58mm depth combined with the fast hubs made rolling on these wheels hugely enjoyable. The sense of speed and efficiency was tangible, particularly once the speeds crept over 40kph. The wide mounting of the tyres added to the positive road feel.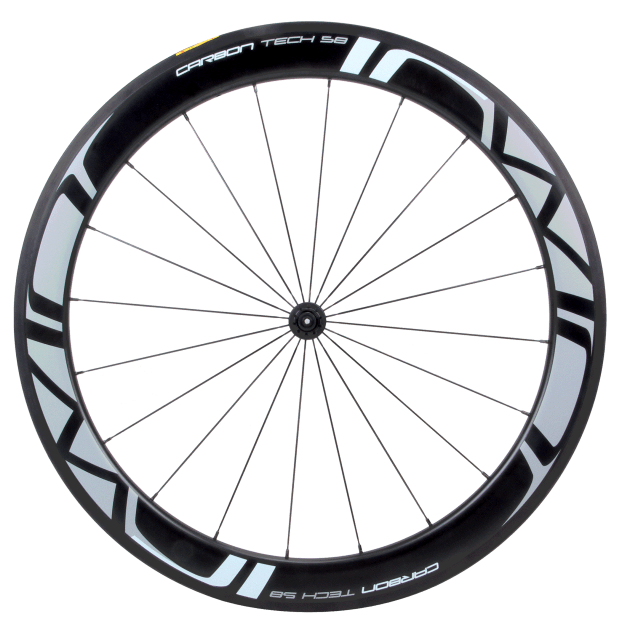 I was particularly impressed with the way the deep profile remained steady during cross winds. I have one particular descent close to where I live which is prone to lateral gusts of wind which can feel particularly unnerving. The Irwin wheels, however, were confidence inspiring on this road however, feeling stable, fast and assured. This anecdotal evidence matches with wind tunnel testing Irwin has performed comparing their 58mm rims with a leading brand with of same depth. While all in-house testing has to be taken with a grain of salt, the results impressively showed that the Irwin wheels were faster at every yaw angle.
This result is consistent with my overall impression of these wheels, they are a fast and reliable wheelset across a range of conditions. With a list price on the wheels of $2295 (currently on sale on the Irwin site for $1995), and a two year warranty, these wheels represent a reasonably priced alternative to the more well known brands.
Irwin's claims of high quality and high value certainly seem valid.