It might only be a touch over 3 kilometres in length but five repeats of the iconic ascent of the famous Arthurs Seat on Victoria's Mornington Peninsula, is expected to be the stage that decides the winner of next year's Jayco Herald Sun Tour, the 66th edition of the legendary race.
The scenic rise from Dromana returns to the tour schedule and will include public access via the new Arthurs Seat Eagle, a state-of-the-art gondola flying over the state forest to the highest point of the Peninsula.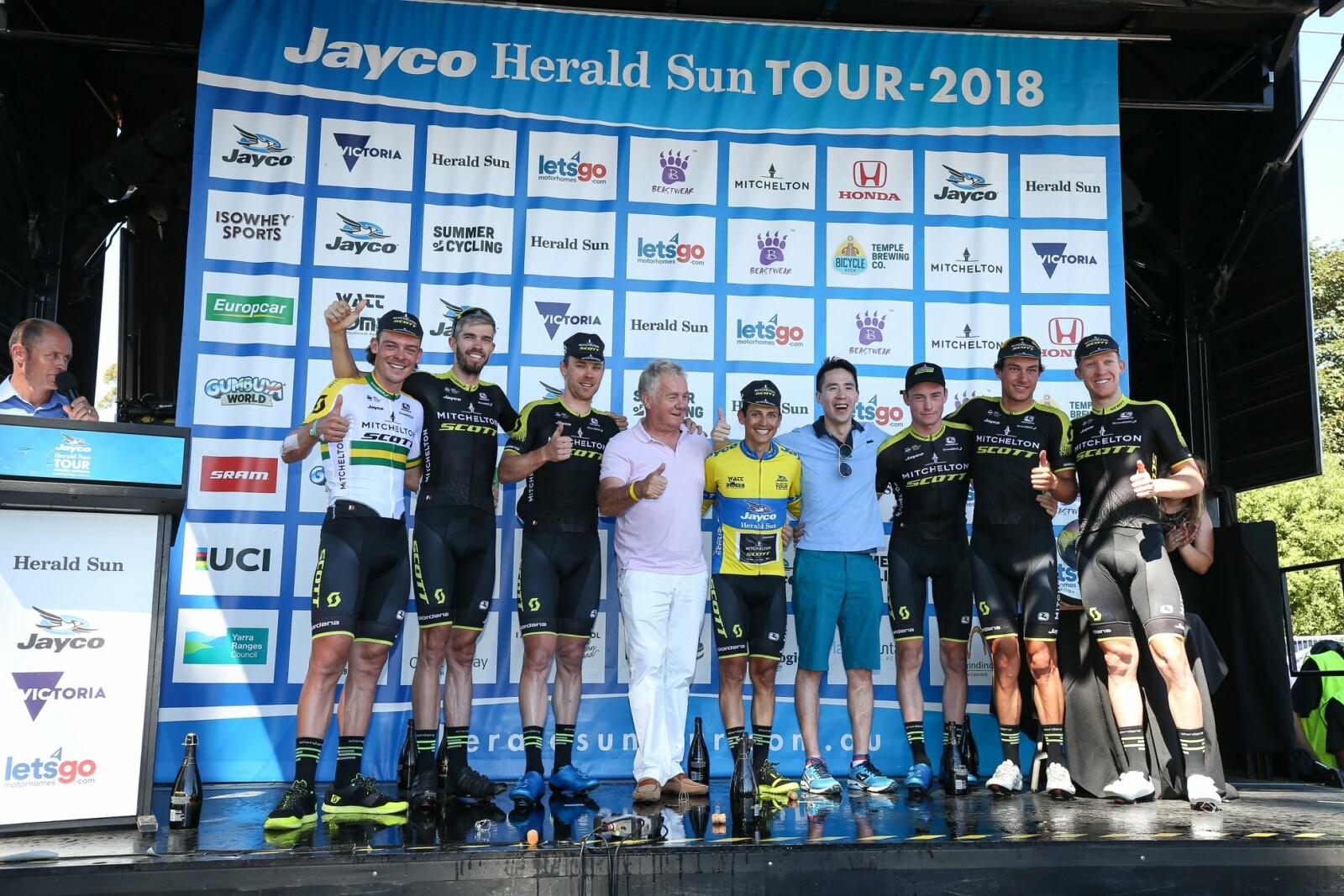 New Race Director and 2000 Olympic Gold medalist Scott McGrory has described the race from Cape Schank to Arthurs Seat as the 'Queen Stage' and is confident it will test the best.
"This particular stage will include the riders travelling five times up Arthurs Seat, on previous occasions it has been three times which has been tough enough," he said. "But five times, well the riders are going to be shocked when they hear that…and certainly more shocked when they are riding up it."
'An Amazing Finish For The Race'
"It certainly does give an amazing finish for the race, building momentum towards the end, the climbers will come out to play – and incorporating the Eagle gondola it is a fantastic thing to do, it will be great for the public with the roads covered with spectators, plenty of activity on the hairpin corners and a real festival of cycling at Arthurs Seat to showcase the best riders in the world."
Two of Australia's best, Steele Von Hoff (Bennelong SwissWellness) and Brenton Jones (Delko Marseille Provence KTM) – who have both been sidelined with crash related injuries – recently scoped out the climb.
Von Hoff said nearly every Jayco Herald Sun Tour he has been a part of has come up here (to Arthurs Seat).
"I did really miss this climb last year," he said. "All my friends and family can come around here, the scenery is amazing, especially now that the Eagle chairlift is in – if you can jump on that and go down there you get a brilliant view down around the bay. It's just a fantastic spot to hold a race, it's my training roads so I have plenty of local knowledge too I grew up only 20 minutes away…it's going to be really cool to be back here, and people can run alongside you, it will be awesome."
Brenton Jones Primed
Jones is leading a discussion to have his French team get a start here, or potentially he could form part of the national line up.
"(I'm) really looking forward to it, Arthurs Seat is always a dramatic stage and I think it will be the deciding stage for the Jayco Herald Sun Tour for 2019 – and for me it will be a great opportunity to support some guys in my team."
McGrory Fills Trevorrow's Shoes
McGrory has taken over the director's position from long time event patriarch and three-time Sun-Tour winner John Trevorrow, who steps into an overall Tour General Manager's role.
"I love this place, and we've always had the biggest crowds and it's almost like a mini Tour de France here, I'm very excited to be back," he said.
"It's an amazing new chairlift – I can remember a long time back to the old days when you were basically sitting on a wooden bench – but five times up here means this is going to be a seriously hard stage"
Trevorrow's work has been enormous in the ongoing success of the tour, fostering local champions and bringing the likes of Tour de France title holders Bradley Wiggins and Chris Froome, along with elite WorldTour teams to our shores.
He remains as Race Director of the blossoming Women's Herald Sun Tour, and says the time was right for a generational change to the leadership of Australia's oldest stage race.
"I'm excited to be handing over the Race Director's role to Scotty," he said. "And I think the soon to be unveiled course for the two-day women's event will see one of the toughest women's races we have seen in Australia."
McGrory will combine the new role with his Race Directorship of the Road Nationals in January.
"John did a great job for so many years leading the race," he said. "For me it's very exciting as this race has the most history in Australian cycling and is the oldest of the tours – and I am actually a little nervous given the amount of responsibility in the role, as part of one of the most prestigious events in our sport so I am hoping I can fill JT's shoes"
Trevorrow, a 1972 Olympian, could see the lighter side of the Olympic-level handover.
"We have some great history Scott and I," he said. "We both rode Commonwealth Games and Olympics, although he won a Gold Medal and I didn't do that, but I won three Sun-Tours so there you go!"
"I certainly understand how tough and how prestigious this race is," he continued. "And for the domestic scene here in Australia it's a race for the young riders to really show their wares and shine as we have seen in the past – and for the internationals it is no easy win for them – if they come to Australia to ride the Jayco Herald Sun Tour then they have to be really fit and firing to perform."
The brutal race up Arthurs Seat is the penultimate stage of the 2019 tour and will start at Cape Schanck on the morning of Saturday 2nd February before finishing at the summit.