Road testing Bianchi's premium endurance offering on the nation's highest roads.
Born from the natural desire for more freedom, fewer walls, and to test bikes in the real world conditions they were designed for, Bicycling Australia have been ticking off a number of dream Aussie must-ride destinations over the past year or so.
There was the Focus Paralane in and around outback Broken Hill, the 3T Exploro on the varying road and gravel surfaces near Adelaide, and the Bianchi AllRoad adventure bike tested near Charlotte Pass as the snow was falling.
It's a successful, popular and (ahem) fun formula, so we're sticking to it. With that in mind, it was mid-October when we heard the latest incarnation of another Bianchi – the revered Infinito CV Disc – had just arrived in the country.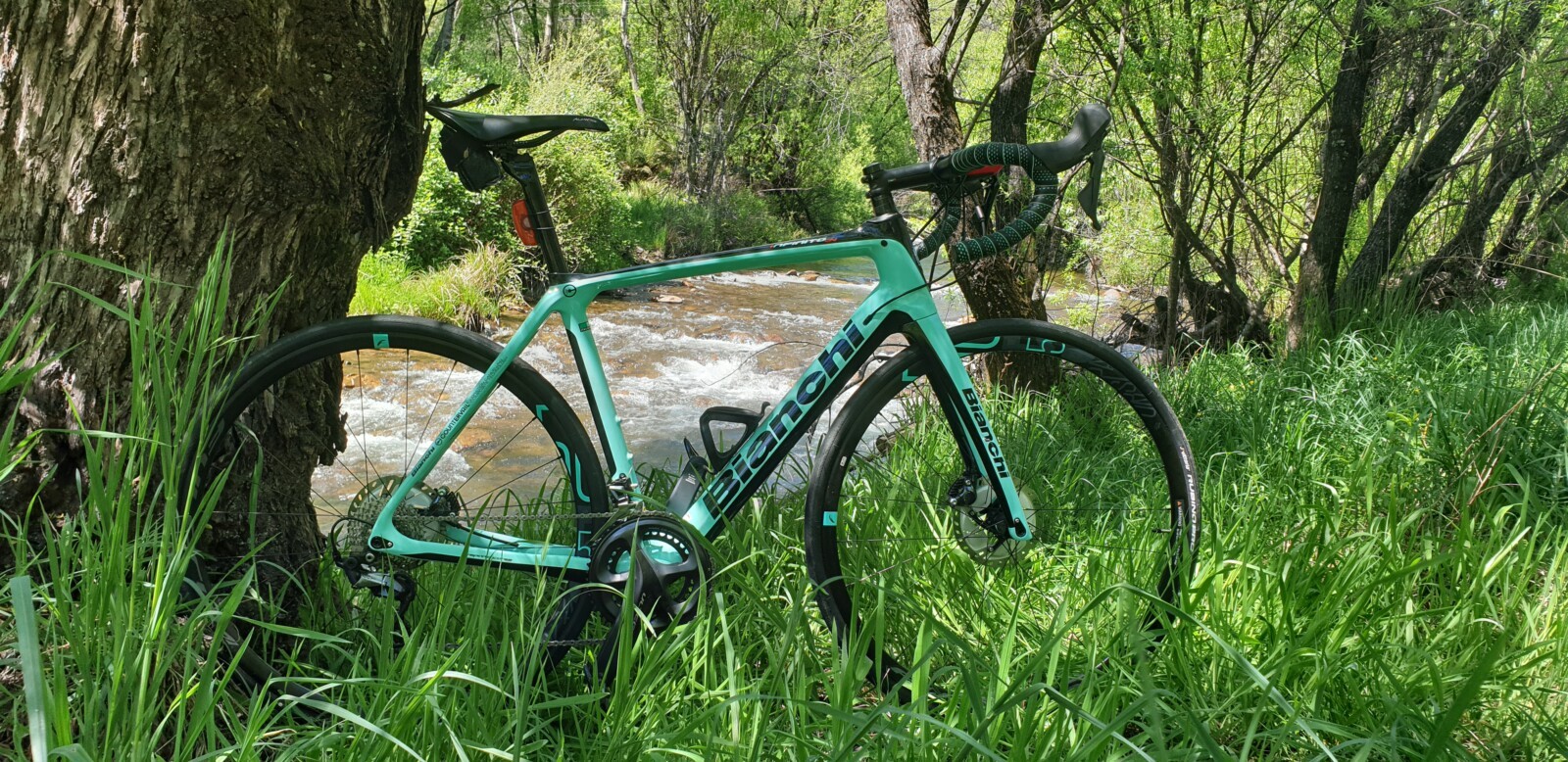 "An endurance bike that shares many attributes of its XR3 and XR4 siblings," we thought. "And, given the single-finger stopping power of discs, where's Australia's number one region for long days in the saddle and seemingly endless European-style descents?"
A few days later the van was humming along the Hume Highway and heading for the dream destination of Bright.
Flicking through a well-worn paperback copy of the Velominati's Rules at the Bright Brewery that night, sipping a locally brewed bike-themed beer, and listening to that day's war stories from tired and recovering riders, we were becoming well and truly primed for a maiden ride on the new Infinito.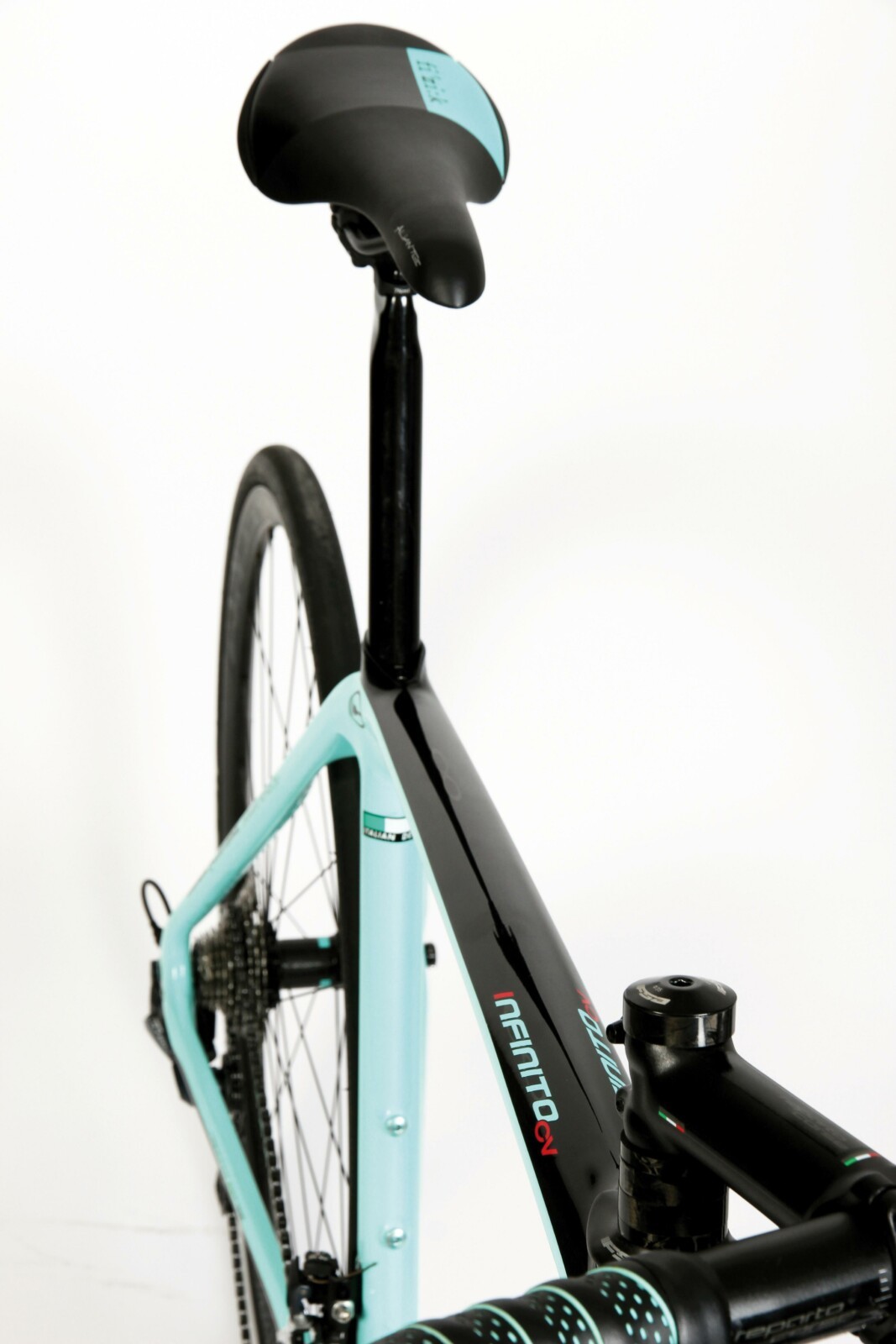 Dream Climb From Harrietville to Hotham
Heading out of town and toward Harrietville, the destination for the day was Mount Hotham. Early in the 120km return ride, still getting the feel of the bike, and not having ridden a CV Bianchi for some time, the Countervail technology felt like a return visit from a long-lost friend.
Designed for comfort during long days in the saddle, the Countervail technology compliments the endurance geometry of this bike by combining carbon with a viscoelastic resin that's said to cancel 80% of vibration.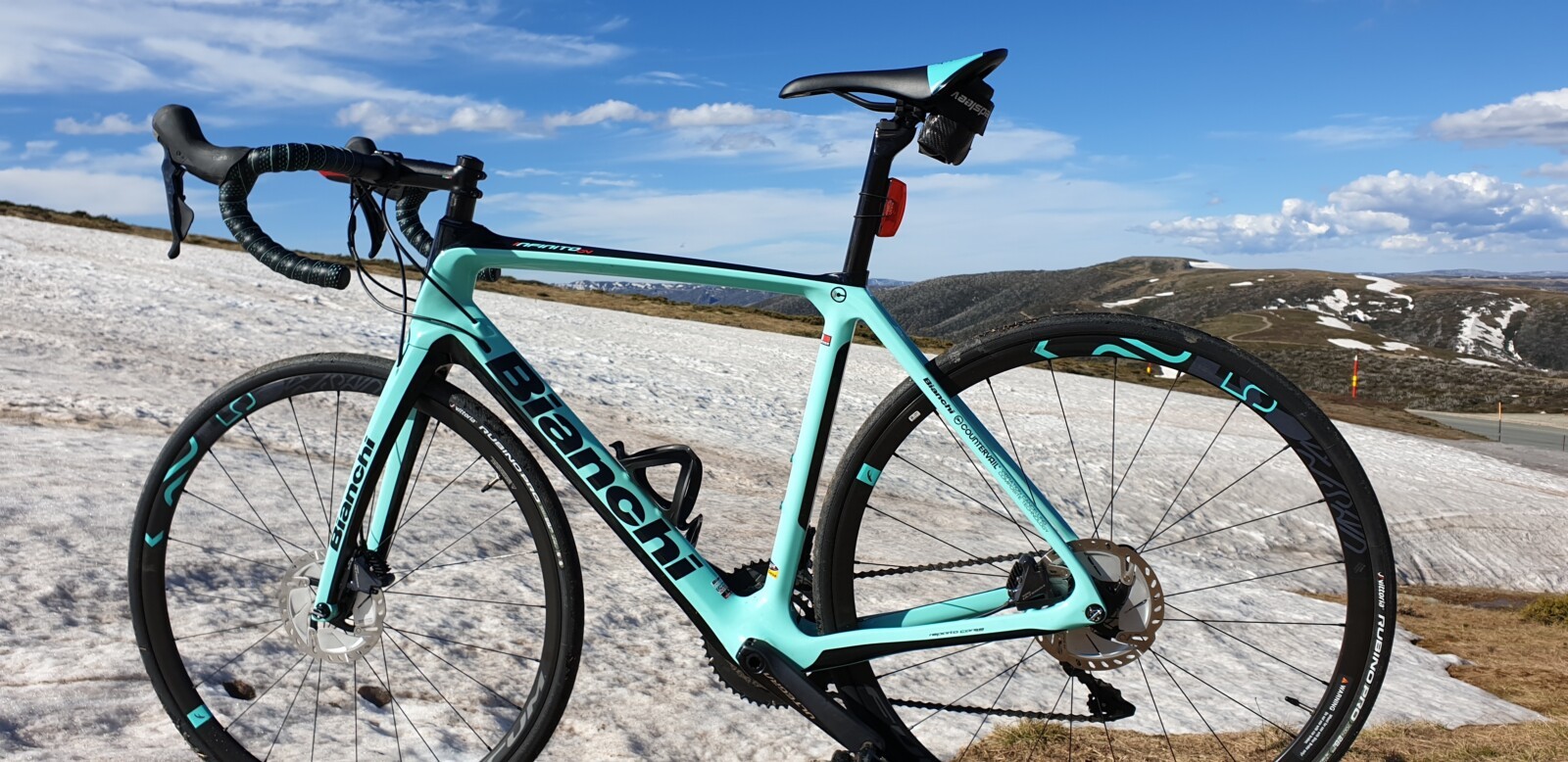 Less Fatigue, 
More Comfort
As we know, vibration is one of the factors that leads to fatigue, so combining this 'vibration cancelling composite technology' to a proven endurance platform is a no-brainer.
With this day's ride – around 25km of very gradual climbing, followed by roughly 10km of serious ascent, another 10km of false flat, followed by a final brutal uphill 10km to the highest through road on the continent – the Infinito CV felt absolutely at home.
28mm Tyres With 
Room For More
With 28mm Vittoria Corsa tyres, and the bike weighing in at just under 8kg, on paper this is not the lightest specialist climbing bike. That said, and considering the big picture of spending a day aboard this steed, I found the Infinito CV to be a solid, sure-footed, stable and a supremely comfortable bike to ride.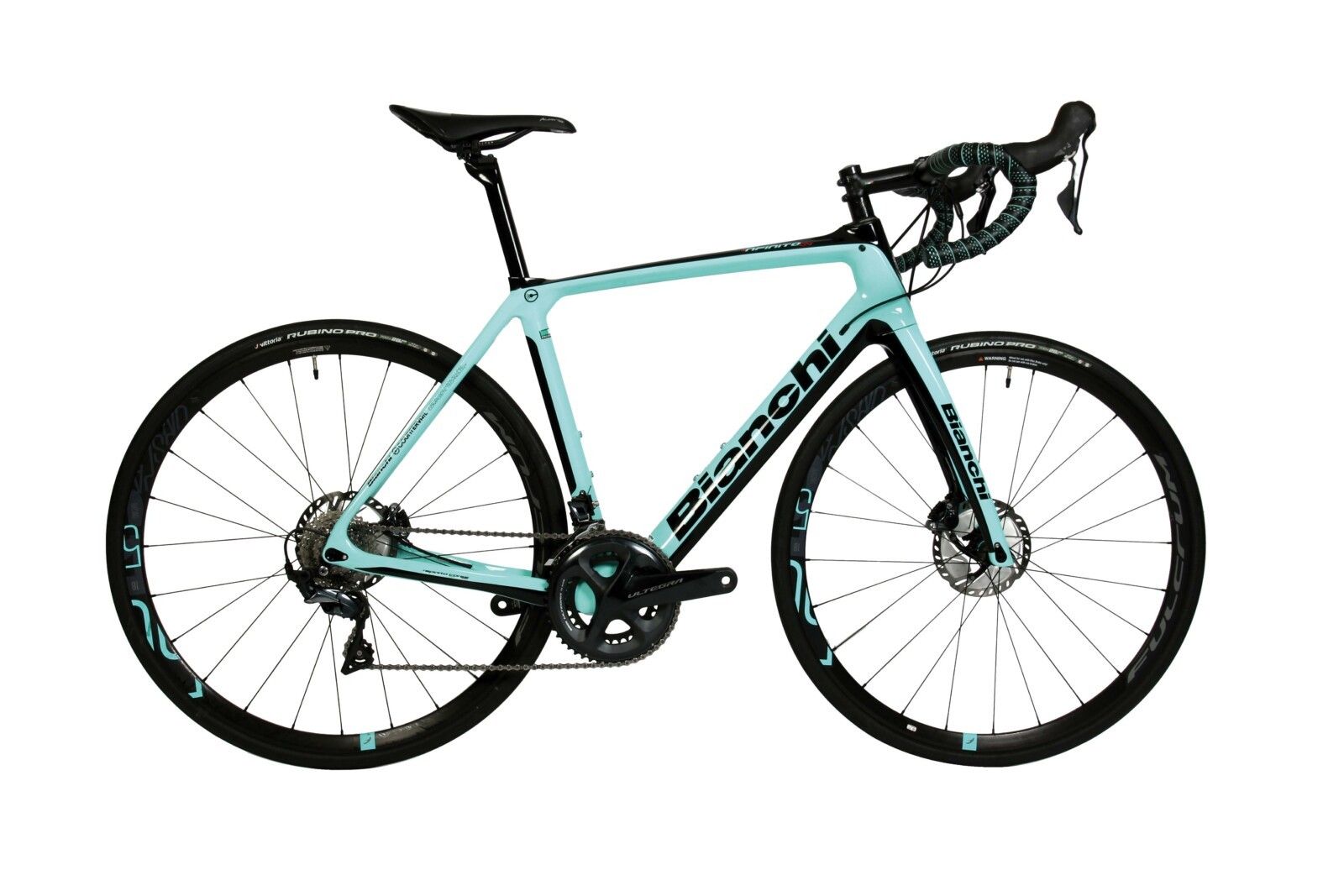 Fit and Finish
Factory fitted with Bianchi's Reparto Corse 420mm wide alloy bars, and a Fizik saddle featuring a dash of unmissable celeste flash, I found the major contact points to be practical and perfectly fit for purpose.
That said, and taking tips from that aforementioned copy of The Rules, these are only two areas of this bike where aesthetics could be considerably improved. Slightly narrower flat topped carbon bars would top my list, with a lower profile 'less is more' style high-quality saddle also on the order.
An endurance bike that shares many attributes of its XR3 and XR4 siblings.
Endurance 
At 1,850 Metres
A talking point and conversation starter wherever it was taken, a local outside the general store admired the bike while explaining the popularity of the region amongst summertime cyclists … and perils of year-round life above 1,800m in Australia.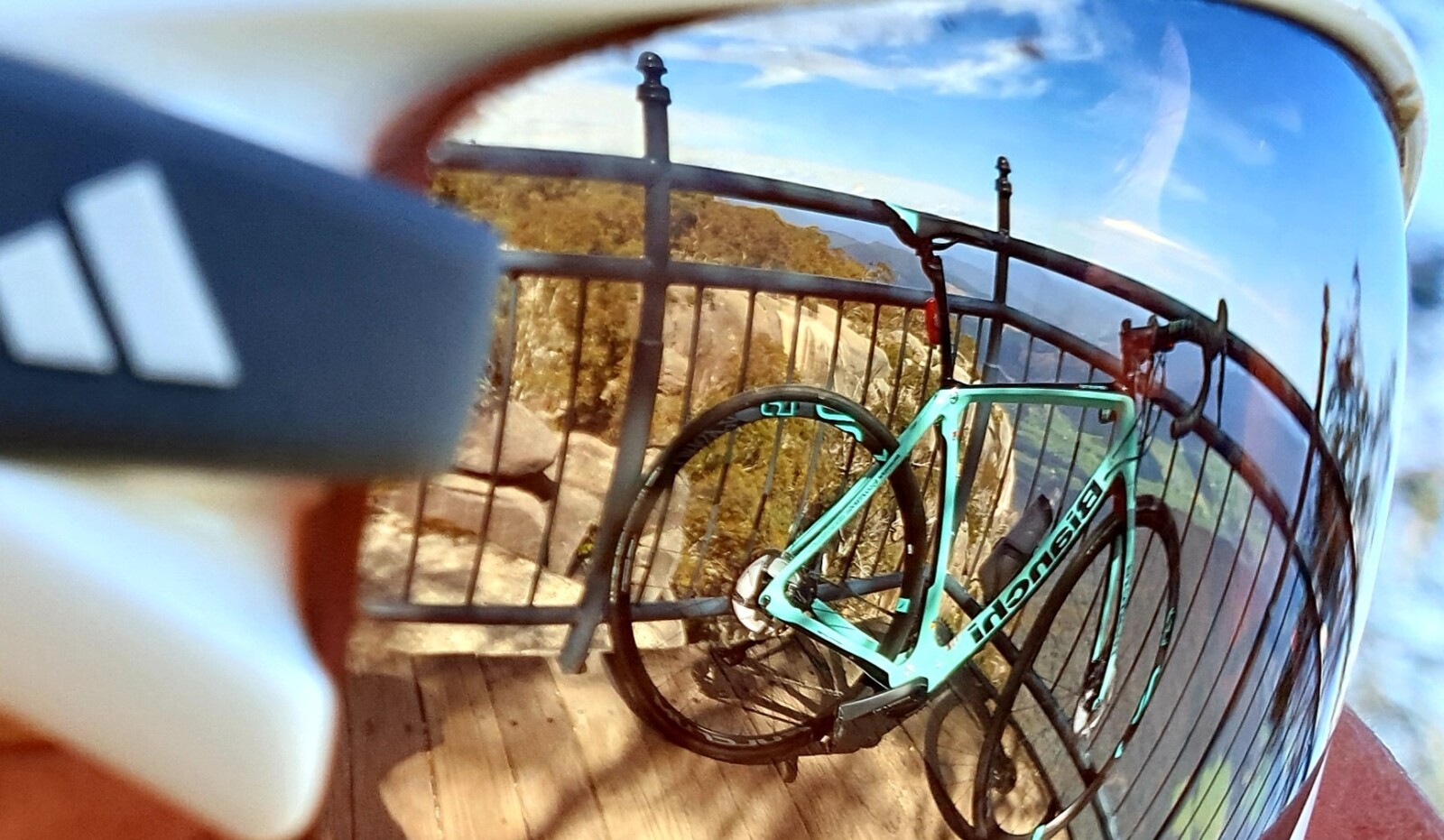 Infinito Eats Up Infinite Descent
It was late in the day, sections of the road were in shadow, single figure temperatures were starting to bite, and the road was all but empty. What lay ahead was close to 30km of snaking, relatively smooth and completely traffic-free descending. And here is where the Shimano disc brake-equipped Infinito CV absolutely came into its own.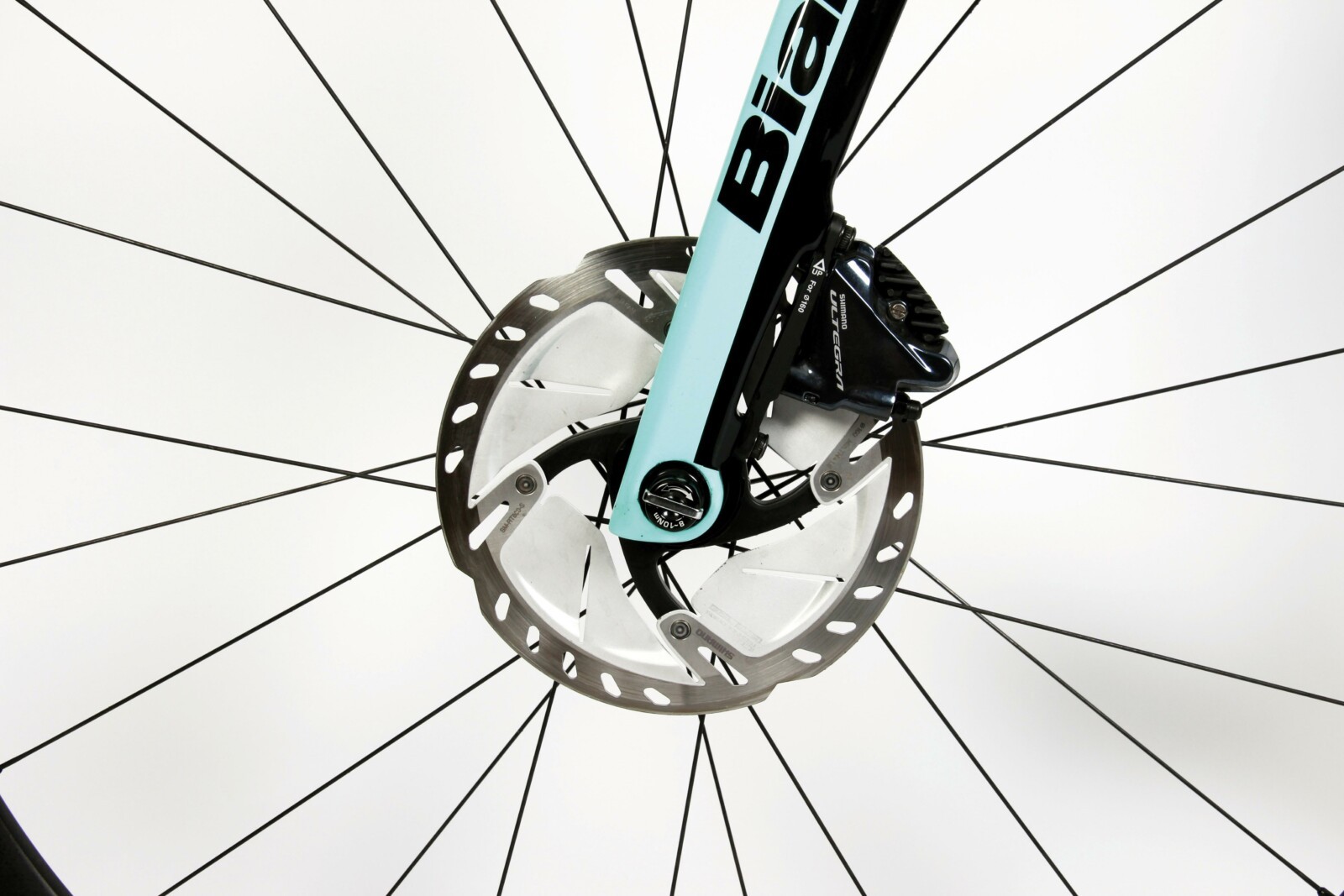 With a finger hovering above each brake lever, in the big ring and pushing hard into the seemingly endless corners, the bike literally owned the road.
It clung on as if on rails, and responded to the quick lefts and rights as if it knew its way home. Solid, sure-footed, stiff, direct and in control – but a few of the attributes felt through the frame as the bike safely conveyed me back toward the Bright Brewery.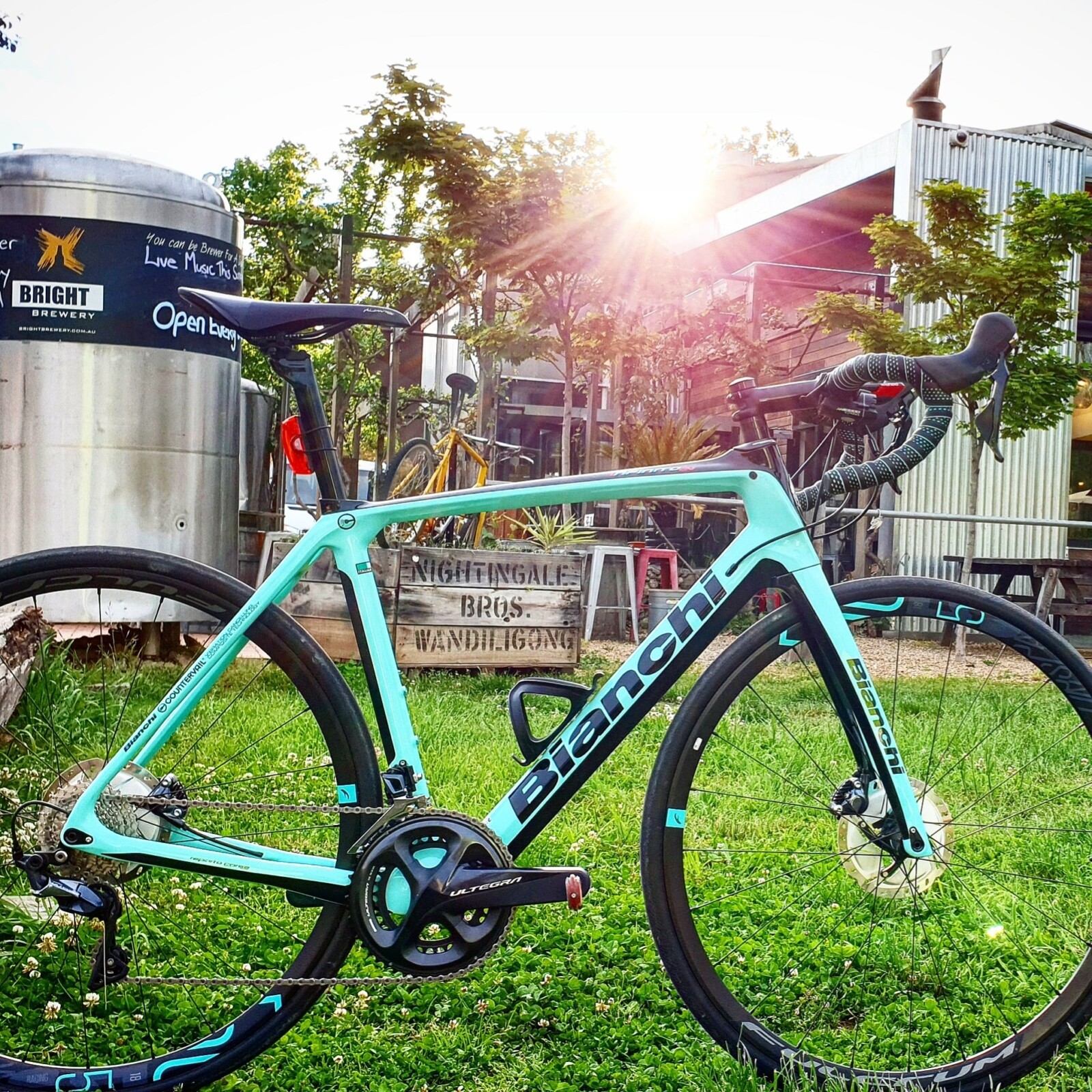 Overall
A legitimate mix of endurance, comfort and performance. Not so subtle signs of the benchmark-setting Bianchi XR4 – particularly in the seat tube angle, head angle and the fork. A comfortable long distance performer and surprisingly capable climber when the going gets steep. Drop into your favourite descent and thats when the Infinito's real talents become apparent.
Fit and Finish
Fine attention to detail, no visible imperfections, and a typically stunning Bianchi finish in one of their slightly lighter shades of celeste. As mentioned in the main body of the article, I would upgrade the saddle and handlebars, purely for cosmetic and aesthetic reasons.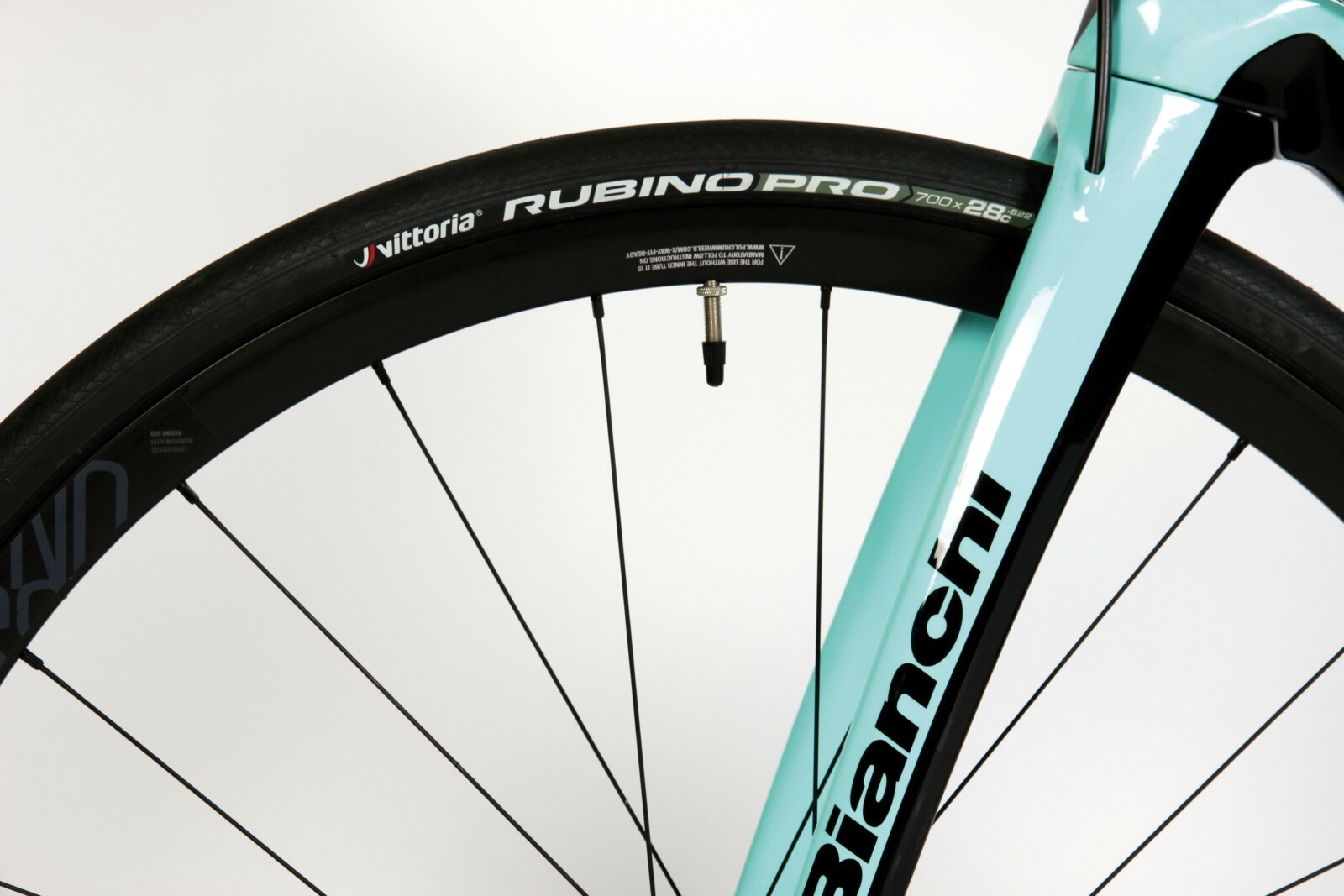 Summing Up
The inclusion of this Shimano Ultegra, disc brake-equipped Infinito CV in the range – and at this price point – will be a dilemma and add extra confusion to buyers in the advanced 'endurance plus' market.
A top-quality bike that offers all-day comfort, sure-footed stability and impeccable handling. It's a bike you will thoroughly enjoy, a bike that will make Australia's iconic cycling locations all the more enjoyable and memorable.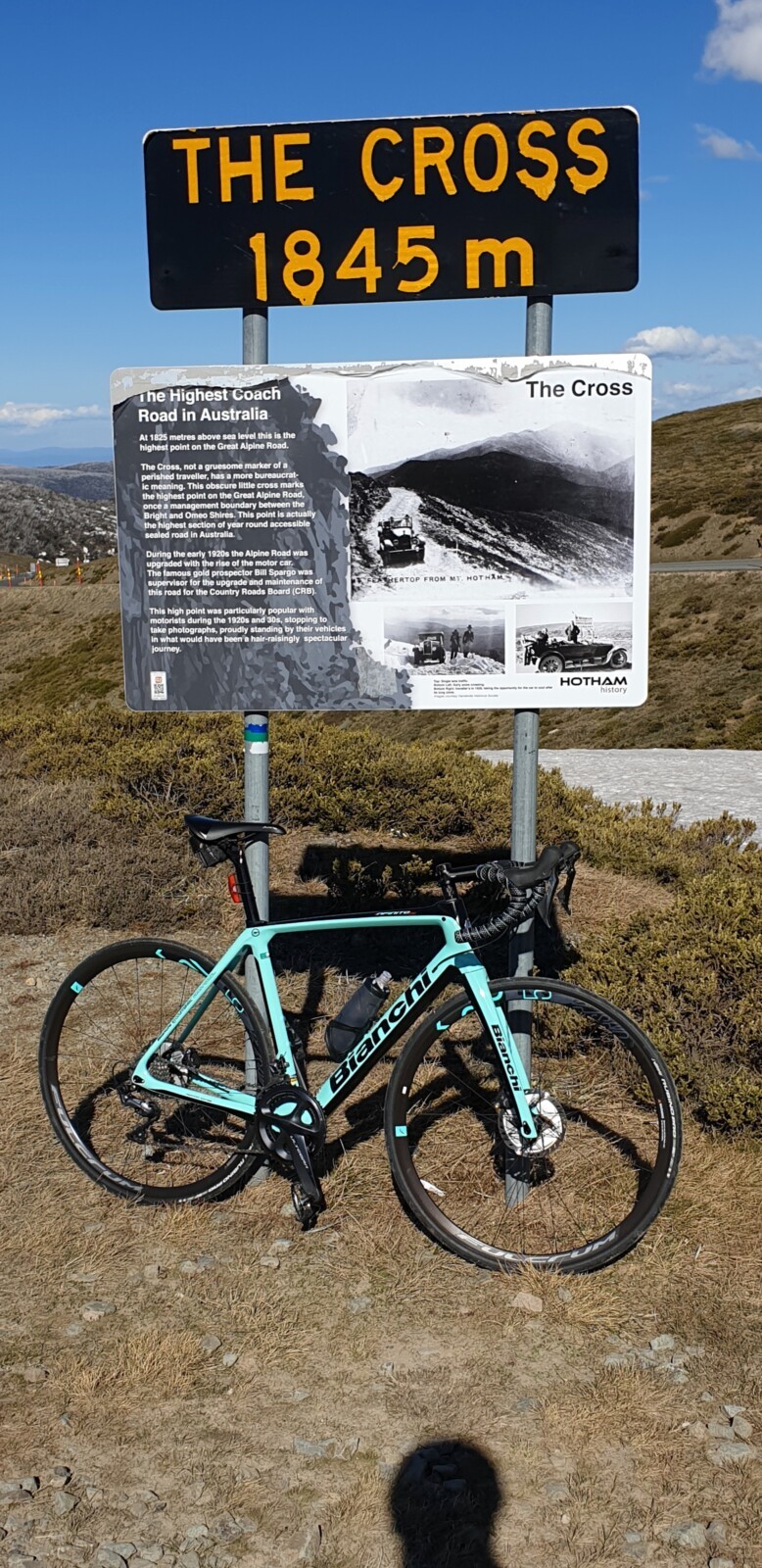 Specifications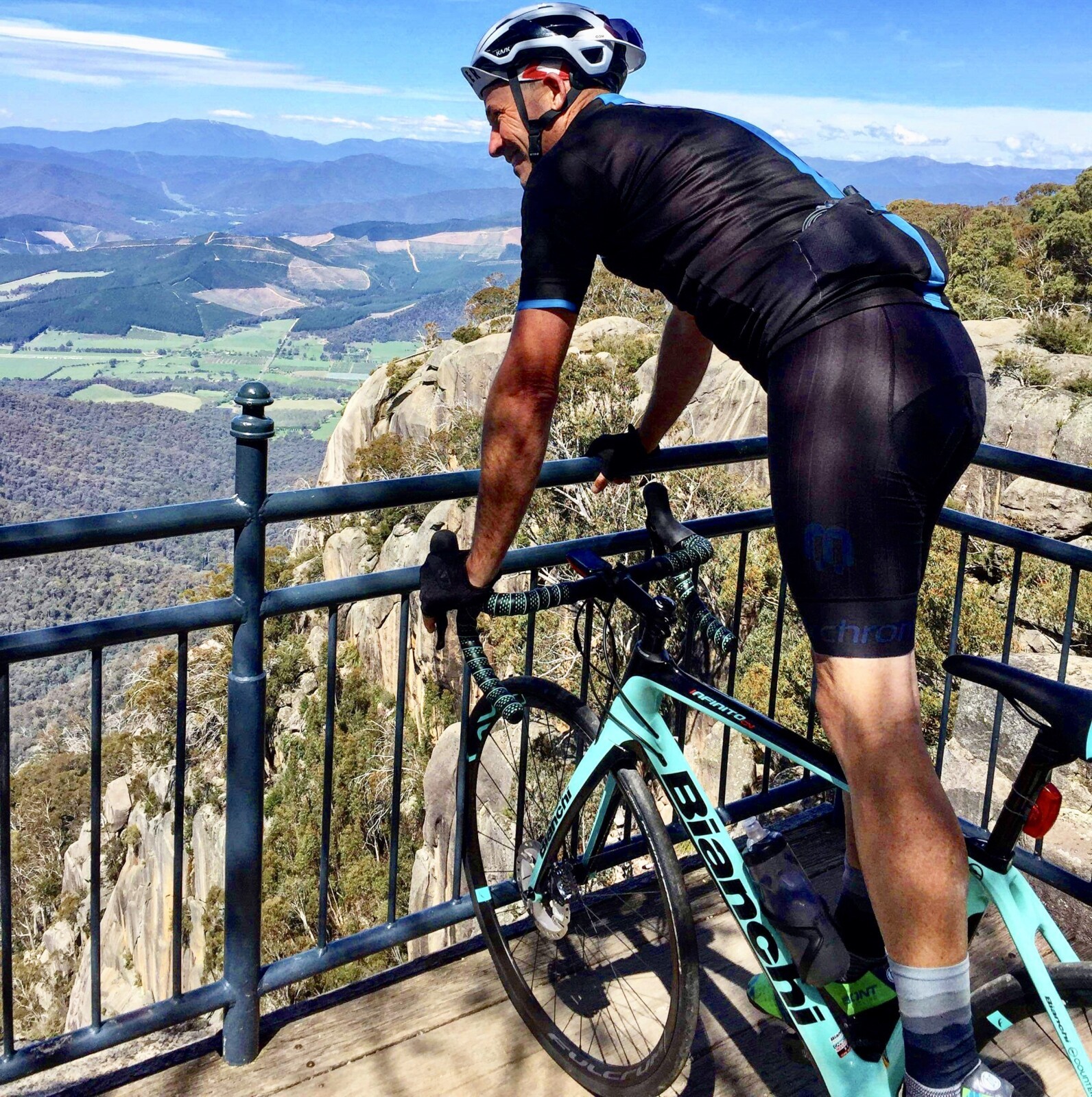 FRAME: Bianchi Infinito, carbon, Countervail, disc brake, 12x135mm thru axle
FORK: Bianchi, full carbon, Countervail, disc brake, 12×100 axle
HEADSET: FSA Orbit C-40-ACB
BOTTOM BRACKET: Shimano SM-BBR60
STEM: Reparto Corse, 3D forged alloy
HANDLEBARS: Reparto Corse Compact, flat top, alloy
FRONT BRAKE: Shimano Ultegra BR-R8070, hydraulic disc
REAR BRAKE: Shimano Ultegra BR-R8070, hydraulic disc
ROTORS: Shimano SM-RT800, centre lock, 160mm
BRAKE LEVERS: Shimano Ultegra ST-R8020
REAR DERAILLEUR: Shimano Ultegra RD-R8000 SS
SHIFT LEVERS: Shimano Ultegra ST-R8020, 11-speed
CHAIN: Shimano Ultegra CN-HG701-11, 11-speed
CASSETTE: Shimano Ultegra CS-R8000, 11-30T
CRANKSET: Shimano Ultegra FC-R8000, Hollowtech II, 50x34T
FRONT WHEEL: Fulcrum Racing 518 disc
REAR WHEEL: Fulcrum Racing 518 disc
TYRES: Vittoria Corsa 700×28, clincher
SADDLE: Fizik Aliante R7
SEATPOST: Reparto Corse, full carbon