With his first year as a top-level pro behind him, Jay Vine is looking for an even bigger 2022 as his wife Bre explains here.
The Zwift Academy (ZA) is a community training program and talent ID search open to riders across the world. This annual training program is not just for those who want to go pro, but can also be used to help improve general fitness. As the competition ramps up and gets to its final stages, a male and female rider earn themselves a one-year professional contract with Alpecin-Fenix (AFC) for the men, and Canyon-SRAM (CSR) for the women.
In 2020 Jay Vine and Neeve Bradbury launched themselves into the professional peloton via the Zwift Academy Program. If anyone had any doubts about cyclists turning pro via Zwift, Vine surely put them to rest with his stellar performances throughout his first season.
Vine will be the first to admit there has been a steep learning curve from the domestic racing he was used to, particularly compared to the WorldTour, but the ZA graduate more than confirmed it's not just beginners' luck when it comes to his first season racing.
Here's an insider's view of how his first year as a top-level pro played out.
January
We both had a spring in our step heading into the new year, but had a lot of work to do before we even got to Europe. With Covid-19 still causing havoc across the world, we realized that it would be unlikely we'd be able to return to Australia within the Schengen 90 day window allotted for overseas travelers.
So we kicked off the arduous Spanish Visa process to ensure at least Jay was secure in Spain for the duration of the contract.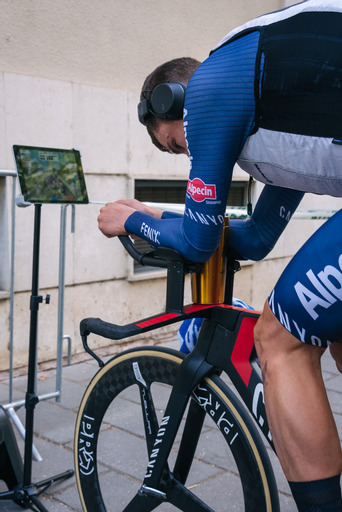 The newly-crowned Zwift Academy winner went straight into a 2-week break off the bike, knowing he would have a big season ahead of him. Wanting to peak at the right times throughout the year for the European racing season, Vine opted not to race Australian Road National Championships which he was previously focusing on.
February
Having reset the body clock with the 2 weeks off in January, Jay began his base build for the season just like any other year. This meant long, hard hours in the saddle, whilst using the Australian heat to help prepare for the Spanish summer.
At this point, he didn't know what his race calendar would look like. He could move over in March and head straight into racing, or he could have a few months to get used to Europe, it was a coin-toss either way.
Keeping that in mind, he was trying to prepare for a bit of everything, whilst trying to keep the fatigue down to not overload the legs.
Intending to turn this one-year contract into a long-term career, we (Jay and I) sold everything we owned in Australia. In between training and interview requests, we did our best to learn the native languages of Catalan and Spanish before the move.
March
After a few months of back and forth with the Spanish and Australian Governments, Jay was given the green light to make the move over to Girona, Spain, whilst I was required to stay in Australia to finalise the visa process, to then join him later that month.
This was one of the first big challenges, having only travelled within the Asia Pacific region, moving to the other side of the world alone was a bit daunting. After receiving his bike from the team, Jay continued his base build and scoped out the local area, including taking a few impressive KOMs on Strava away from the likes of James Knox which reinforced him as a rider to watch for future races.
April
Jay's form was looking encouraging when he got the news he was going to be lining up for his first race, the Tour of Turkey. This would be the first time he would be meeting some of his new AFC teammates. Despite being his first professional race, he came in with some high expectations and was aiming for the overall General Classification.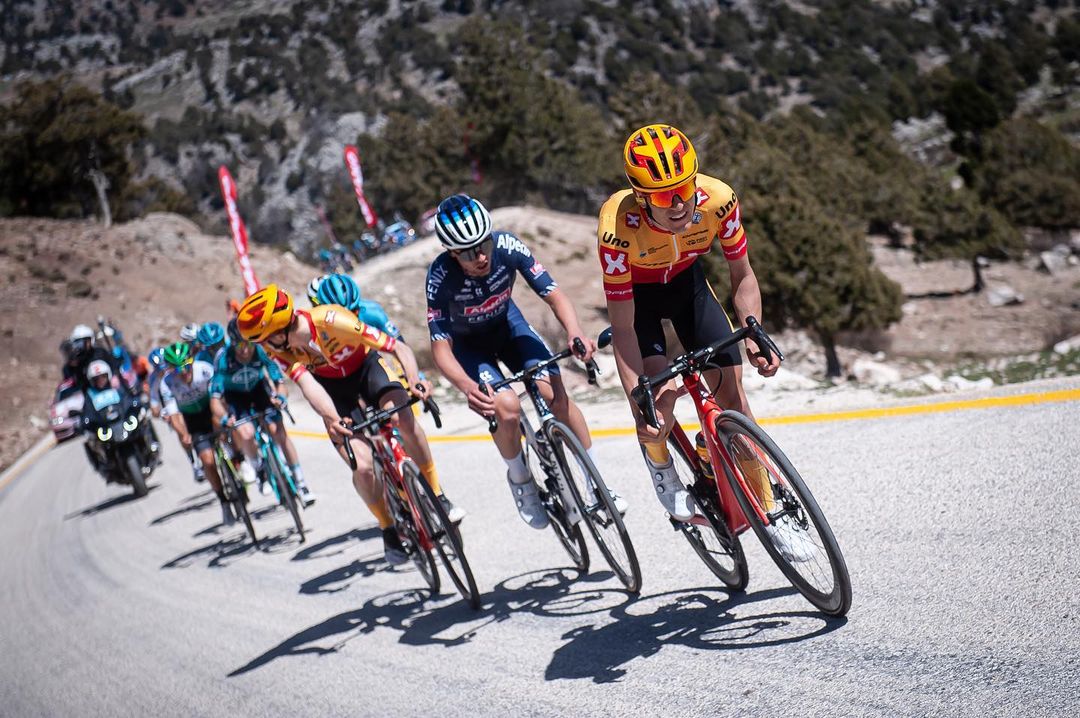 Jay showed his climbing abilities by finishing second on the brutally steep final climb of the Queen Stage, behind the eventual GC Winner (Diaz from DELKO). It was bittersweet for the 25-year-old, he was proud but disappointed not to be walking away with the win, especially after being just one second off GC.
May
After his performance in Turkey, the coming weeks were full of juggling interviews and podcasts from various organisations, all wanting to know Jay's story. The training was in full swing, with gruelling intense sessions in the Spanish heat, and the numbers were looking positive. So when Vine got the call to start Andalucica Ruta Cicslsta the spirits were high.
Unknown to him at the time, Ruta Cicslsta would be more challenging than what it appeared on paper with 40c temperatures. Unfortunately Jay had a hard crash during one of the final descents of Stage 3. Bruised and bloodied, he got himself to the finish line and was rushed to the hospital to address the sizable hole in his leg, only to then add salt to the wound, and to have an allergic reaction later that day. It was not a good day at the office.
June
After what seemed like a brutal month, Jay was eager to put Ruta Cicslsta behind him but he needed to wait for his injuries to fully heal before jumping on the bike again. He wasn't sure of what the rest of his racing season would look like.
His coach had him doing long rides with high intensity at the very end, just to get the legs burning. This was the perfect time for us to head on some adventure rides together while still hitting his target training numbers.
July
With the slim chance that Jay would be given the go-ahead to race La Vuelta Espana, the team and his coach decided July would be an ideal time for him to undertake his first altitude training camp.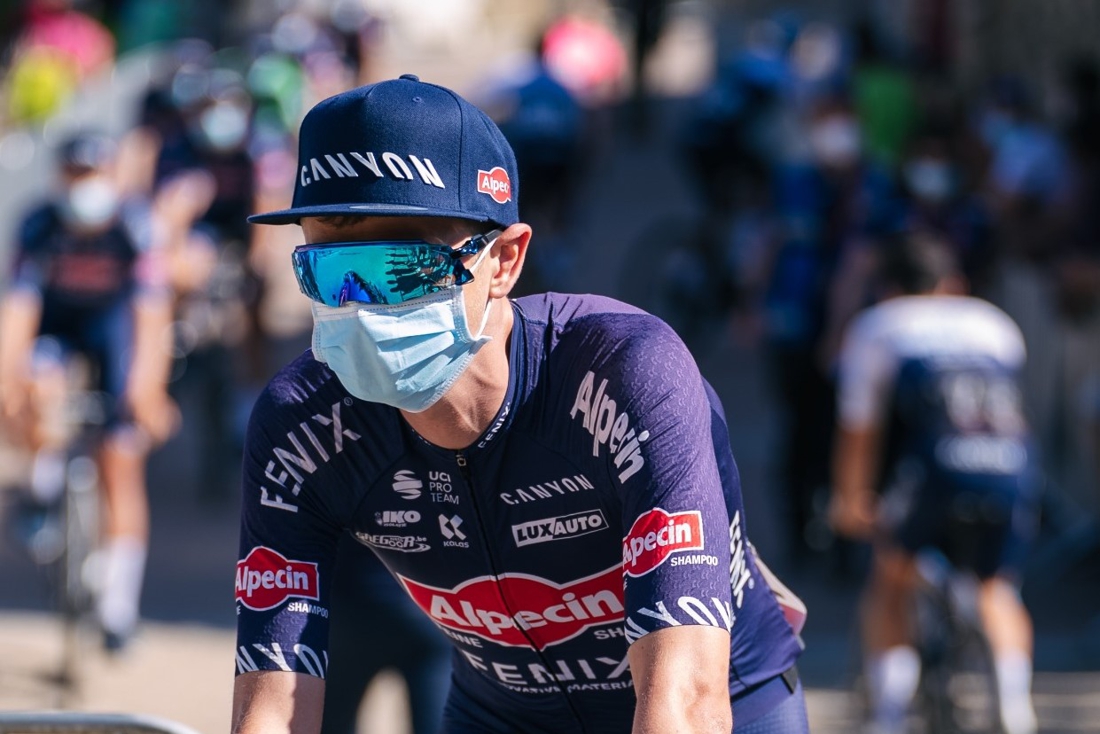 Jay packed up all his gear and booked accommodation at the highest point in Andorra (Pas Del La Casa). The ZA winner went into unknown territory, some athletes respond very well to altitude training, and others not so much, and having never done anything like this, everyone was a bit nervous to see how he would react.
Luckily for the climber, he reacted well to altitude and put out some impressive training numbers for the team. With the altitude camp drawing to a close, the announcement was made that Vine would be racing his first Grand Tour and WorldTour Race, La Vuelta España.
August
Excitement levels were at an all-time high, but before racing La Vuelta España, Jay was to race the 'warm-up' race Vuelta Burgos. It's safe to say he had a few hiccups along the way, with the airport losing his luggage for three days, and some gastro going through the peloton which meant for some 'emergency side of the road stops'. But during the queen stage, it all turned good for the climber where he rode his way to 5th place against some of the world's best climbers.
A quick trip home, then it was time to race La Vuelta Espana, Vine didn't let his first Grand Tour go to waste, and he made the cycling world stop and watch. The Australian was out there pulling turns on the front of the peloton for the team's sprinter Jasper Phillipsen.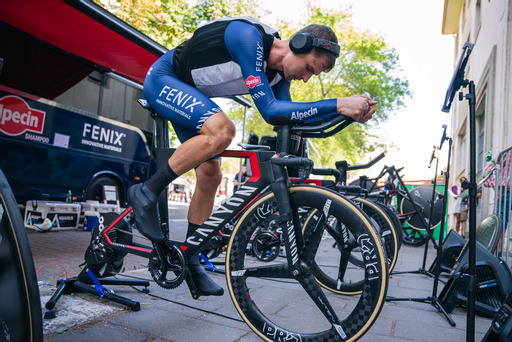 Forcing his way into multiple strong breakaways, heartbreakingly getting caught by the fast chasing peloton 500m from the finishing line, having a horrendous crash during stage 14, only to claw his way back to the head of the race to finish 3rd for the stage. It was a rollercoaster ride for everyone, Vine didn't receive the stage win he was hoping for, but he walked away from his first Grand Tour knowing he gave it everything he had.
September
After what seemed like a whirlwind of a month, Jay returned to Girona on an all-time high and waves of interviews filled his diary for a few weeks after the Grand Tour. He was successful in achieving his goal and secured himself an extension with Alpecin-Fenix – he now has a contract with the professional team until the end of 2023.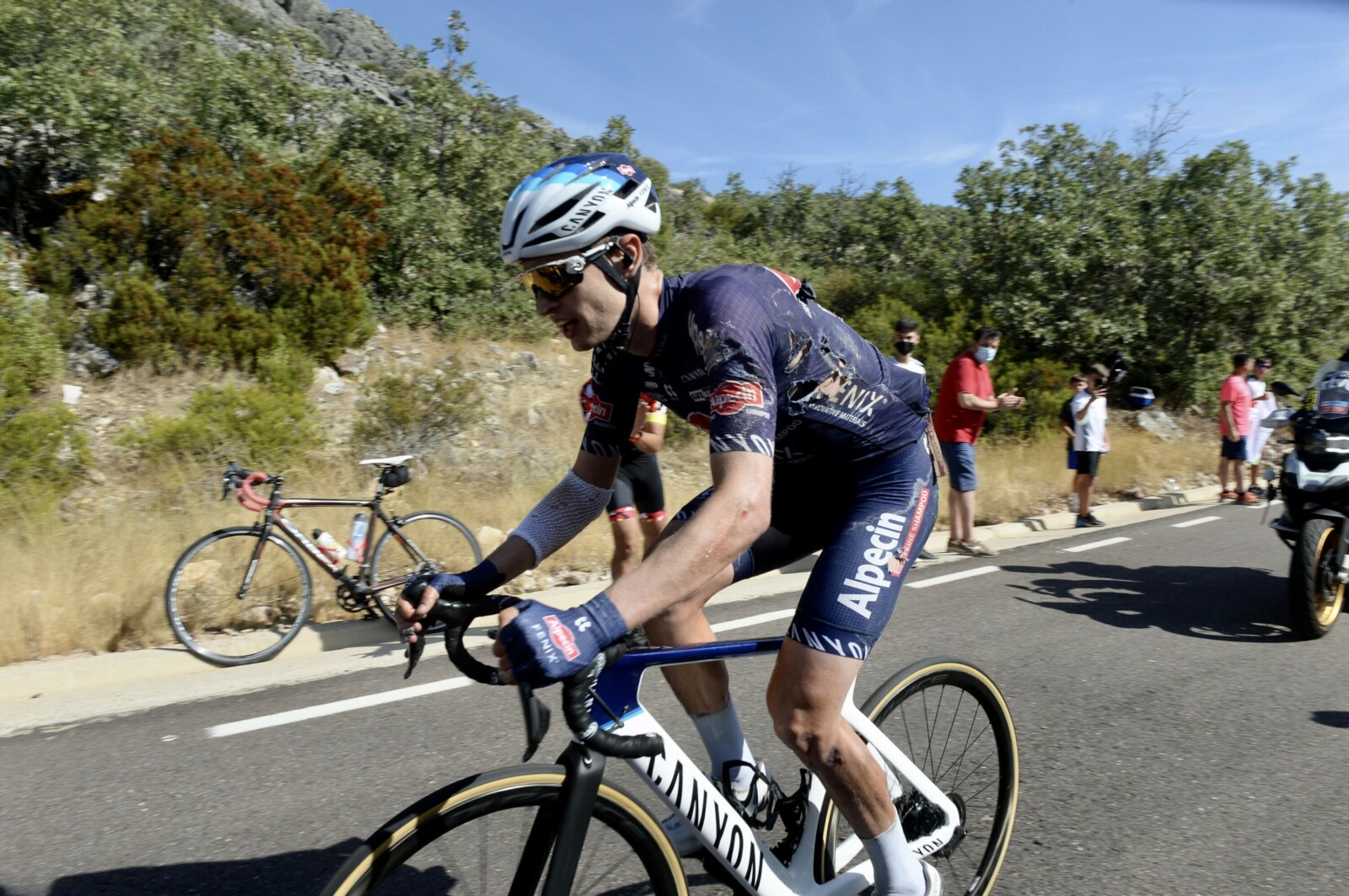 With the racing season starting to wind down, and limited races that suited him, Jay wasn't sure what the end of the season was going to look like. He kept the engine going with hopes of racing one of his idolized races, Il Lombardia that was to be held in late October.
October
Vine would have to leave his aspirations for Il Lombardia for another year as he didn't receive the call-up but instead was called for two French one-day races. Despite the wet season seemingly coming all at once for the riders, he was happy to be finishing off his racing season with the two races.
And just like that, Jay was to start his four week off-season, which would be the longest time he's ever had off the bike.
Taking off-season as seriously as normal training, he opted not to move an inch for the first two weeks, as directed by his coach. Then in the final two weeks he could start going for hikes plus focus on core work.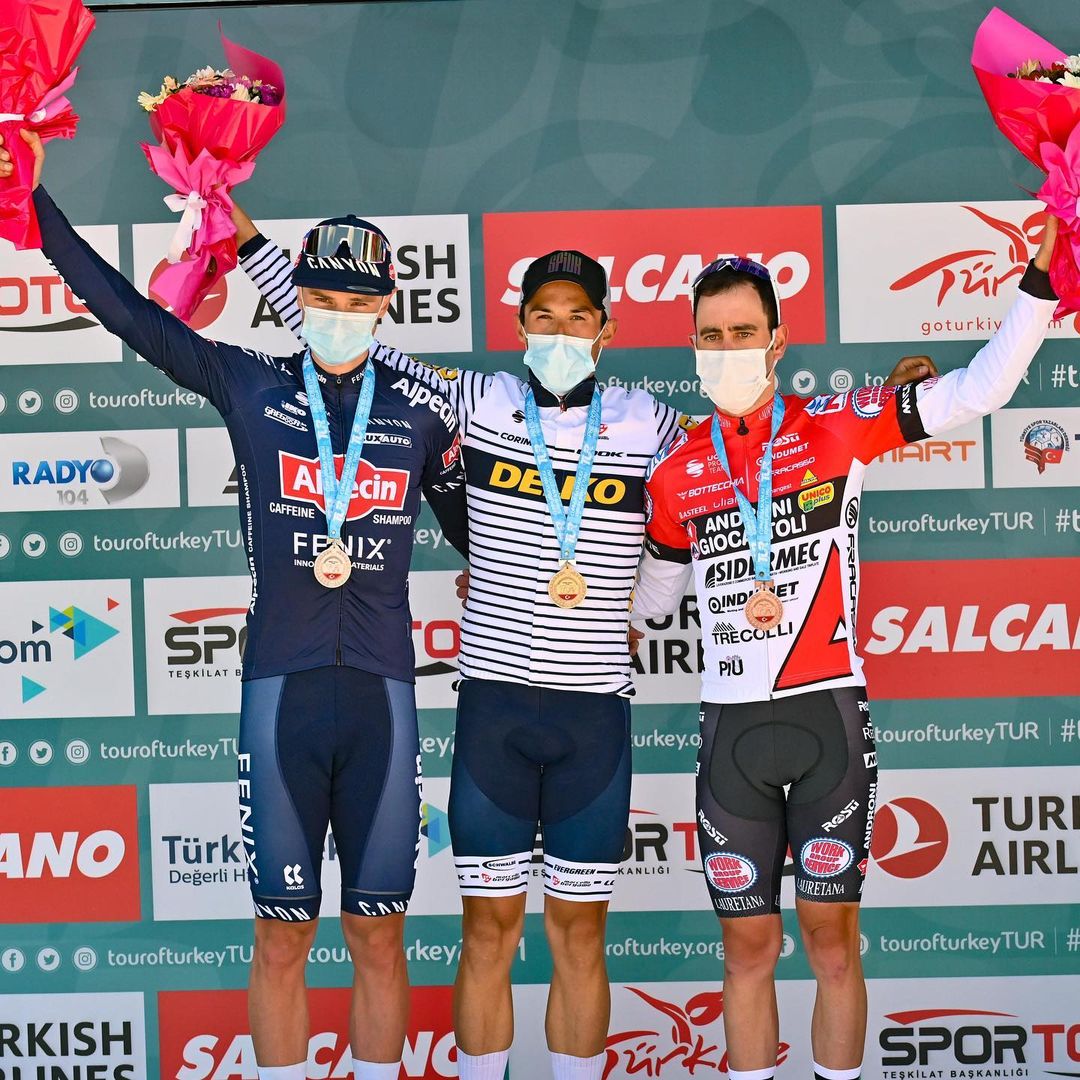 November and December
November 1 was bookmarked in Jay's calendar as the day he could officially start training on the bike again. As much as he loved having time off the bike, he was keen to get back into training and restart the build process.
As the previous Zwift Academy winner, he was invited to attend the 2021 Zwift Academy Finals in Mallorca, Spain. This is where both Canyon SRAM and Alpecin Fenix will select their Zwift Academy Winners for their respective teams. After that, he is planning several more weeks of base build training along with team camps in mid-December, and again in mid-January.
2022 Outlook
With a successful debut in professional racing, it has to be asked, 'what's next for Jay Vine?'. At this stage he doesn't know what the overall team plan for 2022 is and what Alpecin-Fenix has in mind for the Aussie, but he's excited to get started.
"I'm really not sure what 2022, is going to look like," he said. "I'm guessing the team will give me an idea during the camp. It's pretty cool having another Australian on the team and who knows, we may have a third Australian join us through Swift Academy."
Vine is hopeful that he will be given the go-ahead to race another Grand Tour, he can't see himself racing Tour De France – being so new to the professional racing scene. But he didn't think we would race La Vuelta either, so you never know.
Initial conversations have hinted that he might have an early season, which has an abundance of races suited to his style.
"In my ideal world, I'd probably have an early season, perhaps race Tour of Catalunya, the Giro, and a few others," he said. "Then, just as the racing season is calming down for Tour De France, I have a break of 1-2 weeks, then start back up for La Vuelta España."
Having proved himself amongst some of the best climbers, Vine wants to refine his climbing skills and hopes to work his way to a Grand Tour stage win – being close multiple times during La Vuelta España, that goal seems within reach. With his climbing abilities and his previous time trial abilities, it wouldn't be hard to see him within reach of the General Classification podium in the future, perhaps not this year but in future years.
With the World Championships being held in Australia, Jay may receive the call to assist the Aussie squad in their goals of a gold medal. With the road race not suiting Vine, he may be used as a support rider for Caleb Ewan, and Vine's strengths could be shown in the Mixed Relay Time Trial and Individual Time Trial.