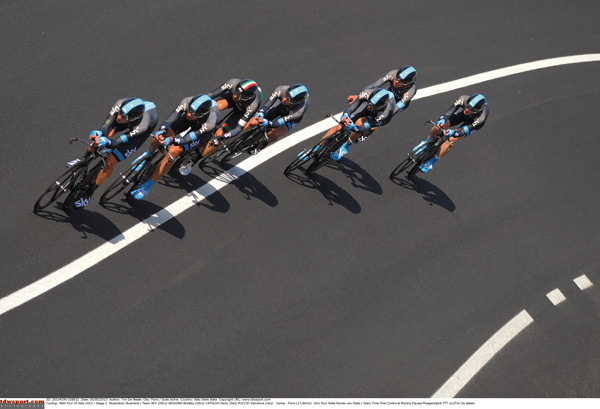 Has professional cycling, in terms of how riders are recruited and the way the game's played been reduced to a game of numbers? Despite the lack of romanticism attached, Anthony Tan says that for the switched-on teams, 'cyclemetrics', as he's chosen to call it, makes perfect sense.
Moneyball tells the story of how a Major League Baseball team manager, faced with a comparatively unfavourable fiscal wherewithal, decides to turn player recruitment on its head by employing an objective and analytical approach known as 'sabermetrics'.
The term for empirical analysis of baseball – derived from the acronym SABR, the Society for American Baseball Research – or the concept, can nevertheless be applied across many other sports, including cycling. Not so much purely scientific, more evidence-based analyses, Wikipedia explains that "Sabermetrics is concerned both with determining the value of a player or team in current or past seasons and with attempting to predict the value of a player or team in the future", adding: "Many areas of study are still in development, specifically in the area of performance measurement."
In 1999 the protagonist in Moneyball, Billy Beane (played by Brad Pitt in the movie of the same name), general manager of the Oakland Athletics baseball team, hires a young Havard economics upstart named Paul DePodesta, whose radical theory on drafting players relied not on the traditional form of talent scouts and intuition but almost exclusively on a statistic known as 'on base percentage'; OBP did not become an official Major League Baseball statistic till 1984 and at the time, was not considered a game-changing metric. DePodesta searched for players with high OBPs but exhibited other characteristics that saw them overlooked and – at least according to Beane and DePodesta – undervalued.
Despite objections from the scouts (who, like almost all agents, take a percentage of a successfully contracted player's salary, thus believing they always know best) and the Oakland A's manager, not to mention criticism by the media, who foreshadowed only abject failure, Beane and DePodesta persist with their unorthodox approach. After some early losses, they see the team's fortunes improve. Setting an America League record in 2000, the A's win twenty games on the trot and would make the play-offs four years in a row from 2000-03. Beane is subsequently headhunted by the owner of the Boston Red Sox; he turns down what would have been a record US$12.5M pay packet but the Red Sox nonetheless employ the sabermetric model and, two years later, they win the World Series title, breaking a near century-old drought.
In this age of economic austerity (just ask our new PM about that, who lambasted Labor at the polls last year for their apparent proclivity to "spend, spend, spend", saying we need to "save, save, save"), I can't think of any team that wouldn't want to spend less and win more. Yet ironically, it seems Sky Procycling, one of a handful of teams that least need to watch where each dollar goes and flows, is one of the few, or perhaps the only, current outfit that has translated sabermetrics to 'cyclemetrics' – and extending it to not just recruitment but how the game is played.
In 2010, in their maiden season, Team Sky had a shocker by anyone's standards. They tried to reinvent everything and won almost nothing. The previous season, they paid over A$1M to buy Bradley Wiggins out of his contract after he finished fourth at the Tour de France, but the following July he bombed out big-time, eventually finishing 24th overall. On the second rest day in Pau, I asked Slipstream Sports CEO Jonathan Vaughters, his previous employer, what he thought happened.
"Well, Brad is a very unique person. And last year (2009) was a very unique Tour. Last year, the GC was formed a lot on the team time trial, your Pyrenean climb up to Arcalis, Verbier, and the time trial in Annecy. And the only really hard mountain day that had multiple climbs was the stage Frank Schleck won (to the Col de Romme). This Tour's different. We've already had four stages that are just as hard as the Col de Romme day. So for me, Brad can perform great in a Tour on a parcours like last year, and if you sort of go to the more old-fashioned Tour, where there's two 60k time trials and a team time trial too, then I think you would see Brad performing really well. This Tour's just been gruelling as far as mountains: every day, hot as hell, four climbs… it just hasn't been suited to him. And to come to the race, obviously with a lot of expectation placed on you, from the whole of the (British) empire… I mean that's a lot of expectation. You've got that expectation on you; it's a lot of weight, and you've got a parcours that's pretty fricking tough for your ability.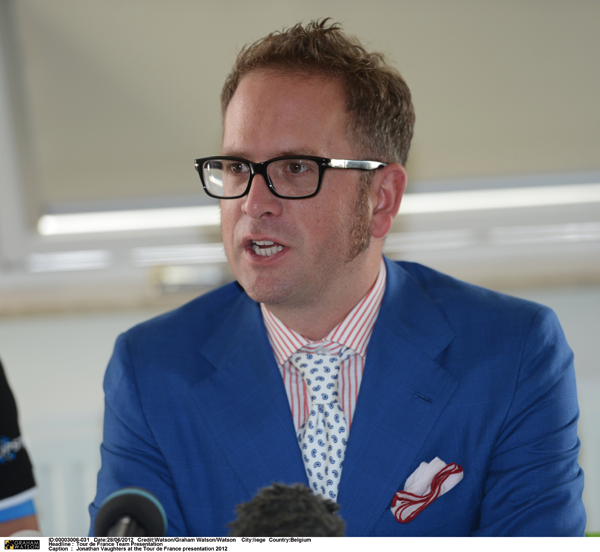 "So I don't really see any sort massive error that Brad made or anything else like that – I just think that he performs better when he can sort of isolate himself a little bit. Brad's got one really big bullet; some guys have six little bullets – they can go over this climb, this climb… and they can all do those climbs well. Brad's like one of those guys like in a Verbier situation – Verbier's a 20-minute climb – and for him to go rrrrupp! for 20 minutes, he's great at that; that's perfect (for him). If the GC in the Tour is formed out of the team time trial, Verbier and the time trial in Annecy (as in 2009) it's ideal – and they'll be another Tour like that. Before Brad retires they'll be another Tour like that. There will be a Tour course in the next two or three years that will suit Brad Wiggins and he'll do a great Tour again. I don't have any doubt about that."
Asked why, as a whole, Team Sky was struggling, despite team principal Sir Dave Brailsford's pedigree of proven success on the track, Vaughters replied: "The 'X-factor' in track cycling is two per cent; the X-factor in road cycling or at least this stuff is 25 per cent. And I think this is just something (Brailsford) already knows at this point in time. There just has to be greater flexibility because there is a greater X-factor. I think a lot of stuff they're doing is actually really good. I don't see any outstanding mistake they've made with Brad… it's just a tough course and he has had a lot of pressure and I don't know it necessarily came from them – it's expectation that he put on himself, it's expectation that the media place on him."
Fast forward three years and Sky Procycling has won two consecutive Tours de France with two very different riders in Wiggins and Chris Froome. While less successful in the Spring Classics, Brailsford, together with their coterie of coaches including Australian performance analyst Tim Kerrison, previously a renowned swim instructor at the Queensland Academy of Sport, have debunked conventional wisdom on how to win the biggest race of all, based largely on cyclemetrics and, consequently, reduced the X-factor to single digits. How? Create core team early in the season and train and race together at regular intervals; optimise GC leader's time trialling ability; at race, ride fast tempo (just below anaerobic threshold) to dissuade/nullify attacks; and until the final kilometres of major mountain stages, do not attack or counterattack. There is little to no emotion in their decision-making.
For Sky it has become a game of numbers and for the Tour de France at least it works. Moneyball author Michael Lewis says that for people like Billy Beane, "winning is simply a matter of figuring out the odds and exploiting the laws of probability… To get worked up over plays, or even games, is as unproductive as a casino manager worrying over the outcomes of individual pulls of the slot machines". The Giro d'Italia or Vuelta a España are more explosive and unpredictable, as are one-day Classics, but if you can win the Tour – who cares?
According to my cycling colleague and friend Daniel Friebe, who penned a chapter called 'Cyclonomics' in the first edition of The Cycling Anthology, one of Brailsford's favourite pastimes is to pore over stats offered by Dutch cycling website Cycling Quotient, also known as cqranking.com. "Using numbers from the site, he also draws up his own 'expected value' graphs plotting rider ages against their rankings; young riders who fall below the required standard (like Chris Froome at the end of his first year with Team Sky, as noted by Cycle Sport magazine at the time) may be granted a stay of execution, but anyone still underperforming as they near and enter their thirties is quickly culled," wrote Friebe.
So, using an algorithmic approach – and available SRM power data, of course – the boffins at Sky can objectively measure their charges' rate of improvement or decline, make changes to their training/race programs, devise and alter race strategy and, in between, hunt for new blood in their aim to repeat their Tour success over and over and over again. Also note the emphasis is on evaluating all riders on the team: when I sat down with Kerrison at last year's Tour, he told me each rider has a dedicated coach (the ratio is roughly one to every five to six riders), because they understand to realise success, domestiques and leader must perform optimally. On many other teams, particularly those from France and Spain, some domestiques are lucky to be granted a second bike, let alone an SRM. And coach's advice is often a case of ride/race more or less, meaning information is limited to perceived as opposed to real value – ignoring the simple fact that by doing so, they may not be seeing their next champion-in-waiting or domestique de luxe till someone like Sky snaps them up.
Case in point is Nathan Earle and Philip Deignan, the first two new riders Sky signed for the 2014 season.
Tasmanian Earle spent six years with Huon Salmon-Genesys Wealth Advisers (formerly Praties) and last year was clearly the best stage racer in the National Road Series (NRS), also finishing as the number-one ranked rider. If it wasn't for an undiagnosed tear in his tendon in 2010 and a crash while racing in Italy the following year, just when scouts from Liquigas were to take a look at him, the 25-year-old may well have been the first rather than the fifth of Huon-Genesys coach Andrew Christie-Johnston's protégés to make it to the WorldTour, but, thanks to a string of solid results and a bit of help from his mate Richie Porte (who he rode with in 2008-09), he's finally made it. "With Nathan, I always knew that if he could just have some luck – or not have bad luck – and put eighteen months, two years, together, we would see the best (out of him). And that's what he has done: right from the start of 2013 and late the year before, he put some solid results on the board and rocked up at races like Herald Sun Tour with great form," Christie-Johnston told me, after Sky announced their signing back in June.
"I think he's like a Simon Gerrans. He can climb with someone like Gerrans and he's as quick as him. And if he takes maybe another three kilos off in muscle mass, then he will be a phenomenal climber. He is a punchy rider; he can win from small bunch kicks and he's very hard to drop on the climbs. So I think that Nathan will be a work-in-progress for Sky. They will trim him down; when Richie left our team he still had that triathlete body shape to him – just look at his arms now and his upper body's nothing. Once Nathan gets like that, you'll see another guy that will climb (like Porte)… he'll be ideal for Sky in the climbs. He doesn't have the same time trial pedigree as Richie, but I think he'll be a very solid worker for Sky on the climbs and an opportunist in maybe some of the Ardennes Classics." Added Kerrison: "The Australian system has identified him physiologically as being a real talent and we're starting to see that with his results on the road. He's a rider who we think we can take from the development ranks and turn him into a quality WorldTour rider."
Another latent talent is 30-year-old Irishman Deignan, a climbing domestique that rode the WorldTour from 2005-11 before a less than par year with RadioShack saw him move to the United States to ride for UnitedHealthcare. A superb 2013 season, however, where he won the mountainous Tour of the Gila, finished runner-up at the Tour de Beauce, and claimed top-10 finishes at the tours of Utah, California and the USA Pro Challenge, placed him firmly in Sky's crosshairs. "We're well aware of what he is capable of on a bike. He's a climber of real quality and he will certainly strengthen our squad even further in stage race competition," Brailsford said.
Two climbers likely to hit the ground running; so far underutilised but nothing if not talented and picked up for a song – accomplished on the back of some fairly rudimentary cyclemetrics. Both no-brainers if one bothered to do a bit of homework, yet bewilderingly, so many teams, to their own detriment, still prefer instinct to evidence-based insight.
However, the advent of the WorldTour and teams' eligibility to be included in cycling's major league has, to a degree, diminished the value of recruitment by cyclemetrics. "Under the system," Friebe wrote, "rankings points scored by a team's riders the previous season become the sine qua non for entry into the most prestigious races, even if those points were amassed in a different jersey." On the basis of one numerical criterion, big budget squads effectively buy their way into the WorldTour. Said Nicolas Roche at last year's Vuelta: "The way the UCI counts the points for the sporting evaluation is absolute bullshit. I'm racing here for AG2R-La Mondiale but shall I score points, it won't count for them. This system is ridiculous." And, in a sense, individualism is rewarded over teamwork.
That said, among the 19 WorldTour teams last season, you can bet your bottom dollar that in almost all cases, one third of riders brought eighty per cent or more of the points required for eligibility, allowing the remaining two-thirds to be works in progress or speculative buys. Spanish-based Movistar snapping up Nairo Quintana from the Colombia es Pasión-Café de Colombia team (presumably at bargain basement prices) at the end of the 2011 season, who, a year-and-a-half later, would finish second overall at the Tour de France, is a case in point of David outsmarting cash-flushed Goliaths like BMC and Katusha.
As for Sky Procycling, well, they're just loaded, smart, and for the past two years, had the best rider and best team. Nothing you can do about that.
Twitter: @anthony_tan