A 57-year-old British grandfather, Andrew Crompton, is set to accomplish a colossal 15,500+ km cycling journey from Manchester UK to Melbourne arriving next Sunday morning (26th March) on the banks of the Yarra River.
Over the last eight months, Crompton has cycled through 18 countries including the UK, Europe, Middle East, Asia and down the east coast of Australia, crossing 14 time zones, dropping 15kgs and is closing on the finish line where he will be reunited with his family including two Melbourne based sons, and most importantly his granddaughter.
Crompton left his hometown of Bolton, England, on 29th July 2022 on an outrageous cycling mission to Melbourne in support of two charities close to his heart – the Carers Trust and the Bolton Lads & Girls Club.
Having travelled across three continents on a bike, Crompton has taken a tumble or two resulting in a suspected broken wrist in India and experienced several once in a lifetime moments from being chased by packs of wild dogs in Turkey, braving the bike during sandstorms in Saudi Arabia, and even being berated by a room full of naked Germans!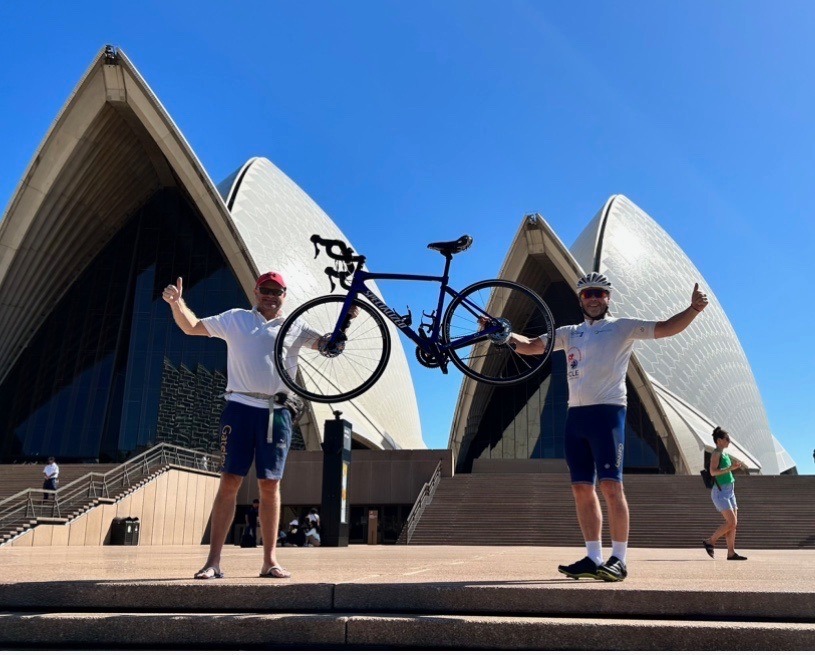 What started as a throw away comment about "riding to Melbourne" turned into a globally followed ride raising over $475,000 through donations, sponsorships, and a fundraising page for charity. Crompton notably has also funded his own journey ensuring every dollar raised counted.
Making the adventure even more inspiring is Crompton not being a regular cyclist before taking up the challenge. The only time he'd rode a bike was a leisurely Sunday ride to visit his family. Currently he rides 150km and peddles for up to five hours a day.
The 57-year-old, who is now well versed in all things lycra, has been overwhelmed but delighted with the support received along his extensive journey.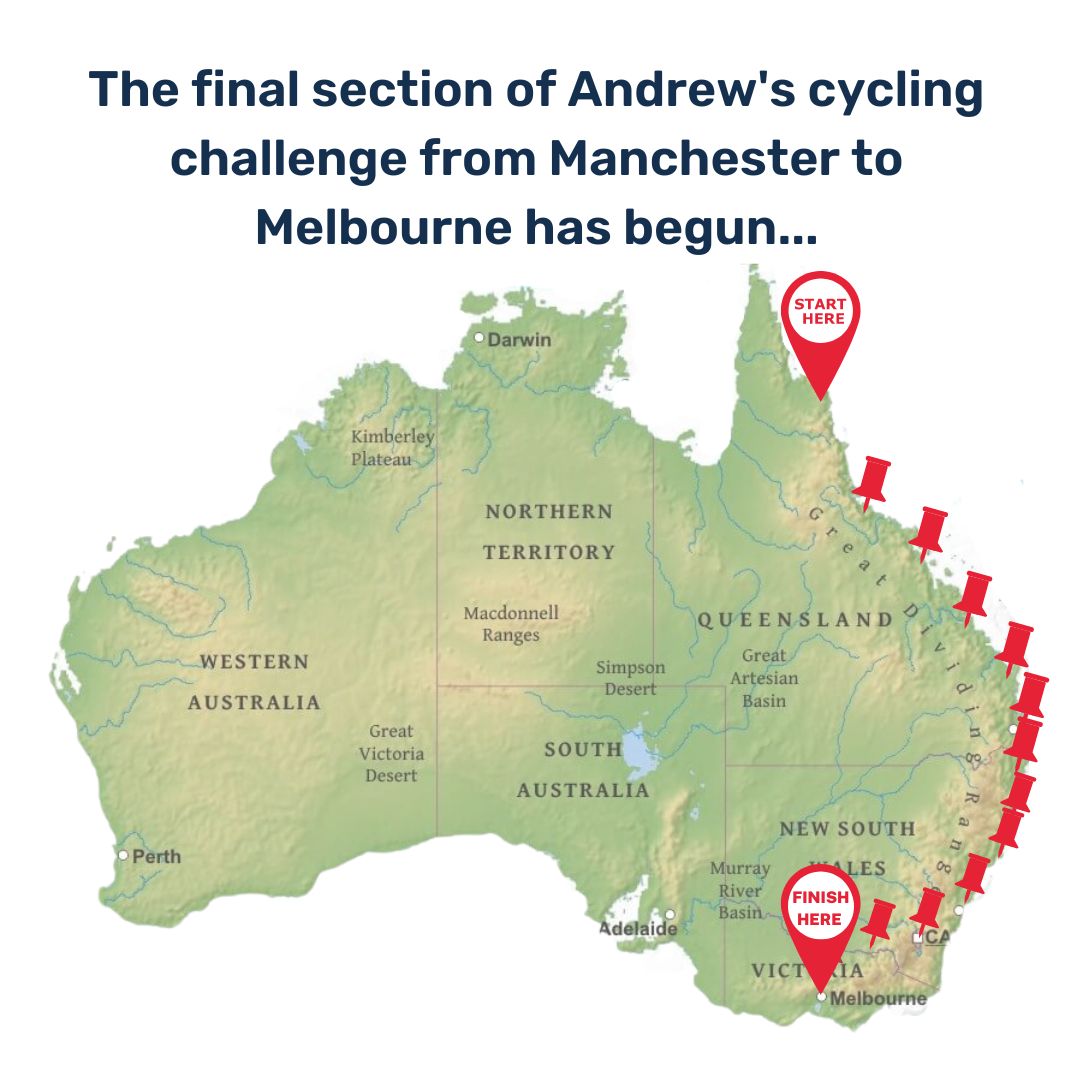 "This has been the biggest adventure of my life and pushed me physically well beyond what I thought I could achieve given the lack of training," Crompton said.
"All the Australians I've met since arriving in Cairns think I am off my rocker, but the support has been amazing and I'm so proud of the money we've been able to raise. I really am so grateful.
He said his hips, knees and rear are all ready to call it a day.
"I'm dreaming of the finish line now – seeing all my family at the finishing line and then celebrating with a few cold pints!," he added.
To make the journey even crazier, Crompton's 'mate from the pub' John "Millsie" Mills has been driving alongside him in a van.
"He's been the best mate and wingman you could wish for on a trip like this but when I am finished, I'll never speak to him again," Crompton laughed.
Crompton will reach his finishing point – on the scenic banks of the Yarra River overlooking Melbourne – at the Yarra Yarra Rowing Club on Sunday 26th March where he will be reunited with his wife, San and three sons Tom, Alex and Max and the apple of this eye, his two-year-old granddaughter, Sienna.

Countries travelled
• UK, France, Belgium, Netherlands, Germany, Austria, Hungary, Serbia, Bulgaria, Turkey, Kuwait, Saudi Arabia, UAE, India, Thailand, Cambodia, Vietnam and now Australia.
• Australia has been his longest leg so far, arriving in Cairns last month before cycling the east coast through Queensland, New South Wales and eventually finishing in Melbourne.

Other information
• Website: https://www.manc2melb.org/
• Instagram: @Manc2Melb
• Fundraising page: https://www.justgiving.com/campaign/manchestertomelbourne

About the Charities
Carers Trust is a major charity for, with and about unpaid carers of which there are an estimated 7 million in the UK. Bolton Lads and Girls Club is a children and young people's charity providing opportunities to improve the lives of 4,000 active members through universal open-access play, youth and sport provision together with bespoke targeted services, supporting the most vulnerable.

Andrew first learned about the importance of unpaid family carers when a friend became the primary carer for his parents, making him realise how little support and recognition there is for unpaid carers, despite all the sacrifices they make to look after family members. Andrew's company, Watson Laurie, has been supporting Carers Trust since 1992. In 2000, Andrew was introduced to Bolton Lads and Girls Club, when he agreed to become a mentor.