Aussie pro Brodie Chapman is living the dream life and has a super-exciting 2023 ahead as she explains here.
When Brodie Chapman was a child riding her mountain bike in the secluded bushland in her hometown of Mount Glorious about an hour north west of Brisbane, she never dreamt of becoming a professional road cyclist.
This is partly because 20 years ago no female professional road cyclists made a living by riding and racing their bikes, but also because mountain biking was the only riding she knew. Fast forward to the 2020s and it is certainly not just a possibility but a reality for Brodie and her fellow riders.
As an Australian professional cyclist, Chapman came late to road riding, only focusing on it when she attended university in Brisbane and worked in a local bike shop to help pay the bills. It was at this time that she realised that it was something she had some talent for, having gained a good result at the Uni Games. It was also during her uni days when she spent an exchange year in Germany that gave her a taste for travel, and Europe in particular.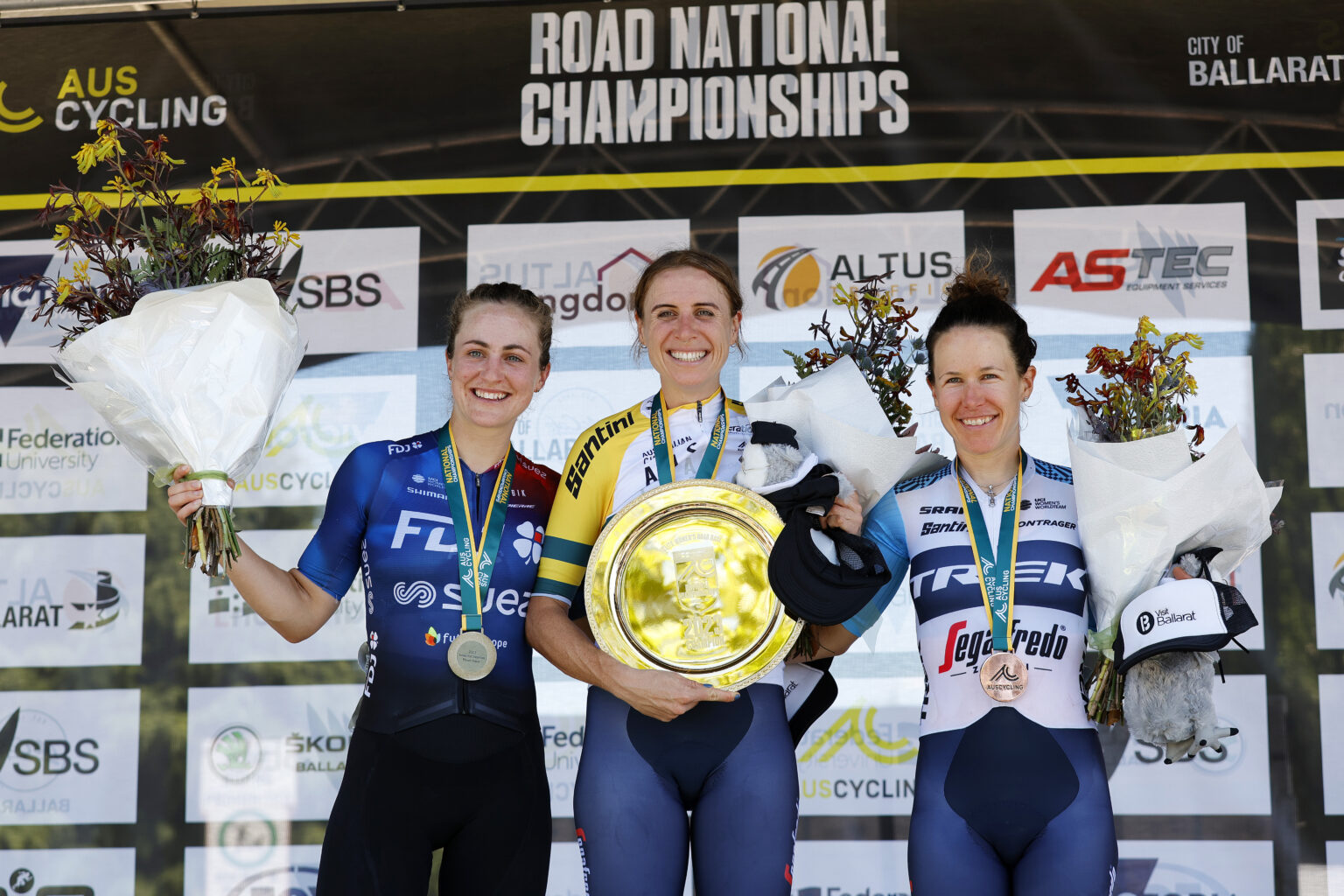 Now aged 31, she's living a dream life based in Girona Spain with her partner Dan Bonello who is also a keen road cyclist.
And her career keeps stepping up, after having signed with one of the biggest and most successful teams, Trek Segafredo for the next two years. For the previous three years, she was a member of the French team FDJ Nouvelle Aquitaine Futuroscope. Before that, she was with Team Tibco – Silicon Valley Bank which she signed with shortly after winning the Herald Sun Tour in January 2018, a major tipping point in her career.
She earnt herself a place on the national team to race the Herald Sun Tour in 2018, after finishing in sixth place at the national championships. After taking a solo win on the first stage at the Herald Sun Tour, Chapman held enough of an advantage to take the GC after the second stage, a time trial. Straight after she was approached by Team Tibco – SVB.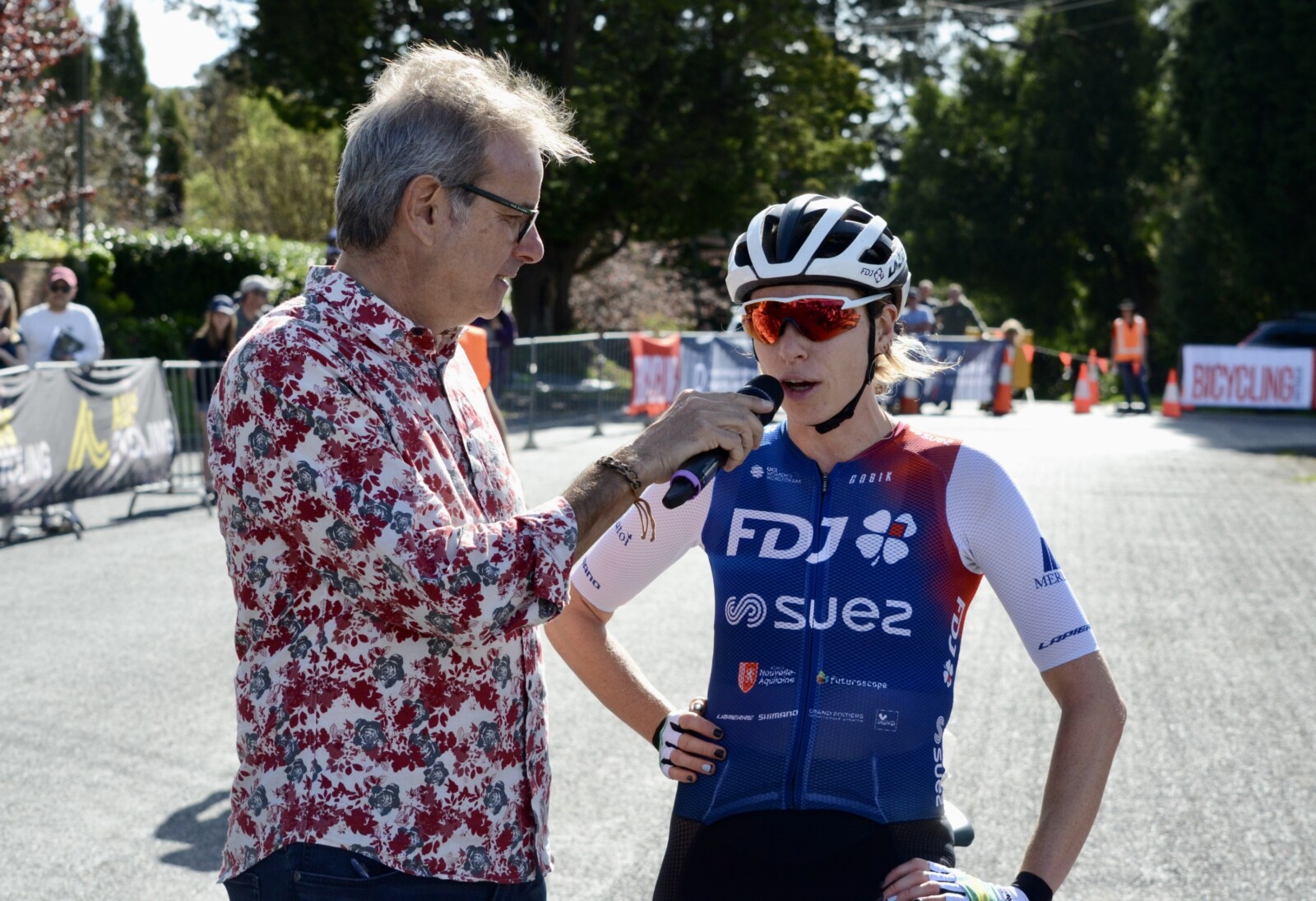 She spent three months in Australia at the end of last year after the World Championships in Wollongong. "My Team director Stephen Delcourt was kind enough to allow me to stay in Australia after Wollongong and finish the year at home, which was fabulous".
Chapman's partner Dan also raced at the World Championships, representing the country of his parent's birth, Malta.
For most of the year Dan and Brodie live in Girona which they love. Dan gets to enjoy some local racing in Europe but also works remotely. "It's fairly unusual for the partner of a female professional cyclist to move to be with his partner, and I'm so grateful because we're a real partnership.
"We're on the whole journey together. He understands the opportunity I've got and is fully supportive, even though he's had to give up a lot to be in Spain with me. I love his passion and joy for cycling. We only train together occasionally but it's awesome having such a great support network."
She describes the recent World Championships held in Wollongong as a once in a career opportunity.
"There are lots of talented riders in Australia so it was great to make the team. There was plenty of anticipation and apprehension about how the Wollongong locals would react to the event. In Girona, riders are respected and welcomed on the roads, but unfortunately, it's not always the same here. However, our apprehension was unfounded, and we were surprised and impressed by how much the locals embraced it."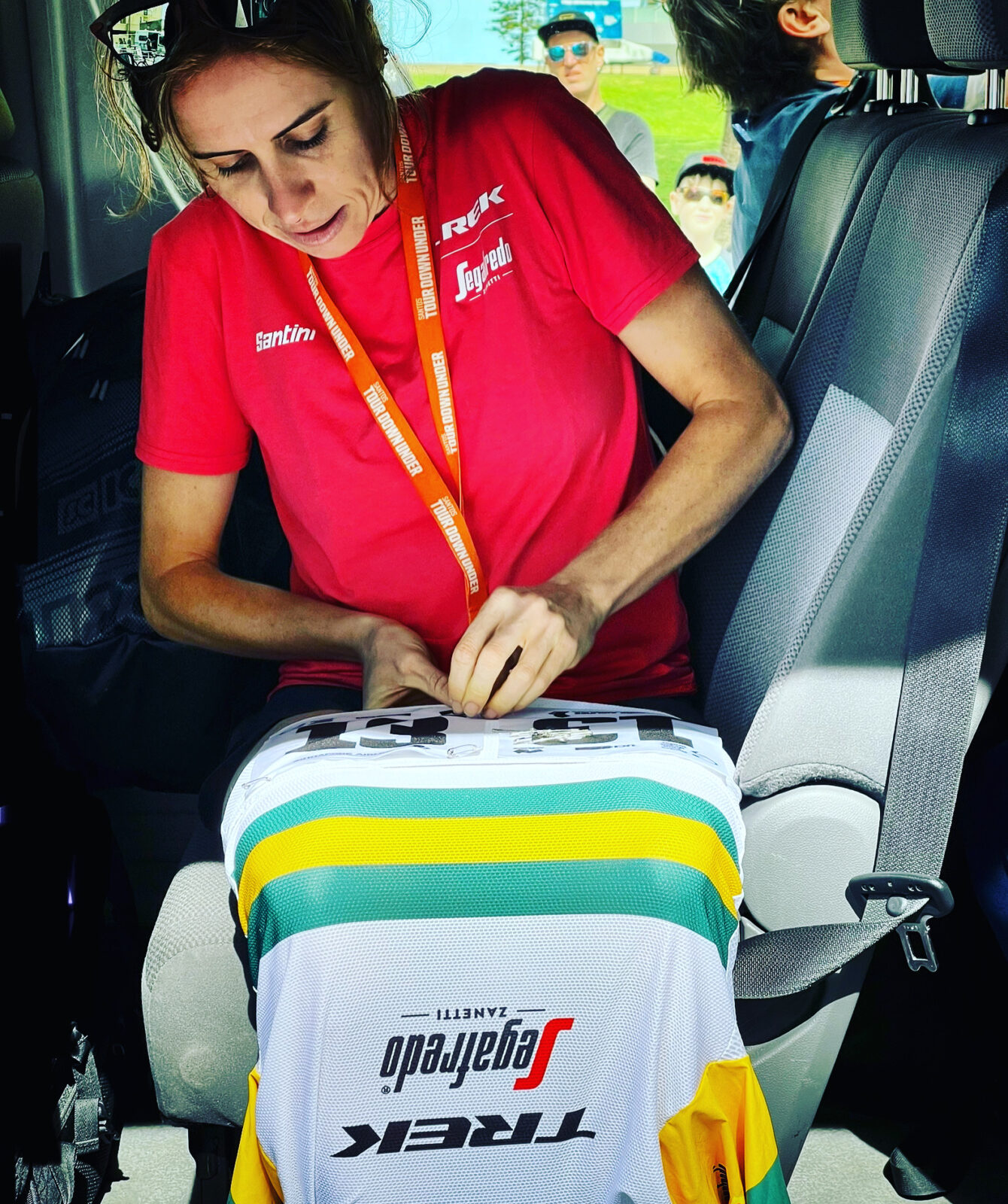 Chapman is often classified as a one-day specialist which is why she's ridden the World Championships road race three times previously, so the Wollongong course suited her.
"There was lots of preparation that went on behind the scenes with the Australian team for the World Champs. We can't all train together, but we had meetings to establish goals and values which also contributes to the team selection, as well as results. For the women's road team we stuck to the winning combination from the Commonwealth Games with the addition of Amanda Spratt and Josie Talbot.
"The race didn't play out how we expected. Our goal was to protect Grace Brown and Alex Manly and we all had a role in the plan. Early on our aim was to get numbers to the city circuits and not waste riders early. We expected Mt Keira to be selective, but as we all know now that's not how it played out, and van Vleuten surprised us all at the end of the race.
"It's very special to race in Australian colours on home soil. The racing has a different feel and dynamic to our other races, particularly because we have no race radios. I don't see the point of excluding radios for just a couple of races. It's an exciting sport whether we have race radios or not," said Chapman.
"…her career keeps stepping up, having signed with one of the biggest and most successful teams, Trek Segafredo for the next two years…"
She's looking forward to the next two years with the Trek Segafredo team. "I was not unhappy with my team but Trek approached me last year and made an offer that I couldn't turn down. It wasn't until after I'd signed that I found out that Amanda Spratt was also joining the team which is great news, and my friend Lauretta Hanson is also part of the squad. Although one of the things I enjoy about an international team is getting to know other people from around the world.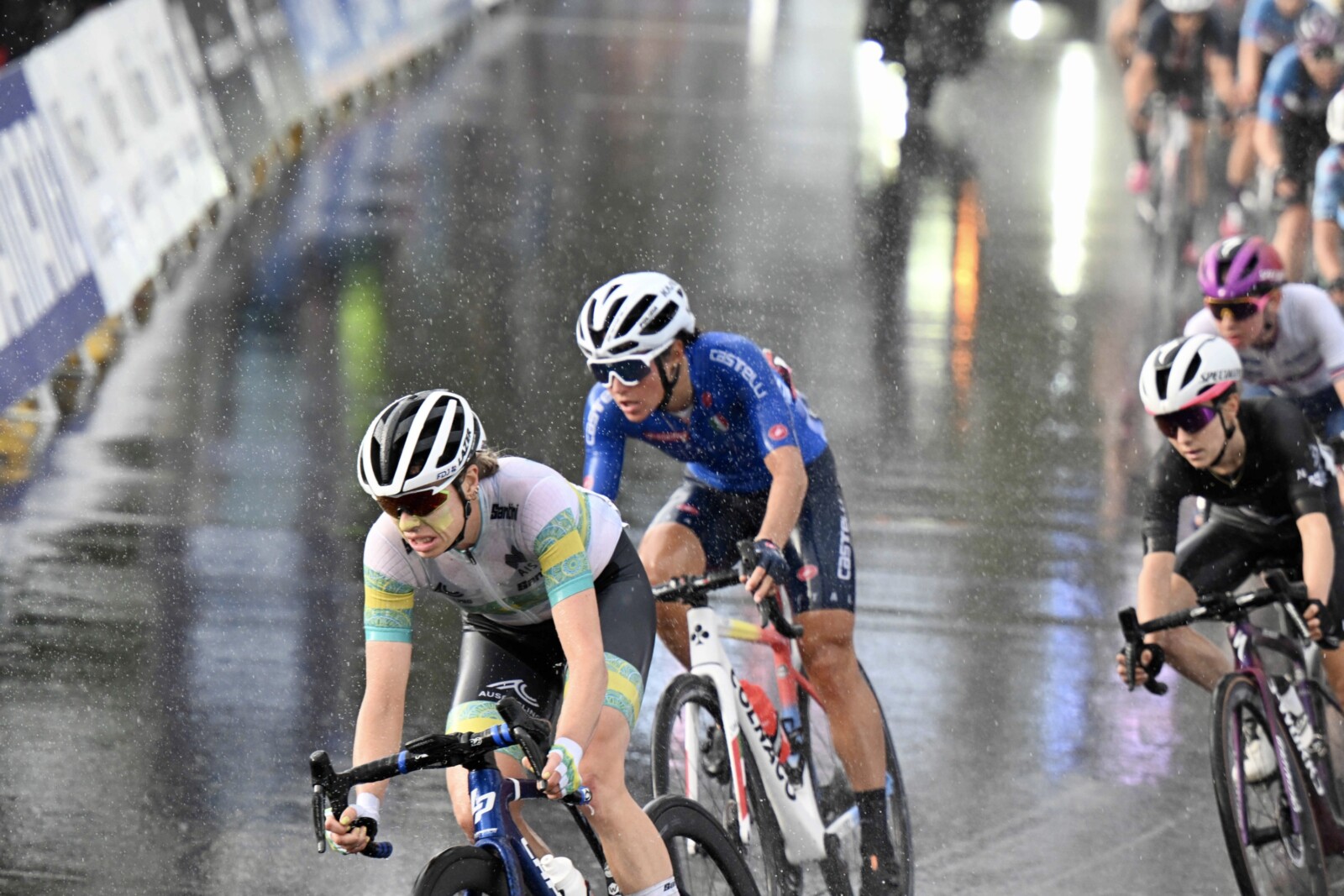 "Ever since its inception I've admired their collective strength and how they fully commit to their winning riders," Chapman explained. "Their combined tactics and strength in the peloton are a force to be reckoned with and it's something I've dreamed about being a part of. I'm excited about this opportunity."
Although Chapman agrees that women's professional cycling has developed in recent times, she still laments the comparisons with men. "My job is taken less seriously than men. People I meet often express surprise that I ride and race my bike full-time and get paid to do it. Women's cycling has progressed, and I am well looked after by my team in Europe, but I'm keen to educate people about our sport.
"When women's racing is shown on TV, the coverage starts too late and you miss the breakaway and the early tactics of the race. It's like opening a book at the last three chapters and wondering what's going on. I'm personally offended when I've been in the breakaway and the TV coverage starts just after the breakaway is caught. But at least it's on TV. I swing like a pendulum from being grateful to feeling pessimistic," Chapman said.
Chapman also plans to participate in marathon mountain bike racing when the opportunity arises. "My team will allow me to ride in these events with enough notice to fit around my road racing, and my coach John Wakefield who also coaches a lot of mountain bikers will make sure it fits too.
Asked whether she has a career plan, Chapman says that she will ride until she stops enjoying it. "When I retire, I hope I can choose the right time, not be forced out by illness or injury. My professional cycling career is a significant but short period of my life, particularly if I live to 100.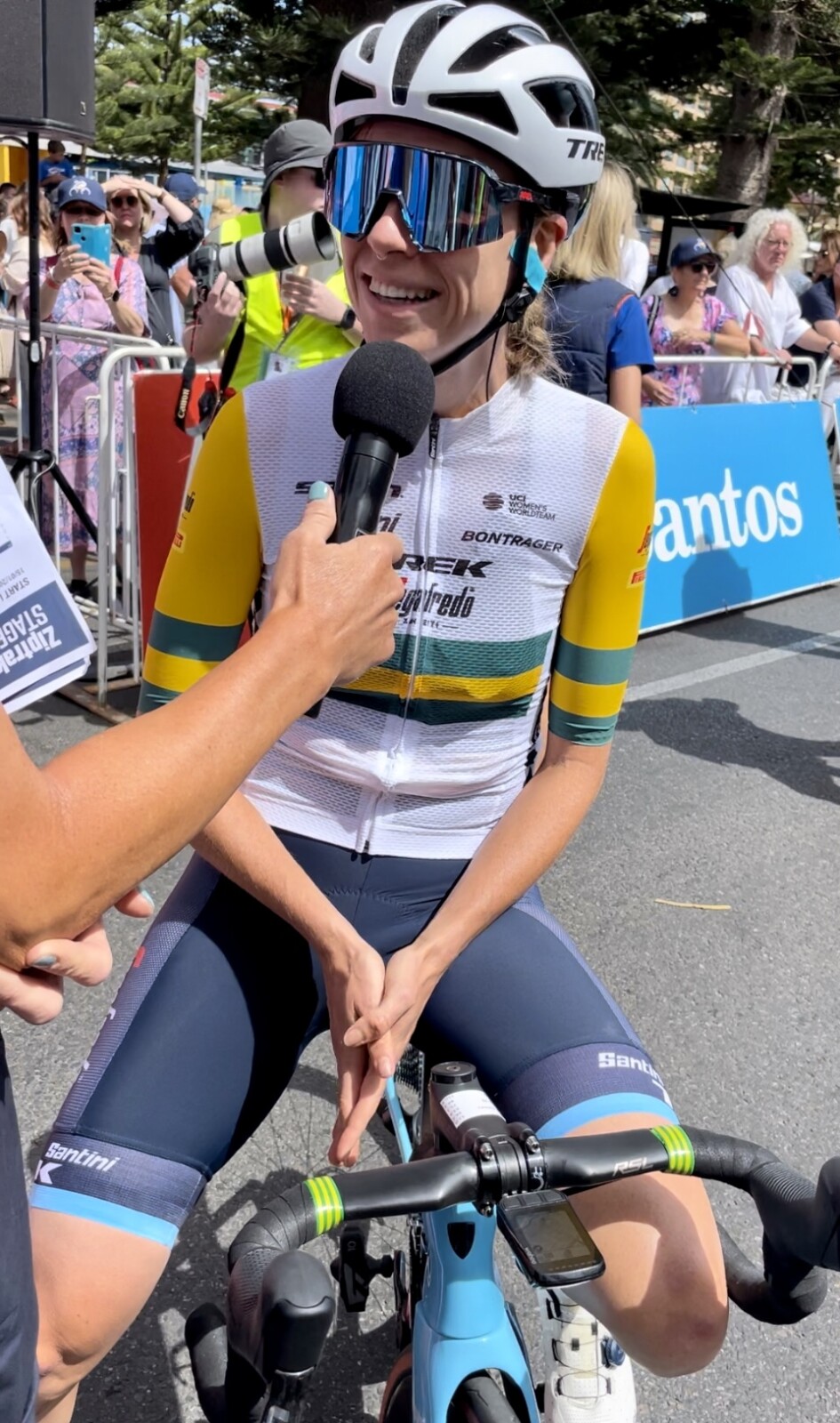 "I'll keep riding as long as I enjoy what I'm doing. I also place importance on looking after my physical, social and mental health, and ask myself – what am I willing to do to reach my goals? I also value changes in my environment and new experiences, and love being social and meeting people. Sometimes it's to the detriment of training, but it stimulates me. However, I do take my craft seriously and always want to improve. I want to be challenged constantly, but not neglect other good things in life," Chapman concluded.
Brodie's Bullets
4 Years as a professional rider
2023 Australian National Champion
2018 Winner, Women's Herald Sun Tour
Two year deal with 'superteam' Trek-Segafredo
A strong all-rounder and loves cobbles
Bicycling Australia's Tour Down Under Coverage Is Presented By Hammerhead Cycling Computers.