Lorne. The Otways. Torquay. Bells Beach. Sure I've heard of these places. But hailing originally from Queensland, and more recently New South Wales, I've never had the opportunity to explore them, certainly not on two wheels. Then along came the Cadel Evans Great Ocean Road Race –recently promoted to 1.HC status, just one tier below UCI World Tour – and here I am, embarking on two days of riding around this magnificent region of Victoria. We fly directly into the no frills Avalon airport just north of Geelong and experience one of the swiftest post-flight passages I can ever remember. Within barely 30 minutes of touching the tarmac we've collected our bikes, have the keys to our hire car and are making easy going of the 70km trip south-west to our apartment in the coastal haven of Lorne, also staging point for Amy's Gran Fondo each September.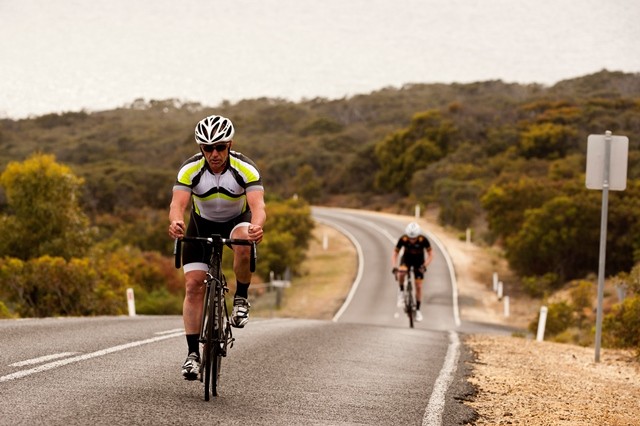 SATURDAY: Lorne to Lorne, via the Great Ocean Road, Forrest and Barwon Downs. 122km, 1,980m of climbing.
Tucking into a light breakfast overlooking the ocean, serenaded by the sounds of breaking waves and a cheeky local cockatoo, we laugh at the irony of having such a magnificent apartment yet virtually no time to enjoy it. Our schedule says we need to be rolling by 7am to complete the full Amy's loop in time for lunch. It's cool and slightly overcast but the winds are light and Weather Zone says zero chance of rain. Perfect.
One of the great joys of riding anywhere for the first time is, pretty obviously, riding there for the first time. Unlike the usual weekend fare, more reminiscent of a maturing marriage – comfortable and familiar – new surprises await beyond every bend and crest of the Great Ocean Road and beyond. We take it all in, kilometre by kilometre, flanked by beautiful coastline on our left, hundreds of rosellas and virtually no traffic. It's surely one of the most spectacular sections of road in the world, but certainly far from flat. The natural geography sends us up numerous rises in the first 40km including Cape Patton, adding around 500m of elevation before we've even really started.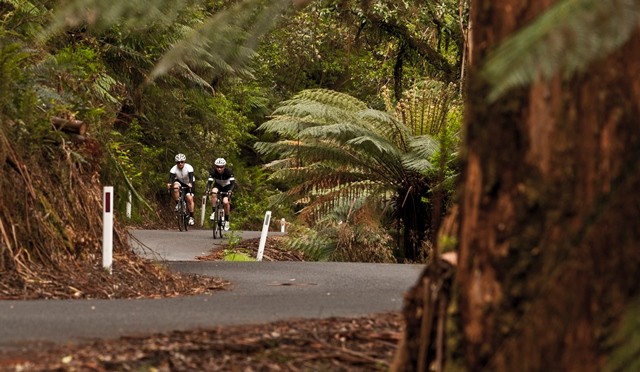 We leave the ocean behind just before Apollo Bay and begin the 10km climb of Skenes Creek Road. It's a steady gradient hovering mostly between 6% and 8% and an ample test for legs that have spent more time crit racing than climbing in recent months. We pause for a quick regroup at the top (i.e. waiting for me to catch up) and continue on.
As you tend to do on a new ride, we find ourselves constantly discussing the route and terrain. We agree it's an unforgiving course, especially under race conditions. Fortunately we're not racing so we take our time, including a short side trip to explore the winding trails of Beech Forest-Mount Sabine Road just past Tanybryn. The next town we encounter is the rather splendidly named Barramunga, before a much-appreciated coffee stop in Forrest is followed by yet more scenery changes as we roll through lush farmland near the townships of Barwon Downs and Pennyroyal.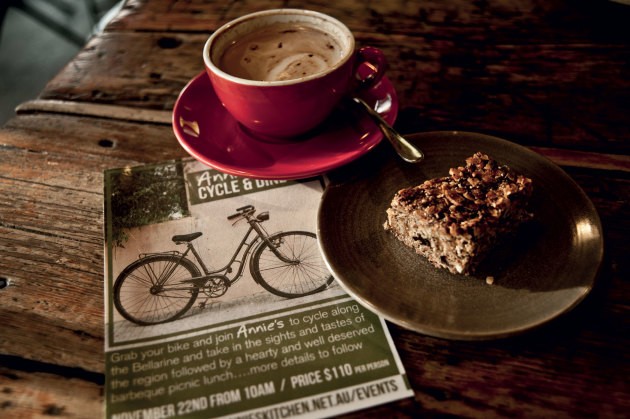 The day's second major climb arrives at Deans Marsh with the 12km rise towards Benwerrin. I'm soon off the back as my aching knees tell me it's a lot steeper than the supposed 2.4% average gradient (hindsight later reveals several flatter sections near the top heavily skew the stats). Eventually the bitumen tops out at the Mt Sabine Road turnoff and from here it's a slick 10km descent all the way back to Lorne. Grimaces quickly turn to smiles.
The day's riding may be complete but there's more sight-seeing to be done as we drive east for an open-air lunch at Airey's Inlet. Then it's a short hop to our Saturday night accommodation in Barwon Heads. Spa bath? Yes please. After an afternoon kip and freshen up we make our way to the delightful Oakdene winery for a well-earned dinner. It's a great place for weary riders looking to replenish energy reserves and sample the local fare of the Bellarine Peninsula.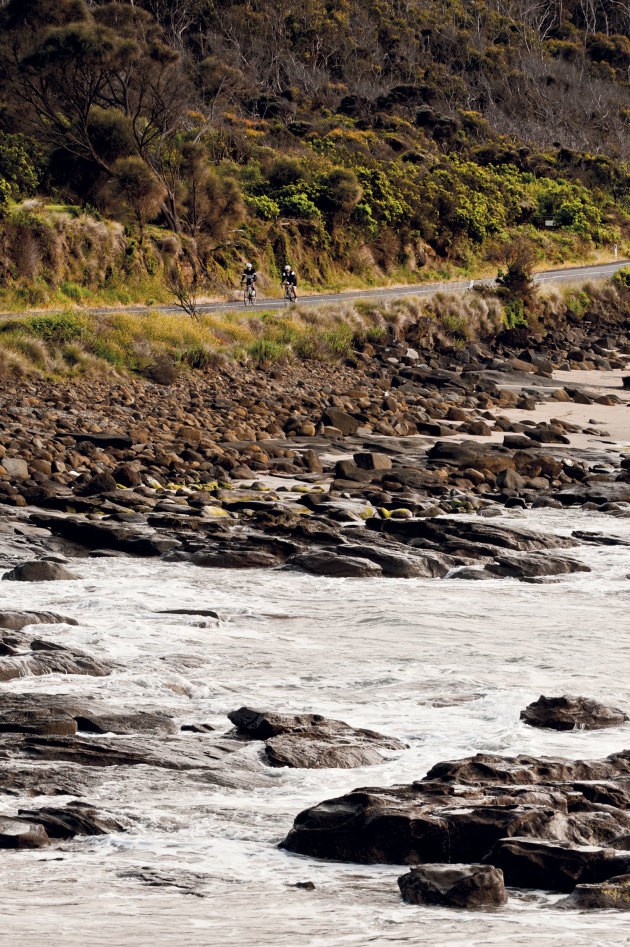 SUNDAY: Barwon Heads to Wallington via Bells Beach and Geelong. 110km. 1,060m of climbing.
We spend the night barely a stone's throw from Cadel Evans' home in Barwon Heads. The great man himself is still in Italy but we resolve to enjoy breakfast in his honour at one of his favourite local cafes, Annie's Provedore. Chatting with the amiable proprietors, Andrea and Hamish, they tell us the story of Annie's secret recipe health bars. Made fresh in the commercial kitchen upstairs they've become quite a hit in the pro peloton since last year's Cadel Evans Great Ocean Road Race. Word is Richie Porte requested a personal supply for last year's Giro d'Italia while IAM Cycling took a whopping 10kg of the bars back to Europe. We settle for one each.
Breakfast conquered, we head straight to the nearby Barwon Heads beachfront, ready to explore the bulk of the Cadel Evans Great Ocean Road Race course. Within 30 minutes another brisk start has given way to temperatures pushing the mid to high twenties. The breeze is also a lot stronger than yesterday.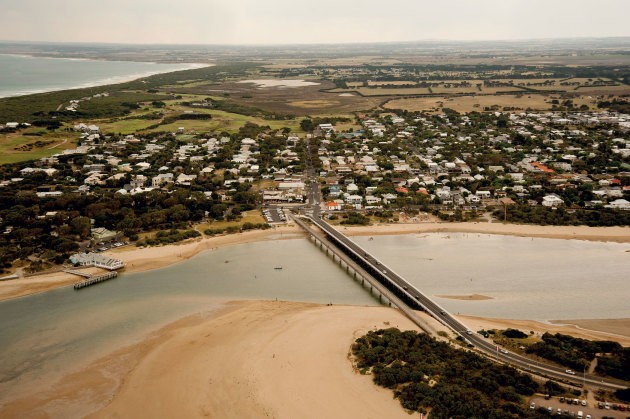 The first hour is largely flat and fast, taking us west along the coast as we pass myriad surfers with their utes and panel vans. After a few short inland deviations we roll through Torquay before arriving at the most famous surfing spot in Australia, Bells Beach. We know we're close when we spot 'Ring the bell Cadel' still emblazoned on the road, a legacy of the inaugural race. This is where we hit a sequence of short, sharp climbs including the official KOM that marks the start of the 50km journey back towards Geelong. It's no beast, but the climb out of Bells certainly has enough sting to inflict some pain on the peloton and could see some of the fast men unhitched.
Without meaning to be unkind, the transition to Geelong is the least picturesque section of the 174km course. Long, exposed stretches of dead roads and largely unremarkable scenery punctuate this part of the world. Coupled with blustery crosswinds life is sure to be difficult for any riders caught out of position here. For about 20km our small group is buffeted. It's heavy going and I gladly hide towards the back. Then, like a mirage in the desert, we spot the telltale signs of a Sunday morning club race – witches hats and traffic controllers. Alas, when the bunch duly arrives it's heading in the opposite direction so we can't hitch a ride.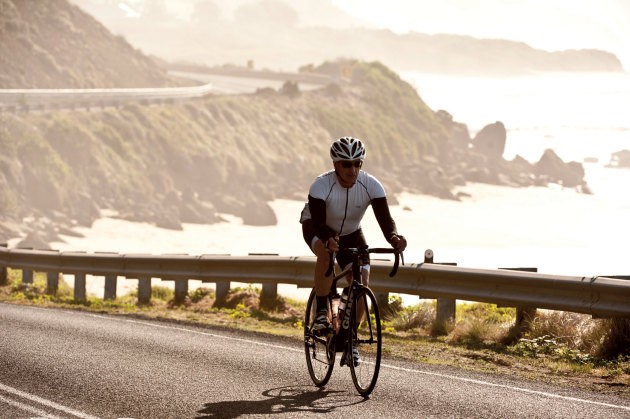 It's getting warmer all the time. We're roughly 80km into the course now and on top of the wind the terrain starts to become noticeably lumpier. We make our way over several deceptively long inclines, most memorably at Mt Moriac and again near Ceres as we approach the M1 overpass that overlooks Geelong. From here it's a short descent into suburbia before a hard left turn sees us confronted by a straight wall of bitumen. Apparently its name is Scenic Road but, frankly, I find the view terrifying. With a double-figure average gradient hitting almost 20% towards the summit the pros only tackle this once. Nevertheless for any riders barely hanging on this may well finish them off. It's no coincidence this is where the 2015 race came back together.
Unlike us, the pros will return to this area three more times before the race's finale in January. However they'll instead be sent up nearby Challambra Crescent on subsequent visits. It's barely 1km in length but Challambra is one of those unpleasant climbs that seem to go on forever – a feeling no doubt compounded even further by the ultra aggressive context of a UCI race. If that isn't enough for them, the pros will also be confronted with multiple bursts up the short but nasty 'Melville Wall' just off Queens Park Road.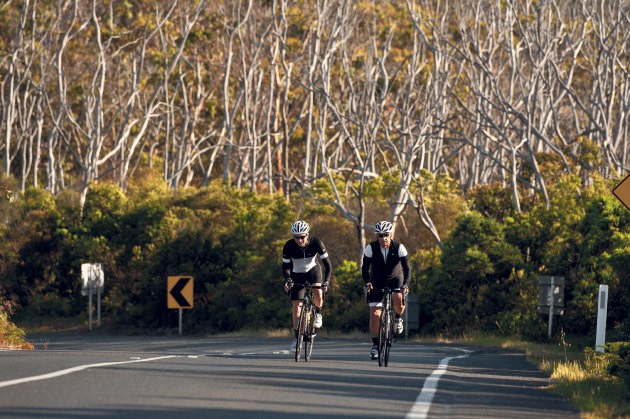 After three demanding loops of the finishing circuit the race ends back where it all started, on the picturesque Geelong waterfront on Eastern Beach Road. As we arrive at Transvaal Square it's lunchtime on Sunday and the place is buzzing with cafes, gelato stands and even a festival on the oval where, come January, the official VIP marquees will stand. There's time for a quick coffee stop before we're following our noses on the final 18km stretch for the day, straight down the Bellarine Highway to Wallington for lunch. Thankfully there's a generous bike lane most of the way.
Soaked in sweat – it's now well over thirty degrees – we sneak in a quick basin bath before enjoying a superb mezze-style meal at the bustling Flying Brick Cider House, a relatively new establishment boasting lush lawns and an ultra-modern cellar door. Crisp and ice cold, the local cider hits the spot brilliantly. We could easily stay here all afternoon, except we can't. Thirty minutes after finishing our lunch we're soaring 3,000 feet above Barwon Heads on a fascinating scenic flight that allows us to analyse many of the roads we've only just ridden from an entirely different perspective. The hills look a lot flatter from the sky. For a laugh we record the flight on Strava to see if anyone back home notices. They do.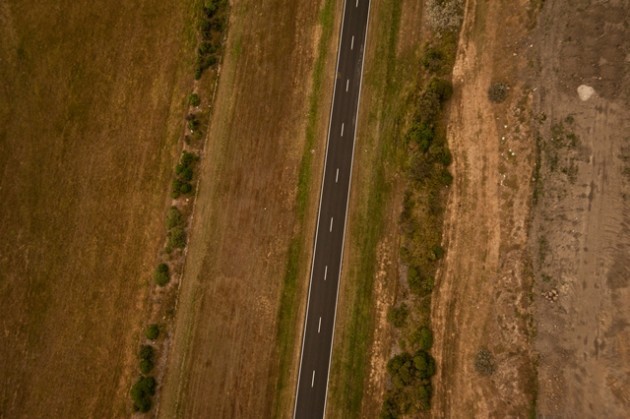 The weekend draws to a close with dinner at Geelong's Little Creatures Brewery on Swanston Street, a wonderfully eclectic heritage-listed site converted from its former life as a textile mill in 2013. The mood is relatively sedate being a Sunday night, but you can just tell this place goes off in summer.
We decide to stretch our tired legs by walking back to the Mercure Geelong, official hotel of the Cadel Evans Great Ocean Road Race. It's barely 800m from the start/finish line and, not dissimilar to the way the Tour Down Under uses the Adelaide Hilton, race organisers book the entire venue for teams and officials. By all reports the adjoining car park is a sight to behold when the race is in town, a giant open-air bicycle workshop.
As I break down my bike for the flight home, my body is aching with that deep yet hugely satisfying muscle soreness only a cyclist can appreciate. It's been a short trip. But a very sweet one. Ring that bell Cadel.