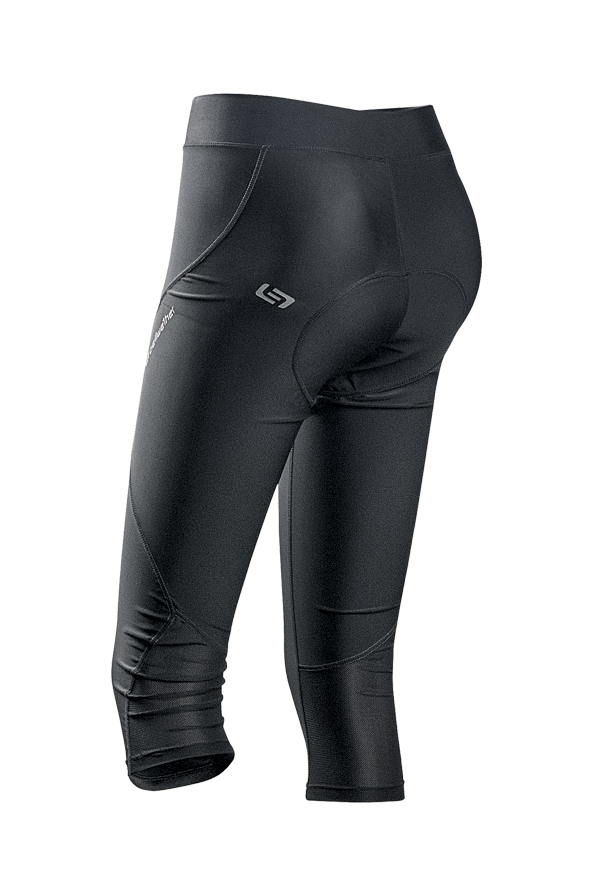 Spring has sprung, the days are getting longer and the weather's heating up. It's a fantastic feeling as the cold days give way to warm sun and, apart from maggie attacks, it's an awesome time of year to be out on your bike.
In the wardrobe department it's time to re-assess your apparel selection to suit cool mornings and warmer days. Personally I don't like being over kitted, preferring to under-dress while stuffing my jersey pockets with arm warmers and a vest.
While it's quick and easy to regulate your upper body temperature, it's preferable not to be fussing with your legs. I think this is where 3/4 length knicks come in handy.
I found that the Bellwether Women's Capri pants worked well as mid-season knicks for that transition to summer. Unlike winter knicks they don't have a warm fluffy lining, but are made of a fine knitted semi-shiny summer weight lycra. The 3/4 cut covers your knees, keeping the chill off on the cool mornings and allowing your muscles time to warm up.
For hotter rides they also offer a SPF 40-plus sun protection rating. So if you don't like lathering your thighs with sunscreen, you can wear these Capri's and still be confidently sun safe. On the back of the knee they have an extra mesh panel that runs from under your knee down to your calf. This panel is designed to improve ventilation, allowing heat to escape. Most of my rides in the Capris were in temperatures ranging from 18 to 24 degrees, and although I didn't get the opportunity to wear them on a scorching summer day, I didn't feel hot or uncomfortable in these temperatures.
The cut features a feminine V-front fitted waistband. Their shape is formed from four lycra panels stitched with smooth flat seams and there are no elastic leg grippers. The lycra isn't the most flexible, instead offering a firm but comfortable fit. I found the Capri's waistband had a lower cut than what I'm accustomed to. They sat further down my back than most knicks and I found myself hitching them up to compensate. On the bike, when teamed up with a women's cut jersey, my back was sometimes exposed to the elements. For me, these knicks were best combined with a longer cut jersey.
The Capris come with a 'Contour Pro' chamois which I found to be really comfortable. Bellwether claims the chamois would suit rides of up to five hours. I didn't have the opportunity to test them on a ride of that length but did find them to last the distance on a three-hour ride.
All in all they are really good value; the chamois is great for the $89.99 price tag and the firm lycra promises better than average durability. While they don't have a generous amount of fabric in the back, the fit of any clothing item is a very individual matter. If they fit you well, I could see the Capris becoming the pair of knicks that sees the most use in your wardrobe.
RRP: $89.99
Distributor: