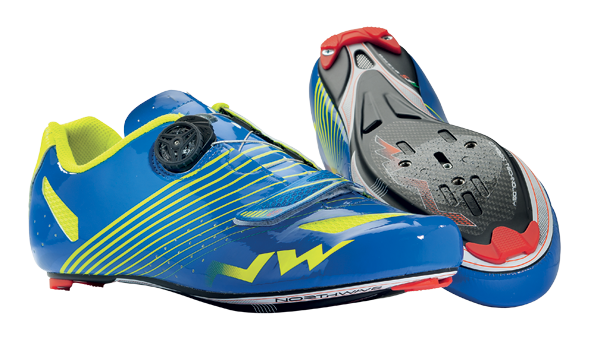 Italian-based Northwave has been making shoes since the 1980s. But the Northwave brand itself didn't arrive until 1993 with the release of cycling shoes aimed at the burgeoning MTB scene. Nowadays their stable of footwear has grown considerably to also include an array of road and triathlon shoes. Amongst many notable riders over the years the distinctive 'NW' has been worn to victory by no less than Mario Cippolini, Tom Boonen, Alejandro Valverde, Philippe Gilbert and Matt Goss. They even adorned the feet of a young Cadel Evans when he secured the MTB World Cup back in 1998. My very first pair of cycling shoes – which are still about gathering dust in a cupboard somewhere – were Northwave. But branding aside they bear little resemblance to the uber modern 2014 Torpedo Plus range.
My first impression of the Torpedo Plus shoes is they're very light. In the case of the review shoes they're also very white. Not to mention shinier than Chris Horner's sweaty head after scaling the Angliru. Of course like most things in cycling – and yes, life – the shine will fade in time. Fortunately there are many more things than pure aesthetics to appreciate about these impressive shoes.
One of the most interesting design features of the Torpedo Plus is something called 'thermowelded unibody' uppers. This is a process which allows Northwave to use thinner-than-usual materials in a finish which is almost 100% free of stitching. The result is an extremely comfortable pair of shoes with a claimed weight of just 260g each – together about the same as a standard packet of pasta. Unlike its sibling in the Torpedo range, the 3S, the fastening system on the Torpedo Plus consists of a single velcro strap across the toes together with an SLW2 Micrometric (wire/dial) closing mechanism at the top. I found the system fast and easy to use with several settings allowing for either total release or smaller adjustments; the latter being ideal when you're out riding. My only advice would be to always use two fingers when releasing the wire at the end of your rides – it's far easier on your hands.
As for the fit itself, I have reasonably wide feet and found the Torpedo Plus to be very accommodating without being too snug or loose. If you have narrower hooves it's probably best to swing by your LBS to try them on before you buy or you may find your feet swimming in them. That said, Northwave utilises a heel retention system together with a patented design process called BioMapping to ensure the shoe anatomically follows the shape of your foot, prevent slipping and provide enhanced support when you're pedalling. Even allowing for the usual dose of marketing hyperbole, I did actually notice a difference.
If performance is important to your riding, the soles of your shoes can be a critical factor. Once again this is an area where the Torpedo Plus delivers. Constructed from a thin yet undeniably stiff mix of lightweight carbon and nylon, they provided excellent power transfer with very low weight so your on-road exertions won't be going to waste. I also found the integrated ventilation system, whilst visually quite subtle, provided good airflow – particularly on longer rides.
Summing things up these are very good, very comfortable and very light cycling shoes for serious riders at an accessible mid-range price point. It's a compelling combination – so much so, in fact, I've decided to buy a pair for myself.
NOTE: This review was conducted using Shimano cleats and pedals. But Northwave has also developed a patented Speedplay adaptor which is compatible with the Torpedo Plus range. However this wasn't reviewed.
Northwave Torpedo Plus cycling shoes are available in three colours: White (reviewed), Black and Blue/Yellow.
RRP: $249.95, 520g per pair
Distributed by Bikesportz: www.bikesportz.com.au