A paradise for road cyclists … That's how I'd always imagined the Catalonian city of Girona to be.
For years I'd read the articles, scoured to web and sat up late at night watching YouTube videos of other people's cycling holidays. Footage of fast, smooth and seemingly endless descents completely captivated my cycling imagination. "Sure there's got to be a fair amount of climbing," I remember thinking late one winter's night in Sydney. "But gee I need to spend some time in that cycling paradise someday."
Through a long and convoluted chain of events I was in France to cover the 2017 Tour for Bicycling Australia. The trip had in fact started more than a month earlier, In Milan, Italy for tyre giant Pirelli's much-anticipated return to the bicycle tyre business. Following the P-Zero Velo launch I, caught the train to France to work remotely in the lead up to the Tour.
The Tour came to an abrupt end as it does and, in those final few days prior to flying back to reality in Australia, a perfectly-timed email arrived from Pirelli. 'Will we be seeing you at EuroBike?' was the question. Quickly forwarding the message back to head office Downunder, all fingers and toes were promptly crossed.
Realising the sense in staying on for the world's biggest bike show, I found myself with 5 weeks up my sleeve and, in a matter of nanoseconds, Girona came to mind. And in that historic Catalonian city is where this travel diary begins.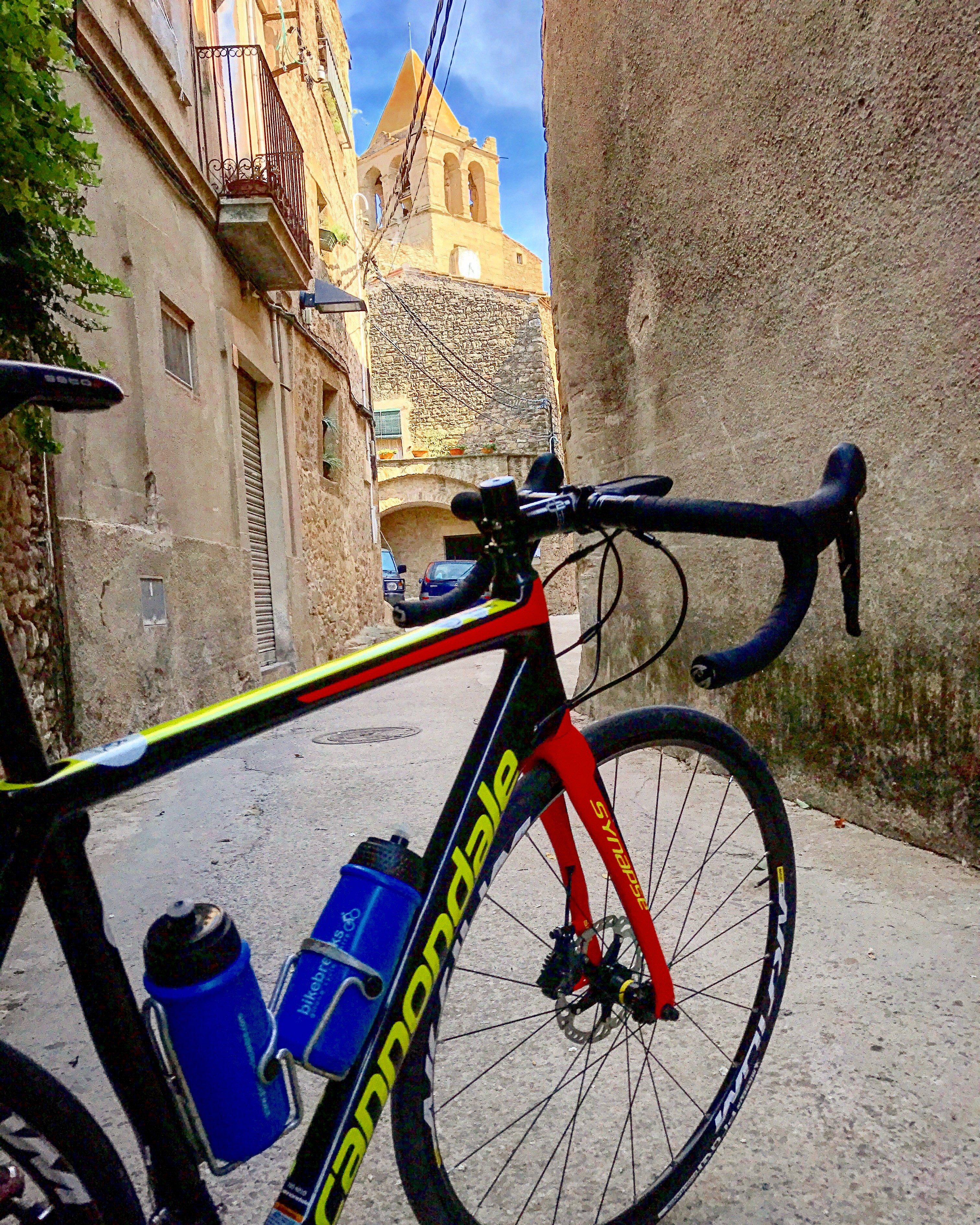 Day 1
After arriving by train from Paris (69 euros and 5.5 hours) at 10pm the night before, the first full day in Girona started a lot lazier than expected. It was Tuesday morning and the Tour de France had finished just days earlier … my body was tired after three weeks following the great race around the country.
Finding the energy to walk down two flights of stairs to the cafe below the accomodation, the Federal, I sat with a friend from Australia, blearily sipped the first of three cortados, and then realised it was in fact Lotto NL Jumbo legend Robert Gesink at the next table.
I'd long-heard Girona was cycling central and this point was instantly proven. Moments later, still captivated by the sight of Gesink in an upper body cast after a recent training crash, Rohan Dennis (BMC Racing Team) and his partner Melissa Hoskins walked in and sat at the table next to us.
Australian cycling royalty, the couple were just back from a training ride and happy to be interviewed prior to being left alone to enjoy a morning together.
https://youtu.be/cK73uC0-Q1U
The afternoon was spent being fitted out for a hire bike from the good people at Eat Sleep Cycle. The bike was an Orbea Orca with Vision 30mm wheels and a Shimano Ultegra groupset. "You just missed Luke Durbridge," said ever-jovial Brian at the shop. "I saw him ride past earlier." "I'd love to catch up with Durbo," I said. "I'm very keen to interview him."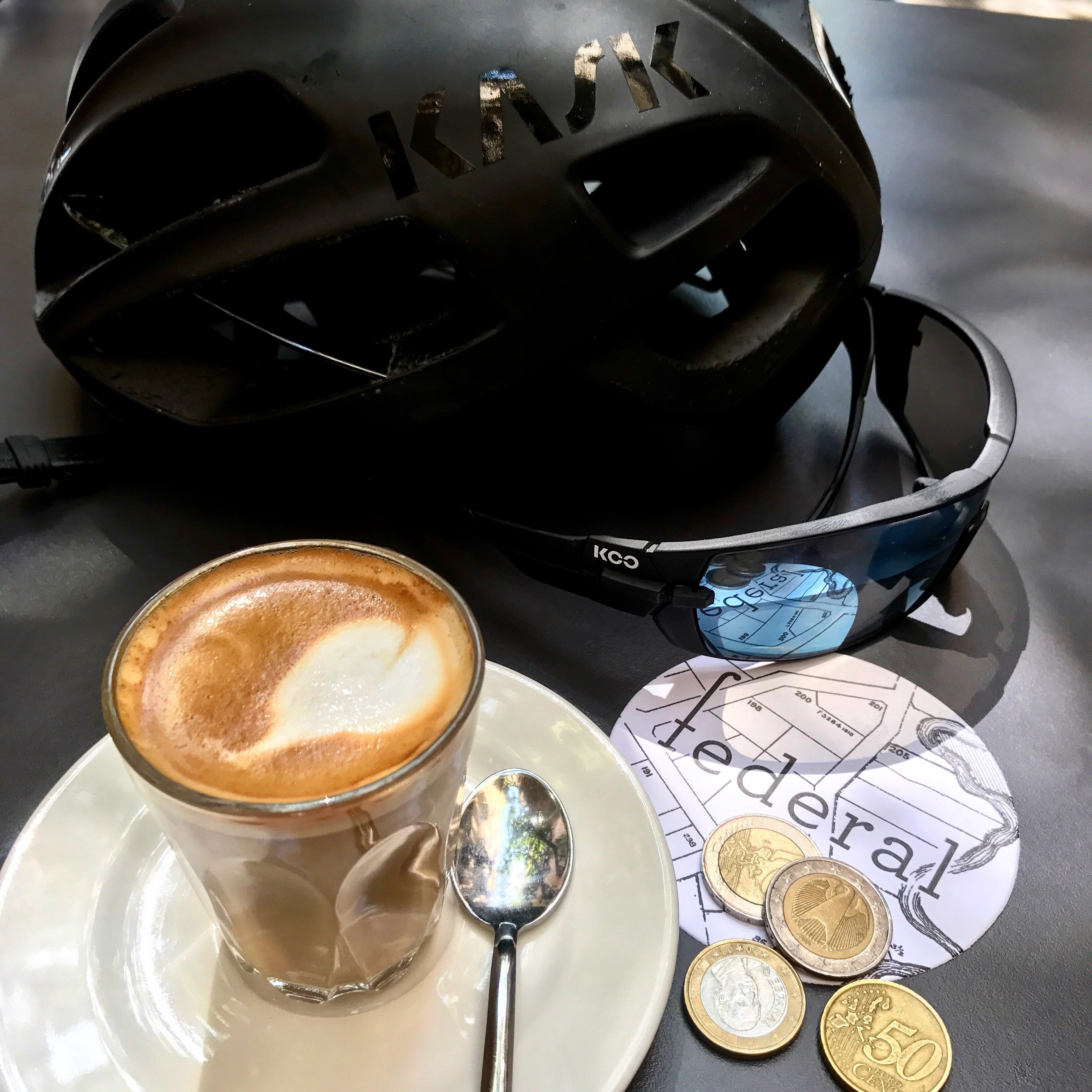 Day 2
Returning to the Federal Cafe for morning coffee (yes, this would become a regular occurrence over the next 4-weeks), Rory Sutherland of Team Movistar was there. One of the most dependable super-domestiques of the pro peloton, Rory also owns the cafe.
We had a great chat and he gave some fascinating insights into his 10 years as a resident of Girona (which will be included in another article on the region).
The day dragged on, as they tend to do in Girona, and in the afternoon I was finally out on the bike and en route to iconic local climb Els Angels. A simple 30km 'up and back' or 50km local loop, this ride offers fantastic climbing, spectacular views from the top, and a thrilling descent – particularly when hurtling down 'the other side'.
Day 3
"Pro hours," as a good friend from Sydney often says. There's no need to rush, definitely not here in Catalonia. Today was the day of the Olot ride, organised by Eat Sleep Cycle who mix local day trips with multi-day and even week long sojourns to some of Europe's most iconic cycling destinations.
We rolled out from the shop just after 10am and were barely kilometres in when saw by a bunch of Orica-Scott riders heading back towards town … and one looking like Durbo. Not far up the road we were passed by a peloton of four more pros.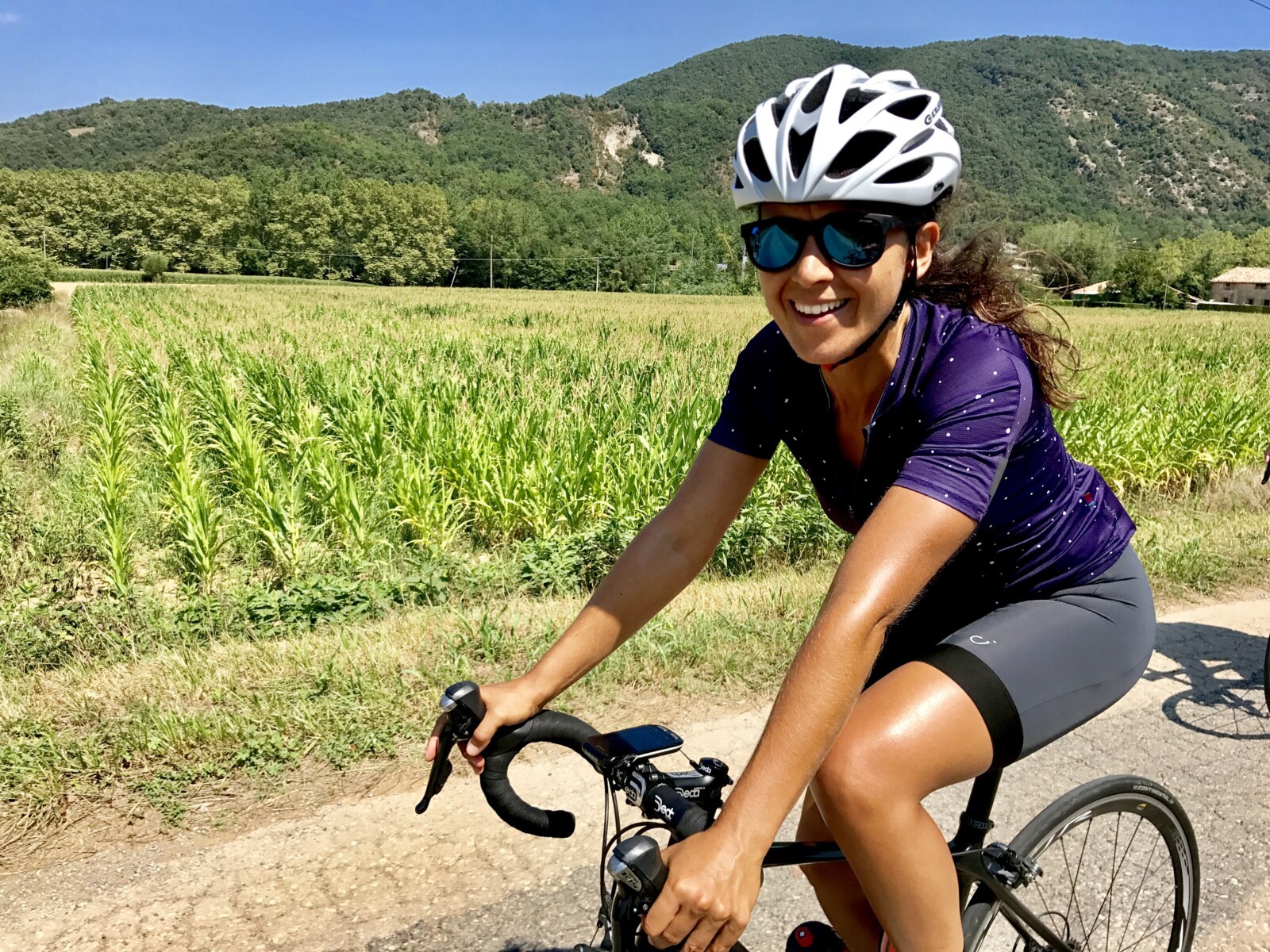 A brilliant ride that consisted of morning coffee in a sleepy little town prior to long climb then lovely ride through the rolling countryside – a fair amount of it under the breathtaking backdrop of an imposing escarpment. Lunch was what I came to know as standard yet stunningly simple faire – a bikini, or ham and cheese baguette.
The ride continued and we left Olot with a short climb of around 4km at 6% in the 38 degree heat. Regrouping at the top of the climb, the following 20 or more kilometres were predominantly downhill and some of the most memorable descending ever.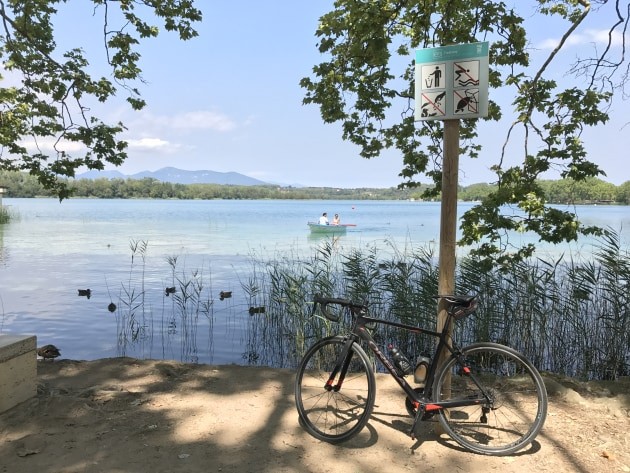 Around 2 hours later found ourselves at Banyoles, a stunning lake and must-see destination for all visitors. It was there that two in the group swapped high-tech carbon fibre for and old school row boat. Paddling to the middle of stunning Lake Banyoles, cycling-mad Eoin proposed to his equally enthusiastic partner. Fortunately she said yes and we all enjoyed champagne by the lake.
Day 4
Sadly no significant cycling today with plenty of work to be done for Bicycling Australia as well as resting the legs for rides later in the week … It's all about balance, as they say. After work it was fascinating to explore the medieval old town of Girona and get a feel of the the local culture, customs, history and tradition.
In the afternoon I caught up with Melbourne-based Hollie Bracewell, a mad-keen cyclist who was enjoying an extended working holiday in Girona.
https://youtu.be/ZnMbg3X3Lrc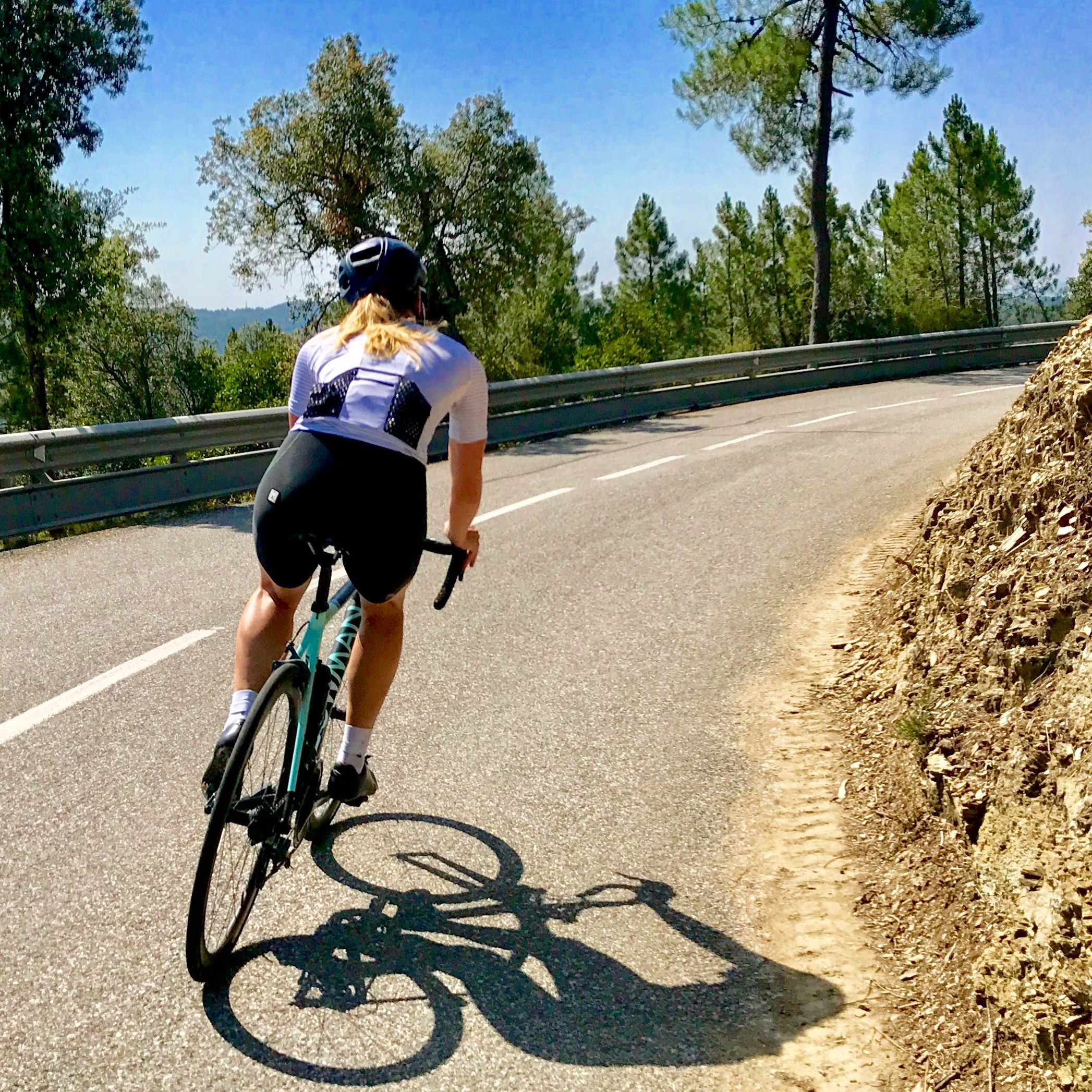 Day 5
It was Saturday and pre-warned how quiet Girona was on a Sunday, a morning of cycling, afternoon of work and evening shopping trip was on the agenda. Another 38-degree day, we rode early to try to beat the heat. Els Angels (twice) was the riding plan and I was accompanied by local cyclist and Swedish Sports Therapist Therese Sundstrom.
And you wouldn't believe who Therese bumped into earlier in the day … yes Durbo. You can watch the video interview with Therese at Els Angels here.
https://youtu.be/dgHbrvLi9Nk
Day 6
While Girona is a throbbing tourist hub, especially during the warmer summer months, the outlying towns and villages offer a relaxing reprieve from the maddening crowds. After working on Sunday morning I enjoyed a leisurely afternoon ride – aimlessly exploring new roads, old towns and historic ruins all along the way.
Day 7
With a number of group or bike shop rides on offer in Girona, today I attended 'Lazy Lunes', a 42km recovery ride round the outskirts of Girona. A brilliant ride that included a challenging climb near the end, it was one of the shortest but most memorable outings of the trip. Returning to the cafe I asked if anyone had seen Durbo. "I saw him this morning in own on an old steel bike," said a local. "I'll try to find him tomorrow," I thought.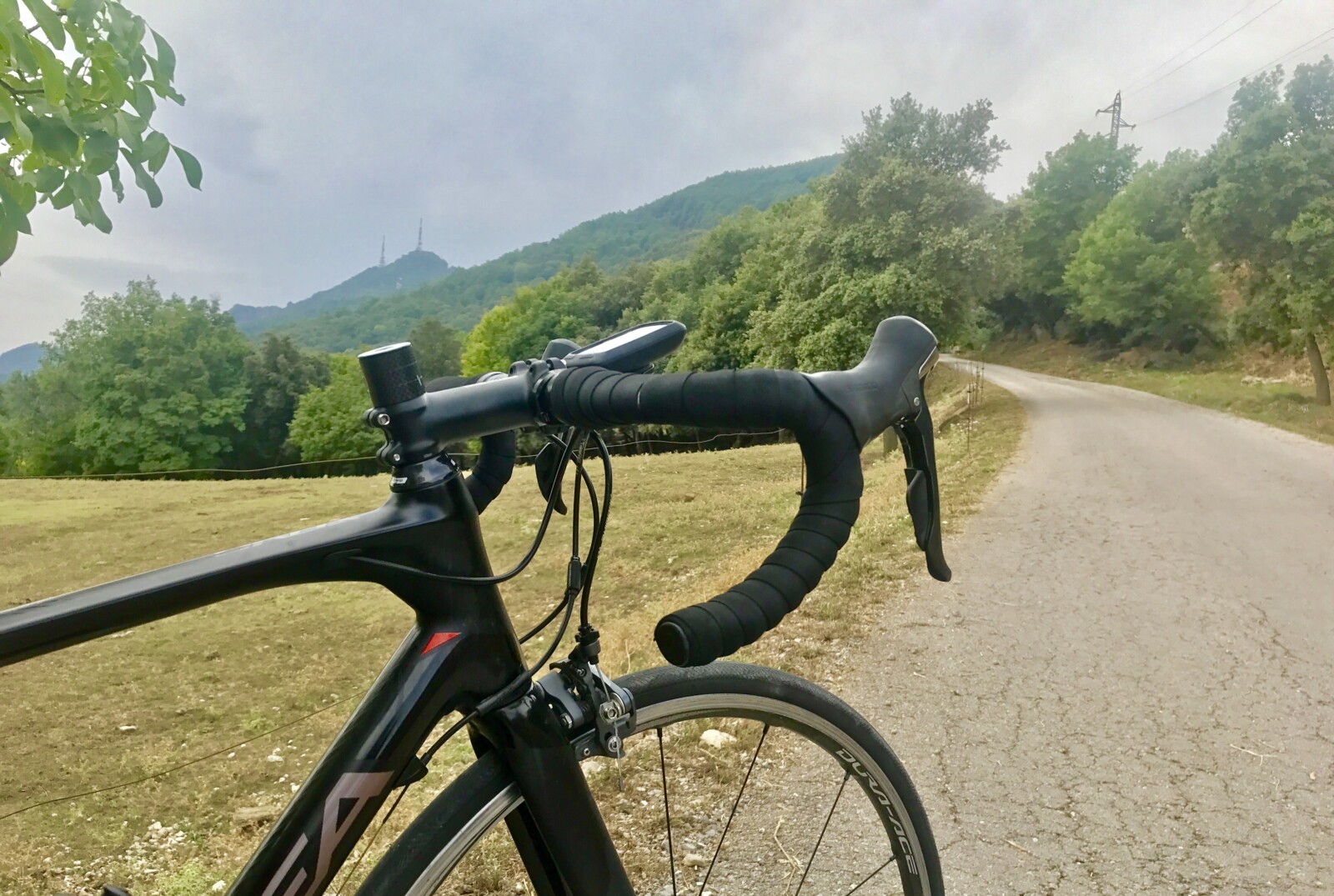 Day 8
Rocacorba is the go-to ride in the Girona region. Used by professional riders as a test climb prior to Grand Tours or major races, it's been made famous by David Miller's brilliant Col Collective video series. It was there on a quiet and refreshingly cool morning, I climbed this legendary beast.
By way of interest Zach Dempster was going up as we were coming down – I missed him by seconds but will no doubt catch up sooner or later. I rode to Rocacorba with Girona resident Peter Gaskill, an equally obsessed cyclist who has a particular passion for titanium and stainless steel bikes.
https://youtu.be/NpMDl9gKcSo
Day 9
A much-needed rest and work day – Robert Gesink was again casually eating lunch at the Federal Cafe as I sat, used their wifi and worked on Bicycling Australia content. A look around for Durbo … but still no sign of him. A day of no riding at all, I did the tourist thing and visited the historic Girona Cathedral and Sant Lupo. On my return Aussie female cycling sensation Lauren Kitchen was at the cafe and told us an amazing story about recently breaking her chain while sprint training.
https://youtu.be/jcj3I8fOUAc
Day 10
Thursday morning and the BikeBreaks Girona store was the place to be for their weekly shop ride. This outlet, owned and run by locals Dave Walsh and Saskia van Vuuren, is an absoloute must-visit destination in itself. Dave's a walking encyclopedia of all things cycling in Girona, a top bloke, and absoloute machine on a bike.
Departing Girona for roads west, I was up front alongised Dave and the first bunch we saw were 6 Orica-Scott riders out on a training ride. Eric Martin, the former Grand Tour rider and proud father of Dan Martin, was in the group … and a friendly tip – respect his wheel! This man can match it with the best of them. A brilliant ride, we covered a hard and fast 65km in 38 degree heat.
On the ride back into town I pulled up alongside Cannondale-Drapac stagaire Cyrus Monk at a set of traffic lights. A friendly and amiable 20yo, we arranged an interview at Pedal Mafia.
https://youtu.be/h8u0xJaX6RQ
Day 11
The local cycling fraternity, particularly the Aussies, were in raptures after Jack Haig's stunning solo stage win at the Tour of Poland. A temporary resident of an apartment full of local cyclists, one of my housemates happened to be Anna, Jack Haig's girlfriend. She gave me his phone number, I phoned him, and he spoke. You can read the interview here.
Later in the day a quick blast up brilliant local climb Els Angels. Tristan Cardew (Mobius Future racing and chasing a Pro Conti contract) was up there, as were a number of WorldTour pros. A local ride that I've now done numerous times, this one never gets boring.
Day 12
A lazy Saturday in Girona started at the Federal cafe for 3 cortados. Popping into the BikeBreaks store to buy new socks – remembering that the sock maketh the kit – Janse Van Reinsberg of Team Dimension Data and National Champion of South Africa bought his Cervelo in for service. An amiable chap, he casually said he was still recovering from the Tour de France but looking forward to starting the Eneco Tour on Monday.
As I left Dave said "You just missed Durbo, he bought his bike in for a service, but if you stay around for 10 minutes Annette Edmonson will be here."
https://youtu.be/4j5rpBvi7A0
Day 13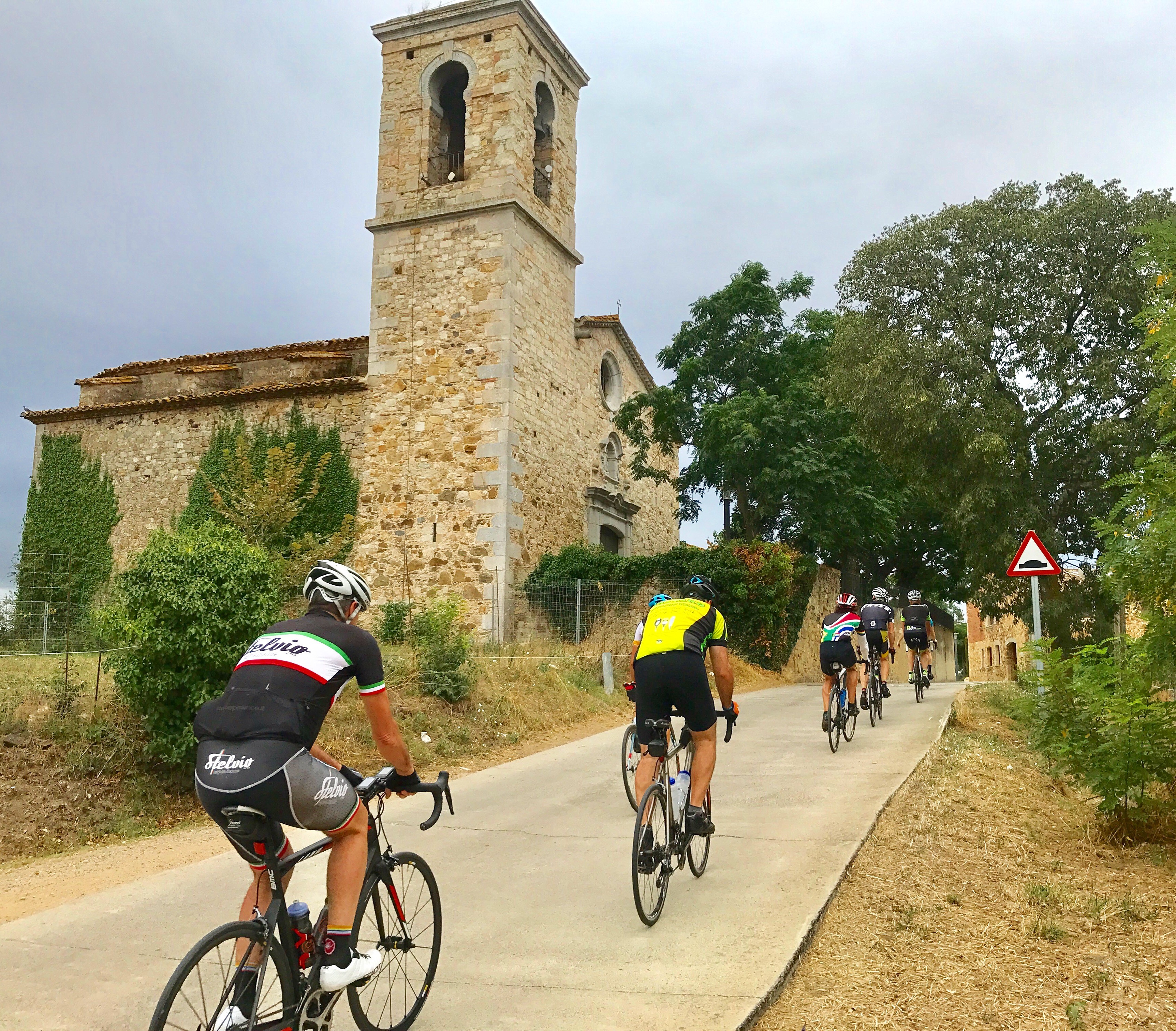 As I said last week, Sundays are super quiet in Girona – so quiet that it's wise to stock up on food and drinks each Saturday afternoon. After a sleep in I saddled up for a lazy Sunday ride. A quick stop at the Federal, where two unidentified Cannondale-Drapac riders were having coffee, then I headed north out of town with absolutely no destination in mind. Before leaving the confines of town I was passed by a Sunweb pro. I gave chase, he won, and I continued on.
After enjoying some brilliant climbs and descents on traffic-free roads around Sant Medir, I continued and eventually found myself at Banyoles. After exploring the medieval town I did a circuit of the lake, looked through a 12th century church, and continued back to Girona. 71km for the day, 854m of climbing, completely aimless but a brilliant day out.
Day 14
Another day off the bike and after a busy morning on the computer I ventured out to get some air and stretch the legs. Strolling through Girona's old town, then on to the town proper, the streets were relatively quiet with most locals enjoying their daily siesta.
Turning up an empty side street a cyclist in blue suddenly appeared from a laneway ahead.
"Durbo!" I said. "You've just ruined my diary."
With a big grin he spun his dirty Scott CX bike around and replied "What the?"
"Well the articles titled 'A Month in Girona … or Finding Durbo', until now I've been missing you by moments each day, and today you appear and just about run me over!"
"Well I'm here now," he said with a laugh. "And I never ride down this street so it's a double surprise."
Explaining it had been 6 weeks since his crash at the opening time trial of the Tour de France, his last Raceday, Durbo said he'd been back on the bike for 2 weeks.
Looking fast, fit and lean, he was just back from 70-odd kilometres of cyclocross just outside Girona.
"It was gnarly," he said, "Absolutely brilliant fun. On some of those descents I started to look down and think 'I shouldn't be doing this, with my ankle and all, but there's some brilliant riding around here.'"
Durbo said he hoped to be back racing in the Tour of Britain in September, I tried to act as least star struck as possible, and he gave me his number to organise an interview.
https://youtu.be/v4B5zVrantM
Day 15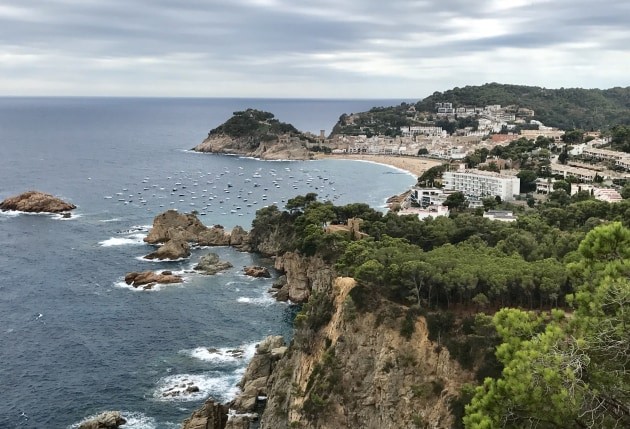 After two weeks in Girona it was time to visit a destination I'd been longing to see …. the Mediterranean Coast . Today was a Ride With Josep, cycling guide form the BikeBreaks store. – We visited Tossa Del Mar and got there via some incredible roads – challenging climbs and amazing descents. Sure the costal towns were super busy with tourists everywhere but this ride was among the major highlights of the trip. Thank you Josep!
Day 16
Day Off the bike and time for work and recovery. And also time to return hire bike number 1, the Orbea Orca.
Day 17
Today was the day I'd enjoy another long-awaited local ride – it was also to be done on a new bike! More about that soon. I rode the legendary Hincapie loop via Els Angels.
On the way I met South African born Australian and now Girona-based pro Nicolas Dougall of team Dimension Data. Stopped on the side of the climb miles from nowhere, he had a kinked and completely jammed chain. David de la Cruz (Quickstep) stopped to lend a hand, wove his magic, and we all rode off together.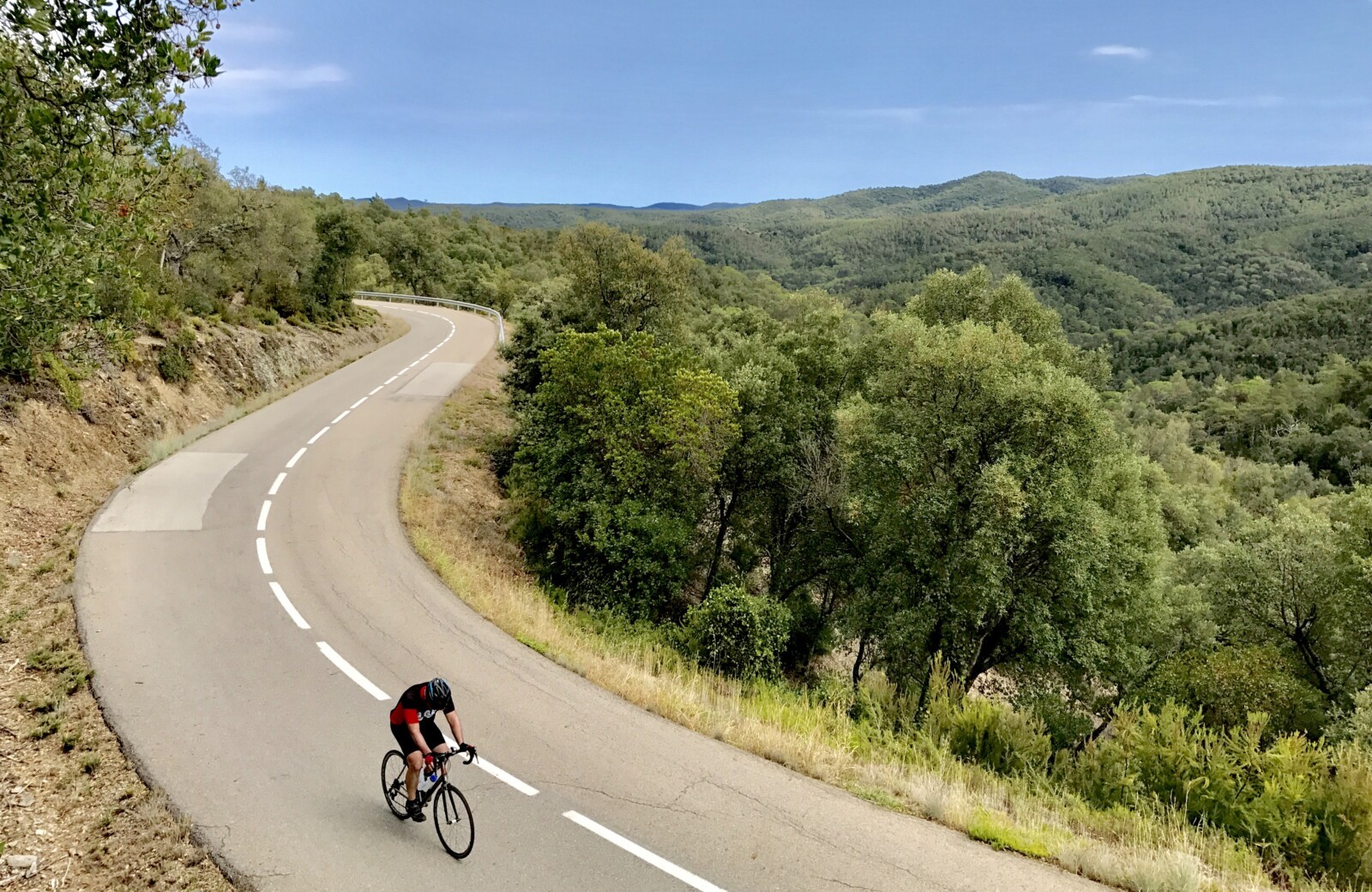 By far the best close-range local loop within close range of Girona, it was a ride I went on to enjoy many more times. Bike wise today I was riding a 2016 Cannonade Synapse Disc provided by BikeBreaks Girona. It was disc-equipped with a Shimano Ultegra groupset, new Mavic Krysium wheels and 28mm Michelin tyres. This was one of the most comfortable, responsive and best handling bikes I'd ever ridden – kudos Cannonade and thank you BikeBreaks!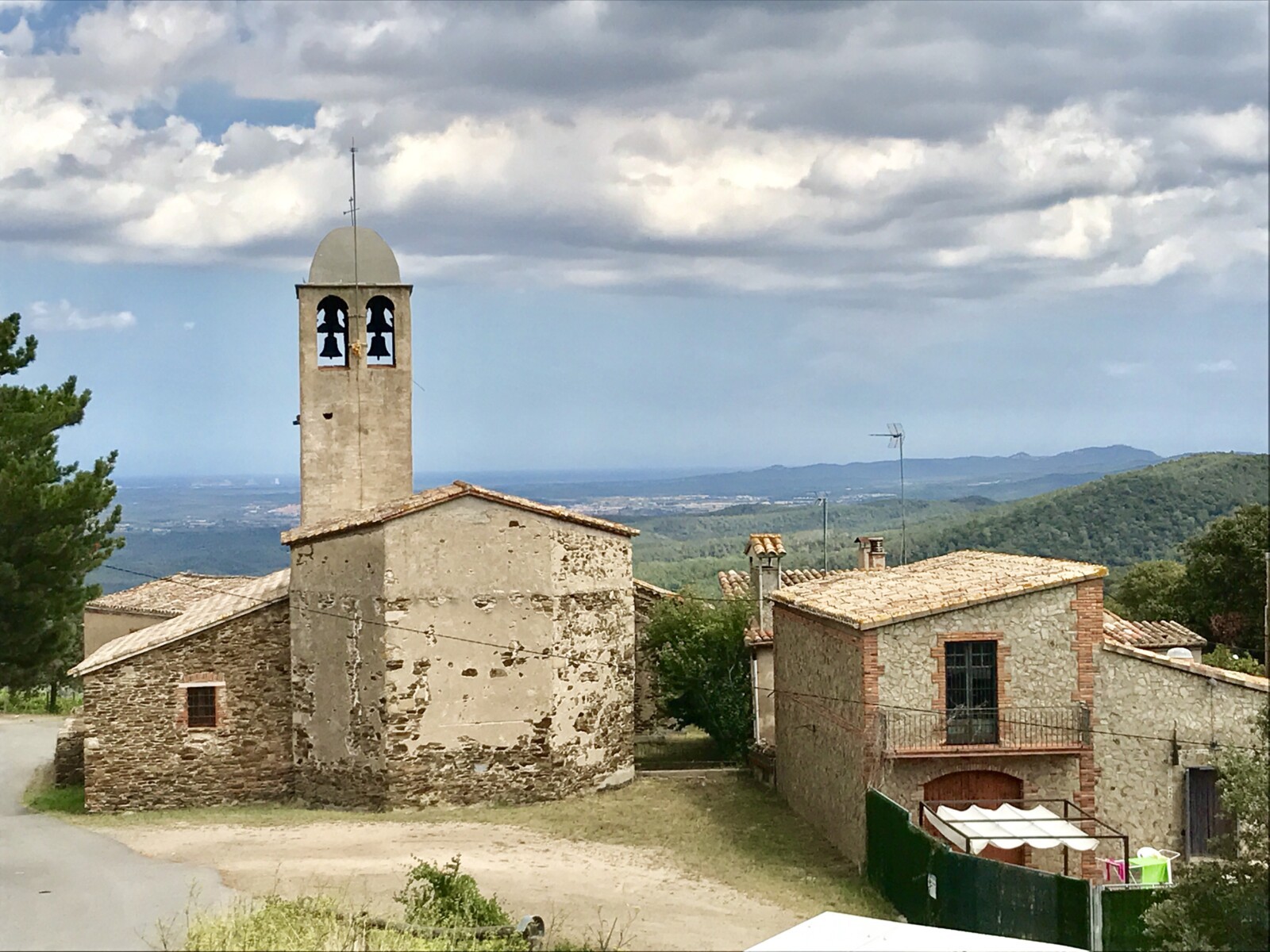 Day 18
The Hincapie Loop was just too good yesterday, so after work I did it again. This ride features it all – a brilliant climb, smooth roads, fast descent, and traffic-free roads. Half way up the climb I just so happened to see Josep, the BikeBreaks cycle guide, descending. Out enjoying a 100km loop on his day off, he kindly offered to turn around and ride with me.
We visited numerous small villages, ancient ruins, country roads and even a small castle formally owned by Salvador Dali. We finished the ride with a short sharp climb and descent, up over and down a back road into Girona. Upon arriving back in Girona Josep kindly invited me to see, photograph and video the 1000 year old castle he calls home.
Day 19
The BikeBreaks shop road was on again and today, as always, it was a fast first 20km. This was followed by a relatively long cafe stop. After this is the option of and easy (25km) ride back to town via a local waterfall, a medium (65km return loop or hard (95 km) ride home. A brilliant and memorable bunch ride, the locals love it just as much, or maybe even more than the large number of visitors that attend each week's ride.
Day 20
Ever met a cycling guide who lives in a 1000 year old castle? I have! During a massive afternoon thunderstorm Josep and I rode the 12km out to the 12th century castle he calls home. I enjoyed an amazing tour of the place, incredible. You can take a look at the video here.
https://youtu.be/OD6tTmFyJFc
Day 21
Work in the morning then a memorable and unrushed afternoon exploring 90km of backroads to Banyoles.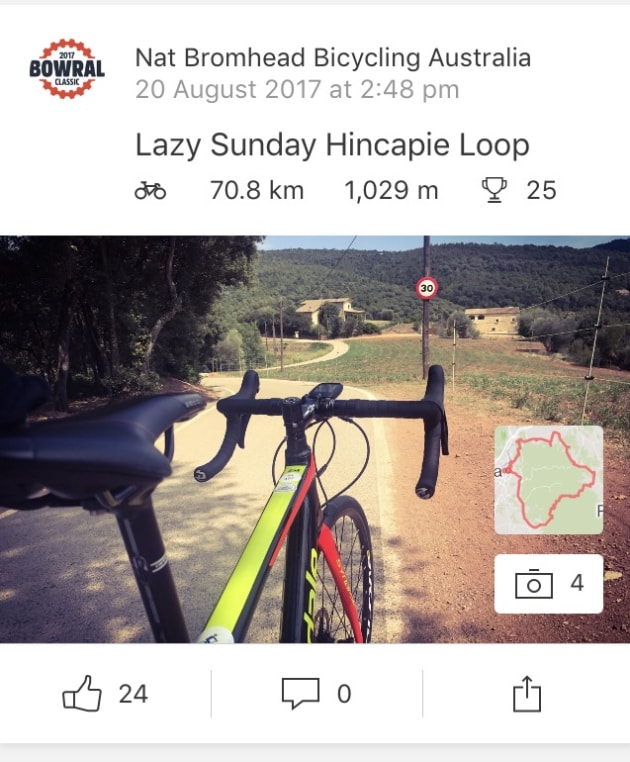 Day 22
The 1000 year old village of Madremanya has quickly become one of my favourite places on earth. So much so I can't help but jump on my bike and head out there for a ride. It was a warm, sunny afternoon, the type of ride you feel the sun burning the back of your legs … and love every moment of it. After lazily exploring Madremanya ( again) I headed toward Monnels, then on to the Hincapie Loop for a 70km return circuit to Girona.
Day 23
Another work day and forced time off the bike.
Day 24
Cycling Maven arrives – we ride Els Angels over to Madremany. A brilliant afternoon but sadly the Maven crashed on way home.
Day 25
There's never a dull moment when Cycling Maven's around. After a busy morning of work the Maven, Mark Furguson, talked me into joining himself, Hannah and Girona local Therese on a trip to Andorra for two days of La Vuelta. You can catch up with some of the highlights of that trip here.
Day 26
Another day in the Principality of Andorra – a fascinating place but if I had the choice I'd much prefer Girona. We followed La Vuelta as the peloton made its way through the stunning landscape of northern Catalonia.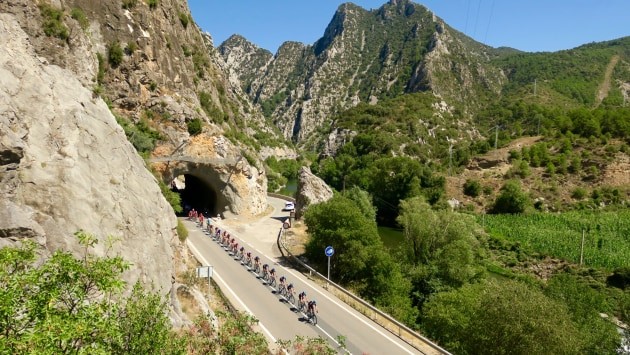 Day 27
Back in Girona and yet another memorable breakfast at the Federal Cafe and again, an all-star cast. Durbo came by, Robert Gesink was there, Rory Sutherland rolled in on his stunning Canyon team bike. Annette Edmonson was chatting with friends, as was Lauren Kitchen.
Occasionally glancing around and in awe of the company and surroundings, I sensed an important aspect about life in Girona. It's their town – a domain, a sanctuary if you like, of the pros. They're in Girona for exactly the same reason we everyday cyclists are there … for the peace, the quiet, the way of life, the camaraderie, the shared love of the sport, the quiet country roads, respect from the motorists and some of the world's best cycling.
Day 28
Time to say goodbye. Removing the pedals from the hire bike, packing the bags, and that long slow walk toward the railway station for the 10:30am express to Paris. Sitting on the train as I add to the diary, passengers around me are comparing cycling stories, ribbing their mates, recalling highlights, and hinting at the next trip. Like them, I can't wait to be back.
Girona is the type of place that completely embraces you, it's a town you'll never forget. Like countless others inflicted by our beautiful obsession, I'll definitely be back.