Updated: Debate continues to rage after online fitness app Strava implemented major changes to its user interface. At the heart of the discussion is the removal of chronological ordering of activities. Now, when users log in or check the app, they'll see blog posts and fitness activities in what appears to be random order. According to Strava this order is the work of a complex algorithm designed to enhance the user experience.
Strava have not commented or responded to the thousands of posts and comments critical of the changes. In fact, every post Strava have made to their social channels over the past week has been met with a barrage of criticism over the changes.
Strava Inundated With Complaints
"Strava, you don't seem to be getting it, we don't want this functionality," user Barry O'Brien wrote to the Strava Facebook page on Tuesday.
"These posts and algorithms are resulting in very poor user experience. We already have social media platforms to share whatever pictures we feel are appropriate to share online. We want our strava feed to be a list of activities completed in a chronological order. Simple. Strava, are you listening yet? #BringBackChronological"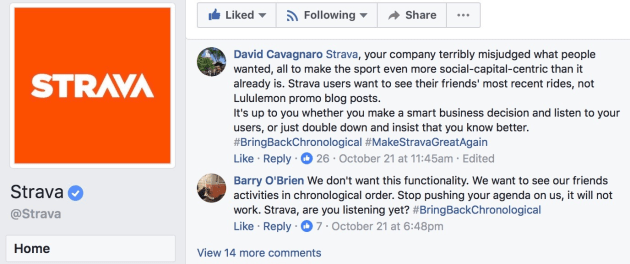 Earlier: Noticed something different about your Strava feed lately? Yes the fitness & performance app has unveiled it's biggest update ever with major changes to the activity feed and addition of athlete posts.
The chronological ordering of activities is gone, popular posts appear at the top of a feed much like they do on Facebook, and group rides are prioritised.
The changes come after a select number of users beta tested the expanded functionality with Strava CEO James Quarles saying the company want to create more ways for the community to share their interests and expertise.
'The Best Place To Tell A Story'
"Posts and the new feed make Strava the best place to tell a story, ask a question about new gear or to seek kindred spirits to help achieve your goals," he told Bike Radar.
While Quarles described the posts feature as evolution of what people are already doing on Strava, many have expressed concern over the 'blurring' between the traditional sports app it's always been and the developing social network Strava appears to be becoming.
Campaign to '#BringBackChronological'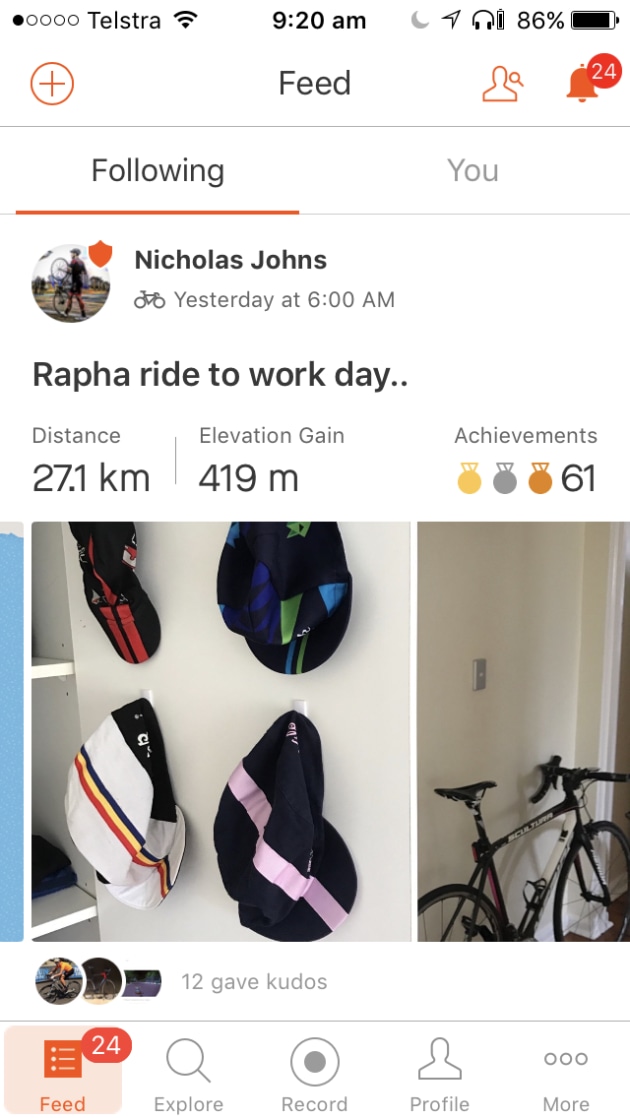 The changes, particularly the removal of the chronological format, have been met by a barrage of complaints.
Since the update Strava have met the critical response with an online survey. One concerned user, Colin Browne from South Africa, has even gone to the length of starting a 'Bring Back The Chronological Feed petition on change.org
Tom Long posted to Strava's Facebook feed "I like the posts update and the new typeface and colour scheme. However I very much dislike computers trying to guess what I want to see in my feed. I'll tell you what I want to see: Activities from all the people I follow in the order they happened. Seriously, it's not hard. #bringbackchronological."
"+1 for chronological," Iain Davidson wrote, "Social is fine but when you start dictating whether I see the activities my mates did by shoving it below other stuff based on your own algorithms then it's no longer social for me."
Another user, Nick Fitzgerald, posted to The Strava Club "What a load of rubbish. Stop trying to make strava into another Facebook and bring back chronological feed."
Selected other comments include –
Alexis Holwell: A step in the wrong direction for me. Keep it simple & focused on sporting activities. I don't want it to become a social media platform. And bring back chronological ordering!
James Longway: That's what Facebook is for. Seriously, why am I seeing rides out of chronological order? "Cool, I already gave everyone on this ride kudos two days ago. Let me see what happened this morning!"
David Mellor: I've locked my activities and can't be doing with random feed so now gone from constant checking to not at all. If chronological feed is not brought back I'll unlink my Garmin and Facebook twitter and Strava will no longer have access to my data. I'll also encourage club members to do same. #bringbackchronological and listen to users, more technical information and less social rubbish or at least the option to hide it and go back to most recent activities first
Mark Owens: It's cluttered and makes Strava more difficult to use. Bring back chronological. Listen to what actual Strava users are asking for and stop trying to be Facebook II.
Bradleigh Phelps: There must be something more to this algorithm shite that's taking over every single website. Is it cheaper to run servers if it spews out a random order over chronological ordering? Or is it to sell advertising space to the highest bidder?
Your thoughts? Do you like the new update, would you prefer a return to the chronological order of activities? Have your say in the comments section below.