Victorian-based Bicycling Australia contributor Coco Henry was so impressed by a recent trip to the Mornington Peninsula she's tempted to move there! Here Coco explains why.
Tree tunnels and the scent of pine needles on a sunny day is a treat largely reserved for this maritime region of Victoria.

Twisting roads lead riders along rugged coastlines made infamous by disappearing Prime Ministers and shipwrecks, above turquoise bays that beg for snorkelers and adventurers. With more views and variety than you can poke a spoke at, the Mornington Peninsula in Victoria is worthy of a place on every cyclist's bucket list.

The routes on offer are many and varied, with a network of roads criss-crossed throughout the peninsula that forms one side of the bay in which Melbourne nestles. A weekend wouldn't be enough to explore everything on offer, but then again neither would a week. The writer herself ended up relocating permanently after exploring the peninsula for this piece, and wouldn't be surprised if the reader does too.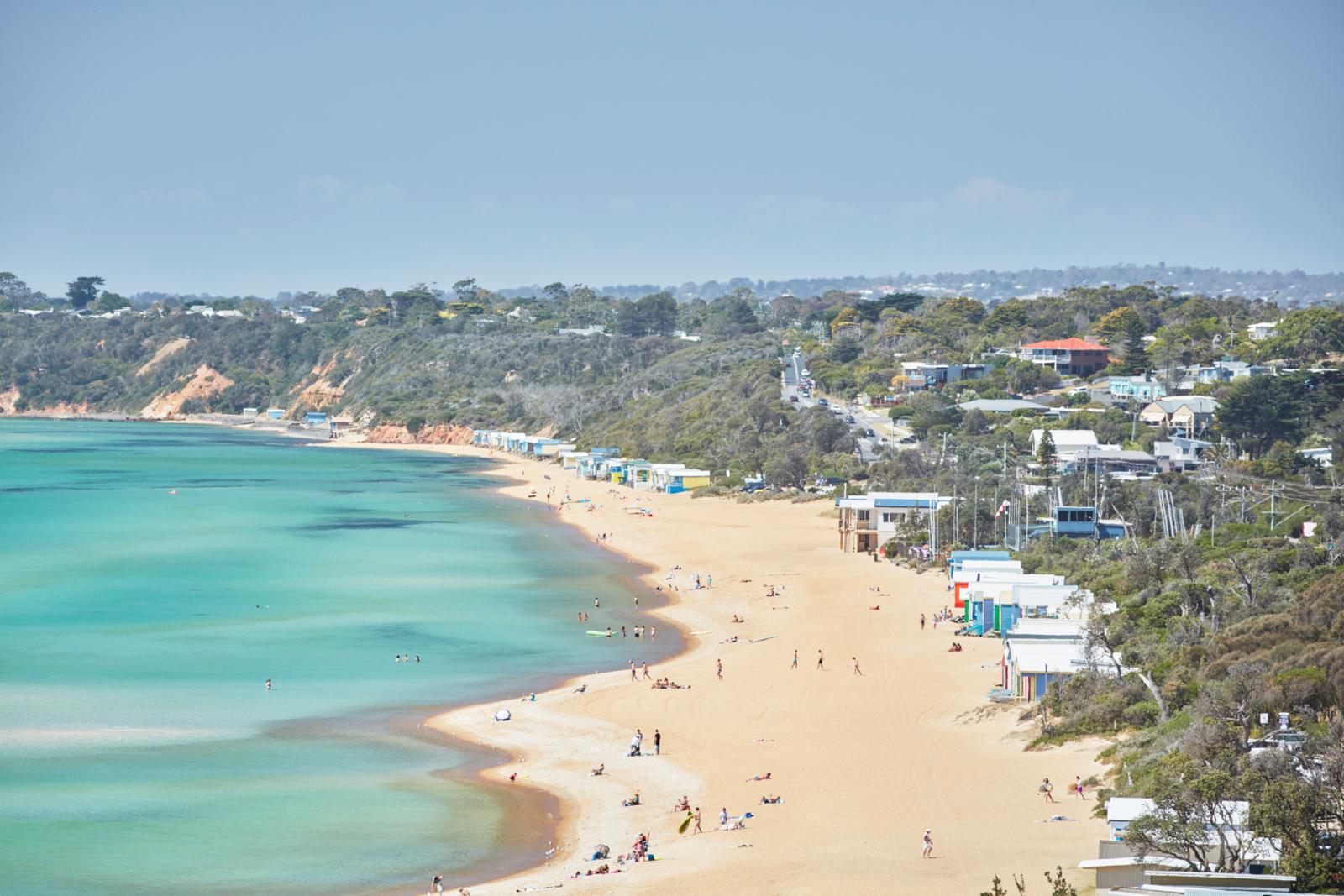 The Mornington Peninsula serves up a dish both salty and sweet made up of undulating hills, brutal gravel roads, light that makes you think of Europe and fog that could only roll in from the sea.
Your option of coastal views or inland cycling presents a tasty morsel of choice in a time when many destinations can serve but one dish, and those who venture down here often end up with coast for dinner and inland for dessert or vice versa.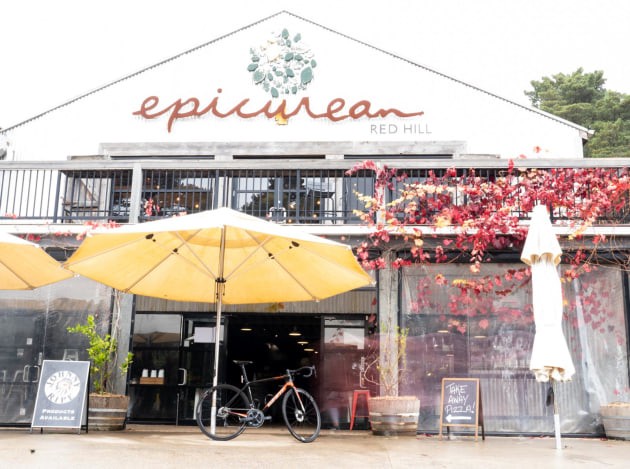 Blocks on the peninsula are so large that the decision to turn back or continue on a loop shouldn't be taken lightly, although a longer than planned ride is always easily interrupted by a visit to a local bakery or winery. This is a classic destination for those chasing the Rapha Festive 500 for good reason.
Located only an hour from Melbourne the Peninsula is home to an enormous number of holiday properties of the luxury variety including vineyards and horse studs owned by some of the oldest Australian families. The tourism industry is well established, making this an excellent place to partake of cycling pleasures and the hedonistic holiday lifestyle.
Its close proximity to Melbourne makes repeat visits easy to justify, and basing yourself in Red Hill one weekend and Sorrento another would be a perfectly acceptable way to do it. Having a holiday property (or friends with a holiday property) down the peninsula is common for Melbournians, so making the most of this by taking a road bike along would make for a quick and easy get away.
Where to Ride
Coastal: On the bay side the Nepean Highway cuts its way along the coast from the city to Point Nepean and is particularly popular with triathletes and time trialers. Offering long kilometers and either a head wind, tail wind, cross wind or a combination of the three, this is your go to for putting down the power and collecting mileage.
Traffic crossings can be a pain in summer when the tourists descend on the beaches but it makes up for it in the incredible views of the coast and uninterrupted stretches of riding. Sticking to the highway is a great option for an out and back, or be the adventurer on the inland back roads on the way home to add some variety to your ride. Sneak off the main thoroughfare into the coastal communities of Portsea and Sorrento to see mansions and compounds that will take your breath away.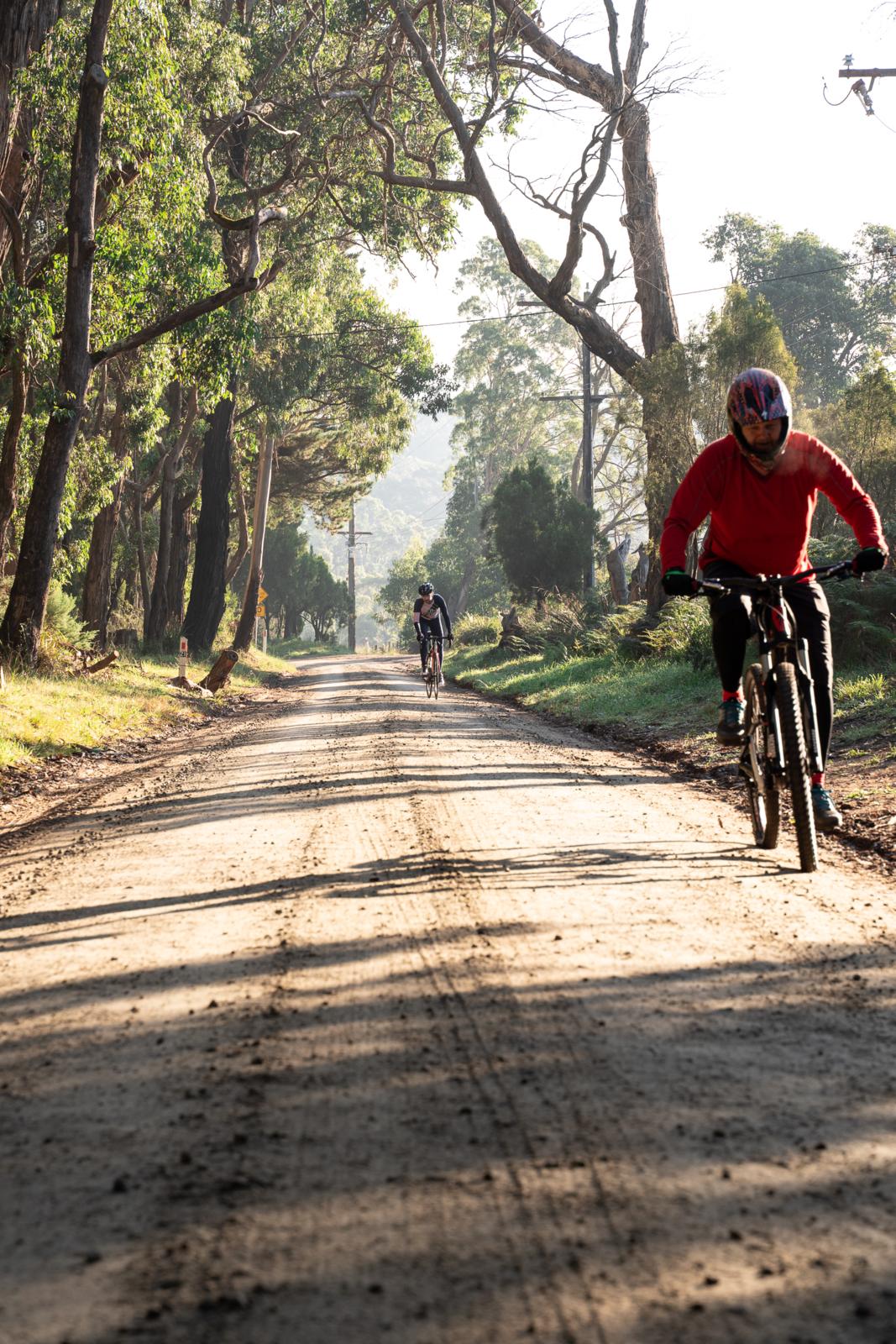 On the Western Port Bay side the roads don't follow the coast so closely, thus avoiding the busy seaside towns that dot the bay side. Roads traverse open farmland above the coast line, giving a wilder feel with the wind coming off the open sea occasionally buffeting lighter riders off the road. Once you set out on a ride on this side of the peninsula you're in it for the long haul loop or a back roads adventure, with enormous blocks making up the majority of the area.
Boneo Road will take you from Port Phillip Bay to Western Port Bay, delivering you into Flinders and leaving you to choose how far you continue along the coast before turning back inland. Whilst this is a common route for cyclists, it is also the common route for cars, so a better (and hillier) option is over Arthurs Seat and onto Purves Road and Baldrys Road. Tucks Road offers a nice gravel route back, as do the pine tree lined Shoreham or Point Leo Roads.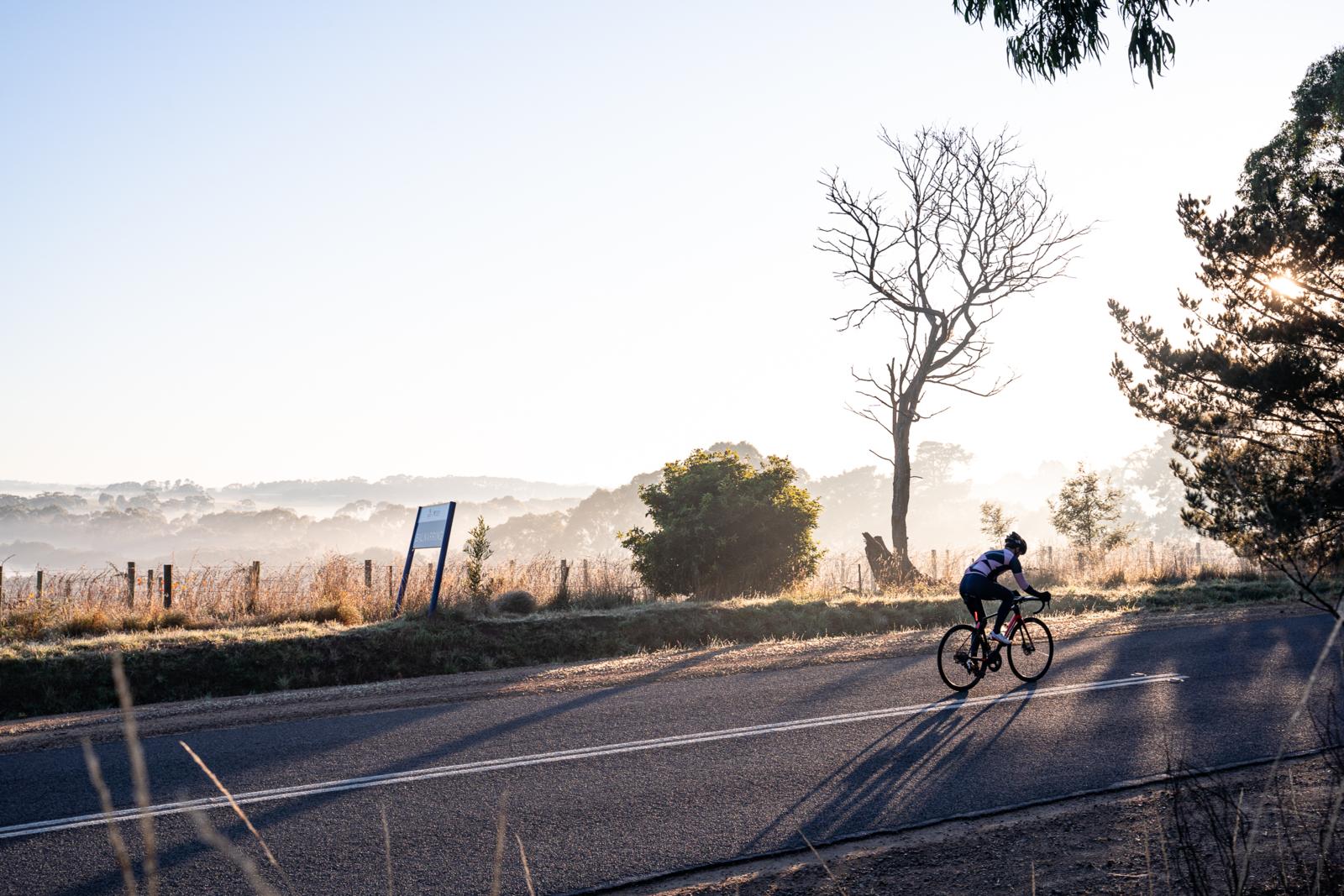 Inland: The inland is lumpy, with the giveaway name of Main Ridge indicating that the region is criss crossed with ridges and valleys. This makes for an exciting mix of roads that can offer views across the landscape or dip you into steep valleys untouched by loggers. Tree tunnels are a theme of the inland roads and you often have a choice of native eucalyptus or pine trees to frame your route. Undulating roads mean no ride escapes without vertical gain although there are no truly tough climbs; Arthurs Seat is the toughest test for your legs coming in from the coast.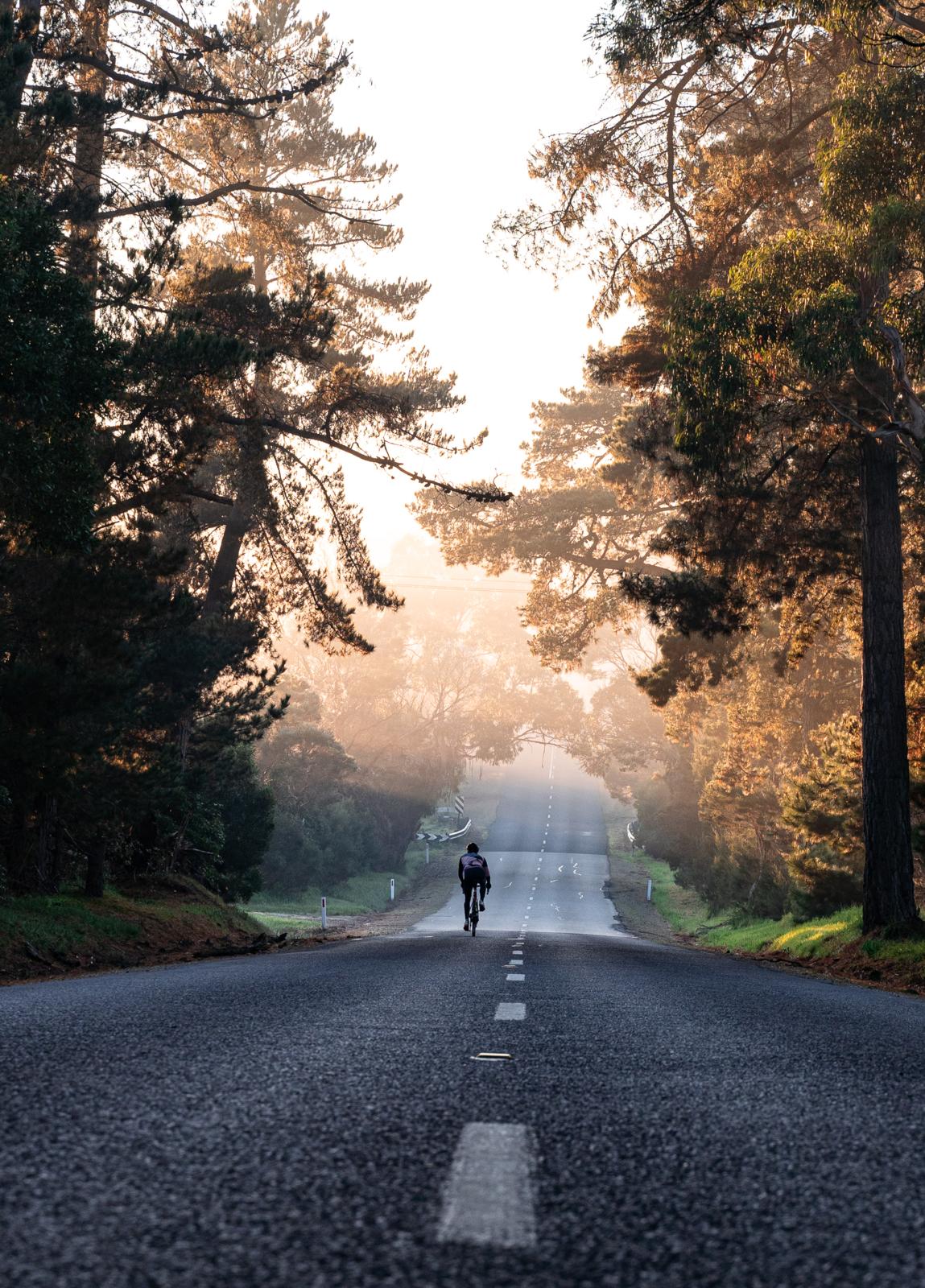 Shands Road offers a delightful forested valley road that climbs and descends, wending its way through a pocket of native timber and over a photo worthy bridge at its deepest point (although you'll probably want to keep your momentum here to get up the other side).
Many of the roads here are gravel and some are smooth and fast but don't expect all niceness; before or after resurfacing there are roads that will pinch flat your 23mms faster than you can repair your second spare tube. Be sure to carry a spare and a patch kit. Mcilroys Road is a prime example of a delightful road that can turn on its subjects if approached too soon or too late after grading.
Cross bike enthusiasts or those running tubeless can proceed fearlessly, pure roadies proceed with caution (and a slightly lower tyre pressure).
Off the Bike Activities
Fort Nepean: One of the fortifications that protected Melbourne through World War I and II, Victoria's Gibraltar as it is known sits on the furthest point of the Mornington Peninsula where Port Phillip Bay waters meet the open sea. Nestled in what is now a National Park, the road to the fort is restricted access making it great for an afternoon walk or a leisurely bus ride if you've already worn your legs out on Arthurs Seat. Explore the tunnels, ammunition stores and bunkers but stay to the paths; there are unexploded munitions signs encouraging you to do so. Admire the Rip that claims ships and take a moment in memory of Harold Holt, the 17th Prime Minister of Australia who disappeared while swimming at Cheviot Beach.
Wineries: Famous for the vineyards that thrive in its maritime climate, the Mornington Peninsula is home to an abundance of large and small wineries with over 200 dotted around the landscape and over 50 cellar doors. While many are open to the public some of the family owned are open by appointment only so it's worth doing your research first.
Peninsula Hot Springs: A trip to the peninsula isn't complete without a trip to the Peninsula Hot Springs in Fingal. Geothermal springs feed small pools dotted through the natural landscape, offering privacy and a sense of connection with nature. A visit to the day spa can complete the treatment of tired legs after a weekend of cycling.
Beaches: The beaches on the Peninsula also offer two distinct options, calm and protected or bold and open. Stick to the scenic and calmer waters of the protected Port Phillip Bay beaches for lounging and paddling, or head over to the Western Port Bay side for surf worthy waves and rock pools to explore for hours.