I love the Dolomites. They are so very good to me.
It all started with Connie Carpenter and Davis Phinney. They may be known as the parents of US prodigy Taylor Phinney. But before Taylor, Connie and Davis were the cycling couple: Connie won the first ever women's Olympic cycling road race in 1984; and with over 300 victories, Davis is still the winningest cyclist in US history.
Connie and Davis also ran bike tours, which is how I had the pleasure of meeting them. I first rode with them in Colorado in the late 1990s. I later joined them on other trips to Tuscany and to the Dolomites. My week of riding with them in the Dolomites is a trip that I will never forget: for eating well and being surrounded by inspiring people. Also for being beaten in a town sign sprint by Kelsey, Taylor's little sister. Family genes….
On that trip, I met Dan Patitucci. Dan and his wife Janine are professional mountain sports photographers and were based in the Dolomites at the time. We had connected via social media a few weeks before and he invited me to join him for a ride. Maybe it was just another ride for Dan, but for me it turned out as my best day on the bike ever (OK, I'm regularly having best days on the bike ever but you get it – it was a really good one). Passo delle Erbe was just breathtaking – the quintessence of the Dolomites. This is also the ride where I truly fell in love with photography – and made a new friend for life. All of that in one day.
I was back in the Dolomites in 2014 as a guide for my friend Tom who was taking a group to the Maratona, the most prestigious granfondo in the world. I love riding with guests, sharing my passion for cycling and helping them to become better cyclists. Doing it in Alta Badia is a dream. The area is like a giant rollercoaster for biking – it's either up or down, never too steep. One switchback after the other.
I was also in the shape of my life in 2014 and did extremely well in the Maratona. I started relatively slow, passed many people on the mighty Passo Giau and was told by a spectator that I was in the top 30 at the bottom of the last climb, Passo Valparola. I swore – in Italian – and pushed harder on the pedals to finish 25th. I'll probably never be that fast again in my life – and that's fine.
But that's not the only reason why the Maratona is my favorite Granfondo. There's also something special about riding under these majestic rocky faces popping up over green meadows. So special that the Dolomites are on the UNESCO World Heritage list. The locals know that their natural environment is their biggest asset and sustainability is an integral part of the Maratona. For example, electric vehicles are used whenever possible and vests given to all participants are made of recycled plastic bottles. These vests are fantastic, by the way – perfect to stay warm when descending cols.
More importantly, the event contributes to the development of the region through the benefits it brings to the local community. It is estimated that the 9,000 participants in the Maratona, their families and friends generate a direct and indirect economic impact of 8.4 million euros every year…all of this thanks to bikes. This is what happens when a region fully embraces cycling. This is also supported by a study by the European Cyclists' Federation which shows that cycling tourism generates 524,000 full-time equivalent jobs and a massive €42bn annual turnover for hotels and restaurants in Europe.
9,000 riders is a lot but the race is superbly organized on fully closed roads so you hardly notice there are so many people after the first climb. My wife Lillie joined me last year and, as a true American, is not short of superlatives when it comes to describe her experience: « I loved my time in the Dolomites. I met so many like-minded people during the week. And the feeding stations during the race were awesome! Local specialties instead of energy bars…just fantastic. » And it is not just the race food that is outstanding. The cuisine, an expression of the local Ladin culture, is delicious and mostly made from simple, locally sourced products.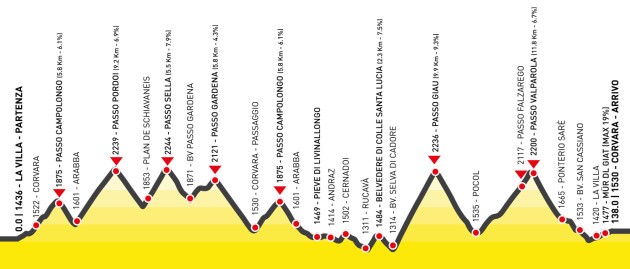 Finally, there's something special about riding on the roads where so many pages of the Giro d'Italia's history were written. The Maratona starts with the Sella Ronda loop: Passo Campolongo, Passo Pordoi, Passo Sella, Passo Gardena. All of this in 55 kilometres. That's also the short course. The medium course includes Passo Valparola and the long one adds Passo Giau. All of these climbs witnessed epic battles between the greatest champions of cycling, from Fausto Coppi and Gino Bartali to Alberto Contador and Vincenzo Nibali.
If you want to have a special experience, go to the Dolomites and have a go at the Maratona. You'll come back a better cyclist, and a better person.
Alain Rumpf,
Grand Tours Project.
You can join us at the Maratona in 2016. Grand Tours Project have guaranteed start numbers; we will ride Passo delle Erbe and other famous climbs of the Dolomites, eat well and celebrate the culture of cycling.