Cannondale, as many businesses do, came from humble beginnings. They had a rocky road in the early days but things have settled and they're now one considered by many as a high-end, almost boutique brand of the US. We took one of their new carbon framed Synapse models for review.
In 1971 in a crowded loft above a pickle factory in Bedford Pennsylvania, the Cannondale business, named after a railway station in Connecticut, initially began manufacturing backpacks and camping bags, followed by bike trailers for touring. 1983 saw the first bike manufactured and in 1997 they launched the now iconic fat tubed road frames, with a presence in the Tour de France. The unconventional tube dimensions didn't get a great welcome from bike aficionados of the time, but the frames were light and stiff and suited their US client base's crit racing purposes. Along the way the company made an ill-fated move into motor sport production, designing a range of motorbikes and ATVs that nearly sent the business bankrupt. After selling off the motorbike arm they reconsolidated the bike business and have developed it into a US based niche brand with five Giros d'Italia to its name.
Now owned by the massive Dorel conglomerate, Cannondale has recently made the decision to close its Australian office and have the brand distributed by Monza Bicycle Imports, the business who also handles SRAM, ENVE, Cube, Fizik, and Louis Garneau in Australia.
The Synapse range, first released in 2006, is Cannondale's Endurance Road line comprising ten different spec levels from the Synapse 6 Tiagra at $1,299 to the Hi-Mod Disc that will set you back $11,999.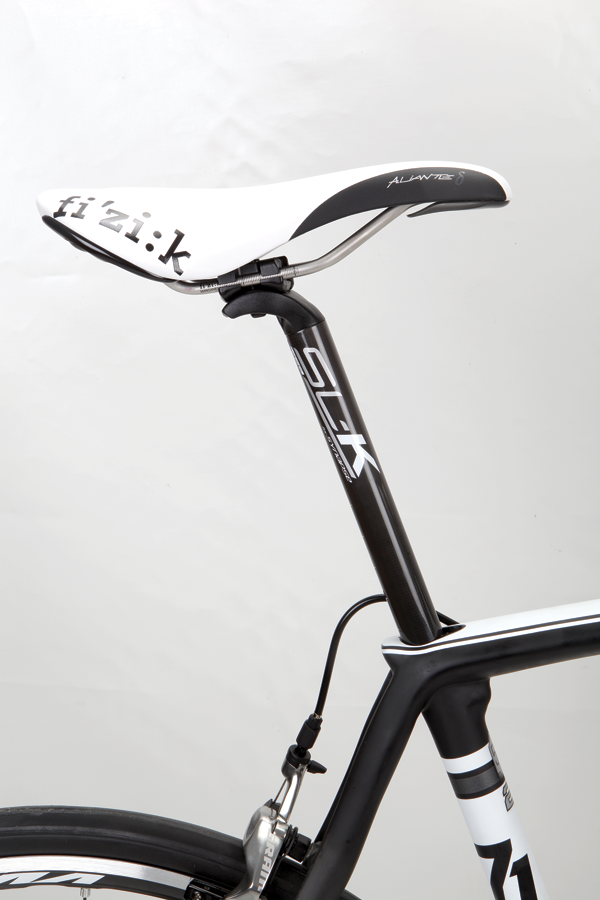 Cannondale also have a range they call Elite Road comprising nine Supersix Evo models, three CAAD10s and two CAAD8s.
First impressions of the Synapse HI-Mod 2 Red were positive; frame, bar tape, saddle, rims and tyres look good—all either black or white, or black and white. (The white paint tended to show up any greasy fingerprints though and the matt finish made them difficult to remove.) The frame has some interesting tube shapes and though the head tube is noticeably tall, (which you might take as an indicator of a machine not designed for performance), the bike feels quite light at just on 6.8kg for a 58cm frame. There's a quirky little LED light built into a 30mm spacer below the stem too.
Also quirky is the name; Synapse. In a biological or physiological sense, synapses are a part of the central nervous system that allow electrical impulses to move between cells to make everything in the body happen—they're critical in the normal function of the body.
The use of this health/medical related nomenclature seems designed to target the rider who has a health and fitness perspective. The organic links of the Synapse continue in the physical shape of the frame. The seatstays, chainstays and fork are not round or oval or tapered in the usual way. Others didn't share my view that they all bear a resemblance to the bones of your forearm or shin. But regardless of this they definitely have an organic shape about them. The geometry of the bike also aligns with this pro-health philosophy, suitable for folks who have come to realise they're no longer bullet proof, and they're looking to work with their body rather than charging on regardless. The tall head tube will allow you to ride for longer if you're not as supple as you once were, given you aren't being bent over the bars uncomfortably, while the rest of the design works nicely to deliver a bike that handles responsively, and transfers your power to the ground efficiently.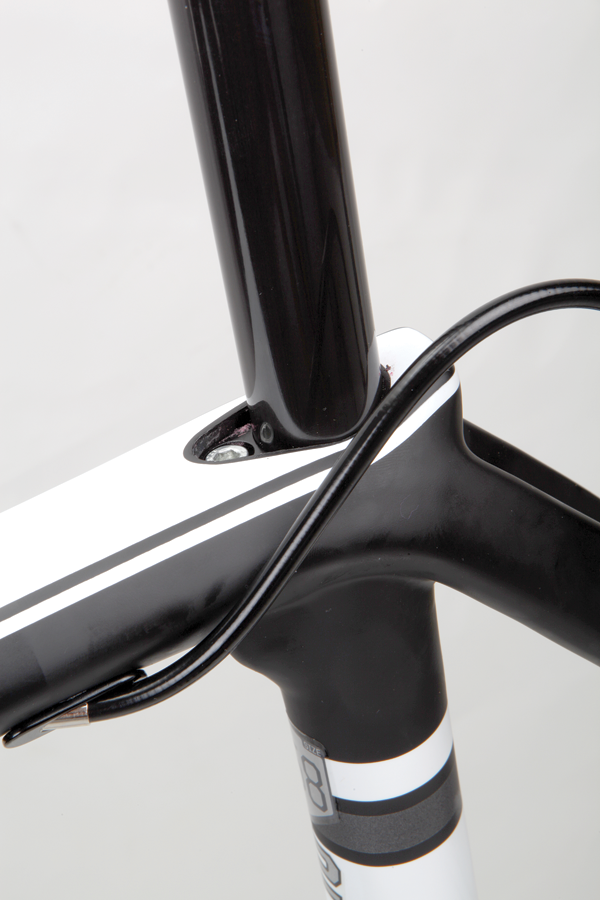 The most striking frame feature would have to be the division at the base of seatube. Cannondale have named it the Power Pyramid, but it's more a pear shaped archway through the seatube just above the 73mm wide BB30A bottom bracket. Cannondale say it's designed to provide maximum stiffness, given there are two tubes attached there instead of just one larger diameter tube.
Cannondale's marketing department has gone for the doctor in their sales pitch. Like a late night infomercial the spiel for the Synapse includes multiple buzzwords and catchy phrases (e.g. "Crush meets Plush" and "Ballis Tec construction where military armouring fibres create a skeleton"…). These, plus acronyms like SERG (Synapse endurance Race Geometry) and SAVE (Synapse Active Vibration Elimination) sound a bit hoaky, but I'll put this down to a cultural difference between the US and Australia. The basis of the sales pitch seems to have some merit though, so don't let the marketing shtick put you off immediately.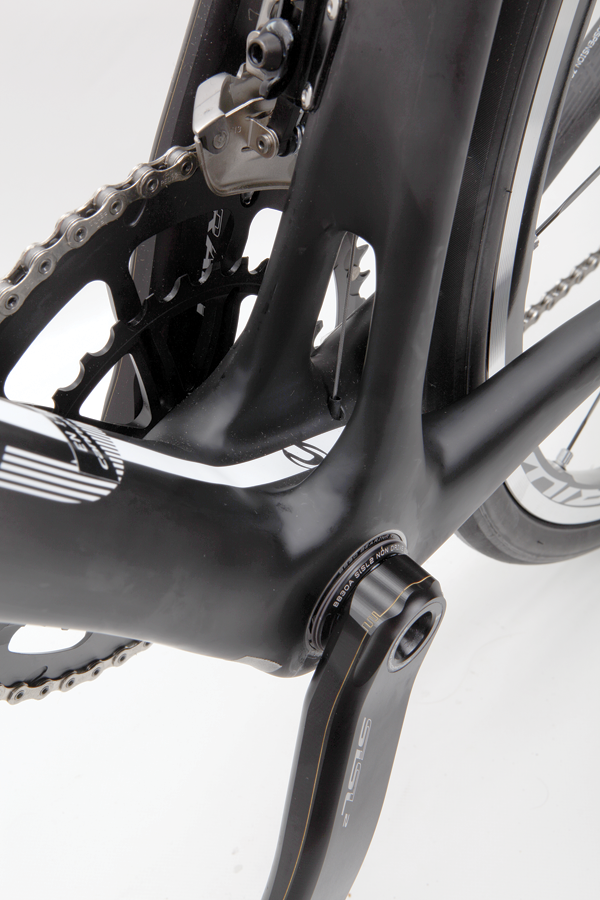 The engineering beneath the extreme words delivers a very plush ride. Cannondale groups the comfort and vibration damping aspects of the Synapse into their SAVE PLUS Micro-Suspension System. It's a three point concept encompassing the carbon layup, the rear triangle and fork and thirdly the seat post and seatube.
The carbon layup is engineered to manage flex in the frame. Broadly speaking the concept is used by many brands under different names with the goal in mind of reducing vibration, eliminating deflection in undesirable planes (laterally) and allowing it in others (vertically) to achieve the desired levels of stiffness and comfort.
The seat post is a one inch (25.4mm) unit that clamps into the frame flush with the top of the top tube by an interesting internal dual wedge arrangement. This means there's more length of the bare, small diameter post protruding from the frame allowing a greater amount of flex for comfort. Cannondale added even more flex capacity by means of the seat tube shaping that narrows dramatically halfway down its length. The result is that the seatpost and seatube work together to soak up more bumps and vibrations while you're seated.
Cannondale have specced 28mm tyres on the HI-Mod Red which no doubt contribute to the cushy ride. They allow you to run lower tyre pressures, (I dropped from my usual 105 to 90), reduce the incidence of pinch flats and do not slow you down. Studies are showing tyre widths up to 31mm and beyond have a miniscule effect on wind resistance, do not decrease rider speed on smooth roads, and actually increase speed on rougher roads for a given power output!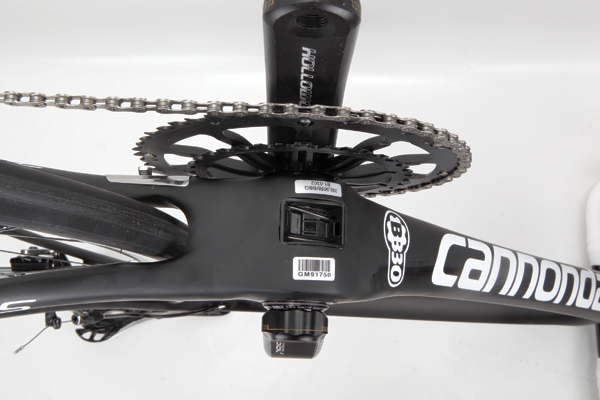 The most noticeable quality of the bike upon first climbing aboard is the bump and vibration damping it affords— and some of this has to be attributed to the tyres. There's a short fast descent I get to ride every day not far from home, so I'm familiar with virtually every blue metal chip, every repaired pothole and every bitumen join in the road. The Synapse just soaked it up—riding comfortably, steering directly and cornering predictably despite the irregular and rough surfaces. The sensation surprised me for a while—such a plush ride but still capable and adept.
On longer rides the Synapse really comes into its own. The vibration damping of this frame and more upright position make it ideal for longer rides on back roads.
On a shorter ride I took the bike up and down one of the climbs on the Illawarra escarpment; just 35km all up. The climb is a twisting, turning affair and has several steep pinches over 10%. On the road up, I didn't notice any lateral frame flex. High torque cranking on steep climbs didn't seem to induce significant flex around the bottom bracket or through the fork, though the bike doesn't feel as snappy or responsive as some. It's a notoriously rough piece of road, quite challenging for a fast descent. Insofar as you can use Strava as a gauge for performance, the Synapse coped well with the sketchy run down. My descending skills are not held in particularly high esteem in the office (or by myself for that matter!) and even though I have gravity on my side, certainly would not be considered commensurate with the first run result—17th position out of 978 attempts by others over an 8km descent. The downhill ride felt reasonably fast, but I didn't feel I wasn't on the ragged edge—where I would have expected to be for a result even close to this. The front end tracked well through corners during braking and kept the 28s in good contact with the rough road. Again the damping qualities of this bike setup stepped in, taking the edge off. I am convinced that the control and comfort of the bike actually makes it feel slower than it is.
Or put another way, it's faster than it feels.
(It's a sensation similar to stepping from a hardtail to a dual suspension MTB; the hardtail feels faster and more flying by the seat of your pants, but the dually will outrun it just about every time on a rough downhill because of the extra control the suspension provides.) Needless to say I was chuffed, but more than that, very surprised at the string of PRs on the screen when I got home—both up and downhill! Empirical data at its best!
Cannondale spec FSA stem, post and bars and of course their own Hollowgram crank and Spiderings. The home-grown drivetrain components (compact 50/34) meshed well with the Red 11-28 cassette and chain coping silently with some tough changes under power on climbs. The Mavic Ksyrium Elite wheels performed well too, straight and tight from the outset and throughout the review period. This was my first experience with the Mavic Yksion tyres and a happy one; tenaciously grippy, in wet and dry, smooth rolling and tough enough to handle some rugged roads with no sign of adverse wear.
Endurance geometry bikes are here to stay and they have a big future. Riders at all levels (apart from perhaps the likes of Sagan, Kittel and Cav) stand to benefit significantly from bikes like this. The Synapse is clear evidence that a bike can be comfortable to ride and perform very well.
Summary
Quality
From the appealing aesthetics and results driven engineering of the curvaceous frame, to the overall component spec this is a high quality machine.
Value
At $7,299 this bike will be a considered purchase. Cannondale is a niche US brand with a loyal, almost fanatical following. The Cannondale reputation, the high quality components and the light frame that delivers surprising comfort and speed are all strong points in favour of a decision to buy Cannondale.
Performance
This bike is a wolf in sheep's clothing. Its handling inspires confidence, it climbs and descends well and will smooth out the roughest roads you will ride. And it delivers results. Though it's suited more for the longer road than a tight crit circuit, it'll keep up if you're racing and won't hold you back in the bunch.
Overall
The Synapse HI-Mod 2 Red is a well-made, nicely balanced and attractive bike that people will notice. A high quality frame fitted with quality components, that is built to satisfy performance oriented riders who choose longer rides, Gran Fondos or audax style rides. Faster than you might expect given its self-imposed Endurance Line classification. It'll make you want to ride all day and then maybe even party all night.
Specifications
Frame: Synapse, Ballistec Hi-Mod Carbon, Di2 Ready, Save Plus, Bb30a
Fork: Synapse Save Plus, Ballistec Hi-Mod Carbon, 1-1/8″ To 1-1/4″ Tapered Steerer
Crank: Cannondale Hollowgram Sisl2, BB30a, Cannondale Opi Spidering, 50/34
Bottom Bracket: FSA BB30 Bearings
Shifters: SRAM Red 22 Doubletap
Cog Set: SRAM 11-28, 11-Speed
Chain: SRAM Pc1190r, 11-Speed
Front Derailleur: SRAM Red 22, Braze-On
Rear Derailleur: SRAM Red 22 Wifli
Wheels: Mavic Ksyrium Elite S Wts
Hubs: Mavic Ksyrium Elite S Wts
Tyres: Mavic Yksion, 700×28
Pedals: N/A
Brake: SRAM Red
Handlebar: FSA Pro-Wing Compact
Stem: FSA Sl-K, 31.8, 6 Deg.
Headset: Synapse Si, 1-1/4″ Lower Bearing, 30mm Topcap W/ Led Light
Brake Levers: SRAM Red 22
Saddle: Fi'zi:K Aliante Delta, Mg Rails
Seat Post: FSA Sl-K Carbon, 25.4x350mm
Price: $7,299
Weight: 6.79kg, Size: 58cm
Distributor: www.cannondale.com/aus