As the third member of Canyon's performance road triumvirate, the Endurace sits comfortably beside the Aeroad and the Ultimate. While the Aeroad is their aerodynamically endowed machine, and the Ultimate the lightweight climber of the three, the Endurace is all about Gran Fondos and going long.
Relatively 'tall' and 'short' the Endurace frame will have you sitting tall in the saddle, more suited to these longer rides, but I found it a contrast to the long and low sled-like feel of the Aeroad.
At first glance the frame is a close match with the Ultimate; the chainstays of the Endurace are in fact 5mm longer to enhance stability at speed, and it of course has the disc brakes. Like the Ultimate the frame is very light, especially for a disc brake specific road frame, 820g (M) and the fork is too; merely 325g. It shares less visually with the long and low stance of the Aeroad save for the sleek lines due to full internal routing. The more conventional high set seat stays of the Endurace also an indicator of comfort oriented utility, and less emphasis on cutting drag.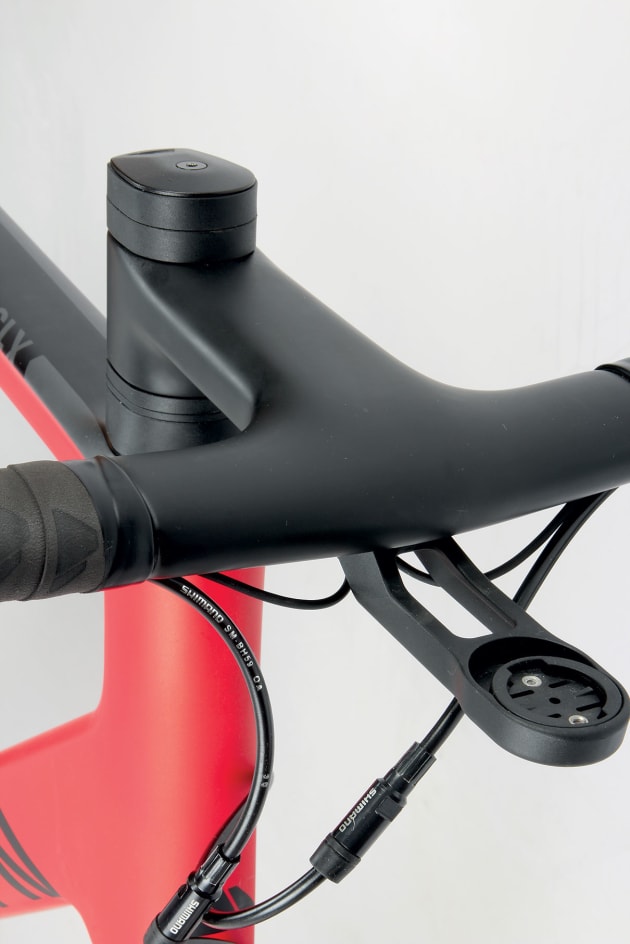 While Canyon is not averse to engineering solutions, there are no rake-altering inserts hidden in the fork dropouts here, as seen on the Aeroad. However they have offset the perception of a tall headdtube by moving some of the height to the fork; by extending the axle to crown length. That's not to say however that the Endurace looks anything but purpose built to perform. Finished in matte red with a set of carbon wheels the bike has quite a presence….fast, sleek and refined.
Indeed the entire component spec is complementary, well considered and clearly tailored to accomplish any Gran Fondo in style and potentially at good speed. Shimano's Dura-Ace Di2 drivetrain along with hydraulic discs is at the pinnacle of gearing and braking technology. The flat mount disc brakes and 160mm ice tech rotors front and rear provide exceptional braking performance.
If you've not yet experienced either, I'd suggest it is like switching from driving a column shift EH Holden with drum brakes all 'round, to an eight speed automatic with ventilated discs. A clumsy comparison perhaps, but there's definitely a level of culture shock in returning to my own beloved bike with its mechanical gears and rim brakes.
Hubs are secured with 12mm through axles which add to the mix, stiffening the frame and fork to deal with the braking forces hydraulic discs impart. In the rear end the stiffer axle also brings a more precise alignment of the rear derailleur for crisper shifting. The rear axle has no lever; to remove the wheel you remove and use the front wheel's lever.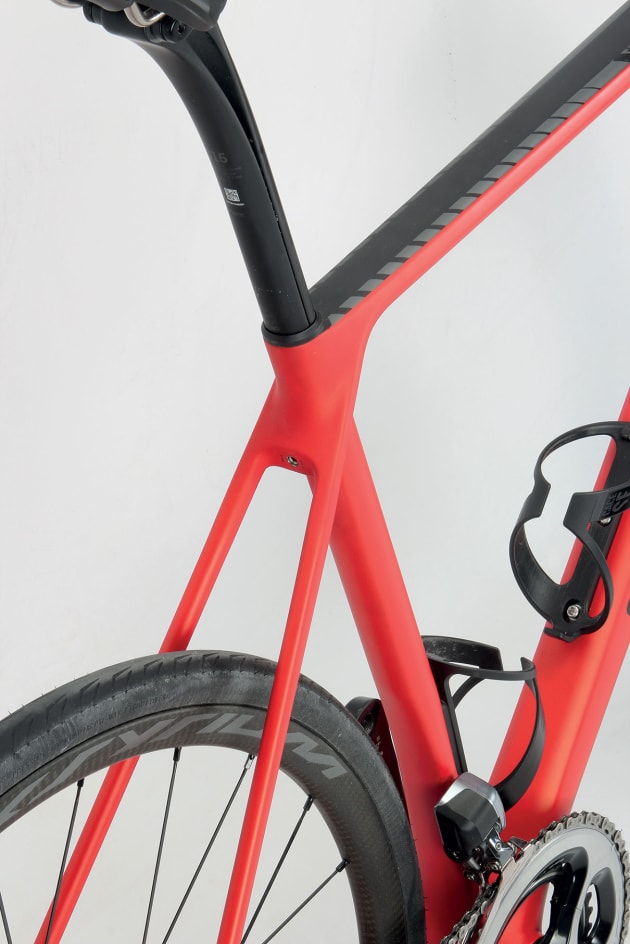 Mavic Ksyrium Pro Carbon SL wheels also add to the quality of the package. These wheels are just 25mm deep, and while not super light 736g front and 844g rear for a 1580g total (less rotors and axles) they are a classy looking and functional addition. They are a 24/24 spoked set; again, a setup robust enough to cope with both the rigours of rough roads and additional forces of braking by disc. Wheels are an area where I'm more than happy to concede a couple of hundred grams for reliability and safety's sake. They have a 17mm internal width which is not wide by today's measure, (but wide for a Mavic), and shod with Mavic's 28mm wide Yksion Pro Griplink (f) and Powerlink (r) tyres. The Yksions combine with the Ksyriums to create a 29mm wide tyre, which the Endurace will easily accommodate. Indeed the frame and fork will cope with tyres up to 33mm making it a very versatile machine indeed.
As you might expect for a relatively shallow profiled rim the snub nosed 25mm deep carbon wheel of modest weight the Ksyriums proved stiff under power and stable in windy conditions, and they're not hefty enough to be of any concern on climbs.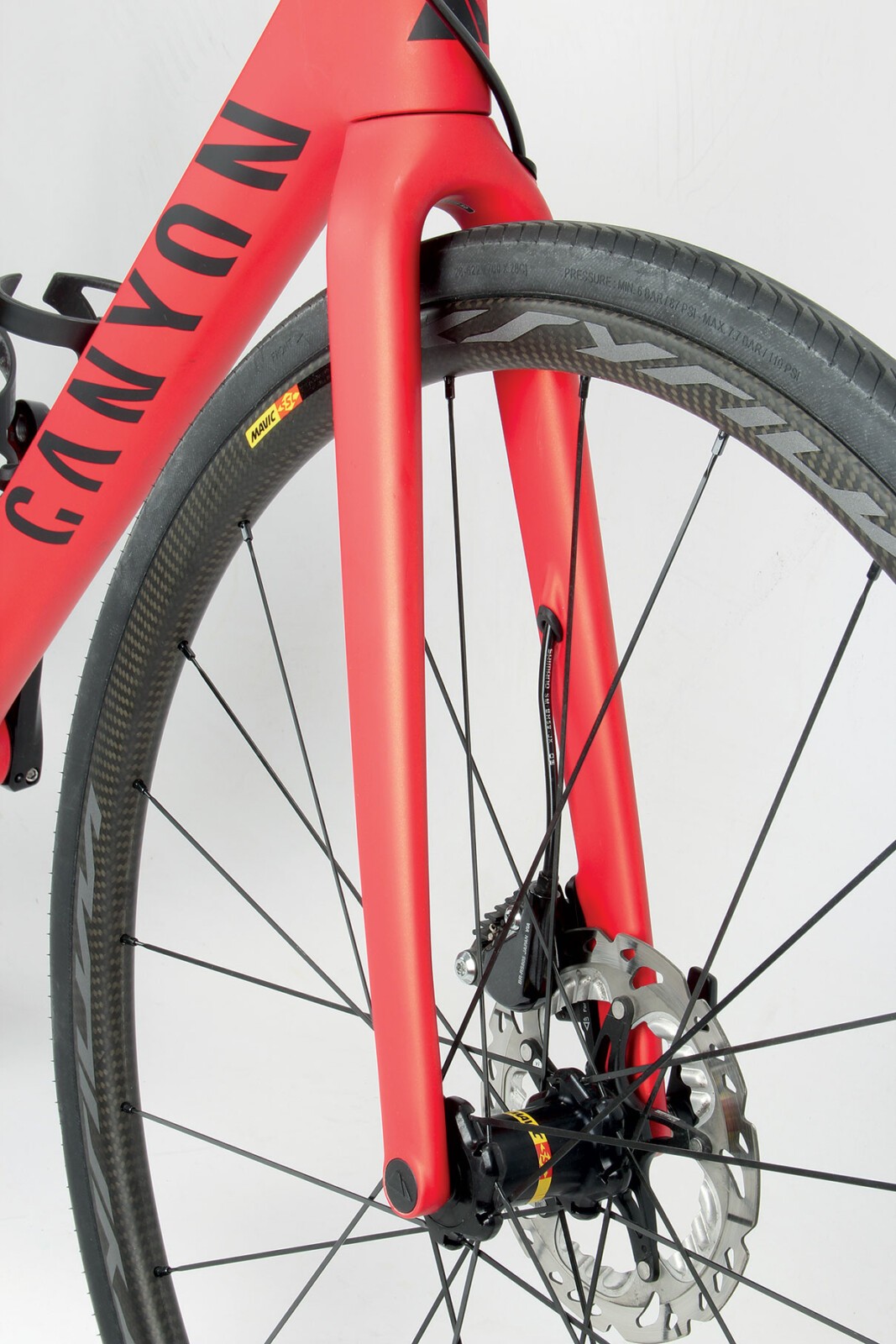 Further to the comfort spec of the Endurace, Canyon has included their VCLS 2.0 seatpost, effectively a carbon leaf spring that does an exceptional job of isolating the rider from harsh road surfaces and even reasonable sized bumps. The post is a curious item for those first seeing it, especially for those riding behind one. It's split fully in two and has a saddle mounting clamp bolted to the top, bringing together the two halves to form what would otherwise be a 27.2mm post. Leaning and bouncing on the saddle with your forearm pre ride it's possible to extract about 10mm of flex at the seat, so when riding at speed under full bodyweight it will provide significantly more.
The front end of the bike has no such obvious 'suspension', however once you climb aboard and start riding it's clear that Canyon has taken measures to bring a level of balance both fore and aft. The integrated bar looks menacingly similar to the head of a hammerhead shark, and though it may disappoint some who prefer the adjustability of hand position that a regular stem and bars provide I found it a comfortable option. Again, a static test leaning on and twisting the bars reveals a significant level of vertical compliance…(Canyon claims 10% more than previous models) easily enough to eliminate road buzz, but not so much as to compromise steering. The lightweight fork, too, I found to play a role in moderating road feedback.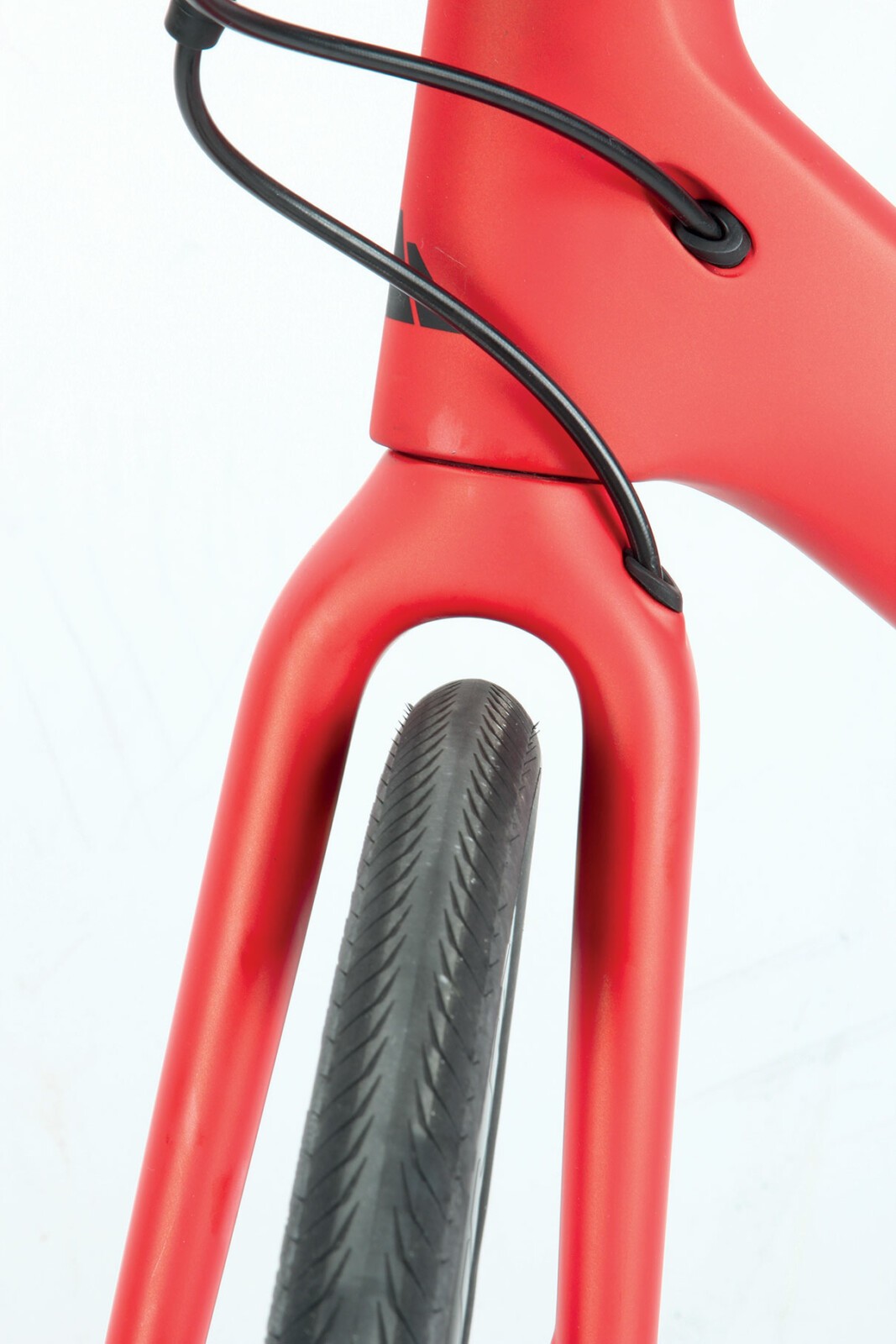 On the road these 'suspension' features make for a smooth and enjoyable ride, but when it comes to putting down some power in sprints or climbs they fade to the back ground. Out of the saddle the seatpost flex is negated and the stiffness of the frame's rear end is evident. The Endurace climbs efficiently and then when it comes time to descend the package once more melds seamlessly, enabling fast and stable descending. The Mavics hold their line well and aren't concerned by any crosswinds, while the fattish tyres provide loads of traction. Added to this, the premium brake package gives full confidence of precise modulation and powerful stopping and really lets you push the envelope of your concept of top speed. I posted my second fastest descent of a rough downhill during testing of this bike.
I did experience some temporary brake rotor warping after some heavy braking on a very steep descent. (The pads lightly scuffing on the deformed disc made a noise that was disconcertingly similar to that of sharpening a carving knife before the Sunday roast, but let's not open that can of worms again here). Joking aside, the rotors cooled and the noise disappeared fairly quickly. Despite this I was glad to have the disc brakes aboard for the smooth powerful response and superb wet weather performance.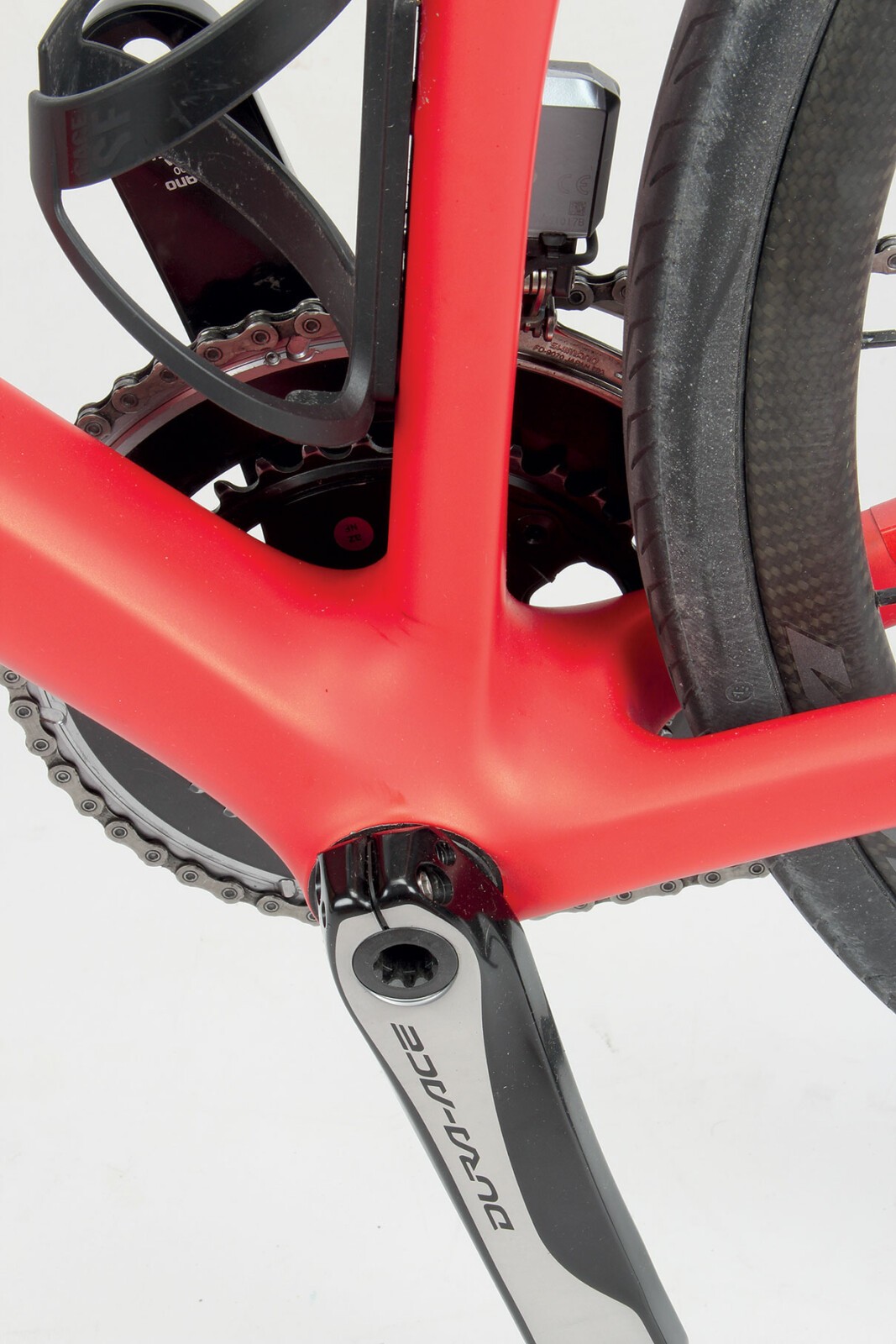 The bike as reviewed has the recently superseded groupset, and while new models will be supplied with the Dura Ace 9150 electronic hydro spec, unavailability of OEM 9150 components from Shimano at the time of writing, means Canyon cannot confirm an expected delivery date…a difficult position for them, but one entirely out of their control.
Canyon bikes are only available online and shipped direct from their German warehouse usually between two and three weeks. Customers can discuss their purchase with the sales team in Melboune via phone or email.
Specifications

Frame: Canyon Endurace CF Slx Disc
Fork: Canyon One One Four SLX Disc
Shifters: Shimano ST-R785
Rear Derailleur: Dura-Ace Di2, 11s
Front Derailleur: Dura-Ace Di2, 11s
Crank: Dura-Ace, 11sp, 52 / 36
Cassette: Dura-Ace
Bottom Bracket: Shimano Pressfit
Wheels: Mavic Ksyrium Pro Carbon Sl Disc
Tyres: Mavic Yksion Griplink / Powerlink
Brakes: Di2 ST-R785
Handlebar: Canyon H31 Ergocockpit
Stem: N/A
Headset: Canyon
Saddle: Fizik Aliante R3
Seat Post: Canyon VCLS 2.0 CF
Weight: 7.4kg
Price: $9,200
Distributor: canyon.com
Summing Up
Quality
While fully decked out in top end components from Shimano and Mavic the Endurace CF SLX frame has no trouble keeping up; its engineering and production values are clearly obvious.
Performance
This is a very versatile bike. It's at home in the cut and thrust of a testy bunch as well as on long road rides, but swap in some wide tyres and it's very capable on gravel too.
Value
At around $9,200 this bike represents a significant investment. However the high level of technical development of the frame and components probably deserves a price tag to match.
Overall
The Endurace is a top shelf machine and priced to match, but it is well-engineered and well finished, and with the Canyon pedigree earned at the highest level under the likes of Quintana it could easily be considered a trophy bike.