Peter Maniaty powers up the latest Domane+, the electric assist roadie from Trek.
Well, well. Things are getting interesting. Pedal assist systems used to be oh-so-different to standard road bikes. But change is afoot. As the major manufacturers continue to plough investment into the burgeoning micro-mobility market, once obvious areas of disparity such as aesthetics, frame geometry and weight are converging. It's happening at remarkable pace, too.
There's no better example than the next-generation Trek Domane+ which for 2023 gets the full SLR treatment. This deceptively sleek machine looks a lot like a standard road bike. It has virtually identical geometry to a standard road bike. It even handles, largely, like a standard road bike. Given the current development trajectory, it seems entirely feasible there will be virtually no outwardly discernible difference between Trek's conventional and pedal assist models within a couple of years. Of course, this opens up all manner of possibilities, opportunities and questions. Let's get to some of them.
How close is the Domane+ SLR styling to a conventional road bike?
Far closer than any other pedal assist bike I've ridden to date. Spend some time up close with the 2023 Domane+ SLR 7, or simply pick it up, and it's still obvious enough it's an e-bike. It does weigh upwards of 12kg after all, which is around 4kg more than the standard Domane SLR 7. The down tube also remains visibly chunkier than conventional Domane models.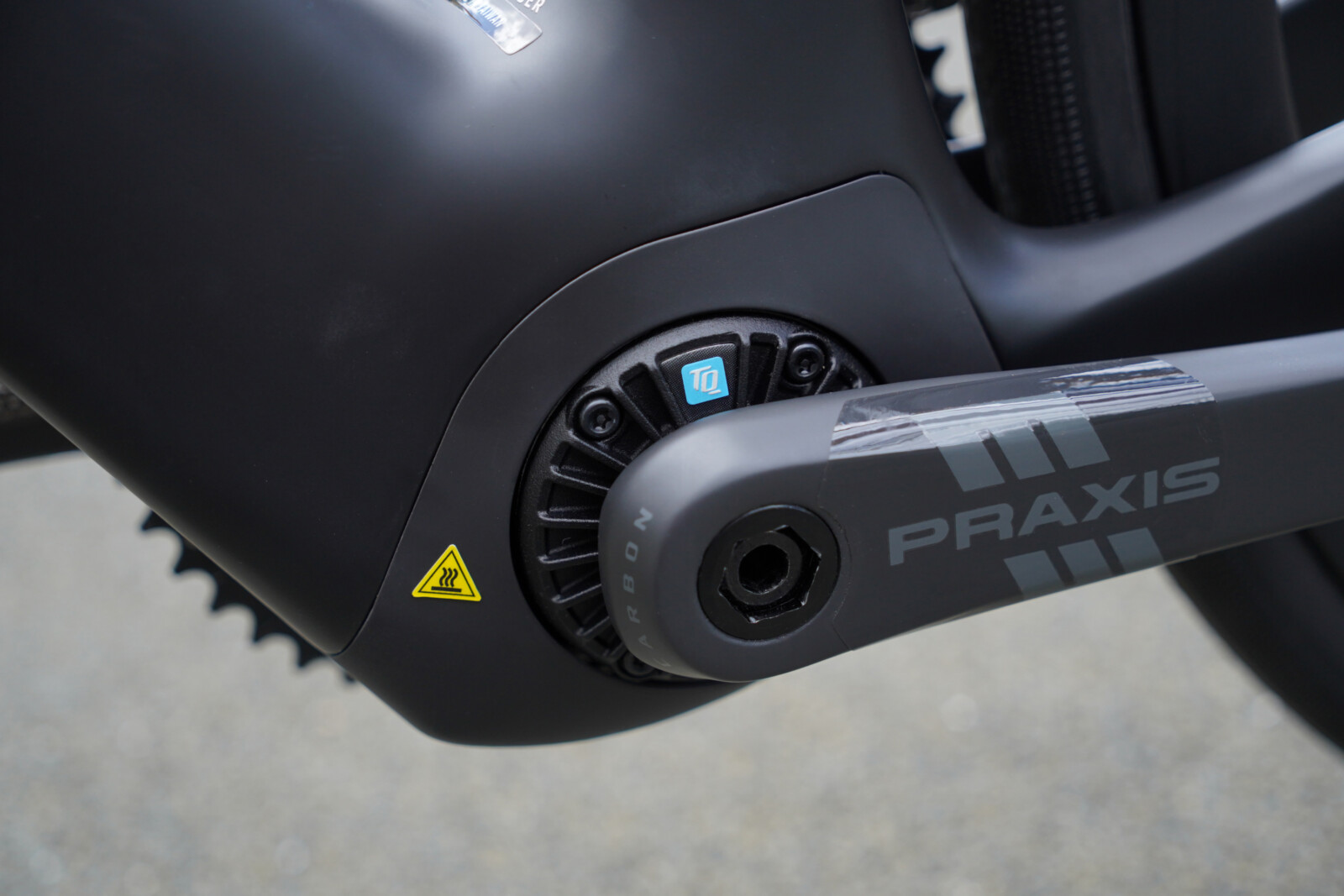 Whilst the oversized bottom bracket junction still features the tell-tale cooling ports for the motor. But here's the thing. View the Domane+ SLR from even just a few metres away, especially from the front or rear, and you'll be hard pressed to pick it out in a bunch. Over the course of this month-long review, the majority of people I rode with didn't even notice it had a motor until I told them. At which point they all became quite fascinated.
How does the geometry compare to the standard Domane?
The key measurements for the 2023 Domane+ SLR are almost identical to the standard Domane SLR, which means an almost identical riding position. This is quite an achievement, made largely possible by the switch to an all-new German TQ motor which is considerably more compact than previous iterations, allowing for more normal frame proportions, especially in and around the bottom bracket.
The Domane+ SLR frame is built to Trek's standard H2 endurance geometry with a taller head tube and longer chain stays for greater comfort and stability. The build also features the same D-shaped seat post, IsoSpeed decoupling system and integrated cable routing as the standard Domane SLR. For me, the only noticeable difference was the Q-factor which, whilst certainly more forgiving than most other pedal-assist road bikes, is still around 16mm wider than my day-to-day roadie. This may not seem like much, but it definitely shifts your knee alignment and I certainly noticed it. (Or, more accurately, my knees and hips did.)
How does it compare to earlier Domane+ models?
The previous Domane+ was good. But the 2023 model is another major leap forward, delivering a package that's noticeably slimmer and quieter. It's also the first pedal-assist bike to use Trek's highest grade 800 Series OCLV carbon for both frame and fork; an upgrade that in tandem with the new motor has helped to shave significant weight from the previous Trek Domane+.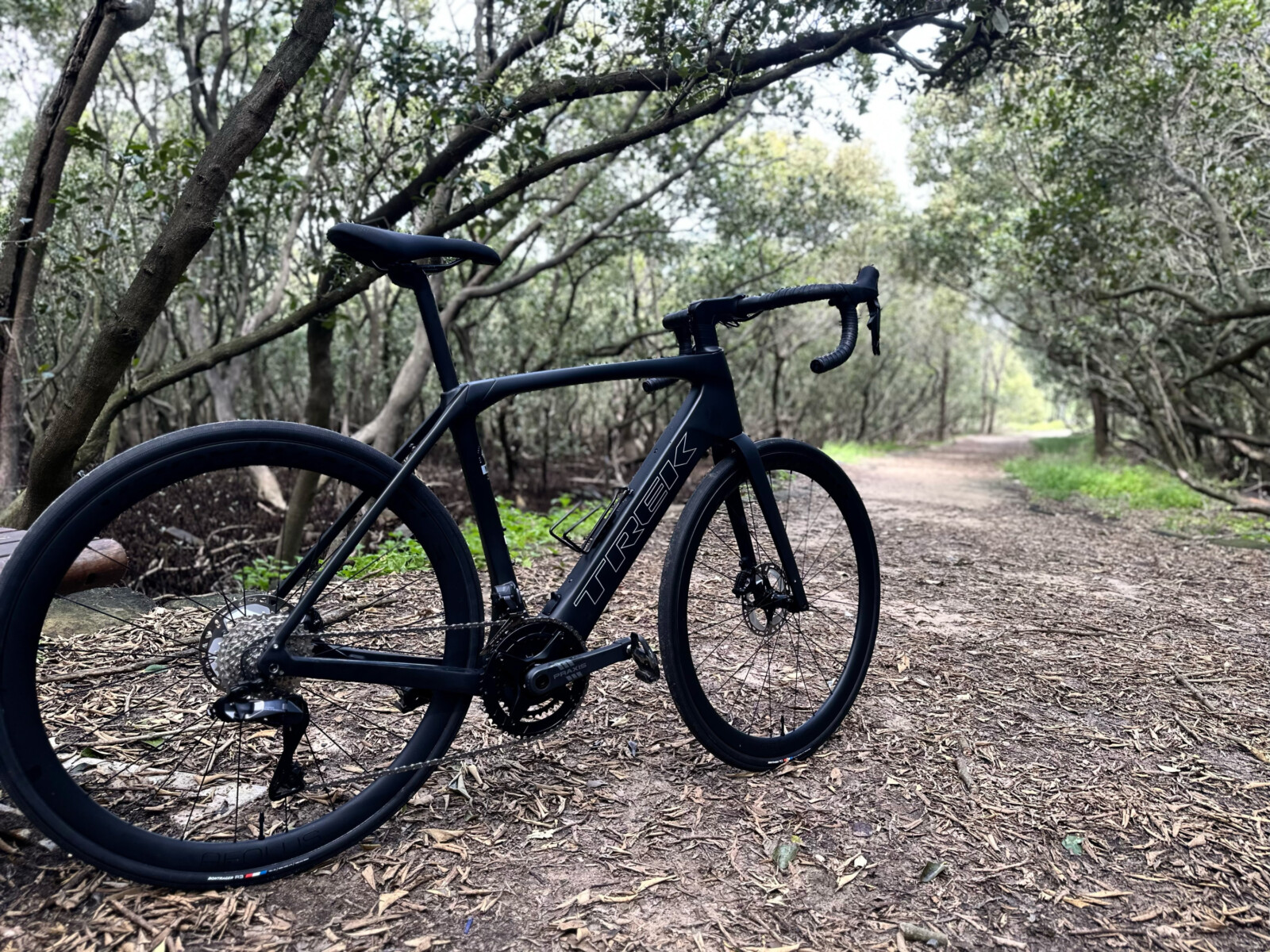 By way of comparison, the original Domane+ tipped the scales at a hefty 17.1kg (56cm), whereas the 2023 model is now just 12.2kg. Still heavy, for sure. But you don't need a mathematics degree to see this number is coming down all the time.
What motor is Trek using in 2023?
Trek has never been hesitant to flip motor suppliers. In their ongoing quest for e-bike supremacy they have done so again in 2023. This time, the Domane+ SLR features the same TQ HPR50 mid-drive system you'll find on Trek's Fuel EXe e-mountain bike.
Whereas most e-bike motors tend to use gears and belts to drive you forward, the German-designed TQ motor instead features a harmonic pin ring transmission discreetly tucked away behind the chain ring. Power wise, the TQ HPR50 system delivers 50Nm of torque which is actually slightly less than the 55Nm offered by the previous Domane+ motor (Fazua Evation). However, at just 1,850g the TQ system is both lighter and smaller, which translates to reductions in overall weight and tube profiles. Importantly, the TQ HPR50 also has fewer moving parts and, according to Trek, is significantly more durable.
Banishing noisy belts and gear teeth to the dustbin also makes it v-e-r-y quiet. Listen closely in the still of the early morning and you can just make out a faint whirring sound. During the day you'll struggle to hear it at all.
How about the battery?
The Domane+ SLR is powered by a 360Wh Li-ion battery (1,835g) which is integrated directly into the frame. Charging is super simple; you literally just have to plug it in. A full charge takes around two hours. I found the run time pretty good too. On one ride out to Bondi and Watsons Bay I travelled 82km with nearly 1,000m of climbing, and still had 34 per cent charge left.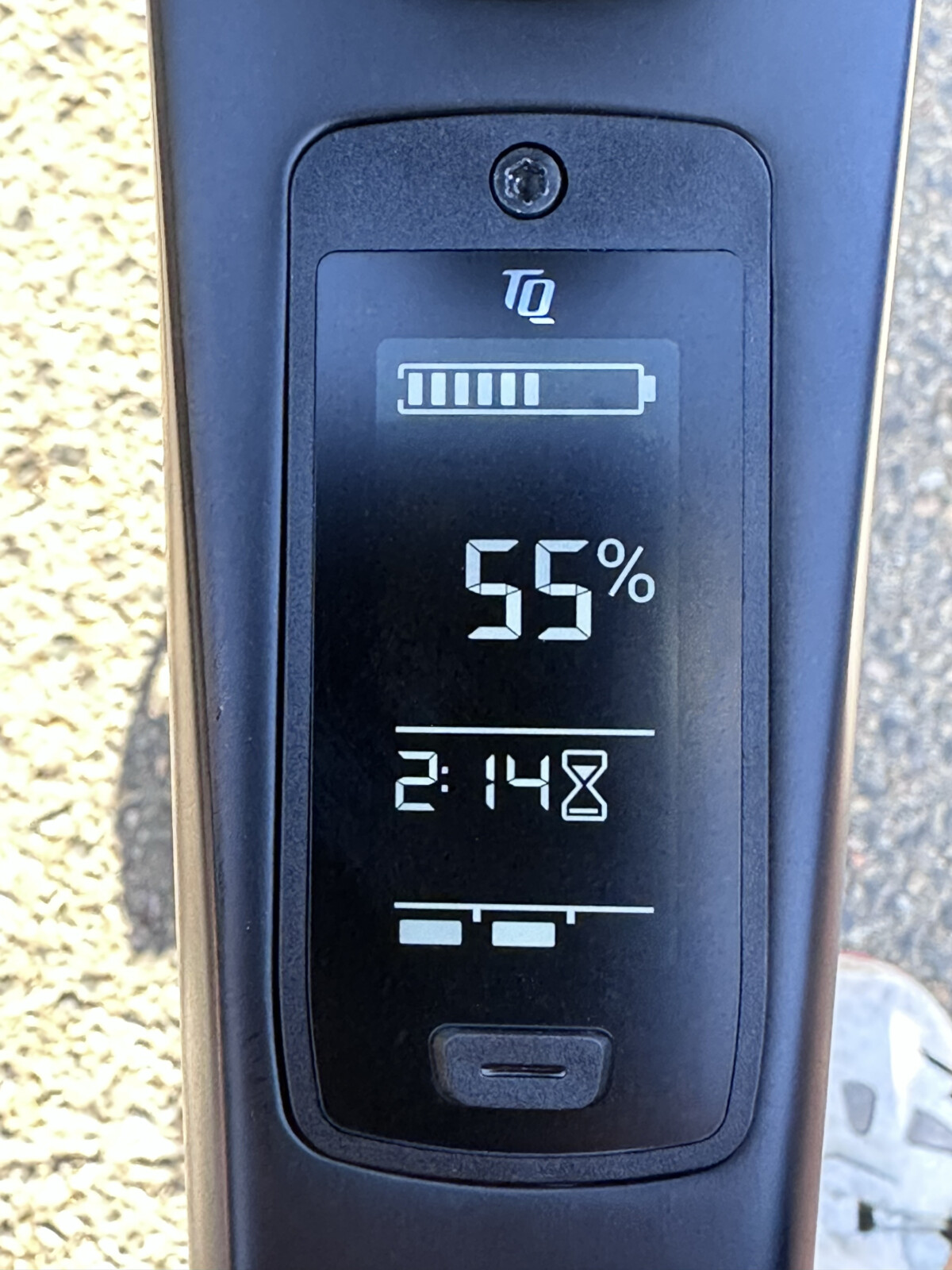 On another trip up to Bobbin Head, I covered 65km, again with plenty of climbing, and returned home with 45 per cent of battery still in the tank. Trek says the main 360Wh battery will take you around 100km in eco mode, although this obviously depends on other factors like weight, riding conditions and terrain.
Trek also sells an optional 160Wh range extender battery that can add around 45-50km extra for longer rides. It sits in the seat tube bottle cage and weighs around 900g, not much more than a full bidon. Of course, simply switching the motor off when you don't really need it should extend battery life, too.
How easy is it to operate?
Incredibly easy. The TQ system is thoroughly intuitive with simple controls accessed via small buttons located on the inside of both hoods. In all, there are three modes providing increasingly higher levels of assistance. Click right to shift up. Click left to shift down. Or hold the left button down to turn the pedal assist off altogether.
What about the drivetrain and other components?
Similar to its non-powered namesake, the SLR 7 sits second in the Domane+ range. The review model was equipped with an impressive array of componentry led by the 12-speed Ultegra R8170 Di2 wireless drivetrain and Praxis 50/34T carbon crankset. As you'd expect from Trek, the finishing kit is Bontrager all the way with Pro Iso-Core handlebar, integrated RCS Pro stem and a very comfortable Verse Short Elite saddle.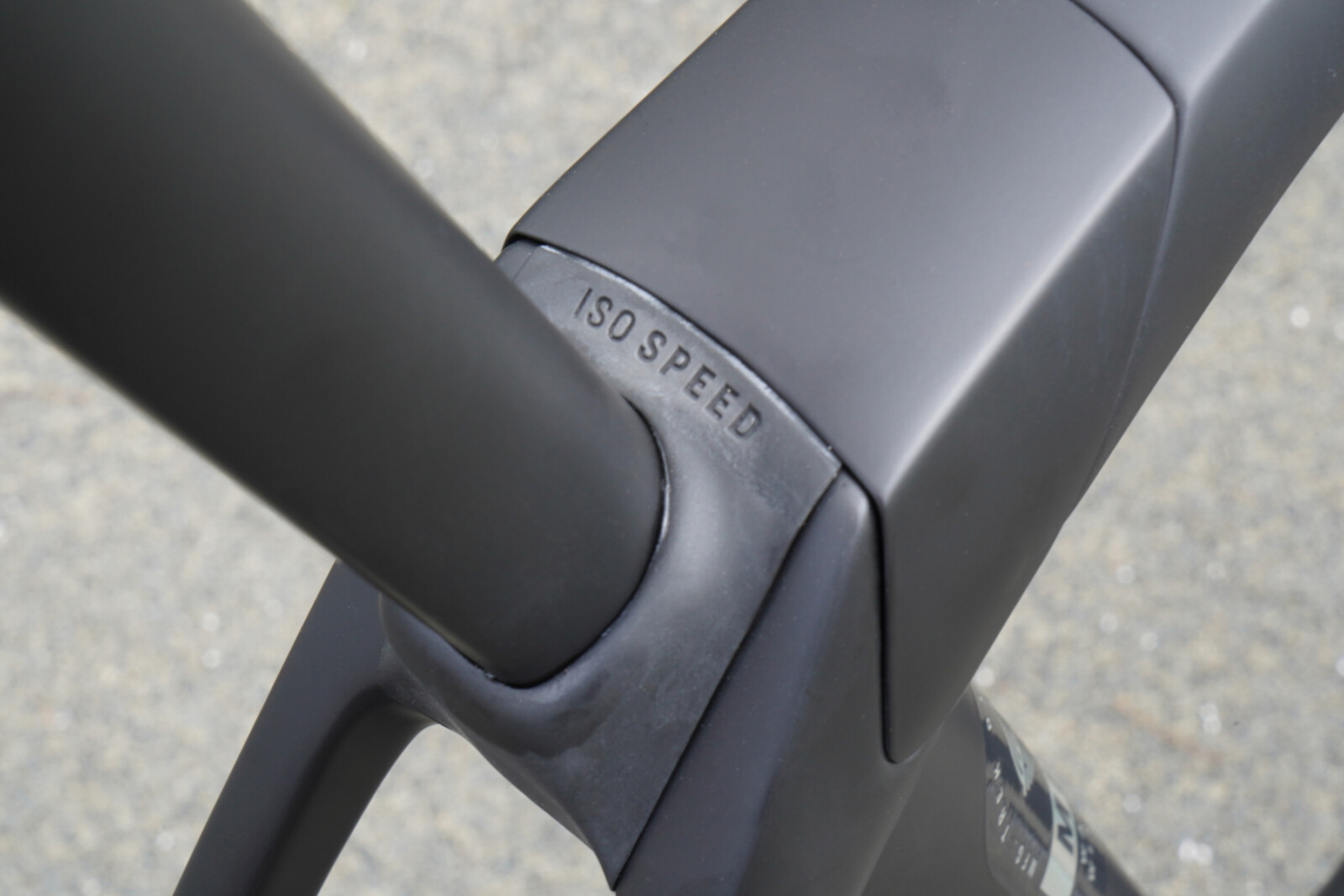 The super-versatile Bontrager Aeolus Pro 37 OCLV carbon wheelset fitted with 32mm Bontrager R3 tubeless tyres (maximum tyre size is 40mm without panniers) is another perfect addition. It's also worth noting the TQ motor system provides real-time power, ride and battery life data via a high-resolution LCD screen integrated into the top tube.
How does it ride?
First things first. This is not a motorbike. The Domane+ SLR uses a pedal assist system where the power assistance is relative to the energy you put through the pedals yourself. This means cadence and gear selection still matters. In fact, learning to master the different gear ratios for different terrain and speeds is probably the single biggest learning curve when you first start riding. Once you get that right, it's a dream.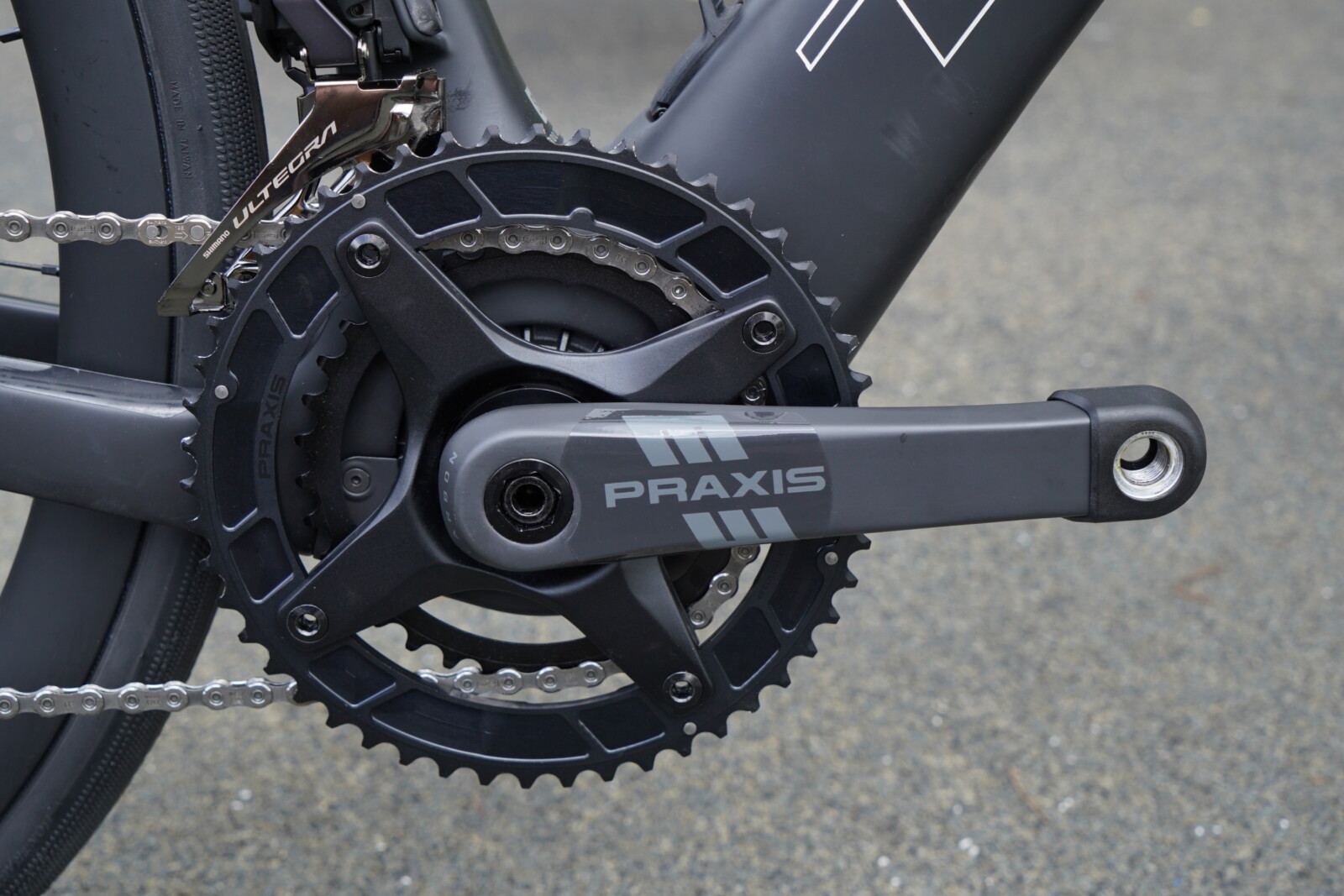 Out on the road, the relaxed geometry, extra weight and lower centre of gravity makes it very stable and reassuringly well behaved. On the flip side, it also makes acceleration a little lacklustre. That said, with the pedal assist turned on it still jumps away from a standing start, something that consistently brought a smile to my face.
Handling wise, the Domane+ SLR is smooth and steady, rather than agile and snappy, sweeping confidently through turns whatever the speed, gradient or road surface. With the 28mm tubeless tyre set up on the review model (I was mostly running 65-75psi), I also found it very forgiving over the bumps. The motor engagement is smooth and reasonably subtle; nowhere near as jerky and dramatic as many earlier models of e-bikes. This all makes for a pleasant and seamless riding experience across pretty much any terrain.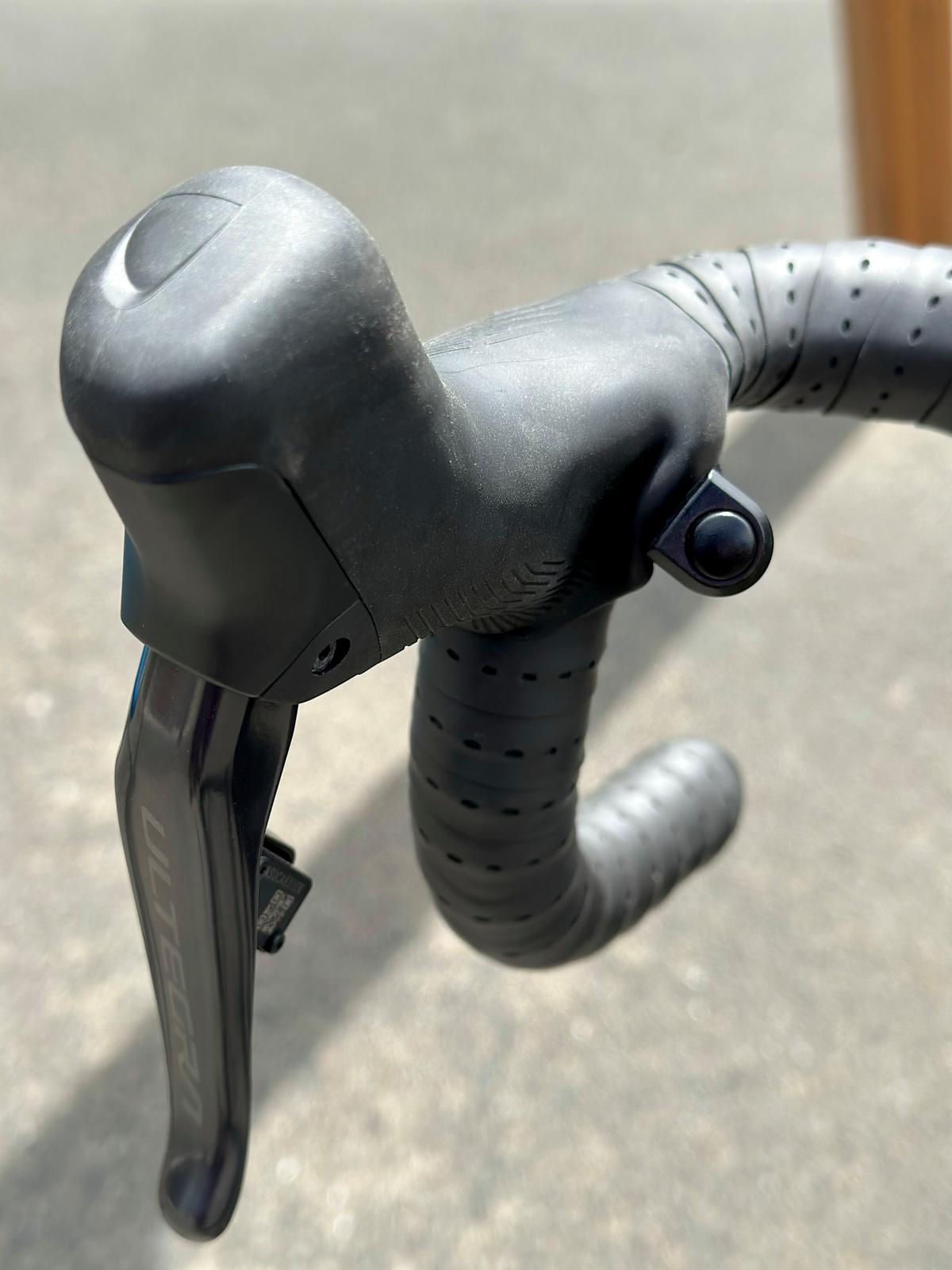 Of course, flattening out the hills is clearly the sweet spot for the Domane+ SLR. Yes, you still have to work. But whether it's a 20km alpine climb or just a 50-metre pinch on your local bunch ride, rest assured you will find yourself smirking when most around you are suffering. On more than one occasion I actually felt a little guilty as I cruised past riders clearly fitter and faster than me under normal riding conditions.
Somewhat paradoxically, the faster Domane+ SLR goes, the more sluggish it becomes. This is because the motor – whilst capable of speeds approaching 45kmh at full power – is limited to a maximum assist speed of 25kmh in Australia. Beyond that it cuts out and you're on your own with, effectively, just a very heavy road bike.
Who is it for?
It's the critical question, but also a hard one to answer. Frankly, there are many types of riders who could potentially enjoy this bike. People looking to keep up with their younger and/or fitter mates. Those recovering from – or permanently affected by – injury or illness. Partners of riders who've always wanted to tag along but have never had the confidence or fitness to try. Commuters who want a classically-styled road bike that won't leave them as hot and sweaty when they get to the office each morning.
Committed roadies who want a second bike for gentle rides when they're looking to rest their legs. Panniers and mudguards can also be fitted, meaning touring and gravel are other genuine options, although battery life and charging logistics could be an issue depending on the route and location.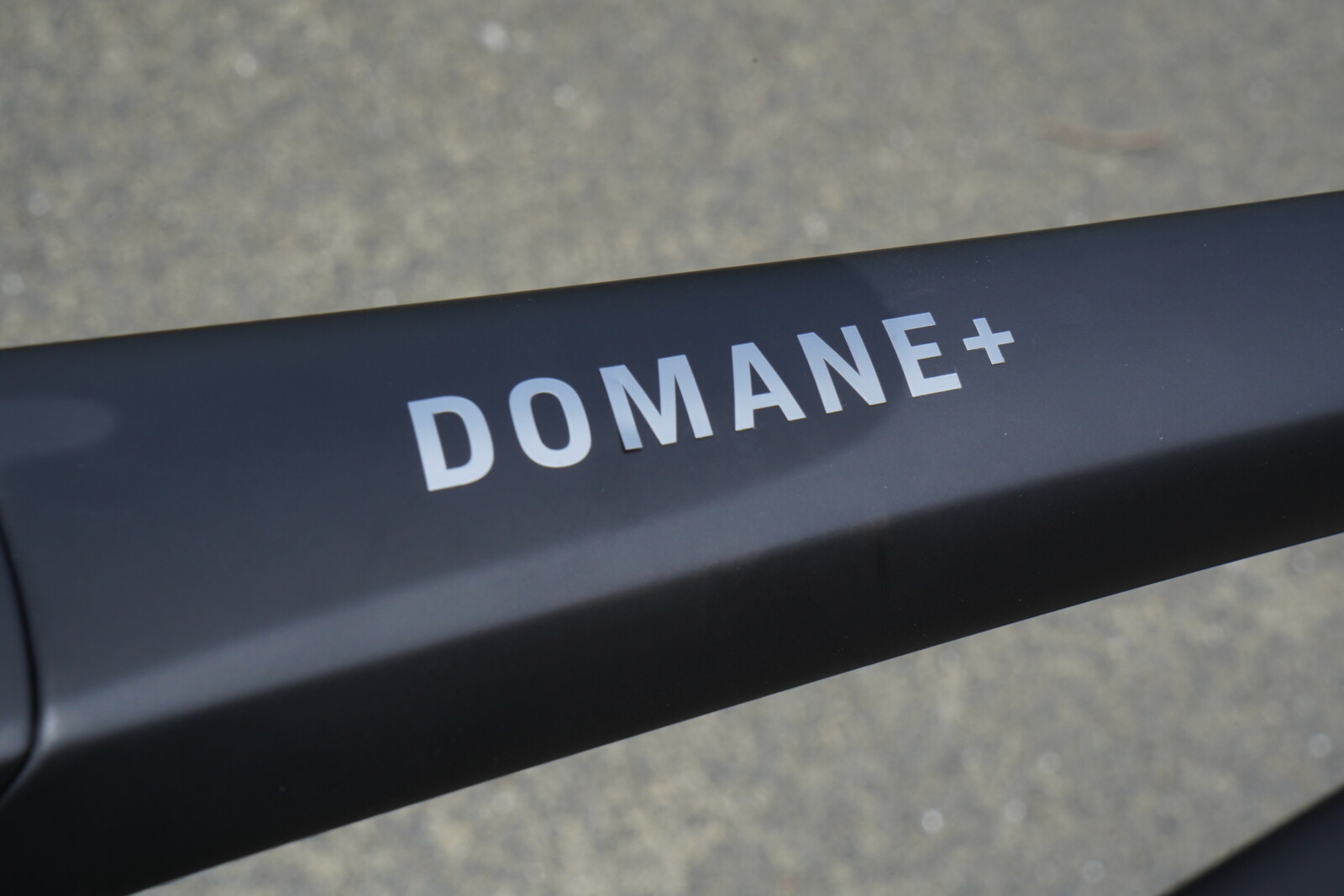 Are there any drawbacks?
There's really only one limitation to this fabulous bicycle and that's the 25kmh motor cut-off mentioned earlier. This, of course, has nothing to do with Trek or the Domane+ per se. It's a blanket government regulation in Australia that applies to all micromobility devices like e-bikes and e-scooters. Based on my experiences, this will significantly reduce the usefulness of the Domane+ SLR for many road cyclists. Whilst ideal for commutes, cruisy rides and routes where you are predominately pointing upwards, if you're likely to be travelling for extended periods at upwards of 30kmh on flat to rolling terrain, the extra weight will become a factor. Sure, you could consider turning to the dark arts and get someone to over-ride the speed settings. But in addition to being illegal, you run the very serious risk of voiding any insurance coverage in the event of an accident. Do. Not. Do. It.
Summing Up
The 2023 Domane+ SLR 7 is a remarkable piece of two-wheeled engineering that brings two very different worlds closer together than ever before. Fantastically designed and finished, it's a brilliant choice for some riders. Yet an absolutely terrible choice for others. As motors, batteries and frame sizes continue to tumble for pedal assist bikes – bringing overall weight and aesthetics ever-nearer to conventional bikes – it offers an exciting glimpse of the future.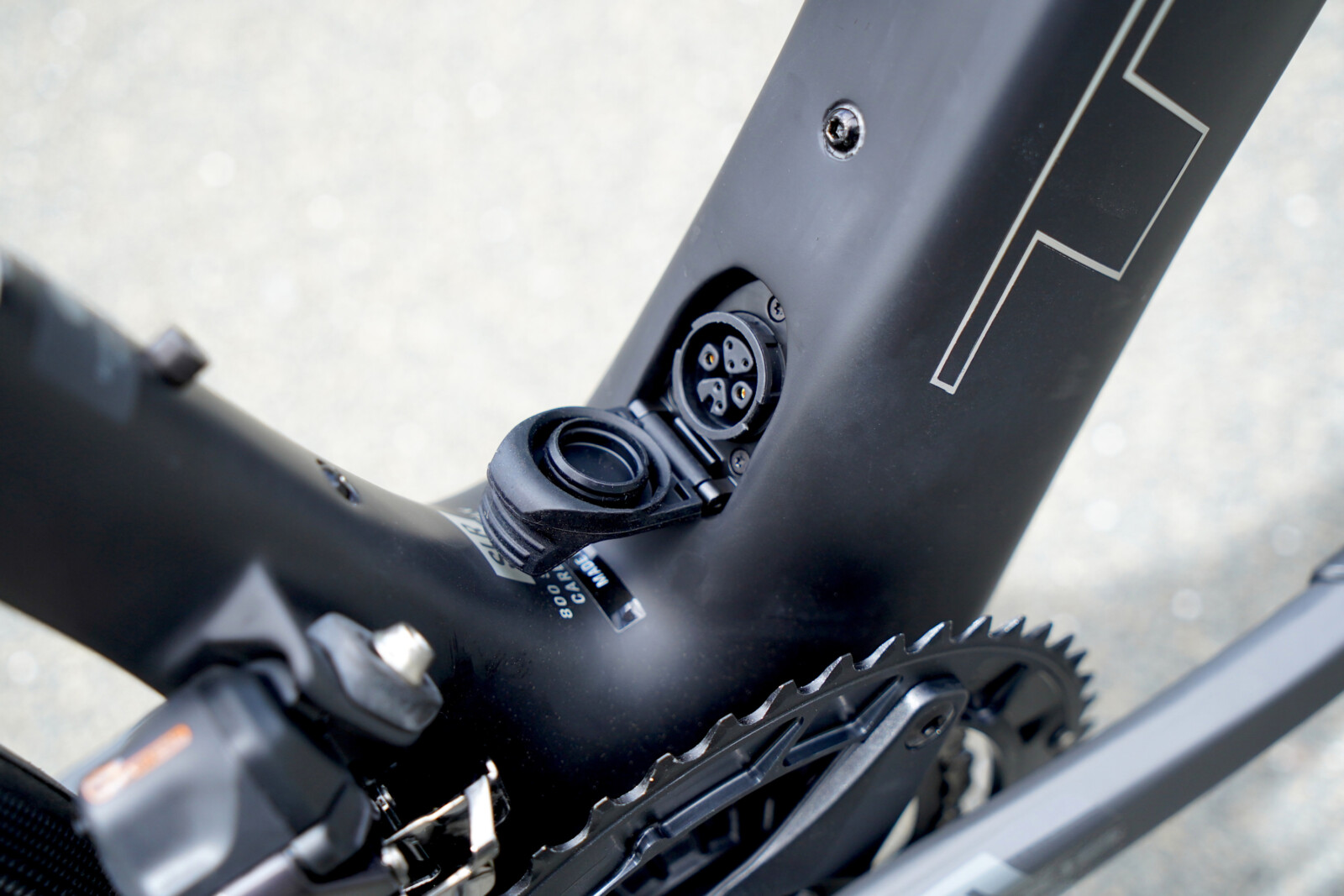 But it also has one very significant Achilles heel, a motor limited to a maximum speed of just 25kmh. Until such time as this limit is raised (and there are no guarantees it will be, of course) bikes like the Domane+ SLR will likely hold only minimal appeal to a sizeable portion of road cyclists in Australia, including many readers of this magazine. Which is a huge shame.
"…the majority of people I rode with didn't even notice it had a motor until I told them…"
Quality
Wonderfully designed and finished with top-notch OCLV carbon, TQ motor and high-spec components. This is about as good as pedal assist road bikes get.
Performance
Stable and smooth, the Domane+ SLR is a true endurance machine, as comfortable as it is versatile. The only thing stopping you from riding it all day is the battery range.
Value for money
Yes, $14,490 is a lot of money. But it's also a fantastic bike that gives you a lot in return. As long as you're able to ride it regularly, it will likely be worth every dollar.
Overall
The Domane+ SLR is an outstanding pedal assist road bicycle with a significant asterisk. Spend most of your time riding under 25kmh? You will love it. Otherwise, probably best to look elsewhere.