When we look at
buying a bike, or replacing our old worn out, well-loved machine, we look for a number of things. Good technology is always a factor. Gaining an advantage over our training mates or racing opposition would definitely be another. Good comfort, durability and value would also be on our list. Something that looks good, looks fast wouldn't hurt either. The Fuji Transonic aero machine most certainly covers all these areas.
The Fuji Bike Company have now been developing and building bikes since 1899. Fuji have put years of technology and engineering into their new aero designed road frames and their Transonic range of aero bikes have truly hit the mark in Aero frame design.
Fuji have put the time into wind tunnel testing their road bike design, so that every user can enjoy the stiffest, fastest and lightest road bikes that Fuji have ever produced. Fuji have left their road Aero frames at the end of their Aero Frame evolution. Their Track Elite Frame was developed first, followed by their Tri/TT Frame and now the Transonic has arrived; the culmination of all knowledge gained to date.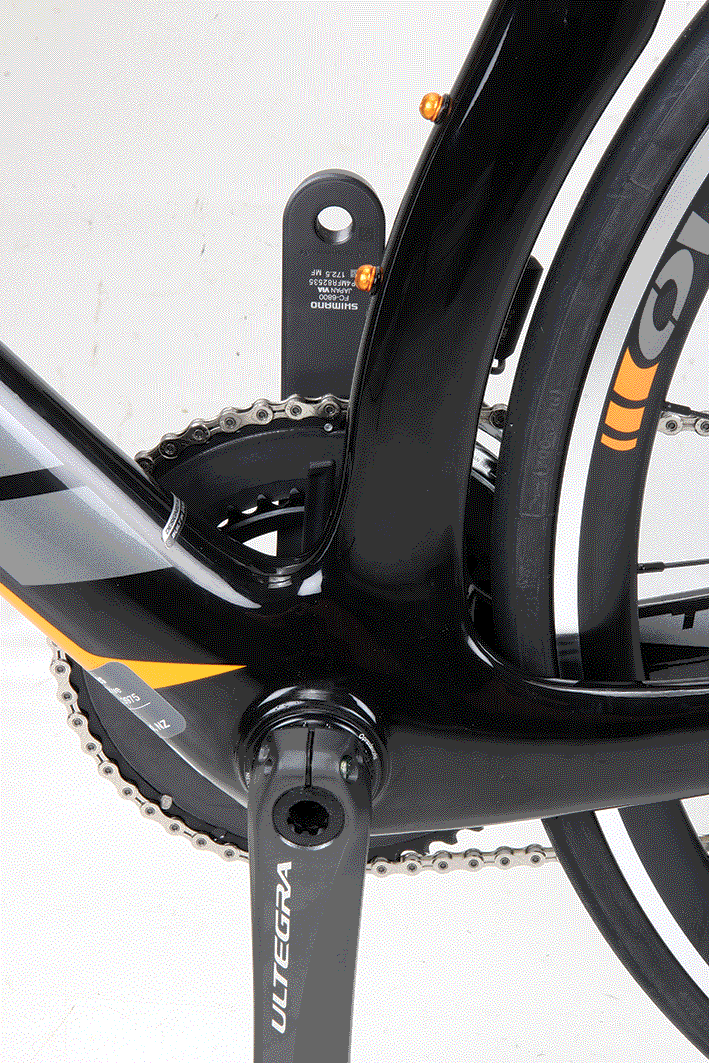 The bike is a real performer when it comes to putting it through a solid road or race test. Fuji uses a C5 high modulus carbon in this range of their aero bikes. It gives the bike a very good combination of lightness and strength, but still maintaining very good stiffness. This test included racing the bike around some of the tightest crit courses I have ever been on. This hardcore test was a real eye opener on how good this bike really was. Charging into the tightest of corners and braking late was a real thrill on this machine and was easily achieved time and time again with precision and ease. Going hand in hand with that was the superb acceleration out of these same tight corners.
Fuji has designed the Transonic with wide cross-section tubing that allows for maximum stiffness where needed, in particular around the bottom bracket. This feature is superb and a real stand out when sprinting and once again accelerating out of sharp corners; a real draw card of this bike. The bike also uses Fuji's Energy Transfer Chain stays (ETC), which Fuji say enhances lateral stiffness by offsetting the drivetrain-induced torque and distributing power more evenly through the frame. The Transonic also comes with a Press-Fit 30 bottom bracket that allows for use of large diameter, lighter and stiffer alloy axles.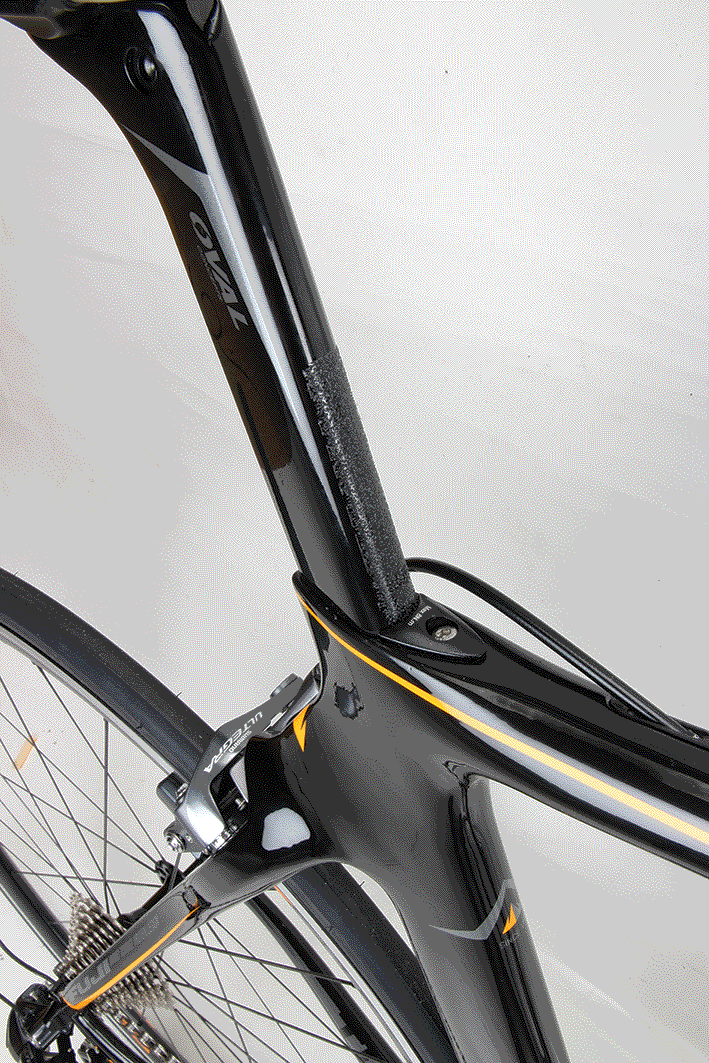 The Transonic is not a true climber's bike. The geometry of the frame is more suited to descending rather than climbing. But with its slightly shorter wheelbase, straighter head tube angle, and fork offset, the tightest of corners were a simple challenge for this bike. Any time lost on a short climb could be easily made up by perfect handling and great cornering performance of this machine. The bike was a real pleasure in a bunch race situation as well. The aerodynamic features were truly noticeable when swapping off turns at high speed and a true advantage in a cross or head wind.
Fuji has combined with this Transonic frame, a number of their own Oval brand products. The stem and 42cm bars combined well with the Ultegra hoods to give a comfortable and precise ride up top in the cockpit. The aero seat tube, along with the integrated seat clamp was a superb feature. The seat was a little harder than I am usually used to, 
but I found it tolerable until 
the end of this test.
Another impressive feature were the direct-mount front and rear brakes. These brakes worked superbly and fitted in well to maintain optimal aerodynamics in this area.
The bike has been fitted with deep Oval rims, and Vittoria Pro Slick tyres. This wheel-tyre combination has helped keep the bike below the $5,000 mark. They may not be the lightest on the market but they're still a nice inclusion on this bike. The Oval wheels are radial 20 spoked on the front to add to the aero design of the bike, and a 27 on the rear; triple crossed on the drive side and radial spoked on the other. The wheels performed well and compliment the style of the frame. Colour coded in black and orange they looked a real treat too, and fitted in with the cool colour scheme 
of the bike.
With Ultegra Di2 electronic fitted to this bike, all gear changes were precise and another great feature to this bike. The bike is also fitted with Ultegra 172.5mm cranks, which finish off the inclusions well, probably an appropriate crank length for this size frame—see more discussion about crank length from our bike physiology guru Steve Hogg on page 80.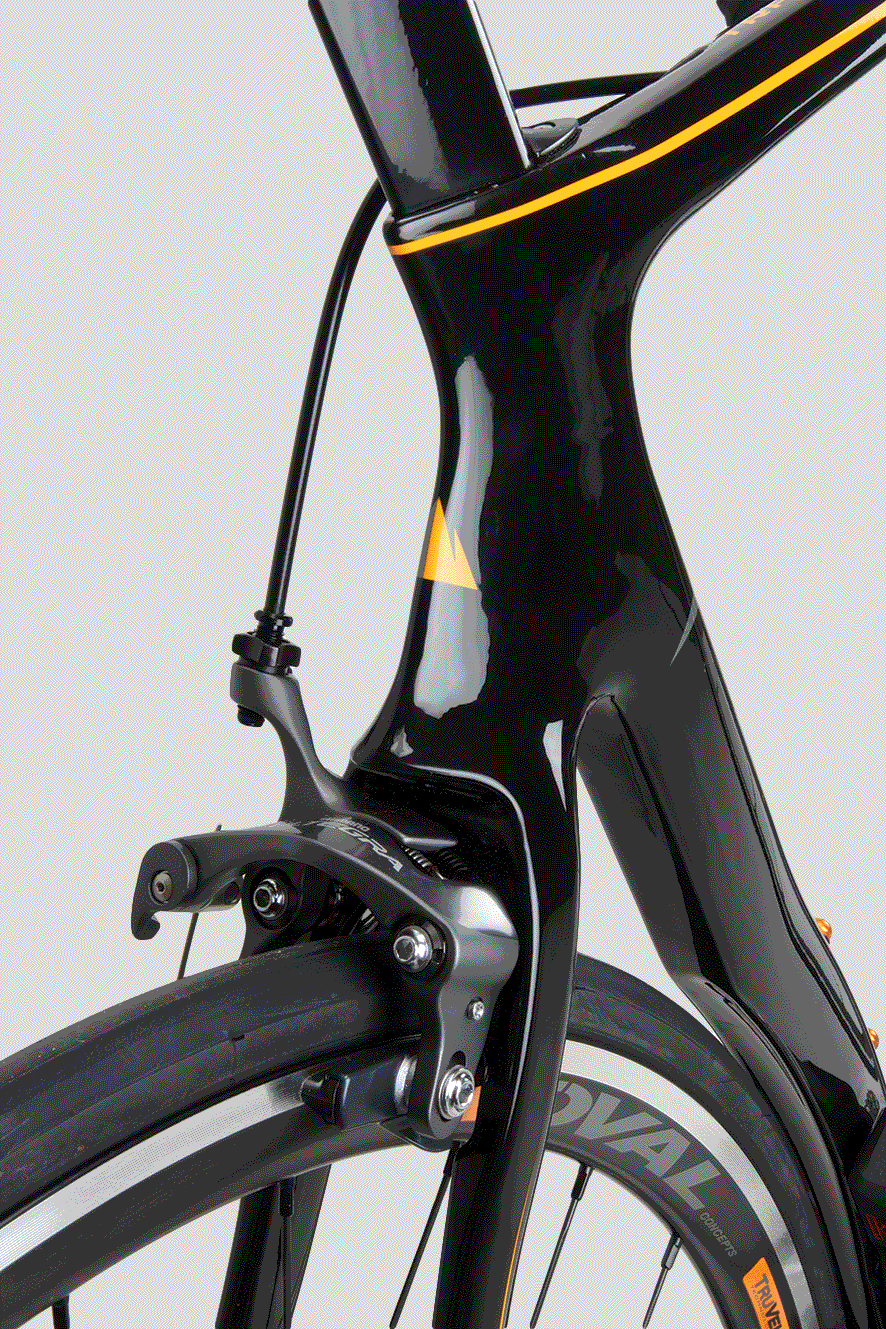 Overall, the Fuji Transonic has the necessary technology invested in it to make a superb aero frame and good road package. Fuji has also provided the buyer with a large range of sizes in this model ranging from 46cm which is the extra small to a large/extra large being 61cm. It ticks all the boxes, performance, comfort, durability and value and looks a real treat with its black gloss aero frame and orange pinstripes. Whether on a training ride with mates, smashing it out in a race or on the tightest of criterium courses, I feel this bike would be a good fit for someone looking at updating to a new fast machine. It would also be a real standout parked out the front of the brew shop.
SUMMING UP
QUALITY
Fuji has put a lot of effort to make their aero frames hit the market in style. The Transonic is built with superb technology and fitted out well for their requirements in this price range.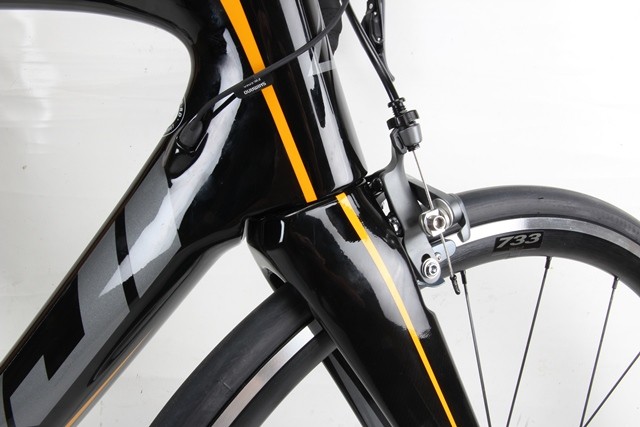 PERFORMANCE
The bike is stiff, light and fast. The best all round bike Fuji has ever offered. It corners, brakes and accelerates superbly. A set of true race wheels would be the final step up, but as is, it has all the necessities of a good bike able to deliver great results.
VALUE
At under $5,000, this bike has good bang for your bucks. The Transonic is a well-developed machine; with electronic gearing and great frame features you will be replacing your old bike with real value from the ground up.
OVERALL
This bike is the pinnacle of Fuji's Aero Frame development. It looks great and has been fitted out well to perform at a high level. Whether you require a new race machine to attach to your race wheels, or just a bike to tap around on, the Transonic will do it for you.

SPECIFICATIONS
FRAME: C5 high-modulus carbon
FORK: FC-440 carbon with tapered carbon steerer
HEADSET: FSA 1 1/8" upper 1 ½" lower, integrated
HANDLEBARS: Oval Concepts 310 buttered 6061 alloy, 31.8mm
STEM: Oval Concepts 313, 6061 3D-forged alloy, 31.8mm
SADDLE: Oval Concepts R500 w/ chromoly hollow rails
SEAT POST: Transonic aero carbon, 350mm
SHIFT LEVERS: Shimano Ultegra Di2, STI 11 Speed
BRAKES: Shimano Ultegra Direct Mount
BRAKE LEVERS: Shimano Ultegra Di2, STI
FRONT DERAILLEUR: Shimano Ultegra Di2, Braze on Mount
REAR DERAILLEUR: Shimano Ultegra Di2 11 Speed
CASETTE: Shimano Ultegra, 11-28T, 11 Speed
CHAIN: KMC X11L 11 Speed
CRANK: Shimano Ultegra 6800, 52/36T
BOTTOM BRACKET: Praxis Conversion Bottom Bracket
WHEELS: Oval 733 Aero Alloy Clincher, Tubeless Ready, 20/27H
TYRES: Vittoria Zaffiro Pro Slick, 700 x 23, 60tpi, Folding
WEIGHT: 7.67kg, 56cm
PRICE: $4,799
DISTRIBUTOR: Fuji Bikes Australia