When the first Giant TCR arrived in the pro peloton more than 20 years ago, it was surrounded by controversy. Now Giant have released the 9th generation of the TCR, the 2021 model range. But first let's go back to the history of the TCR.
It looked unlike anything else in professional road racing at the time, and rival teams were left wondering if the Giant-sponsored Team ONCE had an unfair advantage.
Officials from cycling's world governing body were called upon to determine if the bike was legal.
The questions and controversy had to do with frame geometry. The name of the bike clearly spelled out its main innovation: Total Compact Road. The brainchild of British bike designer Mike Burrows—who had already introduced some game-changing race bikes including Chris Boardman's gold medal pursuit bike at the 1992 Olympics—the first TCR frame was a clear departure from the standard road bike design that had prevailed for decades.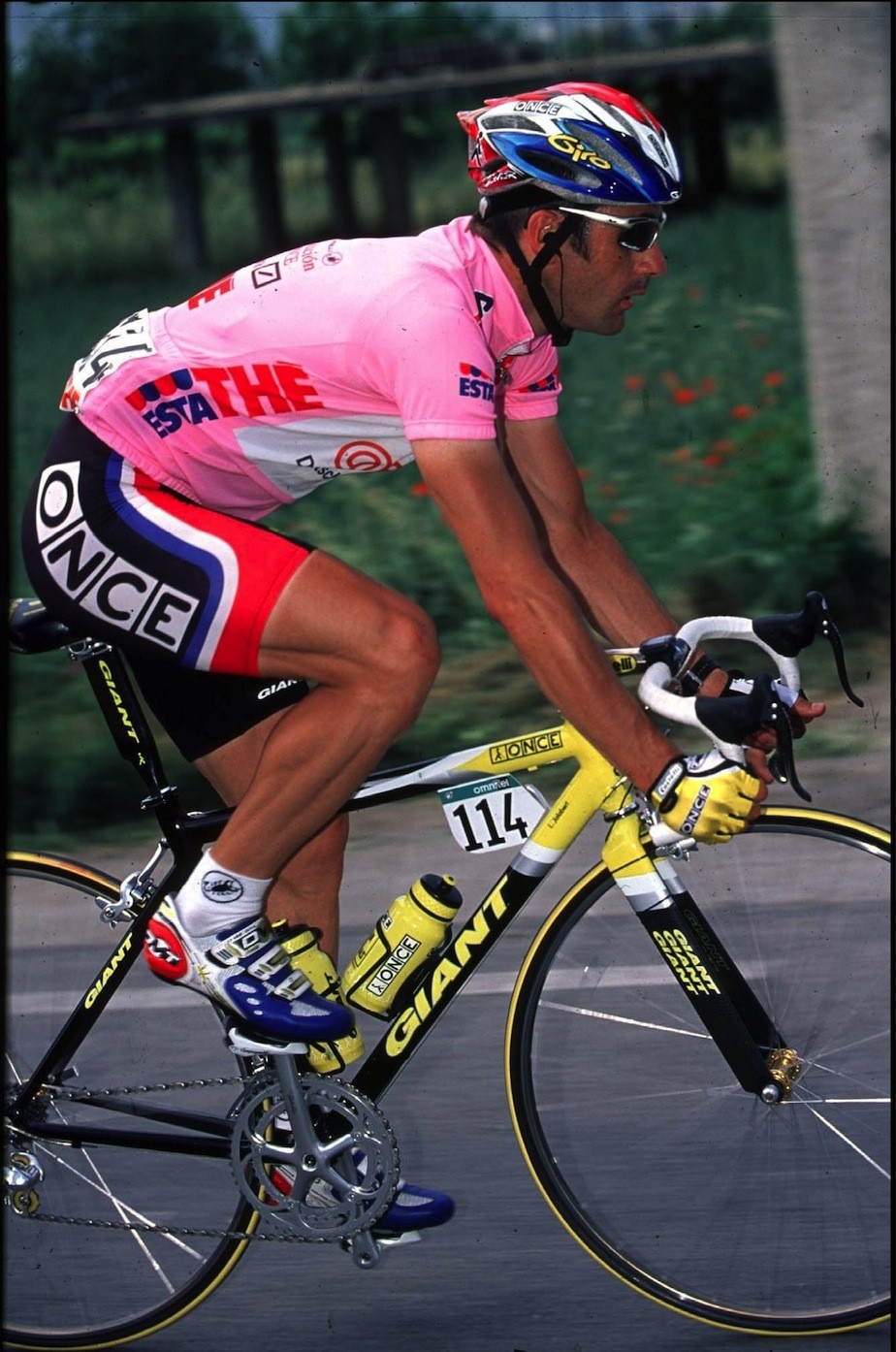 Its radical geometry was marked by a "compact" frameset featuring a toptube that sloped downward from the headtube to the seattube. Compact Road was inspired by mountain bikes, which were still relatively new in the early 1990s. Burrows worked with Giant to create the Compact Road frames, which offered several obvious advantages.
The sloping toptube created a smaller main triangle, which was both lighter and stiffer than standard frames with horizontal toptubes. The rear triangle was also smaller, which in addition to saving more weight also improved power transfer and efficiency. The first TCR also ushered in a new era in production for high-performance road bikes. Its Compact Road geometry made it far easier to fine-tune the fit and position of the rider by simply adjusting seatpost and stem lengths.
Those early ONCE team bikes were instantly recognisable by their longer seatposts, which gave them a profile that more resembled mountain bikes. The other advantage was that longer seatposts could be shaped for better aerodynamics or crafted from carbon fibreto add compliance and smooth out the bike's ride quality.
Ultimately, UCI officials decided the TCR was legal. Team ONCE riders including Laurent Jalabert went on to win dozens of races on it, including grand tour stages and major one-day races. The early TCR was unique in its ability to excel in mountain stages and time trials. With its aerodynamic advantages, it was especially effective against the clock—Jalabert won several stage race time trials on it, and ONCE became a favourite at every team time trial it entered.
23 Years Of The TCR
23 years since that first-generation aluminium model, the bike has constantly evolved – this timeline shows key developments.
1997 – The first production TCR makes its debut. It is available in three frame sizes (S, M, L) and has an angle-adjustable quill stem available in three different lengths (105mm, 120mm, 135mm).
1998 – The Spanish Team ONCE debuts the new TCR at the Tour de France. Giant produces a complete Team ONCE replica bike for consumers with a Campagnolo Record gruppo.
2000 – Team ONCE replica bike features a 1-inch threadless headset.
2002 – The first full-composite TCR makes its debut at the Tour de France.
2003 – The first commercial TCR Composite bikes are available.
2004 – The 3rd generation TCR debuts at the Tour de France with the T-Mobile squad, which goes on to win the team classification atthe Tour for three straight years (2004-2006).
2005 – The first TCR with an integrated seatpost (ISP) is commercially available in five sizes.
2006 – 4th generation TCR makes its debut with the T-Mobile team, featuring a larger (stiffer) rear seatstay/brake yoke.
2008 – The 5th generation TCR Advanced SL is introduced to consumers. It features a number of breakthrough technologies including a PressFit bottom bracket and integrated cable routing. Team Columbia-Highroad rider Mark Cavendish wins four stages on it at the Tour de France.
2009 – Team Rabobank rider Denis Menchov wins the Giro d'Italia on his TCR Advanced SL.
2012 – The 6th generation TCR debuts at the Tour de France with Team Rabobank.
2015 – The 7th generation TCR debuts at the Tour de France with Team Giant-Alpecin.
2016 – The 8th generation TCR, the first with integrated disc brakes, is introduced to consumers.
2017 – Team Sunweb rider Tom Dumoulin wins the Giro d'Italia general classification; the team also wins both the points classification and the mountains classification at the Tour de France.
2019 – Prototype testing of the 9th generation TCR Advanced SL begins with CCC Team pro racers.
2020 – the company have released their 2021 version of the legendary race bike. The 2021 TCR range contains three levels of frame choices: Advanced SL, Advanced Pro and Advanced, with the Australian & New Zealand carrying disc brake only options.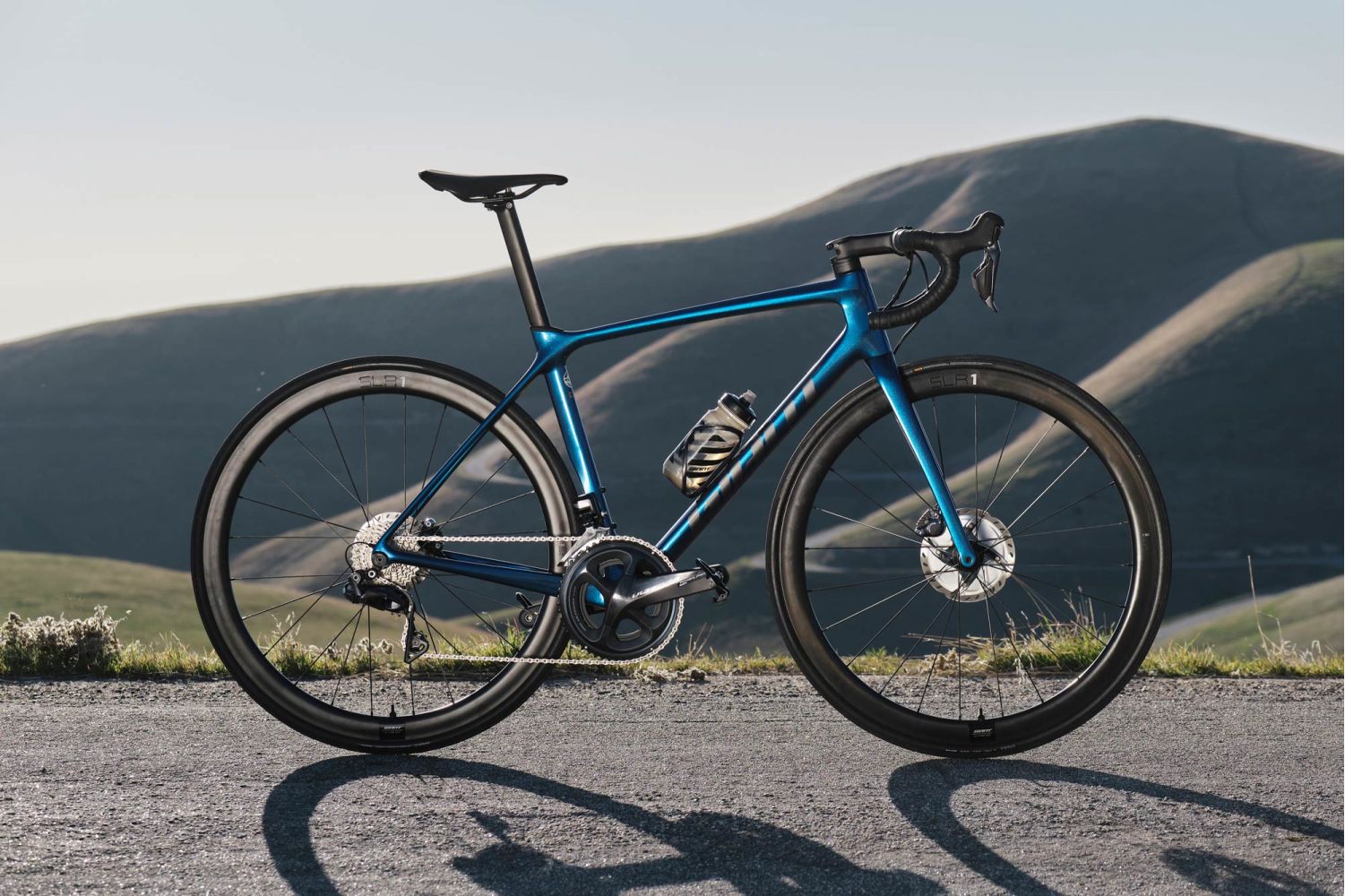 TCR ADVANCED SL DISC
The choice of CCC Team WorldTour racers on challenging road courses that demand uncompromising all-rounder performance. With the highest stiffness-to-weight ratio in its class, it's an efficient climber and lightning-fast sprinter. And new aerodynamic tube shaping at the headtube, downtube and fork makes it a killer on breakaways and solo efforts. Additional updates include added clearance to fit larger diameter tyres up to 32mm, the latest integrated Wheel System technology, and a new aero-engineered Contact SLR composite handlebar and stem that makes it even faster against the wind.
TCR ADVANCED PRO DISC
In launch notes Giant say 'this all-rounder is reengineered with an Advanced-grade composite frame that boasts an outstanding stiffness-to-weight ratio, along with strategic aerodynamic tube shaping in a truncated ellipse profile. It also features added frame and fork clearance for larger diameter tyres up to 32mm, making it a versatile race machine for all types of road conditions. With its proven Compact Road geometry, OverDrive 2 front end, flat-mount disc-brake integration, new Contact SL handlebar and stem and updated, more aerodynamic Variant seatpost, this is a race-tuned performer that excels in all aspects of road riding.'
TCR ADVANCED DISC
Reengineered with updated aerodynamic tube shapingplus added clearance for larger diameter tyres (up to 32mm for disc brake version), Giant say the new TCR Advanced delivers 'outstanding all-rounder efficiency'.
'The updated, more aerodynamic Variant seatpost adds just enough compliance to give it a balanced, race-tuned feel on the road. With its integrated disc-brake technology, including flat mounts and 12mm front and rear thru-axles, it's an all-weather, all-conditions race machine to keep you at the front of the pack.'
Australian Models & Pricing
TCR Advanced 3 Disc Blue Ashes – $3,299
TCR Advanced 2 Disc White – $3,699
TCR Advanced 1 Disc Gunmetal Black – $4,199
TCR Advanced Pro 2 Disc Carbon – $5,199
TCR Advanced Pro 1 Disc Rosewood/Carbon – $6,299
TCR Advanced Pro 0 Disc Chameleon Neptune – $7,999
TCR Advanced SL 1 Disc Cosmos Navy – $10,299
TCR Advanced SL 0 Disc Raw Carbon – $13,999
More details at https://www.giant-bicycles.com/au